If you've ever taken a quiz like "What Career Is Right for You?," done an online assessment to figure out the best type of closet for your bedroom makeover, or used a calculator to determine if you should refinance your home, you're already familiar with interactive content.
And in most cases, because you're getting some sort of value out of the experience, you've willingly opted into the company's mailing list, provided information about your consumer preferences or pain points, or at the very least, shared your contact email.
Those content marketers have done their jobs well.
As content marketers, our goal is not just to drive traffic to our site. Our real objective is to capture and convert the audience. Newsletters, whitepapers, and webinar signups are among the most tried-and-true methods for getting people to share their email addresses. But some companies are going a step further and creating interactive lead capture tools that are highly engaging, deliver users lots of value, and drive major marketing ROI.
And here's why: Interactive content generates conversions at a two times a higher rate than passive content, according to DemandMetric's report, "Enhancing the Buyer's Journey."
"We've got to find new ways to engage customers," says Aaron Dun, SVP of Marketing for SnapApp, an interactive content marketing platform. "B2B buyers are becoming more discerning. We have a new buying cohort that is moving up the organization – the millennial buyer who is now old enough to be making decisions, and it's changing the face of buying dynamics."
In other words, the days of relying on a gated whitepaper as your primary source of demand generation might be numbered. As such, interactive content, sometimes referred to as "engineering as marketing," is serving a dual purpose – to build brand affinity, and to help companies ramp up their lead generation efforts.
"Today's end user is expecting more of a consumer type interaction. Whereas before a prospect may have hopped on a call with a salesperson with a lot of hand holding, now the power is shifting to the consumer," says Danny Olinsky, Co-founder and Growth Manager of StatusPage, an Atlassian company.
As his company and others have learned, making a commitment to interactive content is a worthwhile way to give the customers what they want.
The Business Case for Interactive Content
Depending on the complexity of the engineering as marketing asset you create, it can be costly and require resources.
In other words, it might be a tough sell to the C-suite, unless you can make a case for its business value. Here are a few benefits to consider:
Will it speed up the lead qualifying process? "By creating an interactive content experience, you can begin to score and nurture prospects based on criteria, not just activity. And that can be transformational," says Dun.
In other words, your current scoring model might be based on how many times a prospect came to your website, whether they downloaded a whitepaper, how many form fields they filled out. While that activity is valuable to track, interactive content allows you to get real answers to sales-level questions up front, rather than make assumptions based on clicks and downloads.
Will it improve top of the funnel engagement, and move them forward faster? "Marketing as it stands as an industry is largely a broadcast medium – blasting out a message and hoping someone cares," says Josh Haynam, CEO of TryInteract.com, which creates customizable quiz templates designed for conversions.
On the other hand, Haynam says that a smart quiz or other type of interactive content can mimic the same sort of relationship building that takes place when someone walks into a store and has a chat with a salesperson.
"Quizzes can turn the first experience people have with your brand into something that's personal and conversational, and it's a shift for the better. It's something that consumers want – people love quizzes – and it helps brands increase conversion rates. Wins all around!" says Haynam.
Examples of Interactive Content that Captures Leads
Creating a more ambitious, interactive piece of content for capturing leads is not an easy undertaking, but for these brands, it's paid off. Take a look:
Case Study 1: StatusPage's Better Error Pages
Launching, Better Error Pages, an interactive tool that allows people to build free 404, 500-level, and maintenance pages in 60 seconds – with no strings attached – was an ambitious project that took time to develop. The idea was that it would help with customer acquisition and create goodwill for the brand, says Olinsky.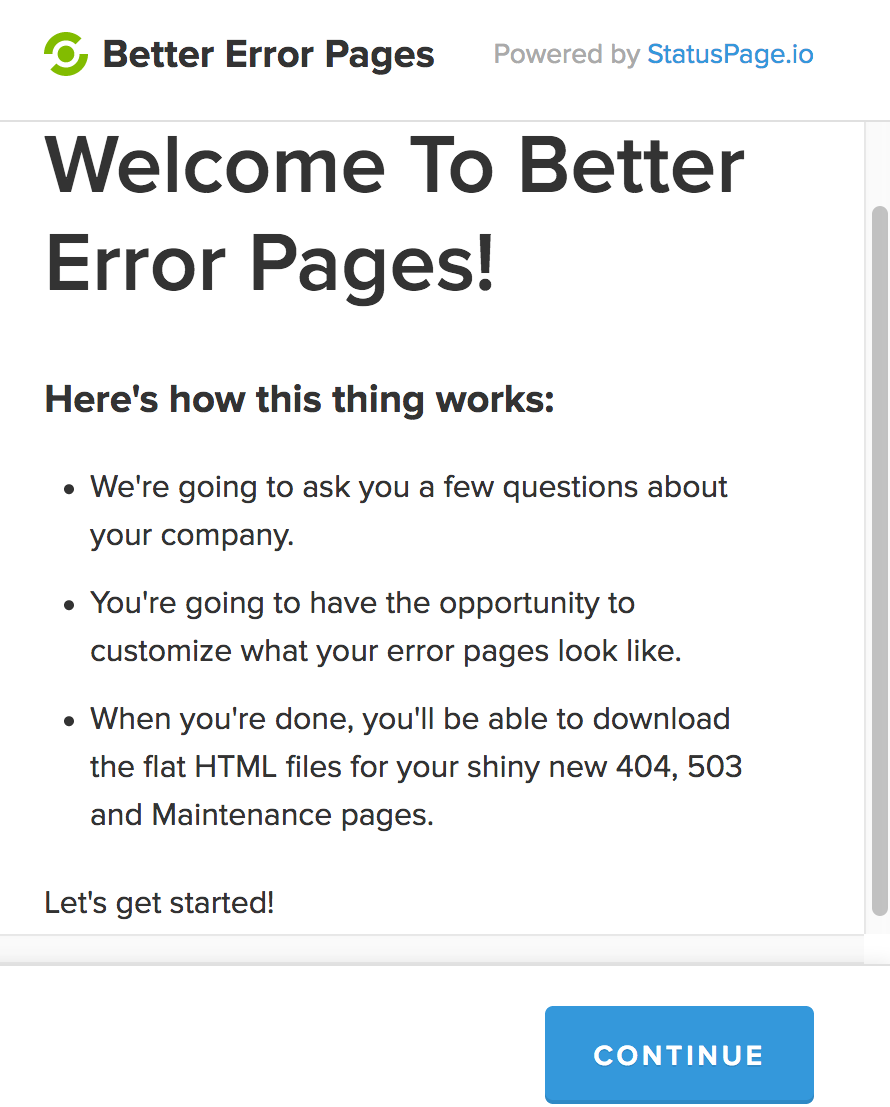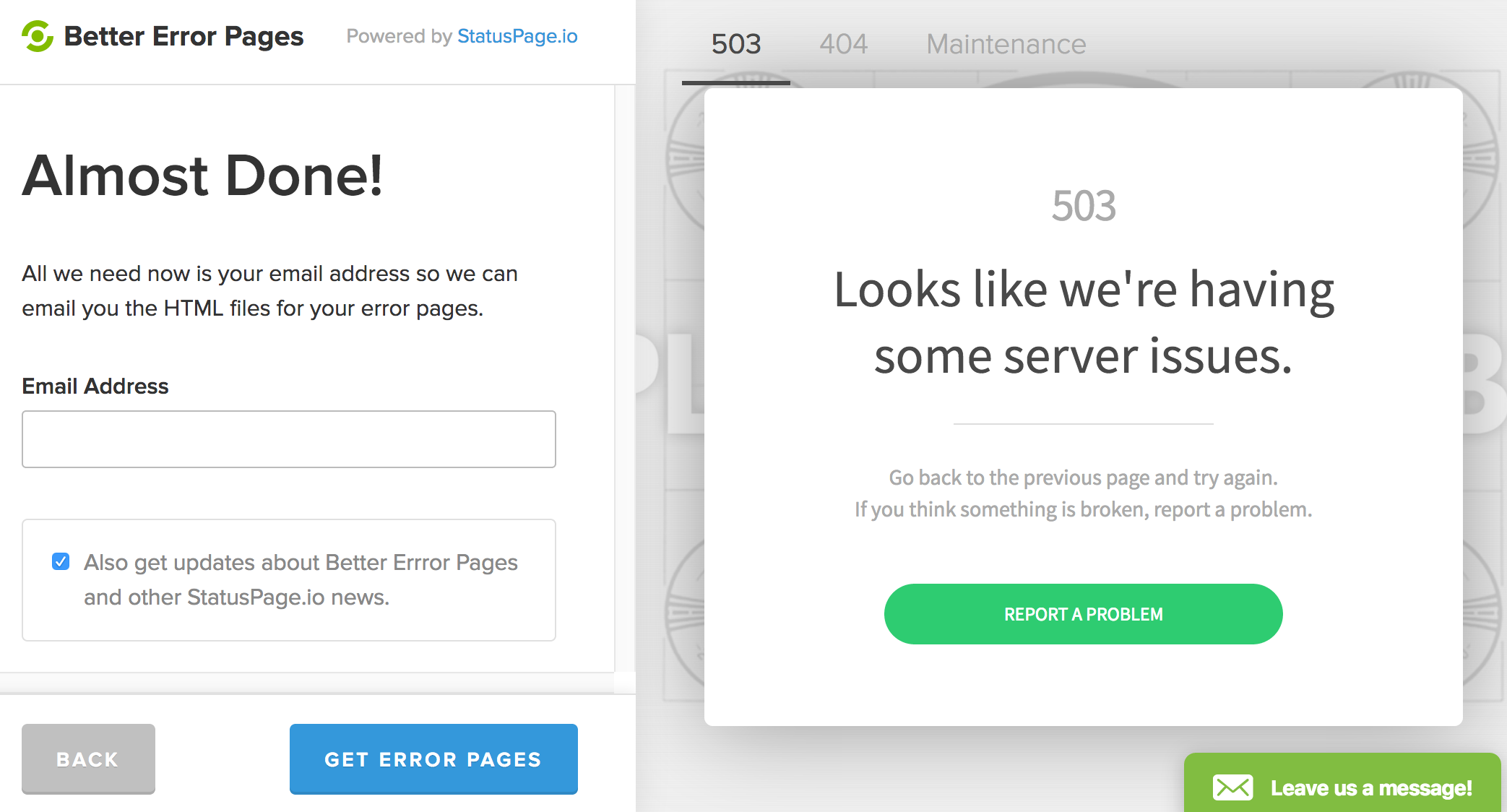 "From a marketing perspective, we had done a good amount of content that helped us in the early days. So we thought, what else can we do to have that effect, and provide a more tangible benefit to the user aside from learning something?"
They knew they wanted something that could help the core business accelerate, and that could be used as an onboarding ramp into its other products.
"We didn't know what to expect, but we'd seen other companies do things like offer SEO keyword analysis or calculator tools, so that was the inspiration behind it," says Olinsky.
In the two years since it launched, 800 customers have converted into paying customers at some point after creating an error page.
While Olinsky says they can't necessarily credit the tool exclusively for each of those conversions, they are pleased with the fact that somewhere along their customer journeys, they interacted with that page.
Case Study 2: Paycor's Interactive Content for Every Stage of the Funnel
SnapApp helped Paycor, an online payroll and HR services company, create complex calculator tools and assessments for the different stages of their sales funnel. Each one fully integrates with their marketing automation system and helps them track lead capture and gain insights from the user data.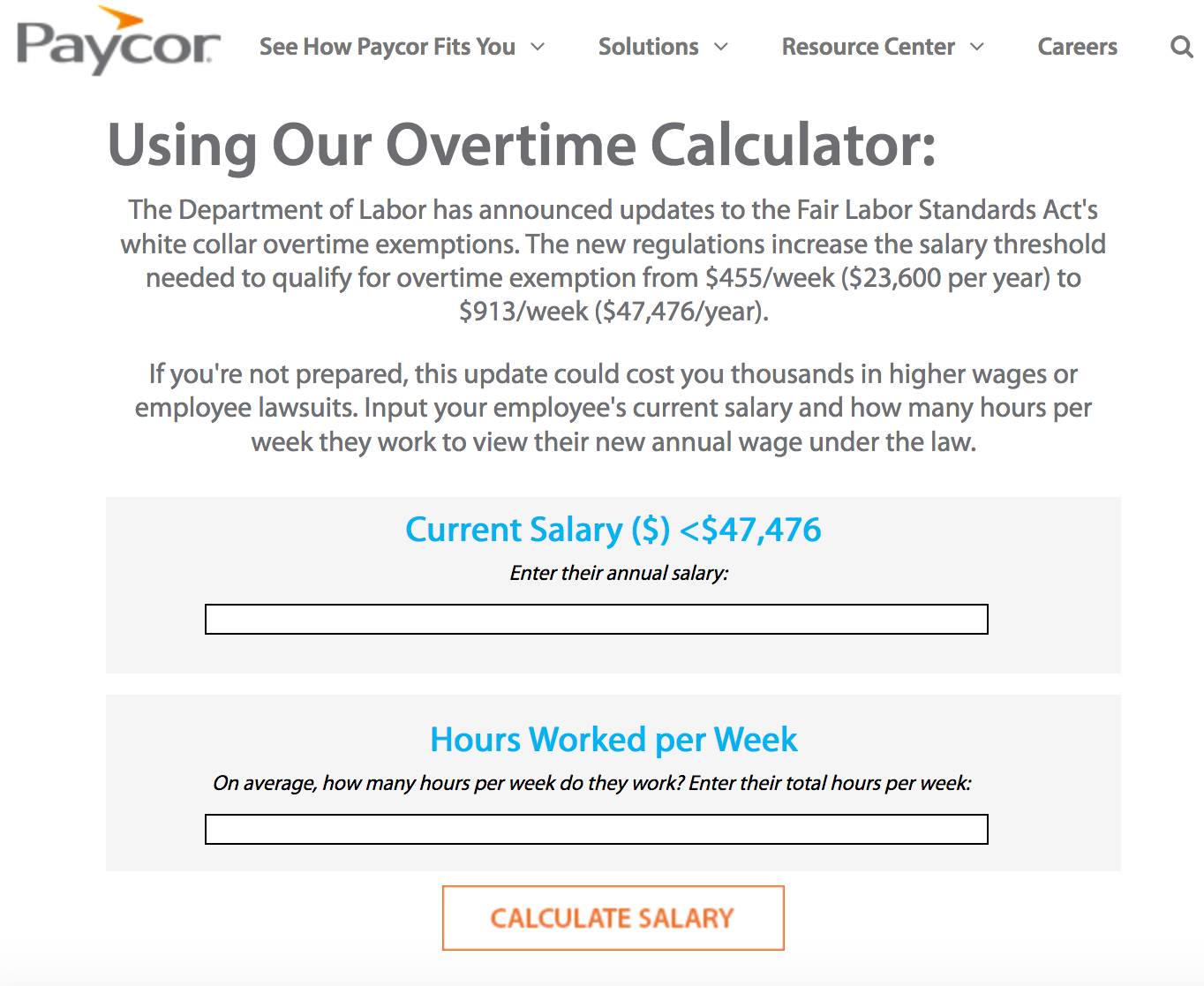 At the top of the funnel: To coincide with Department of Labor rule changes, Paycor launched a DOL Overtime Calculator and added a lead form between the "calculation" page and the "outcome" page. This gave visitors an incentive to share their information, while giving Paycor a steady stream of new prospects.
Because those leads weren't quite yet ready to convert, Paycor offered follow-up messaging that was casual and educational to help move them along.
At the middle of the funnel: Paycor created a more in-depth calculator that ran alongside copy about their solutions and testimonials. This offered a more engaging experience than the typical, static sales one-sheet you might expect to find when researching vendors.
At the bottom of the funnel: For users on the brink of making a buying decision, Paycor's Solution Finder is designed as a series of questions to help users asses their HR needs, and ultimately pinpoint the Paycor solution that's right for them.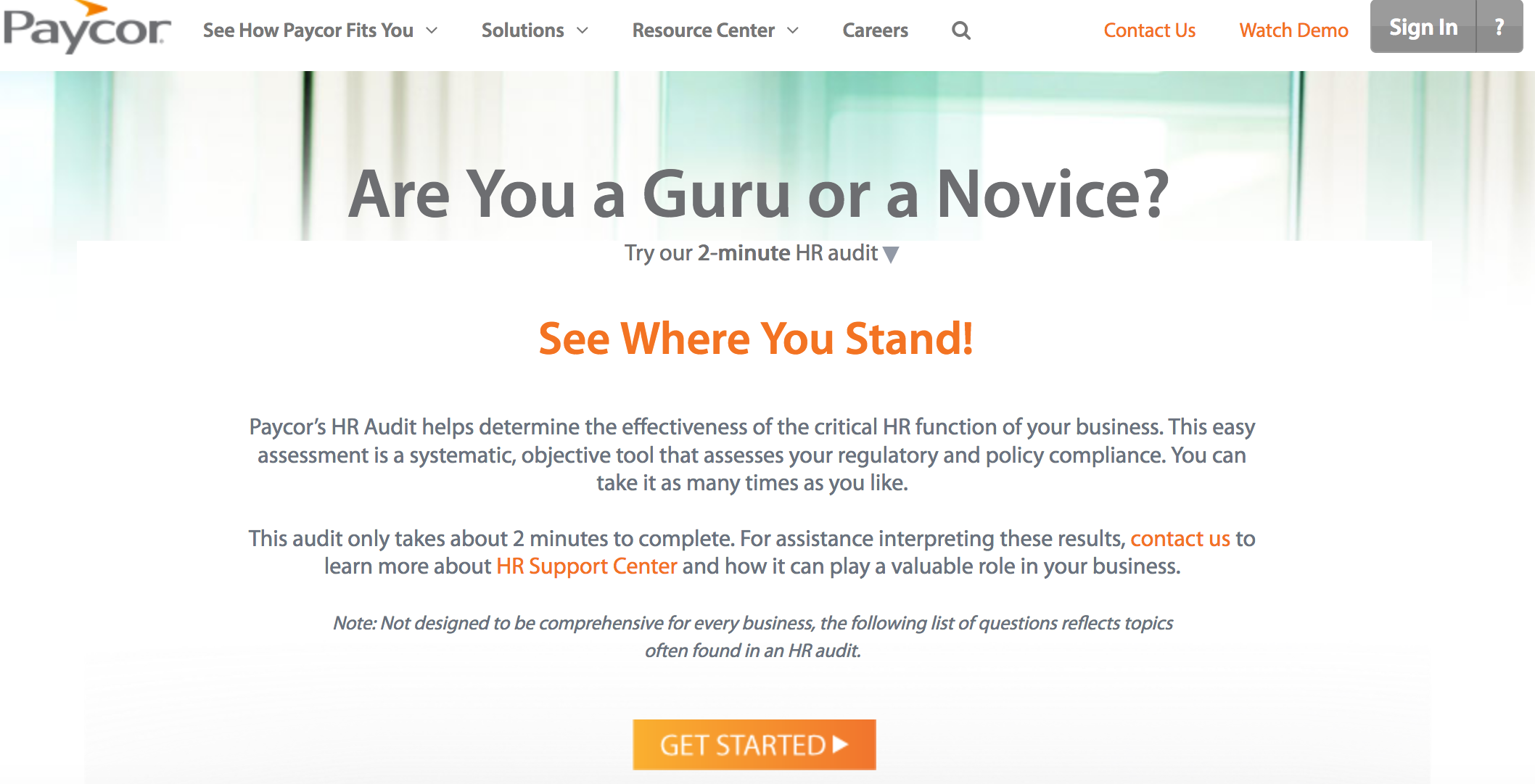 These collective interactive content experiences garnered 3,700 responses in 90 days for Paycor, 226 of which converted into revenue.
Other Inspirational Interactive Content for Driving Leads
Hubspot's Persona Builder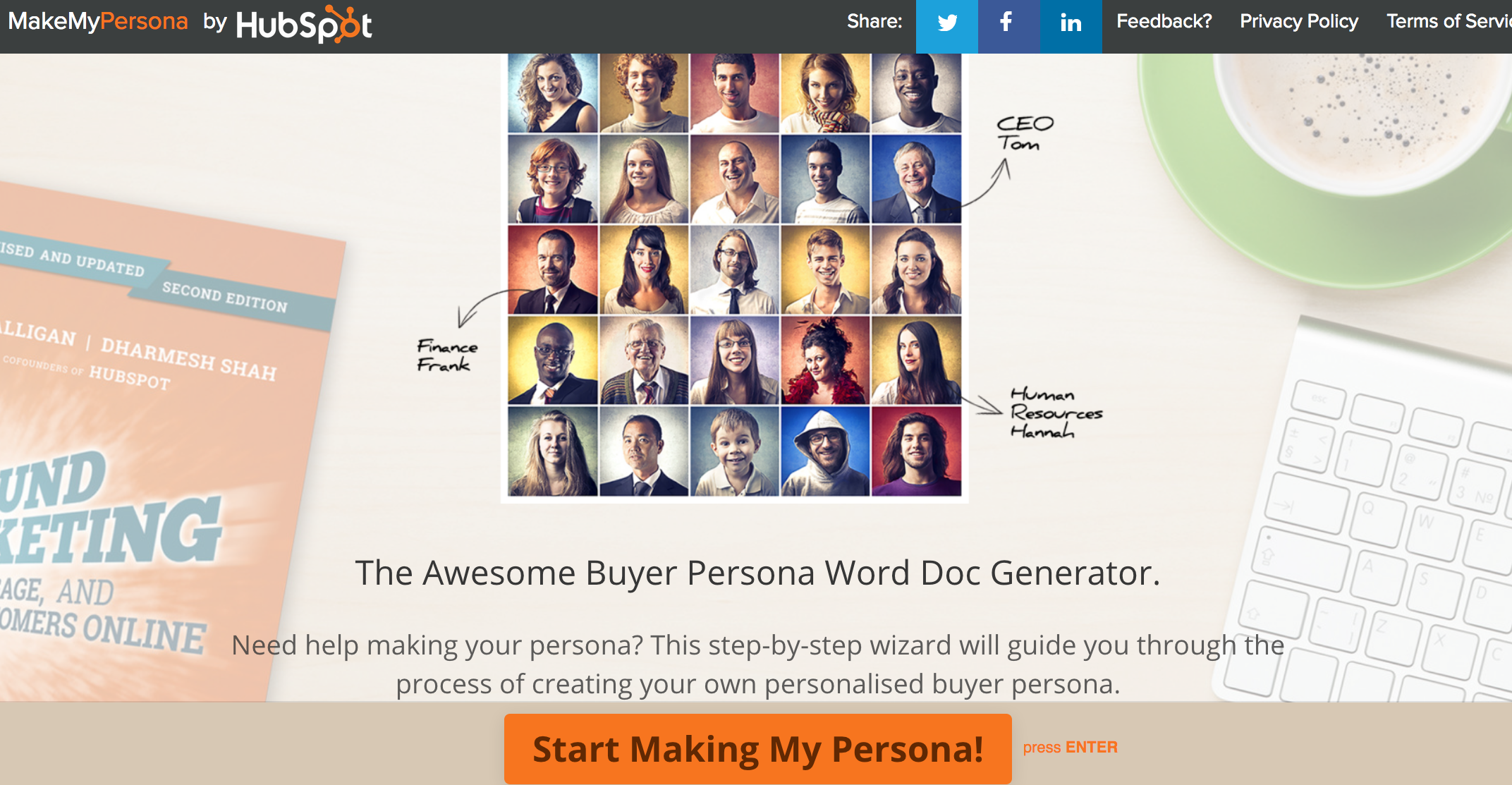 Hubspot's tool creates a customized persona Word document in exchange for your contact information. However, your answers also supply Hubspot a ton of data about the size of your company, your industry, your marketing needs, your target audience, and a whole lot more.
Liveperson.com's Snap Your Digital Engagement Selfie Assessment


It's a quirky and modern take on the selfie theme, but it also delves into the marketing channels you leverage, how you use data analytics, and other insights that the mobile customer service messaging platform company can use to determine which solution to offer you.
Follow These Interactive Content Best Practices
Ready to give engineering as marketing a try? Keep these tips in mind:
Don't think of it as a one-off. Think about interactive content at every stage of the buyer's journey, and for each of your different buyer personas, says Dun. As the Paycor case study revealed, there are opportunities to engage your customers every step of the way.

Source: Interactive Content & the Buyer's Journey, SnapApp and Oracle Marketing Cloud
Figure out what where interactive content can fit into your existing marketing strategy. If you launch a new campaign, layer in interactivity. "Content and campaign teams don't always sit in same office, but the more you can bring those strategies together, the much better experience for the user," says Dun.
Don't lose sight of your brand voice or mission. It makes no sense if a software company creates a "What Animal Are You?" quiz. "It hurts brand integrity," says Haynam. Instead, if you're a productivity software company, then a good quiz might be "What's Your Productivity Type?" or "How Productive Are You?" because it's related to what you're selling, he says. Then, you can ask people to opt in at the end, or send tips based on their results. "Not only do you have their attention, but you're offering something personal as a follow up," says Haynam.
Use the data you capture in an actionable way. Capturing leads is only the first step; you have to be able to do something meaningful afterward. That's why interactive content like quizzes and assesments work best when integrated into your marketing automation programs, says Haynam. For instance, you can use data to put someone onto a different email sequence based on the quiz outcome they get. The best part is you're getting this information via a format that people enjoy participating in, instead of hoping they'll answer a survey.
There's no doubt that content marketing provides a lot of benefits for brands, but with everyone doing it, it could be time to up your game. By incorporating interactivity and personalized experiences into your repertoire, you'll be better positioned to capture more leads, stand out as an innovator, and capture the right user data from the get-go.
Dawn Papandrea is a NewsCred Contributor.
Originally published on Jul 24, 2017 10:00 AM