NewsCred's roundup of the content marketing, technology, and business stories that caught our eye this week.
Content Marketing Is Up 300%, But Only 5% of It Matters (VentureBeat)
A new study released this week further speaks to the need for marketers to create high-quality content.
Beckon, a marketing performance data platform, analyzed $16 billion in omnichannel marketing spend and performance data, and found that while branded content production increased 300% year-over-year, just 5% of branded content accounts for 90% of engagement.
"Based on data from Beckon customers, low-quality content seems to be a primary cause of flat engagement," said Jennifer Zeszut, CEO of Beckon. "Brands should make sure that content quality and brand standards remain high as they rev their content engines. Don't create content faster than you can do it well. Lastly, be sure to have effectiveness as your KPI for content teams, not the volume of content published, because what gets measured gets done."
Here at NewsCred, we couldn't agree more. We've found that in order to drive business results, brands must focus on creating high-quality content that will cut through the noise and ultimately build a relationship with customers. Admittedly, that's not easy to do – there are no shortcuts or long-term ways to game the system – which is why we're dedicated to that ultimate goal.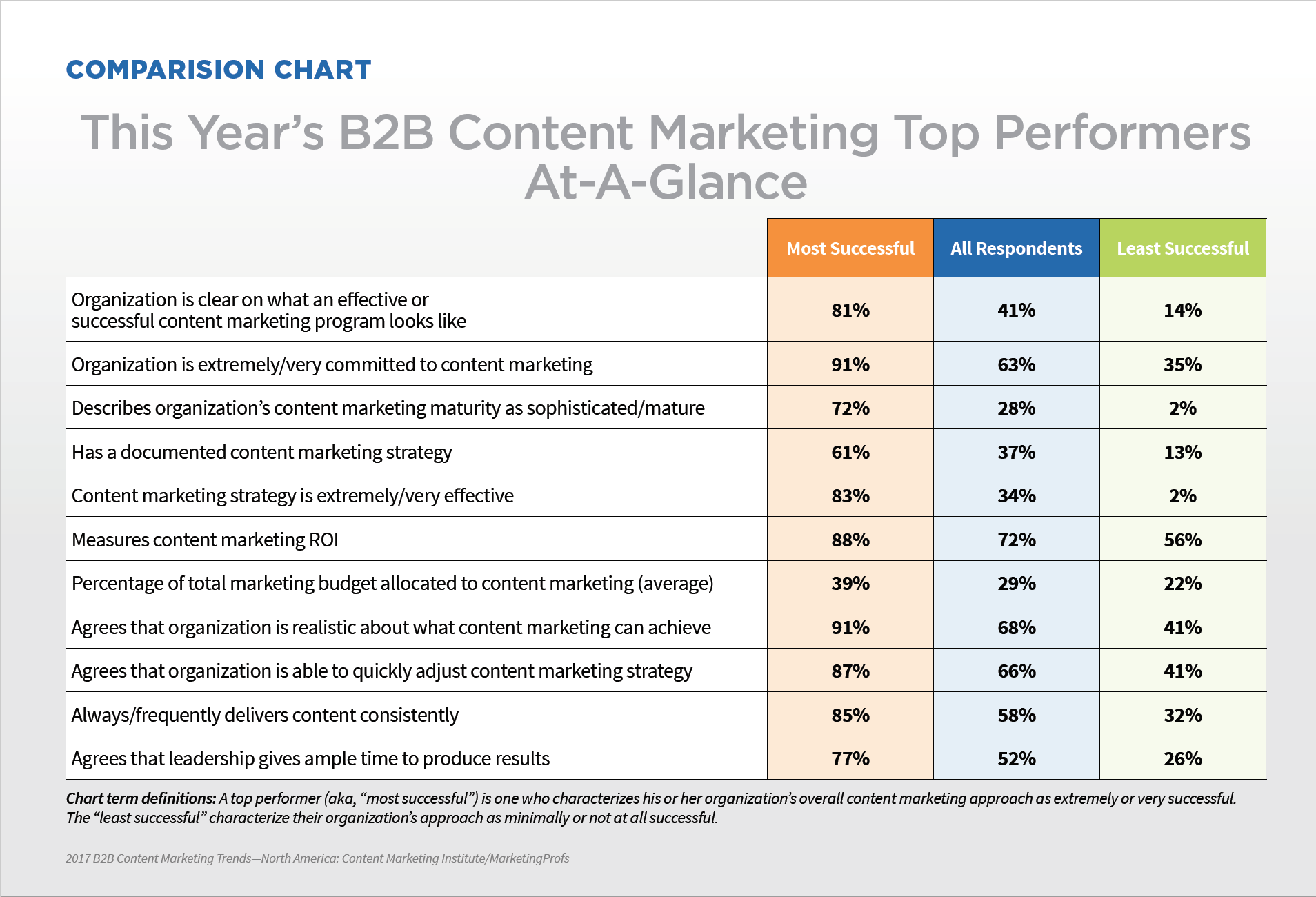 2017 B2B Content Marketing Benchmarks, Budgets, and Trends (MarketingProfs)
MarketingProfs and Content Marketing Institute just released their "B2B Content Marketing: 2017 Benchmarks, Budgets, and Trends—North America." A few stats we found particularly interesting (especially in light of the findings of the previous report):
62% of B2B marketers in North America say their organization's overall approach to content marketing has been much more or somewhat more successful than a year ago.
Although 72% of B2B marketers are more focused on building long-term relationships than on getting quick results from their content marketing, only half agree that their leadership team gives them ample time to produce content marketing results.
72% of B2B marketers measure content marketing ROI (compared with 88% of top performers).
76% of B2B marketers say they always or frequently prioritize delivering content quality over content quantity.
Poll: Executive Responsibility for Content Marketing Strategy Growing (FierceCMO)
New research from Curata found that content marketing strategy is slowly becoming the responsibility of executives. The report, titled, "Content Marketing Staffers And Tactics Barometer 2016," states that in 2015, the number of senior content marketing roles were expected to increase. While that growth has been slower than expected, the amount of senior executive roles devoted solely to content marketing are likely to increase through 2017. The report also notes that most content teams consist of three or fewer people, and only 5% staff ten or more. Despite this, content is becoming an increasingly important part of modern marketing campaigns, and will require more direct senior leadership over the next year.

Image via Dove
Unilever Plots In-house Branded Content Division (Campaign)
Unilever is taking content creation in-house with the launch of two branded content divisions. The first, dubbed "U-Studio," is a partnership with the agency group Oliver, and will be embedded across multiple business units. U-Studio will focus on creating content designed to meet customers' needs, as related to specific Unilever brands and products. The content it'll create includes e-commerce imagery, how-to videos, infographics, ratings and reviews, editorial, product information, and user-generated content.
The second branded content studio has been named "U-Entertainment" and will specialize in "passions content." U-Entertainment will pair Unilever's global brands with entertainment industry leaders. Unilever and the partner companies will co-own the content, including TV series, games, web series, and music – all geared towards millennials, of course.
Programmatic Native Is Here, and Premium Publishers Are Wary (Digiday)
Programmatic native advertising gives brands the ability to insert ads directly into a publisher's stream of stories. It's been a hot topic at Advertising Week, and premium publishers aren't thrilled – and that's because they own the real estate where brands would ideally place their ads. Publishers see programmatic native as a possible threat to the branded content operations where they've invested lots of time and resources. If brands can spend a fraction of the cost and time to have their ads served up among content, would they still create branded content? While publishers are grappling with that, brands can start buying programmatic native on social platforms like Twitter and Pinterest.
LinkedIn Promotes Recruitment Credentials with "Way In" Campaign: John Lewis and ASOS Partner (Netimperative)
LinkedIn launched a B2B and B2C content marketing campaign titled, "The Way In," designed to build awareness of its job search functionality and build engagement among members. The content features inspirational stories from LinkedIn members who love their jobs, at companies like John Lewis and ASOS. The campaign is built around career fulfillment and success, with LinkedIn as the catalyst that gets people there. "The Way In" will be distributed across eight markets: the US, the Netherlands, UK, Germany, Canada, France, Australia, and Singapore.

Why Time Inc. Is Expanding Its Contributor Networks (Digiday)
Time Inc. is launching two new products that will help editors connect with content creators for traditional, native, and branded content. The first platform, Springboard, will help editors find contributors who can create editorial, photos, and videos around specific topics or events. For example, Essence editors used Springboard to source freelancers to create content on-site at the upcoming Essence Fest in Durban, South Africa.
Time Inc. Connect, the second platform, is an influencer network. At launch, it will consist of three verticals focused on beauty, style and food, each containing 50 to 75 influencers who will create content. For both platforms, Time Inc. execs say they're committed to making sure the content is high-quality.
Plus, the Latest from NewsCred:
VIDEO: How to Use Google Analytics to Measure Content Marketing Conversions
Sixty percent of marketers say their biggest challenge is proving ROI on their content. If you're among the marketers looking to measure the business value of your content marketing, start with Google Analytics. By customizing your Google Analytics instance, you'll be able to measure content marketing conversions – and use that data to get budget and support for your program.
Here's an overview of how to get started:
Self-Organizing Teams: Our Learnings and Successes
What would happen if a manager dissolved several teams, put all those employees into one room, and asked them to group themselves into new teams, based on upcoming business objectives? And to further complicate matters, what if some of those employees had never worked together before? Would they be able to self-organize into happier, more productive, and more efficient teams? NewsCred's VP of Technology, sought to find out when he asked his engineering squads to self-organize.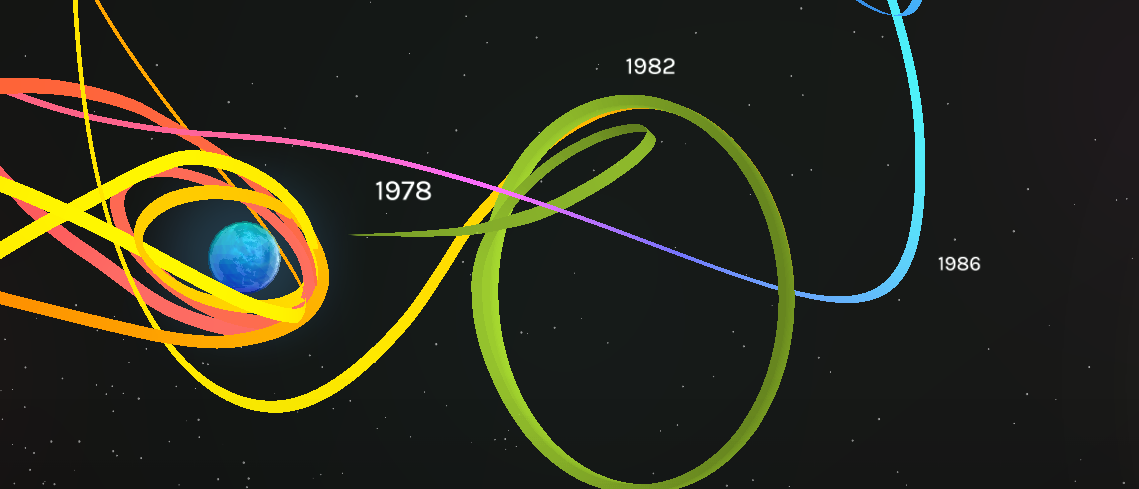 Content Marketing Inspiration: 25 Interactive Infographics
If you have a ton of data and you want to tell a good story, interactive infographics are a fantastic tool. They entice your audience to explore the content, whether it's a data set or a guided storytelling experience, and they can provide far more information than a static infographic. If you're thinking about experimenting with interactive infographics or looking for some serious inspiration for your next project, we've rounded up our favorites.
Thank you for subscribing!
Our best content will now come straight to your inbox.