2015 has been a huge year for Hubspot. Not only did the marketing software and content marketing hub reach the mindblowing metric (at least in b2b) of over 2M visits per month, but they also are expanding their offices to Singapore, and have comic Amy Schumer entertaining the crowd at their INBOUND 2015 conference. The road to these milestones was paved by HubSpot consistently innovating in the space, and at the helm of this innovation is HubSpot Content Marketing Leader Joe Chernov.
Chernov started his career in human services but ended up in PR for over 15 years. In 2009 while interviewing for a new position, he had just presented his clip book of clients he had landed in The Economist and The New York Times when the interviewer asked a pivotal question. "They said great, how many Twitter followers do you have? It was the biggest 'Oh Shit' moment in my career," says Chernov. "That interview scared the life out of me, and I knew I had to reinvent myself or I wouldn't have a career in five years. I was in the 'scared straight' program and I got lucky that this content thing came around. I jumped on the right train."
We spoke with Chernov recently about the innovative ways his team is optimizing their content for SEO and conversions with amazing results.
Evolving HubSpot's content marketing strategy
"A year ago the HubSpot blogging team met and we realized our original reader had grown up – they've grown up in their career yet we were largely still writing for them as if they were the professional they were 3 to 5 years ago," says Chernov, "So we didn't evolve with our reader. We were doing a good job at capturing people at the stage of our original readers, but we weren't growing in parallel with them. That was the genesis of the evolution of our editorial strategy." Chernov's team knew their strengths: actionable, tactile, how-tos. But they realized the gap in their content marketing strategy was "bookmark-worthy content" – the kind of stuff you would not just read, but refer back to and share with colleagues.
"We want the content to evolve," says Chernov, "not just tips-and-tricks are us, but stuff we feel people will talk about around the water cooler. There is no more important goal than for us to be part of that conversation."
They also freed up editorial calendar space for more editorial-style content and "newsjacks" where HubSpot is now competing against trade publishers like Mashable for industry breaking news traffic. Like GE and other great content marketers that have come before them, "We have shifted the competition from other marketing tech to actual news sites."
Optimizing SEO beyond best practices
The next step to blog domination was optimizing the right content for SEO. Previously, HubSpot's content team was doing everything on the SEO checklist: link building, guest blogging, and placing bylines with back links. Chernov's blog optimization expert, Pamela Vaughn, told him flat out: "Guest blogging for links is the least scalable idea."
So Vaughan dove into the data and examined what was driving the success of high-ranking posts. She found that if they took an existing post currently ranked on pages 2-4 in search and around two years old, and updated and republished the same post with new information, the post would move up to page one in search. "Google wants better, not more," says Chernov. Instead of having two posts on the same topic, forcing Google to figure out which is priority, canonically updating content is rewarded by the search engine gods. So they created a spreadsheet with every post that could be updated and republished, and started working their way back.
"We don't update for the sake of updating," says Chernov. "We try to do it in a way that's consistent with what Google advises." Since they've started this practice, HubSpot has doubled their organic traffic to SEO optimized content.
The key to conversions might be more simple than you think
Chernov's team also noticed that many of their high-traffic posts were below their conversion rate benchmark (aka: why it's crucial to set goals and benchmarks in your content marketing strategy!). "We know if we can get these to be high converters, then all bets are off – we can make a dent in our lead generation KPIs," says Chernov.
Vaughan discovered something so simple it will make you want to tear your hair out. For conversion optimization they focused on keywords: making the CTA language match the language the person is using to find the blog post in the first place. "For example, we wrote a blog post that ranked for 'how to write press release,' a popular query," Chernov says. "Yet the CTA copy read something like, ''The Inbound Marketer's Guide to Press Release Writing.'" By simply changing the CTA to: "How to Write a Press Release [Free Template]," conversions increased by 240%.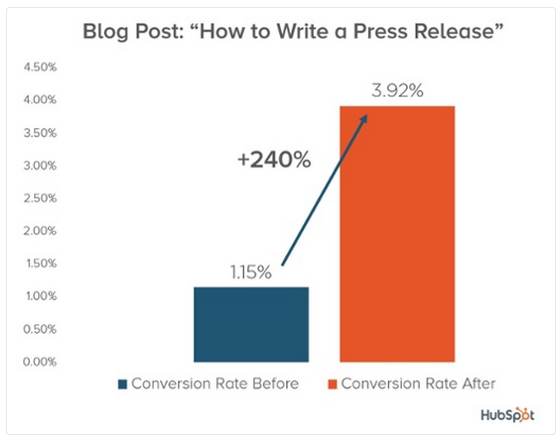 Polishing CTA copy based on keyword data – what your readers were looking for in the first place – has doubled the number of leads generated from this content and they've been able to increase the number of posts generating 100+ leads per month by 150%. "It's so simple," says Chernov. "I can't believe we didn't think of it sooner!"
So what can content marketers learn from Joe Chernov and his team at HubSpot?
Having clear benchmarks and goals can help you see where there is room for improvement.
Improving upon a previously successful article with new data and SEO optimization can improve your search rankings AND better-serve your audience.
Sometimes improving your conversion rate comes down to continuing to give readers the information they were searching for in the first place using the language and keywords they used to find it.
In part two of this interview, we'll explore how HubSpot sets benchmarks for content marketing success, what they learned from their website redesign, and how they are rethinking content creation for reaching sales executives and CMOs. Stay tuned!
Thank you for subscribing!
Our best content will now come straight to your inbox.