This interview comes to you from NewsCred's London-based European team.
As a veteran marketer who's worked his way up the HSBC corporate ranks, Andrea de Vincentiis has a unique perspective on the state of the finance industry.
From 2002 to 2011, de Vincentiis held numerous marketing and communications leadership positions in HSBC's UK commercial banking sector. Following four years overseeing HSBC's sponsorships, in 2014, de Vincentiis returned to the commercial banking side of the business. Now, he heads up the global integrated marketing communications team for HSBC's commercial and investment banking business.
During de Vincentiis' tenure at HSBC, the world drastically changed. The rise of smartphones transformed the way people communicate, do business, and bank. In addition, major events, like the 2008 economic crisis and the Brexit, have shaped, and continue to evolve, the global financial landscape.
Here, de Vincentiis shares more details about HSBC's response strategy to global events, its marketing strategy over the past 15 years, and where it's going in the years to come.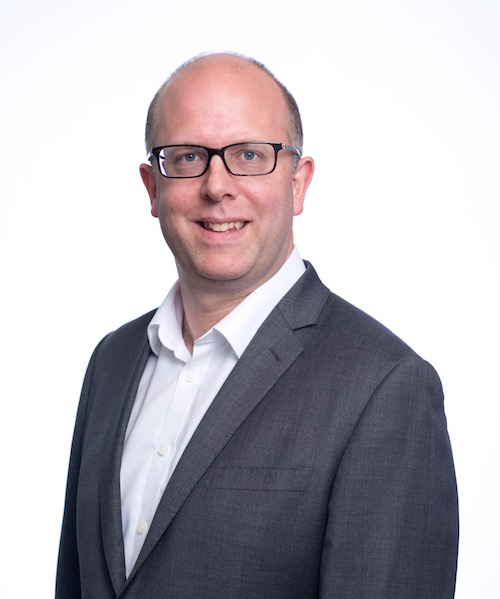 Andrea de Vincentiis, Global Head of Integrated Marketing Communications, Commercial Banking, HSBC
What factors have influenced HSBC's B2B marketing strategy in more recent years?
These days, shaping and improving a customer experience has a far greater impact on our customers' overall brand perception. We can't just rely on some great TV adverts and sponsorships. We need to make things easier for our customers, and marketing has a critical role to play here: What do our customers actually want? How can we map out an improved journey for them? How can we better connect them to our specialists? All areas on which we in marketing can help.
Because we are, and historically have been, a quite conservative organization, we do see a tangible "flight to quality" when people are not sure. We saw that in the aftermath of the 2008 financial crisis and Brexit. We actively encourage our relationship managers (RMs) around the world to spend even more time with customers during uncertain times and that's also when we in marketing need to provide timely tools and conversation starters.
Recently, we have helped streamline the customer journey around the various documentation requirements we have at onboarding. We led the mapping exercise including insight from customers and RMs resulting in a simpler and quicker experience for customers.
This is obviously a different skillset for marketing and a lot of our time is spent ensuring our new recruits reflect the evolving nature of marketing as well as investing in our current teams to help upskill them. The advent of marketing automation coupled with increased focus on all things customer experience does make it an interesting time for marketing!
How have events you mentioned, such as the 2008 crisis, or more recently, the Brexit, affected the way you operate?
Rewinding quite a bit, in the aftermath of the 2008 financial crisis, we were in a pretty good position.
We wanted to demonstrate that we were open for business with a strong capital position. So our marketing team worked very closely with our corporate communications team on a program to produce a series of thought leadership reports about the future of business in the UK.
Having an aligned marketing and corporate communications position is always important but crucial in these challenging times for the banking industry. Our customers and key external stakeholders (be it media and government) needed a unified voice and these thought leadership reports helped to reinforce our solid and future looking position.
More recently, post Brexit, the same approach has paid dividends. The UK marketing team ran a series of Brexit webinars (one a month in the second half of 2016), each attracting around 1,000 customers. Our research told us that customers wanted to hear from HSBC. We stayed clear of any political discussion and focused the webinars on our macroeconomic viewpoint, as well as highlighting what we were seeing across our customer base of more than 1 million businesses in the UK.
How has marketing, in particular, changed its approach?
In addition to providing more tools for RMs, there's been a shift in focus from a messaging point of view. We focus our messaging and communications around real, tangible reasons to show how we support businesses. HSBC benefits from a well-recognised brand and pretty strong levels of familiarity, so our role within the B2B world is to ensure our customers and prospects really understand why they should choose HSBC – we need to be on their consideration set.
How do you prepare to react to any new economic or political events that will affect your clients?
It starts with a unified house view on each event.
As we are such a large and diverse organisation, it's key to ensure a unified message with senior executive support.
What's also important is to anchor the plan to what our customers are thinking and feeling. We obviously have a very good sense of this from our RMs and of late we have tended to complement this with social media listening amongst our audience. It's a quick and good-value way of sense-checking what's on their minds.
What were your most effective channels for reaching prospects and communicating with customers in the early 2000s? How many of them are still primary channels?
Rewinding to 15 years ago, we were focused on traditional print advertising, events, and a lot of collateral – brochures, fact sheets, printed collateral. Even six or seven years ago, they were still quite prevalent.
The shift now is that we have a digital-first approach to advertising. The majority is online through search, programmatic buying, and social media. This has happened over the last two or three years. Looking specifically at social media, we have significantly increased our presence and usage of LinkedIn – we now have more than 200,000 followers on our commercial banking page and we have recently started to use LinkedIn's "Elevate" tool. This allows our RMs to post pre-curated HSBC content to their followers and we have seen that engagement rates have increased threefold.
How do you measure the success of your efforts?
Digital has certainly made it easier to measure key campaign metrics and it's also easier to compare how different markets are performing. This is valuable from a best practice perspective. So for example, using the previous LinkedIn example, we piloted "Elevate" in the UK and Israel, and the results data from these markets has led to its rollout in numerous other markets.
However, the nirvana of B2B marketing effectiveness remains around the ability to directly link marketing activity to business outcome. Although there are certainly KPI contributors and indicators, there hasn't been a scientific cause and effect as much as we would have liked.
So, we are now investing a lot as an organization in a new CRM system as well as an inter-linked marketing automation tool that will for sure transform how we do things. We will confidently be able to close the loop on driving traffic to a campaign website, for example, to the ultimate additional or new business generated. We will still invest in "top of funnel" activity but this "bottom of funnel" marketing automation will deliver results and allow us a marketing function to have even more strategic conversations at the senior executive table.
What future technologies do you think hold opportunities for marketers to explore?
We're trying out a bit more with virtual reality (VR) and augmented reality (AR). We've done a virtual reality film around the Belt and Road initiative in China, which is a key area of focus for us. We created a three-minute interactive VR film that we used at various events around the world. It has been well activated and demonstrated to us that VR is certainly not just for gaming. The feedback that we had from clients trying it out has been incredibly positive.
I also think it's important to think about how we can do things differently and that may not always be high-tech driven.
For example, in support of the HSBC Water Programme, and utilising our historic airport brand presence, last year the global brand team set up a sensory experience at Gatwick Airport. Essentially, it told the story of the Yangtze River along the lengthy Gatwick sky bridge. It definitely turned heads and helped move our jet bridge adverts on a bit with a truly experiential focus.
Heather Eng is NewsCred's Executive Editor.
Thank you for subscribing!
Our best content will now come straight to your inbox.