HP's EMEA Content Marketing Lead George Webster wasn't always an ad man. "I used to be a film writer," he says. "Had a big hit, didn't get a sequel." So he turned his storytelling talents to digital marketing. Starting out as a copywriter at Razorfish, it wasn't long before Webster was a content director at Critical Mass, which is where he first came into contact with then-client HP.
"I was looking for a way to get into content marketing," Webster says, "and I saw this opportunity with HP because the account was going nowhere," focusing on campaign landing pages. Fast forward four years and Webster is HP's EMEA commercial print lead and behind Europe HP's buzzing content hub, Tektonika, a "guide to navigating the cutting edge of innovation" that recently accounted for a fifth of HP.com's security campaign media spend while driving more than three times the traffic (and ten times the volume of organic traffic).
"It's been quite a rollercoaster," he admits. Here, ahead of NewsCred's upcoming ThinkContent London 2017 summit, where he'll be speaking, Webster shares more about his ups and downs, content marketing challenges, and the outsize role company culture plays in being able to create great work.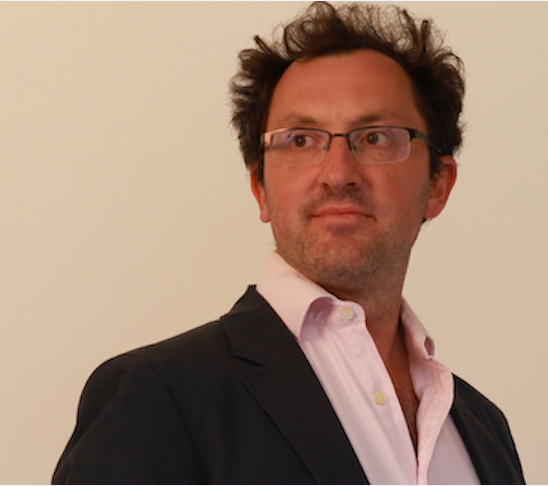 George Webster, EMEA Content Marketing Lead, Commercial Print, HP
How did you originally introduce the idea of content marketing to HP?
Sometimes you've got to have "spiky elbows." My spiky elbows got me into a meeting where no one knew me. I just said, "I want to be in that meeting," and I came prepared and said, "Look, you're asking for all these campaigns, and it's an end to these pages, but nothing's going to happen. Because if users can't do something, you have a UX problem, and if they won't do something, you've got a content problem." In a nutshell, that one phrase – quite happily stolen from someone else – grew a tiny account into a six-figure revenue stream for my agency.
What happened from there?
We basically launched a now-defunct content platform, called "HP Business Now," and trailblazed with mistake after mistake after mistake, many of which were made knowingly, because there was no other way to fund or run the program in Europe. To some extent, my job was to find a way to keep the lights on every quarter.
After a few years, I went away to pursue other opportunities. When I returned, I found HP Worldwide had picked up the content marketing baton and were able to do it properly. In hindsight, the greatest achievement of HP Business Now was getting HP Worldwide's attention. They learned from our mistakes and faced far fewer constraints.
What are some cultural roadblocks you've come across?
In the early days, I had a conversation where I'd explained content marketing and they'd replied, "Okay, I think I get it. So it's basically an article with an image that's not a product shot. Well, that's not great for me, because how can I get that alliance funded?" So suddenly, if they can't get a photo of the product, then they can't get funding for the editorial. It showed a need to find a common language, which is especially hard within a big organization like HP or any larger enterprise.
You often find yourself on conference calls with 30, 40 people and even the simplest terms can become deal-breakers. Before you know it, you can't even advocate your program because you're stuck on something that boils down to vocabulary. You have to define all the terms – everything – and find a common language in order to be able to move forward at all, regionally, and on a local level.
What about content-related challenges?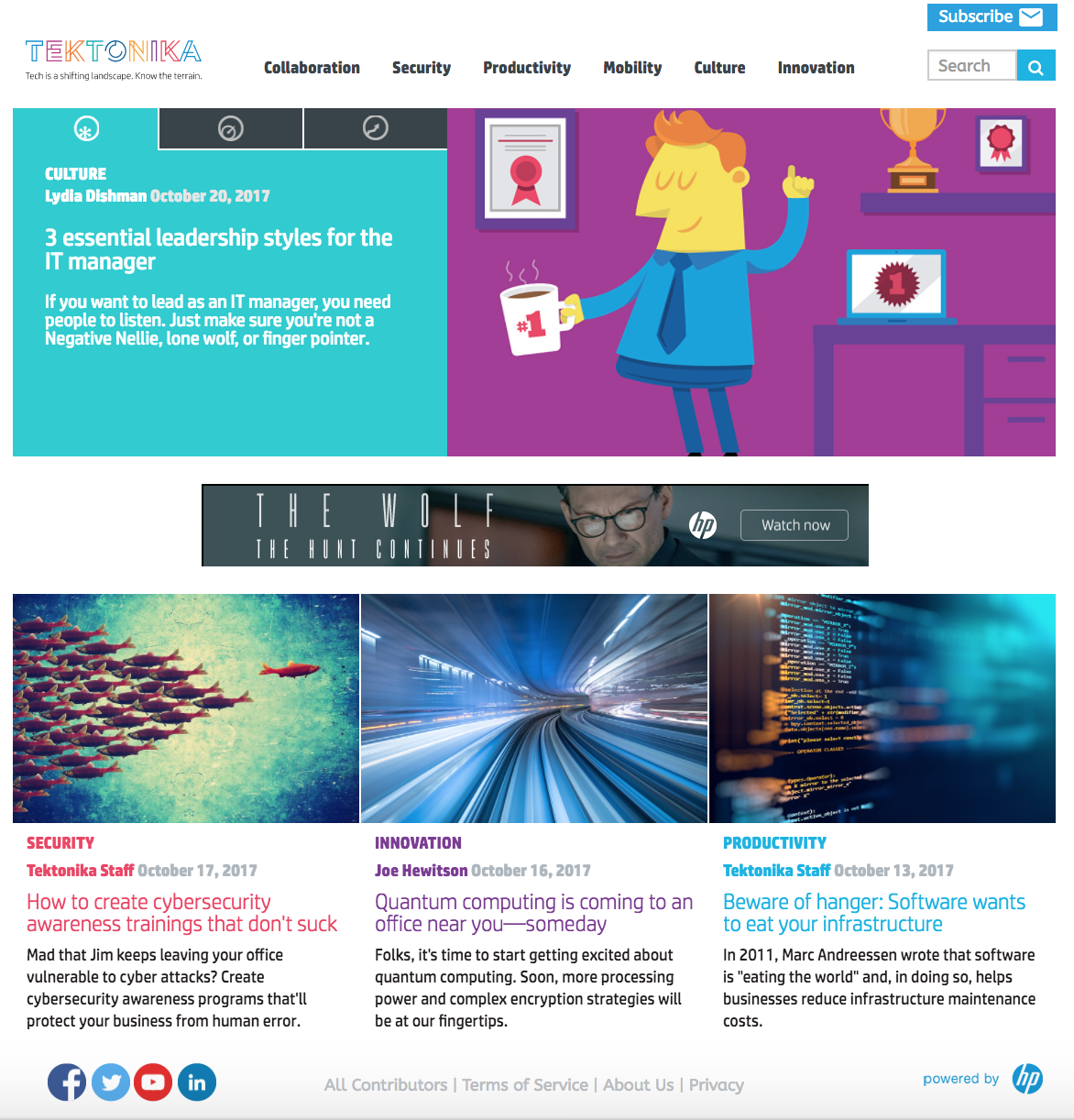 With Tektonika, what we're trying to prove is that the amount of traffic, views, and potential customers we're generating through online search is greater than that driven by paid media. Proving our worth, we're becoming findable for the first time within the HP ecosystem. And that findable audience – that we've now generated through our content marketing platform – has the propensity to convert at a higher rate than the paid media audience that drives traffic directly to HP.com campaign landing pages.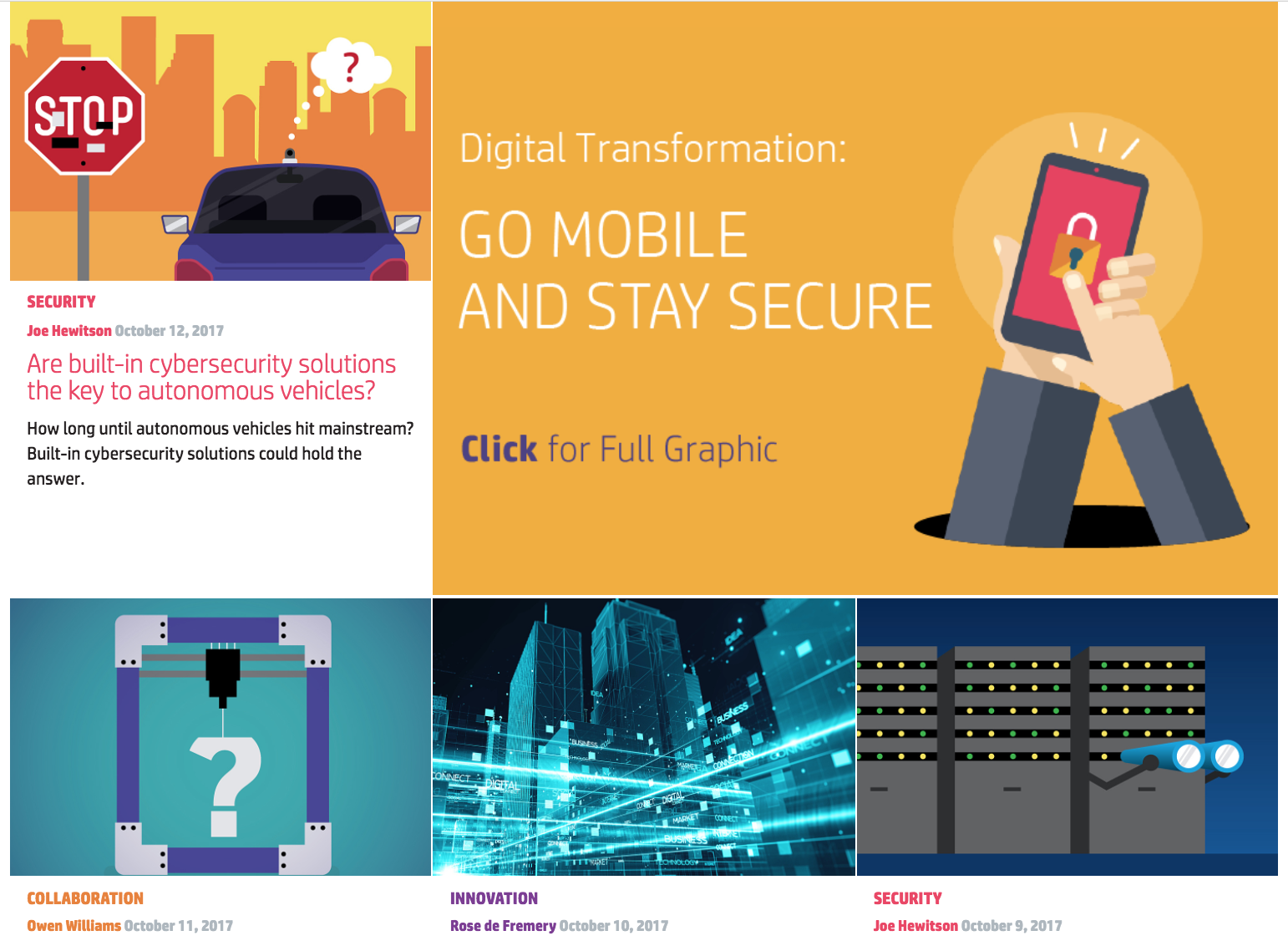 We're in the process of demonstrating that, but proving it is hard because, for starters, our content marketing platform, Tektonika, is on WordPress and it's measured by Google Analytics, while the HP.com mothership is measured on Adobe.
Where are you at now?
Our digital share of voice is growing around early-stage topics. So, if I type in "HP print security," I don't really want to be landing on the Tektonika content marketing platform. I want to be landing in my HP.com landing page ecosystem. But if I start typing in, perhaps, "cybersecurity breaches" or "endpoint security," we're getting more joined up in our thinking about where those prospects should be driven to and what their path to conversion looks like.
That's where it's getting exciting because we're beginning to demonstrate that case. Tektonika is becoming more findable in searches that signal intent from prospects in topics where HP has something valuable to say. What we're trying to do now is is demonstrate the value of that organic audience to channel and sales teams. We're not quite there yet, and there are always obstacles and objections to overcome, but we've come a long way.
Seems like a bit of an understatement, given HP's recent Cannes Bronze Lion win.
HP's short film series, "The Wolf," has received more than two million views on YouTube.
That goes to the culture of the organization. The award was for "The Wolf," a short film series that stars Christian Slater as a hacker explaining directly to the camera how easy it is to breach businesses from the inside, just by accessing poorly secured printer networks. It's a very slickly produced, high production value series starring a Hollywood star talking about printers. It's unheard of. And it's a privilege to be part of.
So you attribute that success to the company's culture?
Content marketing absolutely goes hand in hand with the cultural desire of your senior leadership. I can't take any credit whatsoever for "The Wolf" campaign, but, culturally, HP.com was not a storytelling organization five years ago. We've seen a sea change since Antonio Lucio became our CMO. It's so easy to do great work when storytelling is supported from the top down. "The Wolf" is just this great, big stake in the ground saying, "This is what impactful, persuasive storytelling is. This is how HP wants to be known." And generally, all our campaign content marketing can now work off the back of that.
How so?
So for example, now that we have "The Wolf," suddenly our paid media banners have real personality. A far-from-exciting whitepaper on printer security now becomes part of the wolf story with paid media assets that say something like: "Don't let the wolf grab your data. Find out why printers are your weakest link with this whitepaper."
It fuses virtually everything and it's something that can touch all parts of your marketing, while enabling editorial creation off the back of it. That classic, single hook, tent pole in the ground gives you a focal point from which to tell your story.
What advice would you give other content marketers on that front?
Make a mountain out of every molehill. Find some small success that you've had, find a benchmark that you compete on (and, ideally, beat) internally, and then talk about it endlessly. You have to bring people on a journey in an organization of [HP's] size. Win as many friends as possible, one friend at a time. You can't have enough supporters. And develop your empathy.
It's so easy to stay in your bubble, but empathy for your colleagues is just as essential as it is for your end customers. There are ways of thinking, frameworks, checklists – little things you can do to prick yourself from time to time, just to make sure you stay outside your bubble. If you can do that, then honestly, you're miles ahead of everyone else.
ThinkContent London is sold out, but for a chance to attend and see George Webster speak, add your name to the waitlist. Otherwise, subscribe to NewsCred Insights to receive full event recaps, videos, and presentations.
Anastasia Dyakovskaya is a NewsCred Contributor.
Originally published on Nov 1, 2017 10:00 AM, updated Nov 2, 2017