A few weeks ago, upon getting into work, I ran into Charles Hough, NewsCred's COO and President, who greeted me with this question: "How's the new website coming along?"
I was deep in the process of relaunching newscred.com, overseeing the design, UX, and project management. "Good," I responded. "Slow and steady, but we're making progress."
Hough paused. "There's a lot riding on it, so no pressure," he said with a smile.
We laughed and went our separate ways. Although I was confident the site would end up in a good place, that interaction made me realize how many of my colleagues were anxiously awaiting a new website. The pressure was on.
The Need for an Effective Website
Though a website may not be the most exciting asset in your marketing arsenal, it is, arguably, one of the most important. Your website is the face of your brand. It's how many people will find and learn about your company. And the truth is, they'll judge whether or not to engage with you, based on your website. As a result, your website can greatly affect the quality and quantity of inbound leads.
The old newscred.com had become a pain point for our company – so much so that the NewsCred sales team hesitated to even send the URL to clients and prospects, as the content was outdated and the user experience was less than ideal.
The old site was a result of urgent band-aid fixes and new pages that were added without consideration for the rest of the site. We originally built the site using templates from Mixture, a popular (at the time) static site generation tool that had since been discontinued. We added WordPress functionality but still only had limited editing capabilities.
As a result, the site:
Poorly represented our software, as we were promoting old features and platform interfaces.
Featured outdated messaging and brand positioning with little mention of our core offerings.
Had extraneous pages in the navigation that made the site architecture confusing, resulting in a suboptimal user flow and occasional dead ends.
Was not optimized for SEO or lead conversions.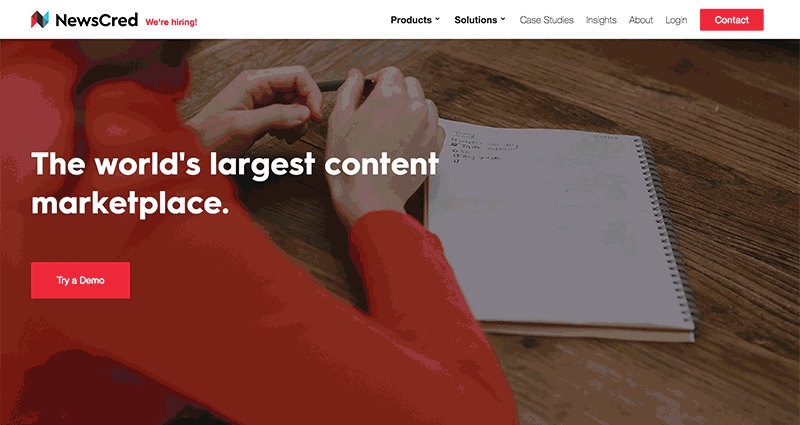 The Content page on our old site – a prime example of why tacking on updates without holistic considerations is a bad idea.
The old site had become too much of a monster to fix properly. Sure, we could have continued to patch things up, but a fresh start was really needed. I equate this situation to ongoing maintenance of the New York City subway system. The Metropolitan Transit Authority executes frequent, minor updates. These fixes allow trains to continue running, but don't address the core issues that would prevent problems. A multi-month station or line shutdown is a long-term investment, but is sometimes required to resolve deeply-rooted track issues. (We're looking at you, L train.)
It was time to wash our hands of the problem-ridden site and start anew.
Our Goals
Our first step of relaunching newscred.com was identifying our goals. In order for the website to bring in traffic and convert people to leads, it had to:
Demonstrate our content marketing expertise.
Showcase our expert services team (in addition to our platform and content offerings).

Improve the user journey to result in capturing leads.
Establish a solid WordPress foundation that would allow for scalability and simple maintenance.
Then, we set an aggressive timeline. Content Marketing World, the leading industry event, was coming up and NewsCred was the platinum sponsor. Based on historical data, we expected a significant traffic increase during and after the event, so we chose that as our deadline. Working backward from the launch date, we allowed one week for QA, four weeks for web development, four weeks for design and asset preparation, two weeks for sitemaps and wireframes – all while content creation happened in the background.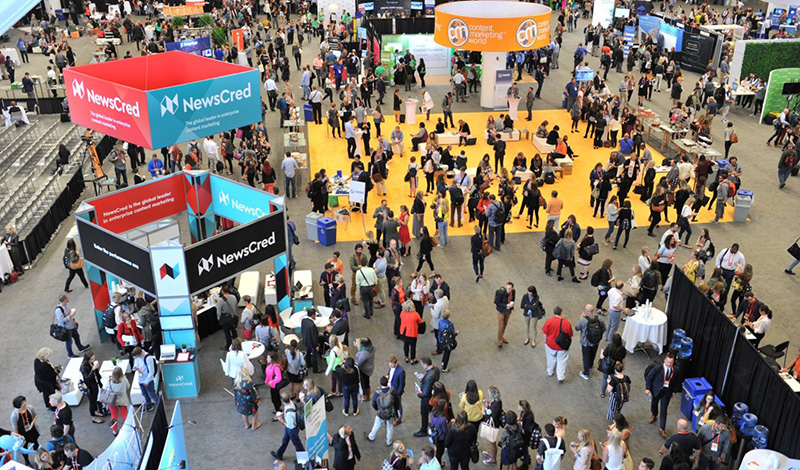 NewsCred's booth at Content Marketing World 2017 in Cleveland, Ohio.
How We Optimized the Website to Achieve Each Goal
1. Demonstrate our content marketing expertise.
In the past, we hadn't done a great job showcasing our thought leadership on newscred.com. We've long had Insights, our industry-leading, award-winning content hub overseen by Executive Editor Heather Eng, but we had virtually no cross-linking between Insights and newscred.com.
To unite the two and drive more cross-domain traffic, we embedded Insights content throughout newscred.com to complete the narrative of the pages. You'll now find Insights articles on newscred.com's Home, Careers, and Leadership pages. Plus, we feature custom and licensed content examples on our Content page to illustrate our offerings with real world examples.
Our clients have also seen success from embedding content on their websites, positively impacting content hub traffic, engagement, and conversions. In fact, a multinational telecommunications customer of ours has seen 62 percent of all blog traffic come from its website. And the traffic converts. For that same customer, conversions are five times greater for users that journey from website to blog and back to the website, versus conversions from users who only visit the website.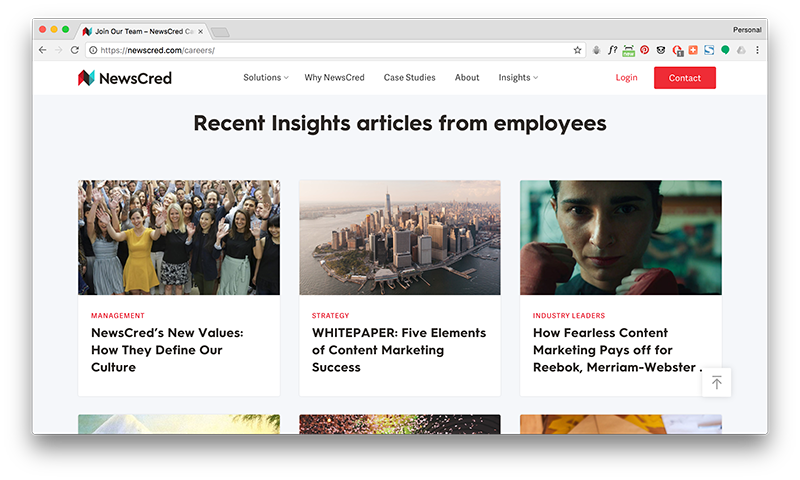 Embedded Insights content on our new Careers page, where we highlight articles written by our employees. This both demonstrates their thought leadership to candidates and increases traffic to Insights.
Our homepage hero treatment took more iterations than any other imagery on our site. It should go without saying that the home hero is prime real estate to capture a viewer's eye. It can make or break a visitor's perception of your brand and further engagement.
Several of our early illustrations attempted to capture everything that we do in a single image, which proved to be extremely difficult since our offering is multifaceted. Representing one facet, however, implied that we placed more focus on that offering. Rather than go the literal route, it became clear that we needed to go more abstract and not attempt to explain what we do, but rather allude to it. We landed on a custom background video of original and stock footage. With this video, we subtly let the viewer know we are a strategic tech company with a global presence. We let the headline and subhead do the rest of the talking.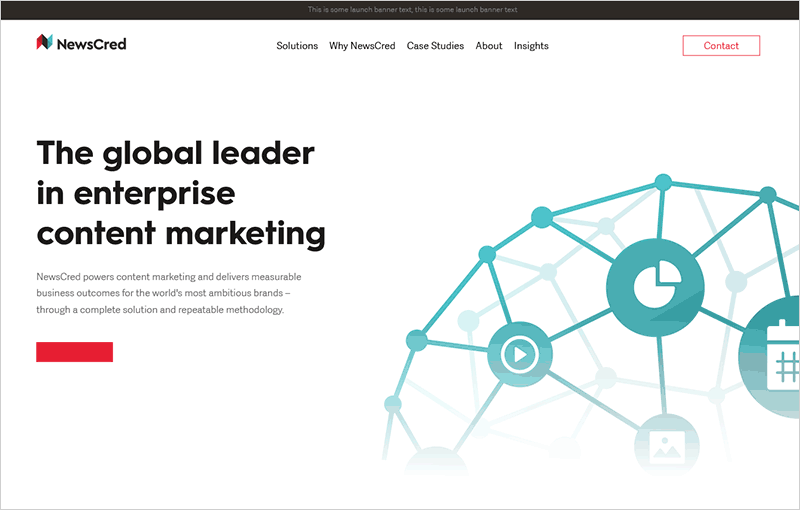 Unused sketches for our homepage hero.
2. Showcase our expert services team (in addition to our platform and content).
NewsCred proudly offers a full suite of content marketing solutions: custom and licensed content, a platform to manage marketing efforts, and expert services to not only steer brands in the right direction, but keep them on track. (Content marketing isn't easy.)
Of these three components, our expert services team is our differentiator. We created an Expert Services page to showcase the team. It features a few select profiles so visitors can learn about the people who provide our customers with best-in-class content marketing consultations and advice.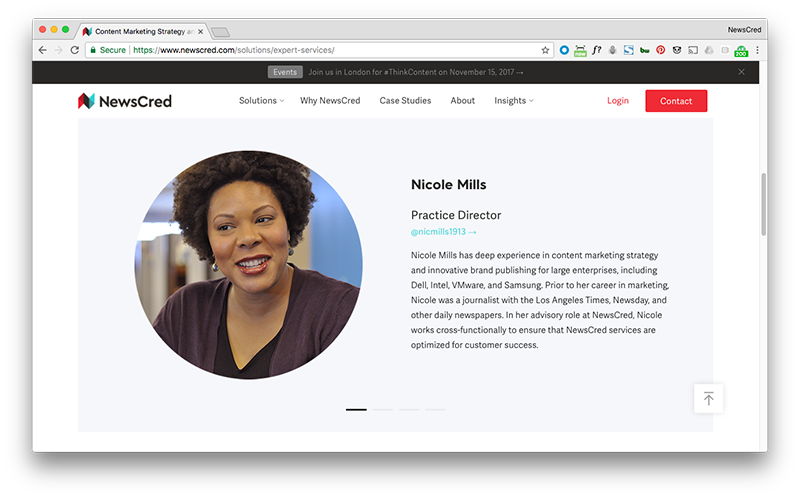 Our expert services team profile carousel.

3. Improve the user journey to result in capturing leads.
A huge benefit to starting the new site from scratch was having the ability to think holistically about an improved experience for both the end user and the team maintaining the site. Learning from the confusing architecture of the old site, we devised a simplified sitemap and user journey. This ultimately determined the global navigation terms and the order they would appear on our header.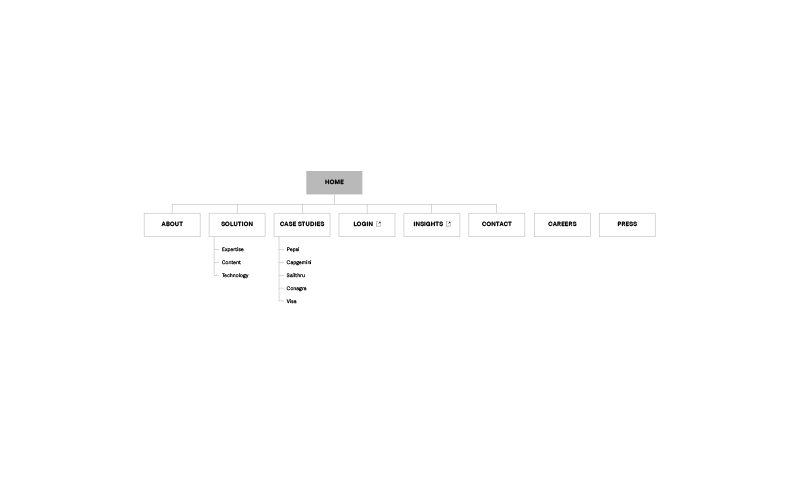 The evolution of our new site's wireframes.
With the help of our expert services team, we optimized the site for SEO. We identified keywords we wanted to rank on and ran copy through SearchMetrics to ensure they would. NewsCred now appears on the first results page for key phrases like "enterprise content marketing analytics," "enterprise content marketing software," "content marketing platform," and "content marketing software." Our results will improve over time as the site matures.
Previously, our contact form asked for very little information about users. Our new form has the top-level field, "I am contacting you because," which helps us better understand user intent and route leads to the right person. We also added a couple new optional fields that will help our demand generation team understand our audience even more: number of employees and company revenue.
4. Establish a solid WordPress foundation that would allow for scalability and simple maintenance.
With a tight turnaround and limited resources, it was important to make the developers' jobs as easy as humanly possible. To do this, we designed the site with repeatable components – elements that could be reused across multiple pages (e.g.: leadership and experts modal windows, client logos, and proof point metrics modules) for a quicker build. Not much unlike a pattern library for a software platform.
There is certainly a need to frequently update the site, so simple editability was key. Our developers built the new site with Divi, a WordPress theme that allows for visual editing. This has proven to be a very useful method of making quick updates to our site.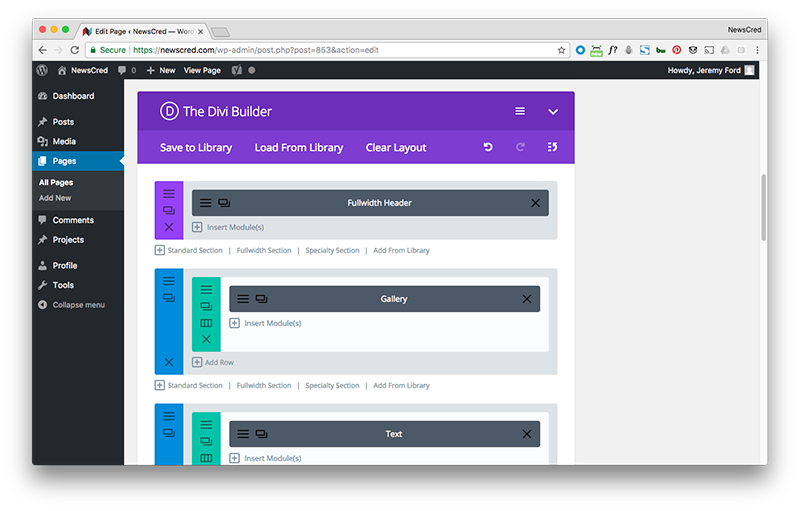 Divi's WordPress interface.
Results
About three weeks after launch, we started to see compelling data.
After the strategic decision to embed Insights content on the new site, we took a look at high-level metrics (bounce rate, time on page, sessions) and saw improvements in all categories. What was even more exciting though, was the amount of traffic arriving at Insights from newscred.com and the level of engagement. Referrals to Insights from newscred.com increased by 47 percent. In addition, those visitors have a bounce rate of 43 percent less, their session durations increase by nearly two minutes, and their conversion rate is about 2.5 times better.
The key learning for us here is that when blog content is tastefully embedded on a company's website, it does not have a negative impact on the audience, but instead has the ability to send users back to the website ready to take an action. Placing Insights content on the new homepage means that newscred.com is now preventing an additional six percent of the audience from bouncing – which could equal as many as 20,000 people a year.
And it's all because of content.

Jeremy Ford is NewsCred's Art Director.
Originally published on Oct 19, 2017 11:00 AM, updated Oct 24, 2017