When companies promote their cultural ideals, they're often met with some cynicism. And that's understandable; there are countless examples of organizations (think Enron) touting their inspirational values (communication, respect, integrity, excellence) but acting in direct violation of those principles. Though articulating values can be a meaningful corporate exercise, it's more interesting – and effective – to bridge the gap between aspiration and action.
At NewsCred, compassion is one of our five company values. Our How We Work document reads: "How well you treat others, especially how you treat people who can't do anything for you in return, is a true measure of compassion." When I first read this last summer, I had two distinct responses. I was proud to be a member of an organization that put forward this challenge to employees. And secondly, I wanted to explore how we could do more to live this value with integrity. While I believed in our sincere best intentions and experienced compassionate interactions with coworkers, we had no organized effort to give back to our community.
The Benefits of Workplace Giving
I started thinking about what a workplace giving program would look like at NewsCred. I decided that the most effective model would foster a companywide sense of community but feel deeply personal to each individual.
From my own experience, I knew there was often a gap between my intentions and behaviors. For many years in a row, I guiltily scrambled the last week of December to make a few tax-deductible donations. I wanted to be a more thoughtful, reliable contributor to causes I felt passionately about, and believed many of my colleagues would agree. I also hoped to make this process dead simple. My belief was that if NewsCred could offer an easy and automatic giving process, we'd accrue many small donations over the course of the year leading to a significant impact.
Workplace giving programs offer compelling benefits to companies, including increasing employee happiness and engagement. According to America's Charities, workplace giving programs aid in attracting and retaining talent, particularly when programs allow employees to choose where to give. In their article, "How to Make Giving Feel Good," authors Elizabeth W. Dunn and Michael I. Norton cite a Gallup World Poll that showed "donating to charity had a similar relationship to happiness as doubling household income." Additionally, they suggest that "when prosocial spending is done right – when it feels like a choice, when it connects us with others, and when it makes a clear impact – even small gifts can have a big effect on happiness, potentially spurring a domino effect of generosity."
Launching the Program and Seeing Early Results
Through a previous employer, I was familiar with RaisedBy.Us, a giving program for startups that allows employees to allocate a bit of their paychecks to their causes of choice. Internal ambassadors within each company work with RaisedBy.Us to onboard employees and organize local volunteering opportunities. RaisedBy.Us' donation platform, Bright Funds, allows each employee to fully curate an individual giving program, choosing the amount, charity (or group of charities), and contribution cadence. After I pitched RaisedBy.Us to NewsCred CEO Shafqat Islam, he enthusiastically supported moving forward.
In October 2016, a group of volunteer NewsCred ambassadors held a two-week participation drive to raise awareness and educate employees about this new benefit. At the outset of the two week period, we set a target of achieving the highest participation rate of any company in RaisedBy.Us history – which was previously set by a competitor of ours in the content marketing space. We defined participation as a donation of any amount to any charity. Throughout the two week period, we charted our participation progress on several giant thermometers throughout the office, and celebrated milestones through email and Slack. We held a happy hour and gave out raffle tickets to incentivize people to participate. And our CEO promoted the program in his weekly, companywide email.
Throughout the two weeks, we also curated events to connect employees to local organizations and understand the impact of their donations. Several teachers and students from After School Rocks, a nonprofit that brings music programs to New York City public schools, performed at an office happy hour and answered questions during a Q&A. The following week, we hosted a lunch-and-learn with STEM Kids NYC, an organization that offers a year-round, intensive suite of STEM education programs for K-12 scholars. We found that these interactions were meaningful to employees, as donations to these two charities made up more than 16 percent of our total donations for the year.
As we came to the end of our second week, we prominently displayed anonymous participation statistics by each department to ignite competitive spirits. Marketing folks started nudging their teammates to get involved so they could inch above sales, and we continued to emphasize our total participation rate against that pesky competitor in our space. It worked, and we achieved a record-breaking participation rate of 78 percent of all eligible employees in the U.S. and U.K., donating to 73 distinct charities in just two weeks.
Expanding the Program
After the initial fundraising focus, we rolled out local volunteering opportunities. Over the last year, we served meals at The Bowery Mission, hosted a group of high school students with ScriptEd, and packed school supplies for Care for the Homeless. We collected clothing for The Bowery Mission and Care for the Homeless, and each Friday we donate extra company lunches to Rescuing Leftover Cuisine.
Recently, in the wake of the devastating hurricanes Harvey, Irma, and Maria, we asked our customers to join Bloomberg's hurricane relief efforts by promoting usirecovery.org in a dedicated email blast. We also matched employee donations to hurricane relief charities and collected essential items for victims of Hurricane Maria. Meanwhile, employees in our New York and Dhaka offices donated money and distributed goods to victims of flooding in Bangladesh.
Looking Back and Moving Forward
One year ago, we enthusiastically celebrated our exceptional participation number. But this number fell as we were not consistent about encouraging participation with new employees. To address this, we added information about our giving program to orientation materials to give new hires the opportunity to join from the start.
As months went by, I realized that a minority of participants had set up recurring donations. This felt like an oversight in our initial onboarding approach, and the data backs this up. Among current participants, only 33 percent are monthly recurring donors, but this group accounts for 69 percent of total contributions for the year. The average donation amount over the year for recurring contributors per employee is $461 versus $99 for one-time contributors.


Our biggest opportunity to make a financial impact is to convert one-time or non-participating donors to recurring. To incentivize this, we are piloting a program where NewsCred matches the first month for employees who start contributing on a monthly basis.
We recently formed three subcommittees among ambassadors to focus on volunteering, events, and fundraising. This will allow more employees to get involved and ensure that all three types of activities receive thoughtful attention. A few weeks ago, we hosted our first event in several months, a happy hour with the "I Have a Dream" Foundation, a nonprofit that provides support to kids from low-income households to help them achieve their dreams. NewsCredders mingled with Dreamers, graduates of the program who are pursuing successful careers in teaching, the arts, science, and math.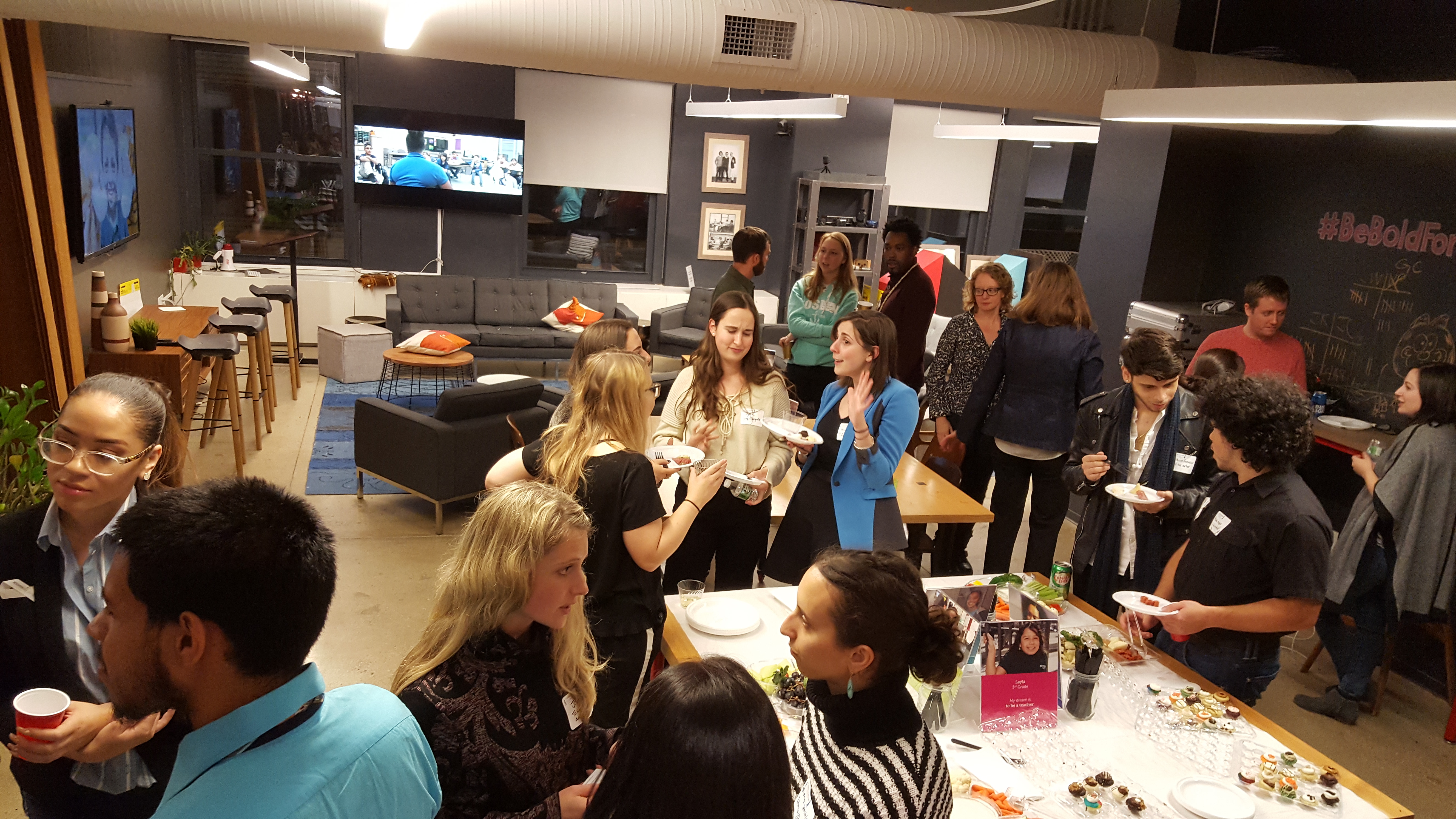 The Dreamers' stories were an important reminder of the value of storytelling in driving action. At NewsCred, our belief as a business is that content marketing drives measurable results. We know that employees give more generously when they are connected to the cause – as they did with our onsite events and our recent disaster relief efforts. I believe if we invest in sharing stories internally and externally about our personal stake in the causes we support, we will draw out the compassion in others, leading to that magical, virtuous cycle of generosity.
Cara Lemon is NewsCred's Agile Coach.
Originally published on Nov 14, 2017 11:10 AM