Let's be honest: Most people aren't too excited to read financial advice content.
Topics like investing, saving, and buying insurance can be confusing and complicated. And if someone already feels like he doesn't have a grasp on his finances, dense articles about IRAs or 401(k)s may just seem overwhelming.
Yet, people need to learn more about money management. A recent Financial Industry Regulatory Authority study of 27,564 Americans concluded that two-thirds could not pass a basic financial literacy test.
USAA's Mollie Walker and Suzanne McAuliffe, both Lead Marketing Managers and Content Strategy Leads, understand the challenges. USAA offers investment, insurance, and banking services to active military, veterans, and their families. As heads of USAA's content marketing program, which resides on USAAStories.com, Walker and McAuliffe work across lines of business to develop content that helps members understand those crucial topics.
"Everything USAA does is dedicated to trying to make members happy and improve our experiences with them," says Walker.
Which is why they saw podcasts as a huge opportunity.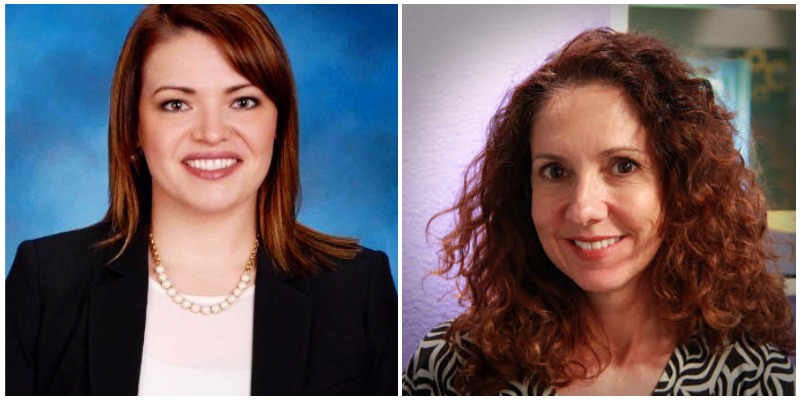 Mollie Walker and Suzanne McAuliffe, Lead Marketing Managers and Content Strategy Leads at USAA
Seeing Potential in Podcasting
Walker's podcast idea came from her desire to deliver financial content in an engaging, easy-to-understand format.
"We heard from members who asked, "Are there ways you can share that information – other than us having to read long articles?" she says.
So she decided: "Let's just talk about some of the basic topics."
Walker and McAuliffe started researching. They found that a large portion of their target audience felt they had little to no financial knowledge. They also learned that 57 percent of podcast listeners are in the 18- to 34-year-old range – which indicated that the medium would resonate among USAA's younger members.
Plus, they saw enormous engagement potential.
"You can listen to podcasts on the train, in the car, when you're mowing the lawn, while you're bathing your children," Walker says.
Getting Internal Buy-in
Walker also started investigating whether there would be any internal barriers for launching a podcast.
She stumbled upon a big one. Back in 2006, USAA had tried podcasting.
"This was when you had to go to a computer and download it. Podcasting wasn't mobile," says Walker. The 2006 podcast amassed just a couple hundred downloads before getting killed.
Though it was now a decade later and the format had evolved with the mobile space, executives were still skeptical from that early experiment.
Walker and McAuliffe developed a business case. Starting with mid-level leadership, they walked colleagues through the numbers, illustrated how podcasting is a growing medium, and how it could round out USAA's content portfolio.
"We had to prove out demand that people even wanted it. We had to show that we could produce it for $600 per episode. And we had zero funding for distribution," says Walker.
What they did have was access to USAA's newsletter, which reaches 7 million people.
"The Money Drill" podcast launched in September 2016 and saw success nearly immediately.
"We consistently have 24- to 26,000 listens per month with zero promotion; it doesn't appear in the e-newsletter very often," says Walker. "We found that it gave people a reason to stay on USAA Stories longer. That's when we started showing the leadership team that there is demand for specific podcast categories."
Four months after launch, McAuliffe presented the initial results to USAA's entire, 300-person marketing department. She easily received a green light for continuing and expanding the program.
Recording and Learning – Under Regulations
For episode topics, Walker and McAuliffe first turned to USAA Stories' most popular articles.
For a host, they tapped J.J. Montanaro, a personable USAA Certified Financial Planner. It's easy for the audience to identify with Montanaro because he's a veteran and skilled public speaker who shares financial advice at USAA events worldwide.
Initially, they wrote a script for the first episode, "How to Save $1,000 in 6 Months." With finance being such a highly regulated industry, the team thought it would be most efficient for legal and compliance to review the script prior to recording. But after releasing it, they decided it sounded too, well, scripted.
"Despite that, it's still our most popular episode, with more than 50,000 plays," Walker says.
Now, when the team is preparing an episode, they meet with in-house subject matter experts to determine talking points. Montanaro records the episode at USAA's studio, while a legal and compliance person listens. That person will flag anything that needs revision. Afterwards, an outside agency edits the podcast. The recording and transcript go through a final round of approvals before being published on USAA Stories. The team generally records one to three episodes per session, and releases three episodes a month.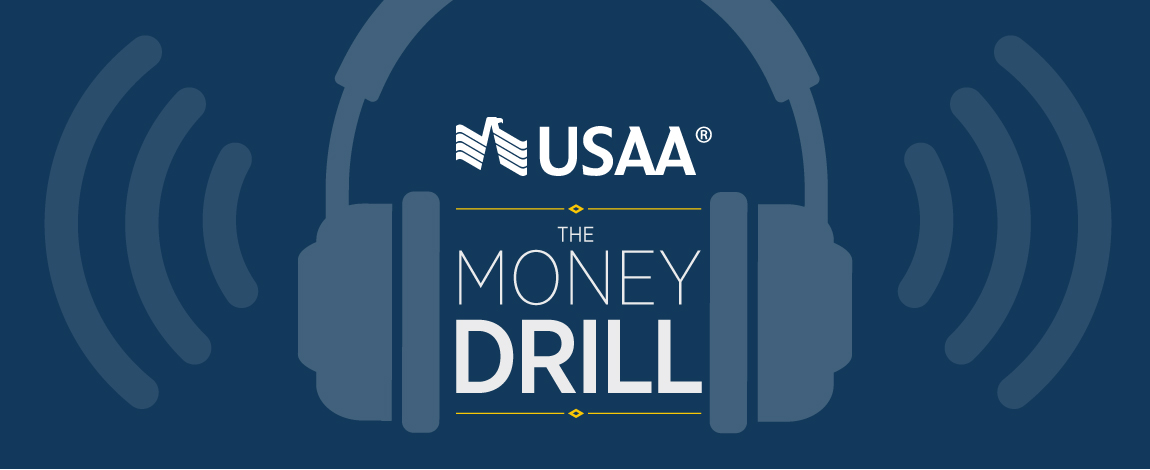 Finding Success Externally and Internally
Walker and McAuliffe see "The Money Drill" as top-of-funnel content.
"The podcast builds awareness and hopefully brings people into our space," she says. "The first space for us is USAA Stories. It's a relevant transition, so we're not driving you to our .com site, like, 'We've told you about IRAs – now it's time to get one!' Instead, it's to get people to come in and have a deeper understanding and discussion."
Through this engagement, they're hoping to stay in peoples' consideration sets until they're ready to make a purchase.
"We need to be as valuable as we can to stay in their minds and help them as they make decisions," Walker says.
The 24,000-plus plays per month, with a strong return visitor rate, indicate that the podcast resonates with the audience.
Beyond that, "The Money Drill" has found success in other areas.
Business teams within USAA are integrating the podcast into customer outreach and nurturing.
"They're slicing and dicing podcasts and putting them into audio lessons on education hubs," says Walker. The business teams will tag users based on the information they need and surface relevant podcasts as part of their journeys.
"The podcasts are continuing to live on and add value to other business teams within our organization. We consider that a big win," Walker says.
Evolving the Podcast
Now that "The Money Drill" is nearing the end of its one-year soft launch, Walker and McAuliffe are evolving it, based on learnings and their content marketing strategy.
McAuliffe, who has a journalism background, is developing a stronger brand voice and creative direction. In addition, they're looking to experiment and scale other new, creative formats.
"Some people like to read long-form articles, some prefer podcasts, some like an infographic. They're all relevant, engaging ways to deliver information," says McAuliffe.
The next iteration of "The Money Drill" may be more story-driven. Rather than offering straightforward financial advice, future episodes may tackle trends like minimalism and tiny houses. Walker and McAuliffe also plan to release the podcast on iTunes, Overcast, and Stitcher.
While they acknowledge the work that's yet to be done, Walker and McAuliffe are proud of what they've accomplished thus far – especially in winning over previously skeptical colleagues.
"Podcasts are accepted as a viable medium. It put content marketing, as a program, on the map for USAA, where it had never been before," says Walker. "Over time, we hope to show that the more we grow our content marketing as a program and discipline, the more we can save on the awareness media that we have to purchase. We're filling that gap and telling a story in between awareness and buying stages."
They also take pride in knowing that they're accomplishing their initial goal of education and awareness.
"Investing and preparing for retirement are not just for people who can save lots of money. They're for people who can be smart and have some guidance around those topics," says Walker. "We'd heard that some members don't want to call because they feel they don't have enough knowledge or money, and that no one will talk to them. So through content, we want to talk to them and tell stories about other people so they don't feel alone.
"We don't have that all nailed down, but those are the conversations that Suzanne and I are having," she adds. "To really humanize money."
Heather Eng is NewsCred's Executive Editor.

Thank you for subscribing!
Our best content will now come straight to your inbox.