Years before joining BuzzSumo – newly acquired by Brandwatch – the company's Director, Steve Rayson, was working in the e-learning space, starting and selling a string of startups. "The last one I sold was in 2012 and I was locked out of working in e-learning when they bought me," Rayson says, "so I was looking for something else to do and at tools to invest in."
He came across an early version of BuzzSumo in a discussion forum that co-founders James Blackwell and Henley Wing had set up. "I really liked it, so I approached them and said, 'Would you like to turn this into a company?'" With Wing working at a bank in New York and Blackwell at an agency in London, the two had never met. Rayson's question triggered a series of events that led to the creation of the BuzzSumo we know today, which has attracted 390,000 freemium users and has 3,500 companies paying for access.
What does the company do? What are content marketers doing wrong? And what does it take to create a viral headline? Rayson answers all that and more in this exclusive Q+A, leading up to his talk at NewsCred's upcoming ThinkContent London 2017 summit.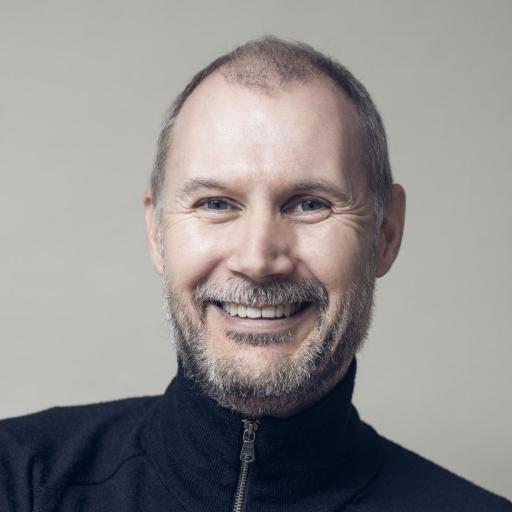 Steve Rayson, Director, BuzzSumo
What is BuzzSumo known for?
We share the content that's worth making and that's engaging people. Type in any topic, and rather than displaying authority sites like Google will, we'll show you the most shared content for that topic. So whatever it happens to be – shoes, fashion, big data – we'll show the most shared articles on that particular topic.
You start to be able to see, quite quickly, the type of content that's resonating with different audiences and industries. Beyond that, we help you understand why certain content is getting shared. We'll show you who shared it and who linked to it – the main ways content gets amplified. We'll also show trending content, topic dashboards, and questions asked about any topic. If you type in something like "weddings," we'll show you 600,000 questions asked about weddings, which we've grouped into topics: engagement rings, dresses, receptions, destinations, honeymoons, and so on.
After sifting through all that, what's your content marketing philosophy?
Less is more. My view on B2B content is that there's so much published these days, just massive amounts, and you're competing with more and more content every day. Actually getting yours to cut through and get shares is really hard. Go for high quality. Don't publish on a schedule just because it's Monday; publish when you have something worth writing about. It takes time, but it's worth it.
Our database is made up only of content that gets shared. If a piece of content has zero shares, we rarely put it in our database. We work on the assumption that if it's not had a single share, not even from the author, it's probably not that relevant. And even from our database, when I pulled a million posts at random, the average number of shares was eight. So, really low. That's just the truth.
So, what are content marketers to do?
You have to produce really good content, the kind that works: comprehensive content, long-form content, strong opinion content, strong research content. Quality content tends to cut through. The world doesn't need another thousand word article on how to improve your landing page, it really doesn't. Just looking now within the last 12 months there've been 51,000 articles published on content marketing. So you've got to stand out against 51,000 articles just in the last year.
Like your now famed post: "We Analyzed 100 Million Headlines. Here's What We Learned (New Research)."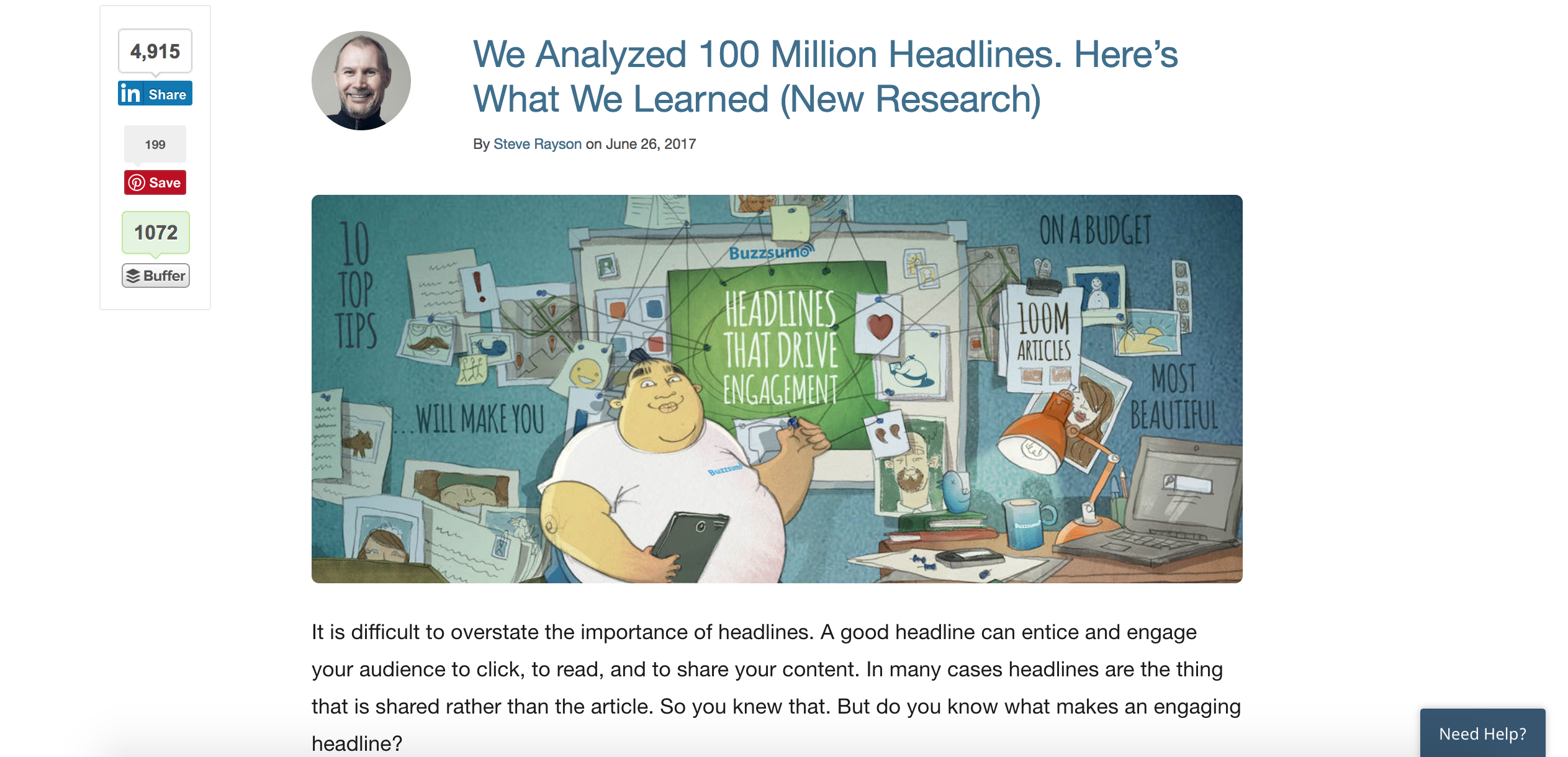 It took me two months to write that article. Some people expect articles to be written in less than three hours, when it can take months to put together a comprehensive piece of content. And it's worth it, because that article got 17,500 shares, which is big in our space. It got a lot of traffic, about a quarter of a million visitors to the site, which is a lot for us. It also got 360 links to the article from different domains. So there's a lot of work in that article, but it added real value to what people are looking for and doing and that's why it got so many shares.
And that success is due to what?
It's due to the type of content it was. Comprehensive, long-form, research-based content with practical application that people wanted to share and link to. You can't do that sort of content every day, but I think if you're a smaller company, you can try to stand out that way.
What about distribution?
You have to work on amplification and promotion of your content. So, we email our users – not all of them, but we might email about 200,000 about a new research post and that will drive a lot of the traffic. You can grow your social media followers, but building an email list is great for distribution and cuts through more than anything else in our experience.
So, after all that work, did you find a formula for the perfect headline?
There is a way of writing a headline that will get you more shares. It requires:
Emotion: There's an emotional element you need in your headline. Is it beautiful, shocking?
Genre: You have to tell the reader was to expect. What is the content? Is it images? Facts? Charts? Quotes? Video?
Topic: In any industry, there are en vogue topics: Uber, artificial intelligence, machine learning, Donald Trump. Or perennial topics that are always en vogue like cats, dogs, babies, long life, and love.
Format: Is it a list? A quiz? A story? A research post?
Headlines work better when these four elements are included. The fifth and most important element is that the overall headline has to have a promise. When we analyzed those top headlines, "Will Make You" was the top phrase on Facebook by miles and it's because it connects the content to the impact on the reader. So, something will make you more productive, more informed, happier, whatever it may be – there's a clear promise in the headline.
Can you give us an example?
When you see a simple BuzzFeed headline like "27 Amazing Charts That Will Turn You into a Baking Whiz," it seems really simple, but it's actually an incredibly clever headline because it has all of those five viral elements: "27," it's a list post. "Amazing" is the emotional, superlative word. "Chart" is the content type. "That will turn you into" is the promise. And then "baking" is the topic. So it has all five elements.
Nowadays, the content has to be exceptional and helpful, but also you need to get people to read your content and that's where the headline comes in. You've got to make it do its job – with the help of these five elements – to get people through to your content.
What else does B2B content marketing need to succeed?
There are two parts to content marketing. One is creating content, and the other – and you should spend 50 percent of your time on this – is amplification of the content. You can't publish something and expect people to find it. It just doesn't happen unless you've got a really big audience, like The New York Times. But if you're a B2B site, you have to amplify.
That means you have to work with influencers to share it. You might want to get paid Facebook ads, work with people to link to your content. Every piece of content you publish has to have an amplification strategy. Otherwise, it'll just sink without a trace.
ThinkContent London is sold out, but for a chance to attend and see Steve Rayson speak, add your name to the waitlist. Otherwise, subscribe to NewsCred Insights to receive full event recaps, videos, and presentations.
Anastasia Dyakovskaya is a NewsCred Contributor.
Originally published on Oct 30, 2017 10:00 AM, updated Oct 31, 2017