Over the past few years, we've seen an exponential surge in content on the web. Competition for online attention is more cutthroat than ever, and as a result, marketers have come up with new strategies to get their content read. "Clickbait" headlines that end with, "…and you'll never believe what happened next" have become the norm in today's world. The primary purpose of a headline is to get the first sentence read, but while these tactics may grab attention initially, readers can eventually feel duped after realizing they fell for a clever marketing trick.
That said, there is an importance that should be placed on writing an attention-grabbing headline. While the goal should never be to mislead your audience, here are a few tactics that can be used to to pique your audience's interest.
1. Convey a Sense of Urgency
This strategy compels a reader to look at your article so they don't miss out. It is most effective to include something that could be a common mistake
Example: "Are You Losing Sales By Giving Your Customers Too Many Options?"
2. Utilize the Curiosity Gap
Give your audience enough information to understand the topic, but leave them wanting more. This type of headline is best to use when educating your audience on how to do something.
Example: "What Startups Can Learn from Watsi's Wildly Successful Email Campaign"
3. Be Useful and Convey a Benefit
If your headline isn't useful and doesn't convey a benefit, then it may not give people a reason to continue reading past the headline. This type of headline should give the reader an idea of what they'll be able to do after they read the article. The key for this strategy is to make sure you're communicating a tactical takeaway.
Examples: "How to Create Professional Client Proposals in Minutes"
4. Inject Emotion
According to research by CoSchedule, headlines with "emotional" words in result in significantly more social shares.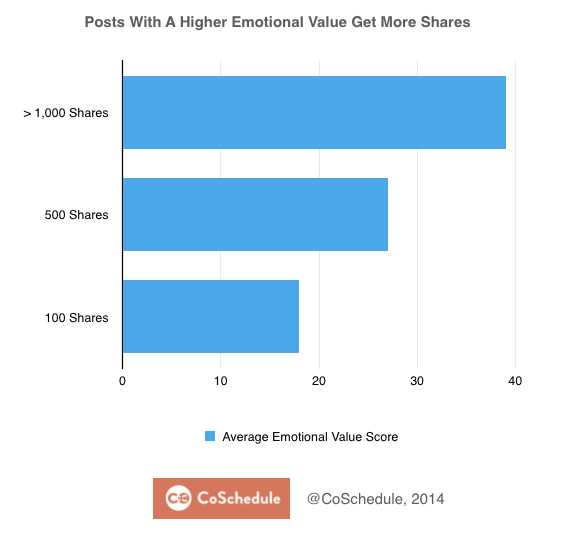 According to CoSchedule, "emotional marketing value" dates back to the 60's and 70's when government research scholar Dr. Hakim Chishti was studying the roots of several languages including Persian, Aramaic, Hebrew, Arabic, and Urdu. His research found that languages have underlying harmonics that are always interpreted with the same "emotional" reaction. An emotional marketing value score looks to asses how a group of words follow these emotional harmonics and how likely they are to elicit an emotional response from a reader.
Example: Tax Tips for the Second Half of the Year (Emotional Marketing Value of 0%)
Example: Things You Should Do Right Now To Prepare For Tax Season (Emotional Marketing Value of 45%)
5. Include Numbers
It may seem like every other article on the Internet begins with a number, but that's simply because it works! Including a number directly informs the reader how much time they need to commit in order to read the full article.

Listicles also follow the "walk-jog-run" article writing principle well. If the content is sufficient, someone can slowly "walk" through the article, reading all the content in full. If someone is more pressed for time, they can "jog" through the article, skimming it at a faster pace. For someone who only has time for a quick read, they can "run" through the article, just reading the listicle headers and obtaining the main points.
Example: "8 Key Steps For Creating an Effective Trust"
Finally, without further ado, here are 37 formulas that mix the tactics above to help get your next article read by your audience:
Can ___ Really ___?
Are You Losing ___ By [Doing Something]?
What is ___and How Do I ___?
What is ___ and Why ___?
The Right Way to ___
Should You Really___?
The Best of ___ of [Date].
Our Complicated Love Affair with ___
[#] Common ____ Myths, Debunked
[#] ____ Myths, Tested + Debunked
[#] Common ____ Mistakes and How to Avoid Them
How Can __ Help Me ___?
Don't ___ and Other Advice from ___
The Case Against___
The Case For ___
Why We Can't Truly ____, According to Data.
The Real Reason People Keep ___
The Real Cause of ___
How One ___ Turned ___ Into ___
Why ___ Is Still ___ Despite ___
Why [Audience Group] Love ___
What ___ Can Learn From ___
How to ___ The Perfect ____
Yes, ___ Needs ____. Here's Why.
Confessions of a _____
Yet Another Reason Why _____
How, Exactly, Does ___ Work?
Does ___ Really ___?
The Struggle Between ____ and ____
This Company [Insert Impressive Statistic]. Here's Its Secret.
[Brand Name]'s [Executive Title] on How to ___
[#] Best Pieces of Advice for [Audience Group] in [Year]
Everything You Need to Know For Successful ____
What to Do When ___
How to Say No To ___
Are You Really ___ Or Is It Just ___?
[#] [Products, Solutions or Systems] [Audience] Can't Live Without
Liz Bedor is a Senior Content Marketing Manager at Bluecore. This article originally appeared on her blog, lizbedor.com.
Originally published on Apr 7, 2016 10:00 AM, updated Aug 11, 2016