This brand spotlight comes to you from NewsCred's London-based European team.
Effectively targeting millennials is one of the biggest challenges facing the world's biggest brands – yet the issue is often debated in boardrooms far removed from the presence of the very millennials with whom they are looking to connect.
Poet, YouTuber, future astronaut, and millennial Hussain Manawer says brands need to stop cutting millennials out of this conversation. Instead, they need to bridge this chasm by talking directly to their coveted young audience.
Manawer spoke at NewsCred's #ThinkContent Summit in London and gave a room full of curious marketers a glimpse into how to best use content to engage with millennials – and, crucially, how to build, land, and retain trust with them.
"We are the most powerful generation of all time," Manawer said, citing how millennial influencers can gain massive followings for topics as niche as reviewing chewing gum flavors. "So how do you engage this generation?"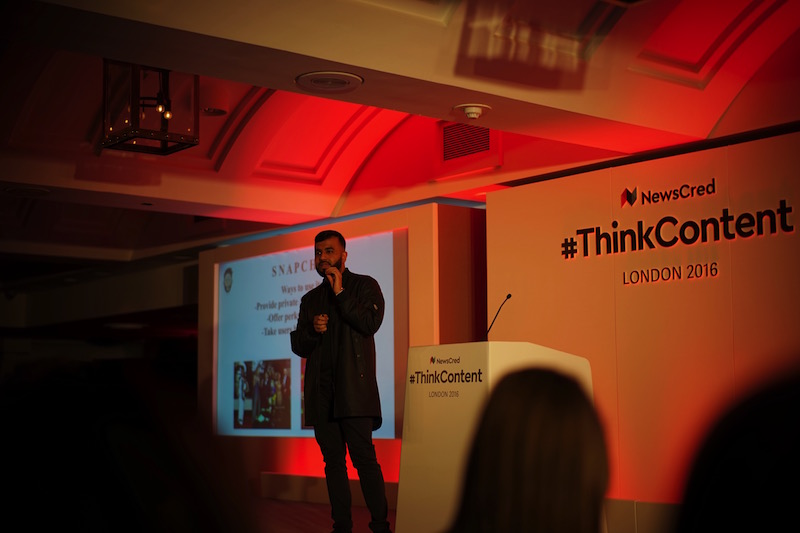 Hussain Manawer at #ThinkContent London 2016
What Are Millennials Looking for?
Manawer decides what content to engage with similarly to how he chooses what to eat. First he looks at the menu to decide what meal he wants. Then there is the process of consuming it, and finally digesting it.
According to Manawer, millennials choose the "food" that is most readily available and will quickly and efficiently satiate their hunger.
But in order for them to keep coming back to this "dish," they need to be able to associate it with being "high-quality," "reliable," and ultimately "something that works for them."
Give millennials a good experience and, much like they do for favourite foods, they will keep coming back for more. This is why YouTube, Instagram, Twitter, Facebook, and Snapchat are staples of millennial media diets. Millennials are constantly hungry for the best new content and for knowing how others are responding to their posts.
Beyond those channels, "#QualityControl" should constantly be on content marketers' minds, too. Because, as Manawer puts it, "there is no excuse for putting out whack content."
What Content Engages Millennials?
So what makes content engaging for millennials?
Manawer, himself, has been able to connect with hundreds of thousands of young people though his YouTube videos featuring collaborations with U.S. comedian Kevin Hart or funny sketches following his journey going back to his old school.
However successful those videos were, he describes them as quite "disposable."
A social activist at his heart – Manawer is a fierce campaigner for mental health issues – he has also produced powerful videos that didn't perform so well, including a social experiment that involved him standing blindfolded in London's Oxford Street asking anyone who has ever suffered from anxiety or depression to give him a hug.
Another showed Manawer spending a night at a refugee camp in Greece.
The Oxford Street video got 5,926 views and the refugee camp video gained a mere 598 – minuscule numbers compared to the thousands of views his other videos received.
Yet, despite the low plays, the Oxford Street video is Manawer's claim to fame.
"Of every single video I've done, the one that gets spoken about the most is the Oxford Street one," Manawer says. "People do care about meaningful things."
Manawer says although millennials care about important and powerful issues, marketers need to communicate such issues in an engaging and entertaining way with the right, inspirational, and influential people they aspire to be like.
How Can Brands Find out What Millennials Want?
Manawer's answer is constant: Ask them.
And by this he means get down to the bare bones of market research and then some: Go to where the young people are and find out, first-hand, what they're looking for in content.
Brands should evaluate who is in the meeting room when the discussion of targeting millennials takes place.
"How are you going to connect with young people if you don't have any involved in the process?" Manawer asks.
What Distribution Channels Can Brands Use to Reach Millennials?
When it comes to social media, Manawer zones in on the rising force that is Snapchat.
Though Snapchat can be an important channel for brands to get their messages out, Manawar concedes that many, many brands are using Snapchat in the wrong way.
According to Manawer, best practices for brands on Snapchat include:
Providing private or exclusive content
Offering perks or promotions
Taking users behind the scenes in some way
For example, the Grammys Snapchat was particularly special last year, taking ordinary viewers behind the scenes at the most prestigious event in the musical calendar. This provided people with a chance to get up close and personal with their favorite artists and feel like they were truly a part of the big night.
Manawer holds food delivery service GrubHub up as another example, taking their search for a summer intern at their head office to Snapchat and getting hundreds of applicants – a great example of a brand going directly to where its target audience is.
What's the Most Important Tactic for Reaching Millennials?
"Don't underestimate millennials. All they want is to be spoken to as people."
This is one of the key takeaways from Manawer's rousing segment.
As he says: "Millennials aren't stupid. They know they're being marketed to."
Aside from going to where young people are and speaking to them directly, getting young people into the office is a great way to not only gauge their insights and opinions, but to build your content strategy with millennials at in mind.
Corporate social responsibility initiatives, such as partnering with a local school and offering mentorship, or having a senior figure within the company giving free lectures at universities, can help companies effectively connect with millennial audiences.
Crucially, Manawer stresses that brands fail when they don't understand what drives young people, and when they make young people feel alienated.
And the best way to stop them from feeling that way?
Get them involved.
Manawer's Top Takeaways for Brands Looking to Reach Millennials:
Understand the values that drive them. According to Manawer, those values include happiness, discovery, sharing, and passion.
Understand their realistic lifestyles and experiences. This starts with speaking directly to millennials and gaining deep insights into who they are and what they care about most. Then, find ways to amplify their realities.
Make them feel involved and informed. Interact with them on an ongoing basis, starting from your research and ideation phase.
Cloe Fernandez Barnes is an Editorial Strategist in NewsCred's London office.
Originally published on Apr 3, 2017 10:00 AM, updated Apr 4, 2017