As marketers, we often talk about creating content for every stage of the buyer journey.
We produce "top-of-funnel content," like social media and blog posts, to draw in people who may not know our brands. We also create "middle-" and "bottom-of-funnel" content, like in-depth, long-form blog posts, whitepapers, and webinars, to build relationships with prospects until they convert to customers.
The buyer journey is not always linear – while some people actually come in through top-of-funnel content, others stumble upon a middle- or bottom-of-funnel piece that catches their attention. But content is a proven part of the buyer journey, and it's necessary to create assets for all stages.
But for a lot of marketers, that's a challenge. That's a lot of content to create.
And most content marketing teams are very lean.
Fifty-five percent of B2B companies say they have small (or one-person) content teams serving their entire organizations, according to the study "B2B Content Marketing: 2017 Benchmarks, Budgets and Trends—North America," from MarketingProfs and Content Marketing Institute.
At NewsCred, we're no different. We have a small marketing team with just two full-time people dedicated to content. We also have to be creative, efficient, and strategic with our content production.
We've found success in tying together our editorial and demand generation strategies. By repurposing one strategic piece of content into multiple formats, we attract, capture, and nurture potential leads at every stage of the buyer journey.
In this post, we'll use a recent example to walk you through how we do it. We'll also provide actionable next steps so you can implement a similar system in your organization. It should also be noted that we did not contract additional vendors to assist in any portion of our content creation; we accomplished it all with a team of five people, in less than one month.
Here's how to get started:
Identify a Topic for a Long-form Blog Post (Top-/Middle-of-Funnel Content)
We've found that the content-scaling process works best when you start with a long-form article. All content relies on a strong topic and good writing. By beginning with a long-form article, you'll build a strong foundation for content scaling, since you can pull copy from it to create other assets (your video script, webinar content, social media posts).
The topic of your article should be core to your business, vision, or mission. Since blog posts attract both new and old readers, this an opportunity to give both audiences a better sense of who you are. The article should showcase your expertise in your field and offer valuable information. In addition, it should appeal to the majority of your target audience.
One other thing to consider is the timeliness of your topic. Ideally, it should have a hook that makes it current and compelling. But it should also be evergreen enough so all the assets you create will have a long tail.
At NewsCred, one of our key focus areas is proving the ROI on content marketing. We're committed to helping other marketers do the same, and our Demand Generation Manager, Liam Moroney, saw an opportunity to show others how to set up Google Analytics to track content marketing conversions.
The result: He wrote a long-form blog post entitled, "Google Analytics: The Complete Guide to Setting up Your Content Hub to Measure Conversions."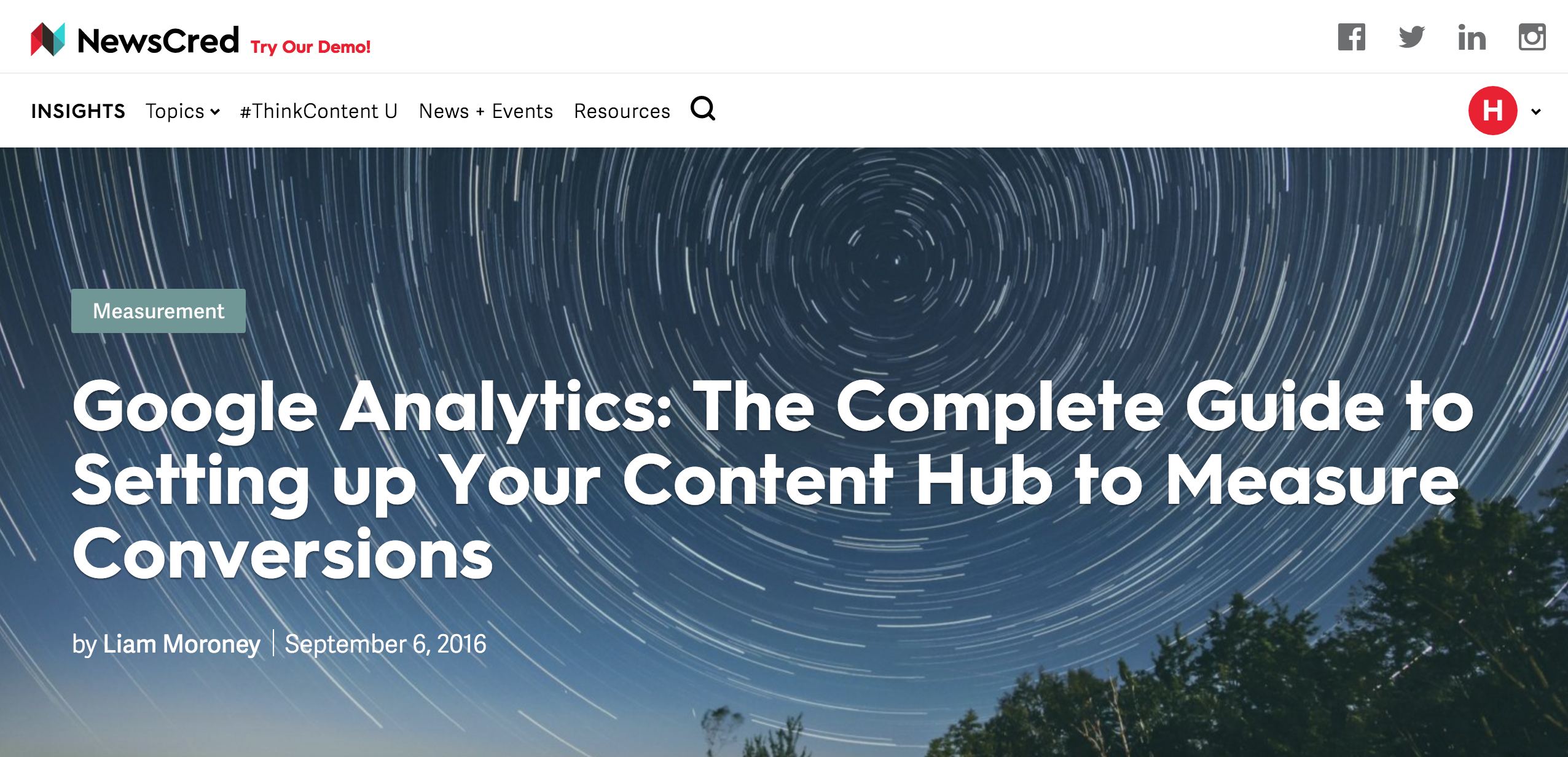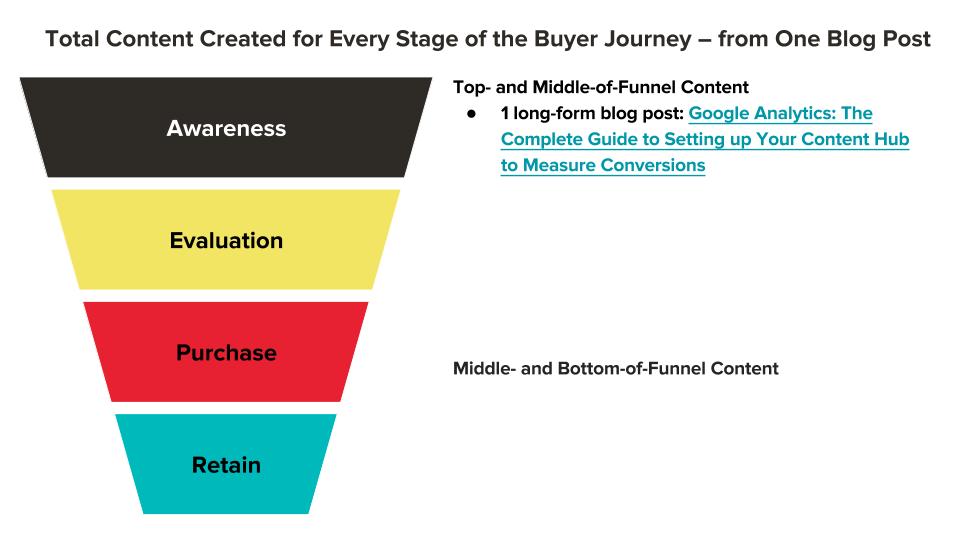 Actionable Next Steps for Marketers:
Brainstorm what you can write about authoritatively, at length, that is core to your business/vision/mission.
Determine whether the topic is timely yet evergreen.
Evaluate whether the topic will appeal to the majority of your target audience.
Repurpose the Article for Other Parts of the Buyer Journey
Liam's long-form blog post performed well on our website and newsletters: 22% of its readers were leads. This confirmed our hypothesis that it would be a good candidate to repurpose for other parts of the buyer journey.
Turning a Blog Post into a Webinar (Middle- and Bottom-of-Funnel)
The first way we repurposed the blog post was by turning it into a webinar.
At NewsCred, webinars are key to our lead generation strategy. When people sign up for a webinar, they're looking to learn about a particular topic, and they see your brand as a thought leader. This signals that they trust you and are interested in building a deeper relationship.
Webinars are also great for re-connecting with prospects who have not engaged with you in a while. Since webinars are about sharing information – and not making a sales pitch – they're a good way to remind people about your brand while offering them value.
Liam saw a webinar as a chance to provide more context around his blog post, which was very tactical with step-by-step instructions. The webinar offered him the ability to better explain the concept of using Google Analytics to measure content marketing conversions, with real-time examples.
Using his post as a jumping-off point, Liam created a presentation deck with the topics he planned to illustrate with live demos. He drafted a script and did three full run-throughs, until he had refined his talking points and could speak naturally, off-script.
In the two-and-a-half weeks leading up to the webinar, we sent three emails to NewsCred's full database of about 100,000 users. We received 1,500 registrants, and of those, nearly 500 attended – and 45% were top-rated leads.
After the webinar, we followed up with all the attendees. We sent them the original Google Analytics blog post and gave them access to the webinar video that we had recorded.
Actionable Next Steps for Marketers:
Based off your blog post, determine what information will best translate to the webinar format. What will offer your audience the most value? What can you better explain verbally, or demonstrate live?
Create a presentation deck based off your blog post.
Do a few practice run-throughs to refine your deck, demonstration, and talking points.
Promote the webinar via email and social.
Plan how you'll follow up with leads after the webinar: What content will you send people to add value and continue engagement?
Turning the Webinar Assets into a Video and Blog Post (Top-of-Funnel)
After the webinar, we embedded the video into a new gated blog post: "WEBINAR: How to Measure Content Marketing Conversions with Google Analytics." To access this top-of-funnel piece, users have to register, which gives us valuable information about who they are. The sign-up also opts them in to receive our newsletter – so we can continue to build a relationship with them.
In addition, we uploaded the full webinar video to NewsCred's YouTube channel, and the complete presentation deck to our SlideShare page. This gives potential new prospects two additional ways to find us through search (whether they're searching on YouTube, SlideShare, or just on Google).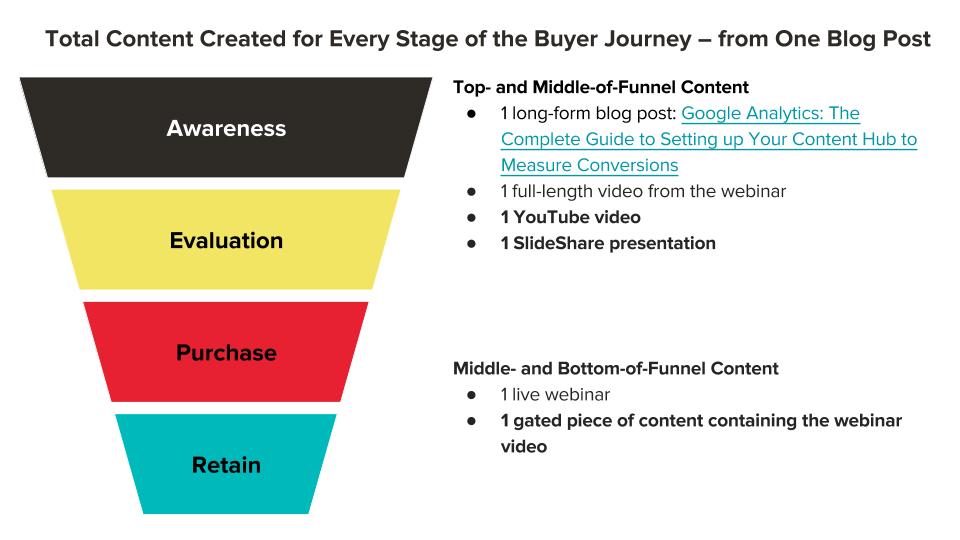 Actionable Next Steps for Marketers:
Strategize how you can best utilize a recorded webinar. What methods will allow you to capture the most leads? Will you share the video on social? Or gate it on your site so people have to register to view it?
Turning a Blog Post into a Video (Top-of-Funnel)
Every marketer knows that video creation is an imperative. By 2019, videos will account for 85% of search traffic in the U.S. Social networks prioritize videos in users' feeds. And accordingly, marketers must create videos to get their messages out.
As is the case for many marketers, video creation is a challenge for us at NewsCred. We don't have an in-house team that produces videos. Nor have we consistently worked with an agency to create branded videos.
Yet, based off the success of the long-form Google Analytics blog post and webinar, we felt a video would be a valuable asset. Since the post and webinar are very in-depth and tactical, we felt we needed something that quickly explained the topic – namely, why measuring content marketing conversions is important, and how marketers can do so. We felt that a short, explainer video would do the trick.
After weighing our options, Alexa Biale, NewsCred's Brand Marketing Manager, decided that it would be too costly and time-consuming to contract an agency to create branded videos. In the long-run, we would be better-off figuring out an in-house system that we could use on an on-going basis.
First, we mapped out the timeframe in which we'd have to complete a video, from start to finish, to ensure it was a truly scalable solution. We identified who on our team would be responsible for writing and editing the script, and who would be responsible for storyboarding, designing and producing the video. We estimated the number of hours we'd need for every step. And we set a goal of completing the video in three full days.
Then, we brainstormed what features we'd need from a video program to allow us to meet that target.
Our Senior Designer, Jeremy Ford, and Marketing Operations Manager, Steve Katz, determined that the ideal program must:
Be user-friendly enough for anyone to create professional-quality video – no design or video experience required.
Allow us to use our brand's fonts and colors, plus our own music selections.
Support video embeds.
Offer mobile capabilities.
Be affordable – ideally less than $100 per month for a multi-user plan.
Jeremy and Steve evaluated a number of programs, including Animoto, Adobe Spark, Adobe Premiere Elements, WeVideo, Magisto, VideoScribe, PowToon, and GoAnimate. They determined that GoAnimate's features best aligned with our criteria.
Then, we started production. Based off the original long-form blog post, we wrote and edited the script. Then, Jeremy and Steve storyboarded and designed the video. We went through three rounds of collaborative edits until we had a finished product. And we managed to hit our goal, creating the video in three full days.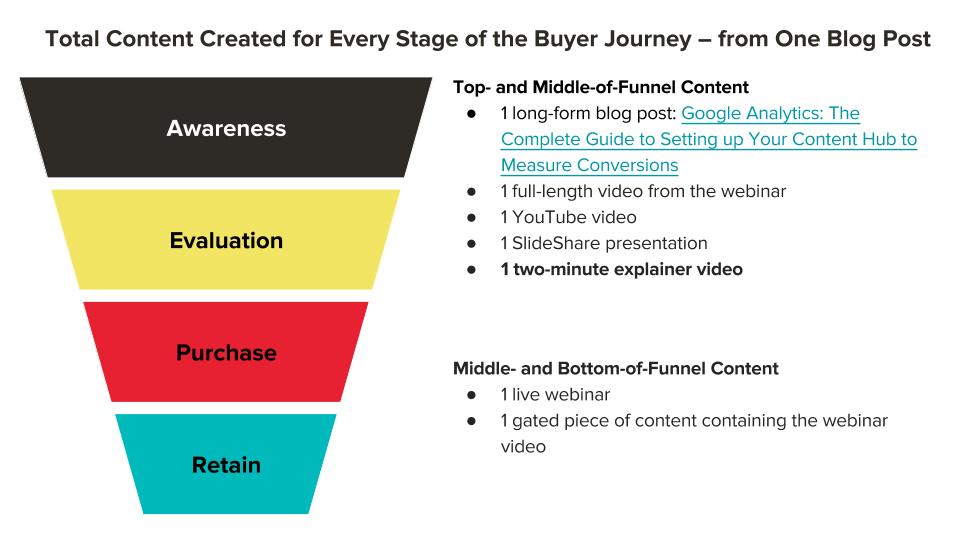 Actionable Next Steps for Marketers:
Determine whether it makes sense to create a video based off the blog post. Will it benefit you to have a trailer or an explainer video?
Evaluate what resources you have to create a video. Do you have an agency that's already producing branded videos? Or does your team have the skills and bandwidth to create video in-house?
If you're looking to bring video creation in-house, be realistic about exactly what features you need in a video program, and what expectations you have for the various team members involved. Otherwise, your solution won't be scalable on an on-going basis.
Turning the Video into a Blog Post and Promoting it on Social (Top-of-Funnel)
Once the explainer video was complete, we embedded it into a new blog post: "VIDEO: How to Use Google Analytics to Measure Content Marketing Conversions." In that top-of-funnel piece, we encouraged people to watch the video, then read the original long-form post and watch the gated webinar for more details (in hopes that some new users will register to access it).
In addition, we promoted the video on Twitter through a small spend. Its performance exceeded our expectations. In just three days after promoting, the video received 60,560 impressions, which lead to 20,953 video views – an engagement rate of 34.6% compared to an average of 0.1% engagement rate on promoted text tweets. And this was achieved at a $0.01 CPV.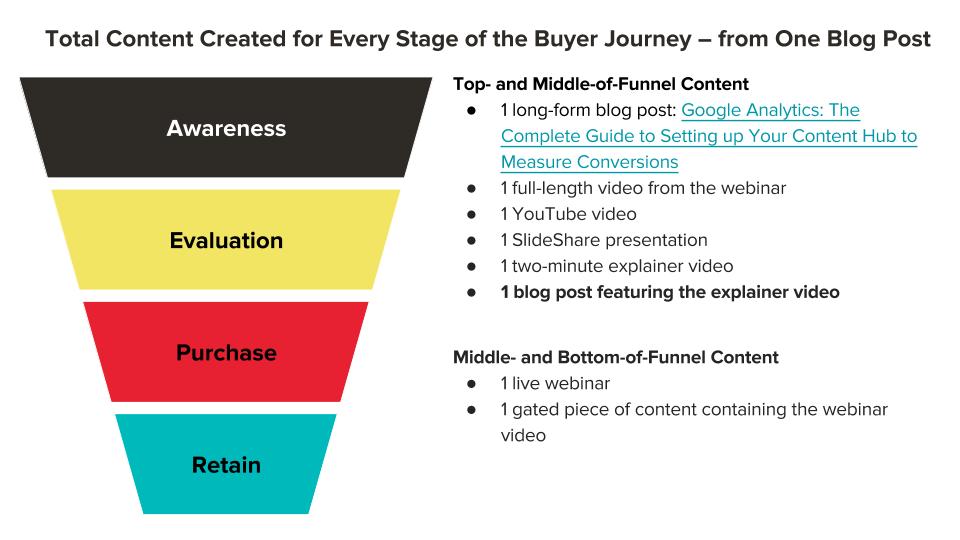 Actionable next steps for marketers:
Strategize the most effective methods for promoting your video. For example, our Twitter promotion was to build brand awareness and inform people about the work we've been doing around content marketing ROI. On the other hand, the blog post with the embedded video was more to generate leads – by offering them a bit of information that would encourage them to sign up to gain access to the recorded webinar.
Conclusion
With strategy and teamwork, it's possible to efficiently scale content across the buyer journey – starting from just one piece of content.
Here's a final look at all the content we created from that one long-form Google Analytics post, mapped to the buyer journey: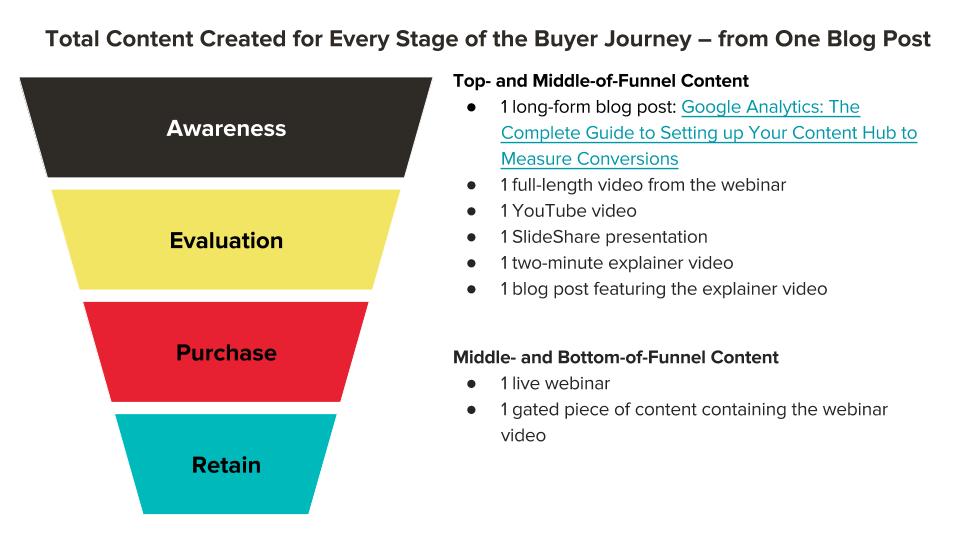 At a high level, the key steps to scaling content are:
Identifying a topic that's core to your business/vision/mission and writing a long-form article around it.
Figuring out how to best translate that article into multiple formats along the buyer journey funnel.
Having plans in place for driving, capturing, and nurturing the leads those new pieces of content generate.
Your tactics and distribution will vary, depending on your overall goals and the topics you're promoting. But this framework can help even the leanest teams create strategic content that will result in big returns.
Heather Eng is NewsCred's Managing Editor.
Thank you for subscribing!
Our best content will now come straight to your inbox.