According to the Content Marketing Institute's 2017 B2B research report, content marketing makes up about 29 percent of most B2B brands' total marketing budget. That same report states that 39 percent of brands feel that number will increase over the next 12 months, while 47 percent believe it will remain the same or decrease.
If you happen to be lucky enough to be part of that 39 percent, I tip my hat to you.
But for many marketers, their content marketing budgets are being called into question. They'll have to spend the 2018 budget season wheeling and dealing to get access to the funds they need in order to succeed.
Capturing content marketing budget for 2018 requires success in two areas:
Proving the ROI of your content marketing efforts.
Properly selling the value of content marketing to stakeholders on multiple teams across your organization.
In this article, we are going to focus on effectively executing on point #2. (If you need help with ROI and attribution, take some time to read "Content Marketing ROI: How To Measure Brand Equity, Conversions, and Loyalty," by NewsCred's CEO, Shafqat Islam.)
Samuel Scott stated: "Marketing has always been the creation of a message, the insertion of that message into a piece of content and the transmission of that content over a channel to an audience in an effort to build brands, increase demand, and move people down the sales funnels."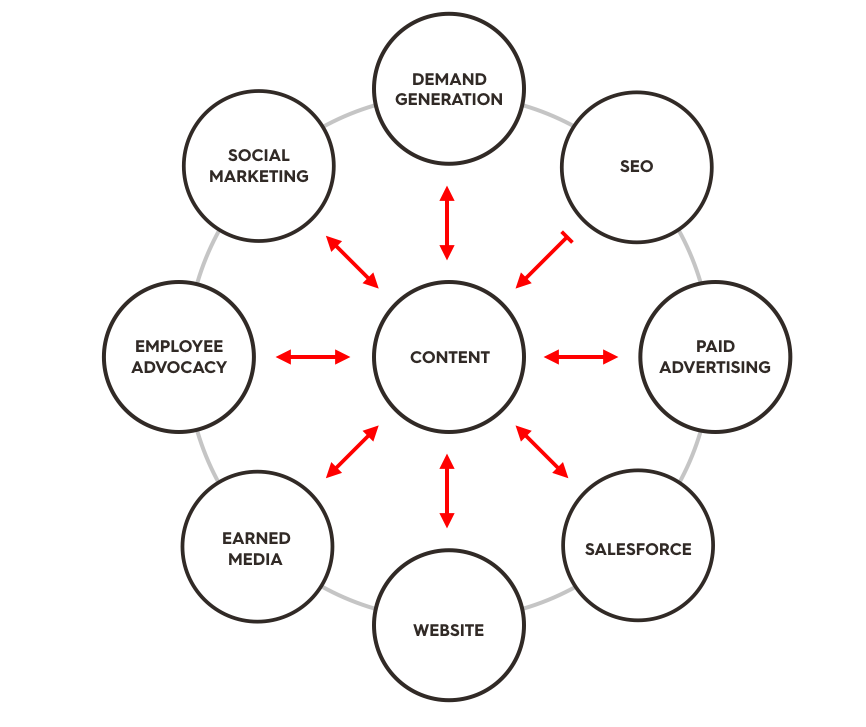 Content is at the heart of marketing and sales activities, and brands today benefit from a surplus of channels for reaching their target audiences. The key to capturing budget is leveraging the teams that own these various channels and helping them understand how a joint investment in content can help them achieve their goals in addition to yours.
Sales
Many marketers cringe at the thought of scheduling a demo with a salesperson in order to learn more about a possible service or software solution.
That's why content has become so crucial to the sales cycle. Self-education is a valuable alternative to talking to salespeople. Online information is so readily accessible to prospects, that they're no longer hostage to salespeople to learn about a product.
Everyone's heard the stat that 70 percent of the buying process is done before ever talking to a salesperson. However, according to a new research study from Edelman and LinkedIn, "thought leadership content plays a prominent role in driving business-to-business (B2B) sales, including attracting RFP opportunities, creating preference with buyers, directly contributing to sales wins, and even commanding a premium for products and services."
"Earning the trust of customers is vital in the B2B buying process, where investments are large and the professional reputations of decision-makers may be at stake," said Joe Kingsbury, U.S. Managing Director, B2B, at Edelman.
Effective content marketing not only improves brand equity. It also showcases thought leadership, which earns RFP opportunities. Thirty-seven percent of decision makers and 41 percent of C-level executives said that a company's thought leadership directly contributed to inviting a previously unconsidered company to pitch against incumbents and established firms.
On top of that, 45 percent of decision makers and 48 percent of C-level executives said that a company's thought leadership directly led them to award business to a firm – which means that good content marketing not only captures leads at the top of the funnel in the awareness stage, but it presents itself as a differentiator at the end of the sales cycle in the decision stage.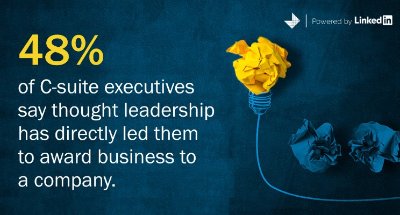 Scott Benedetti, VP of Sales at Pedowitz Group said, "If we accept that digital engagement is more affordable than sales interaction, we also accept that the expense of a salesperson should be focused interactions with the best qualified leads."
There's a finite amount of time in each day that salespeople can spend cold calling, coordinating email follow-ups, progressing opportunities, compiling proposals, demoing, and responding to RFPs.
Salespeople know that time is money, so if content can properly educate prospects on your brand's industry, product, and unique differentiators without salespeople ever uttering a word, well, that's an investment that provides massive ROI for sales.
If we take all this into account, exceptional content can help sales get more leads, have more focused interactions with only the most qualified leads and progress deals to close faster. To put it more plainly, content marketing can help sales drive more revenue with fewer human touchpoints and time.
At NewsCred, we experience this firsthand with our wealth of content across every stage of the buyer journey.
A recent closed deal in the insurance vertical saw a decision maker and influencer interact with eight pieces of content throughout the sales cycle.
Before engaging with sales, a prospect read "How To Scale Content Creation for Every Stage of the Buyer Journey" and "How To Create a Documented Content Strategy."
In the middle of the sales cycle, that same prospect read "Insurance Content Marketing: How To Create Exceptional Content in a Boring Industry," in addition to other articles and whitepapers.
Finally, at the tail end, before entering the legal and procurement process, this individual consumed "Gartner Report: NewsCred's Enterprise Content Marketing."
Talk about the perfect content journey and dream scenario for sales people trying to win deals in competitive situations.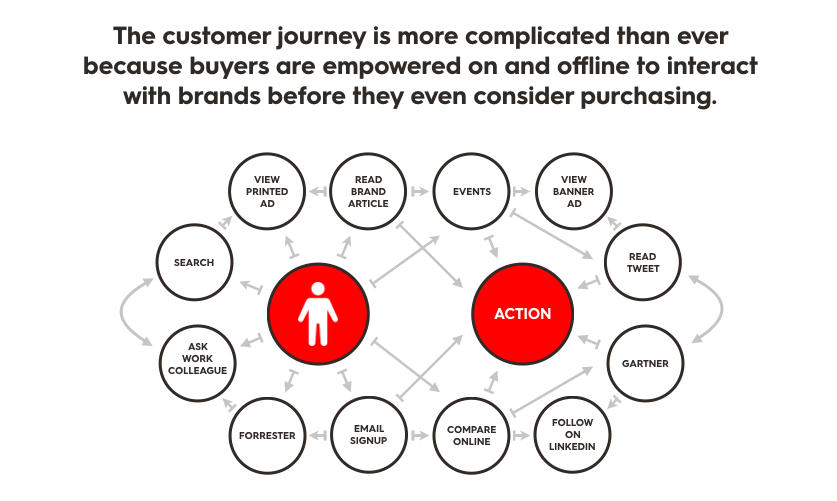 Bottom Line: Good content means more leads and more revenue for sales reps. To quote Martin Jones from Cox Communications, "Social is how customers hear about you, search is how they find you, and content is how they'll remember you." Sales people need to understand that a lot of the sales process is taking place before they even talk to prospects. So if content can help attract the right target audience across multiple channels where prospects do research, and efficiently prime them for a good conversation with sales, close rates will increase and deals will get accelerated.
Search Engine Optimization (SEO)
Seventy two percent of marketers have cited relevant content creation as their most effective SEO tactic.
That alone should be a compelling enough story for your SEO team. But if you need help further building a business case with them, I've included some additional points on the role that content can play in positively impacting your brand's SEO:
Increasing number of pages and on-site activity: Content is a great way to scale the amount of information that lives on your website. This helps build domain authority by having more content to drive social media and backlink activity, giving you a better chance to rank in organic search results.
Providing data around topics that resonate with your audience: The more content you have on your website, the better you'll be at understanding what topics resonate with your audience. This can provide critical learnings you can apply to your long-term SEO strategy. By understanding what topics are successful at driving traffic, engagement, and conversions, you'll be better equipped to create an effective SEO and content strategy.
Keeping users on-site, reducing bounce rate, and avoiding bounce backs: Search engines, such as Google and Bing, monitor actions like users bouncing back to search results after landing on your site. This is a negative user interaction that indicates to search engines the content might not be relevant – which can ultimately hurt your rankings. Content is a great way to provide a more engaging on-site experience and help reduce bounce rate and bounce backs, which will boost your SEO performance.
Creating hub-style category pages, which can be indexed and help you rank for high volume category keywords: Here's an example of a Searchengineland hub page that's a collection of articles. This can be a powerful way to organize content on a website, which would also bring more SEO value to your content strategy.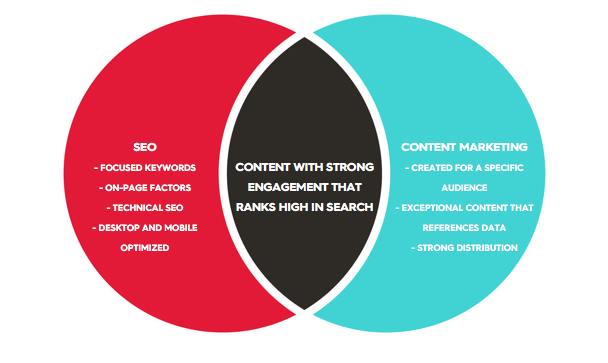 Ultimately, if brands invest in good original content, they can maintain real estate on the first page of Google organically as opposed to investing in expensive pay-per-click (PPC) advertising. This drives down consumer acquisition costs (CAC) over time and you can quantify the value via a dollar figure associated with your brand's organic visibility in search. This is what a platform like Searchmetrics refers to as "Traffic Value," which is an estimate of how much it would cost to maintain visibility on the keyword in question using Google AdWords. If your domain were not ranking for that keyword, you'd have to buy paid search ads to gain that same coverage on that keyword, which costs money equal to the Traffic Value.
Bottom Line: According to Kissmetrics, "Good SEO means consistent output of content. Consistent output means that you're doing content marketing, and you're doing it right. Content marketing is an active verb, with ongoing action. You don't just do it, and then stop. You do it, and keep doing it. And on and on."
Demand Generation + Email Marketing
When the Content Marketing Institute polled B2B marketers about how important each marketing channel was to their organization's overall content marketing success, an overwhelming 91 percent stated email was important to extremely important.
So, it is pretty clear that content marketers need the email team to be successful. But why does the email team need content marketers?
The Email Experience Council suggests that email marketing success depends on three factors that affect the email experience in a breakdown of 40/40/20:
40 percent audience (segmentation and targeting)
40 percent content (offer and call to action)
20 percent creative (design and images)
Based on this breakdown, what you say is just as important as who you say it to. Platforms like Marketo, Eloqua, and Pardot are exceptional at delivering the right content to the right people at the right time. But they are only as powerful as the content that is flowing into them.
This is the opportunity for content marketers to bond with their demand generation counterparts.
In Craig Klein's Forbes article, "Marketing Automation Success Begins And Ends With Content," he states that "the most common cause of marketing automation failure is the lack of well targeted, high-quality content." Marketo, itself, even reported that the most challenging obstacle to success is lack of quality content.
Email teams are yearning for more content. Most have just a handful of assets to power their nurture campaigns which, over the course of time, can negatively impact their open rates, click-through rates, and overall lead generation efforts. Content marketers should pounce on this common pain to understand whether their demand generation team is also experiencing a similar challenge – and whether they can leverage this team's dollars as a way to grow the overall content marketing budget and create a symbiotic relationship.
Take Panasonic's Mobility team as an example. They were experiencing diminishing returns from their batch and blast email marketing activity. To fix this, they made a large investment in Marketo so they'd have the infrastructure to properly nurture prospects at different stages through the customer journey.
However, they still had an insufficient amount of content at the awareness and consideration stages of the sales cycle to effectively attract, capture, and convert their target audience into marketing qualified leads and sales qualified leads. The Panasonic team saw an investment in content marketing as a way of protecting and optimizing their marketing automation spend. This move set up their business for predictable, scalable, and cost-effective traffic and lead-flow that didn't rely on securing budget each month.
Working with the demand generation team, they're on their way to using content to decrease lead erosion and increase sales velocity from first touch to lead creation to opportunity creation to opportunity close.
Bottom Line: Regardless of all the new marketing channels that have become available to marketers, email marketing continues to be the most effective. Research from Experian states that $1 invested in email marketing initiatives will yield roughly $44.25 in return. In order for email teams to continue to drive strong open rates, click-through rates, and conversions, they need impactful things to say to their audience depending on the stage of the customer journey they are in. Content drive leads, conversions, and revenue.
Advertising + Paid Media
Paid advertising encompasses any spends through distribution channels like PPC campaigns, TV, social media, re-targeting, sponsored placements, content amplification, and native advertising.
WordStream beautifully summarizes the intertwined relationship between content marketing and advertising saying that, "content marketing campaigns often rely on SEO and organic rankings, whereas content advertising bypasses the challenges of declining organic reach by leveraging the strengths of paid promotional channels, such as highly granular audience segmentation. [However] one element that both content marketing and content advertising share is an emphasis on quality. Just because you're distributing and promoting your content through paid channels doesn't mean that the content itself should be any less valuable to your audience as your 'organic' content."
Paid traffic acquisition is an extremely viable marketing channel, but it comes at a price. When the advertising team choses to make these investments, they need to ensure they're primed to perform with quality content at the foundation of their spend.
It is also important to keep in mind that paid advertising is an act in which you rent your audience. Because once you run out of money for the ad campaign, the traffic will stop. That is, unless you find a way to extend the life of the campaign.
In order for content teams to secure budget from their advertising counterparts, content marketers need to speak their language. For example, if a brand invests $1 million in a paid campaign over one quarter and the traffic flowing to that static product page bounces at a rate of 95 percent, you have the opportunity to sell this team on including more editorial content. This can help reduce bounce rate, increase pages per session, increase time on site, and extend the lifetime value of a campaign.
Take Prudential's, "Bring Your Challenges," as an example. Launched in 2013, the goal was to be a valuable resource that would demystify financial planning obstacles through actionable tools and insights. Prudential worked with Droga5 to create a national advertising campaign using print, out-of-home, digital, and TV ads that would showcase its message.
For several years following the campaign, Prudential was maintaining and extending the conversation that its ad campaign started with great content that they were driving traffic to via their advertising spend.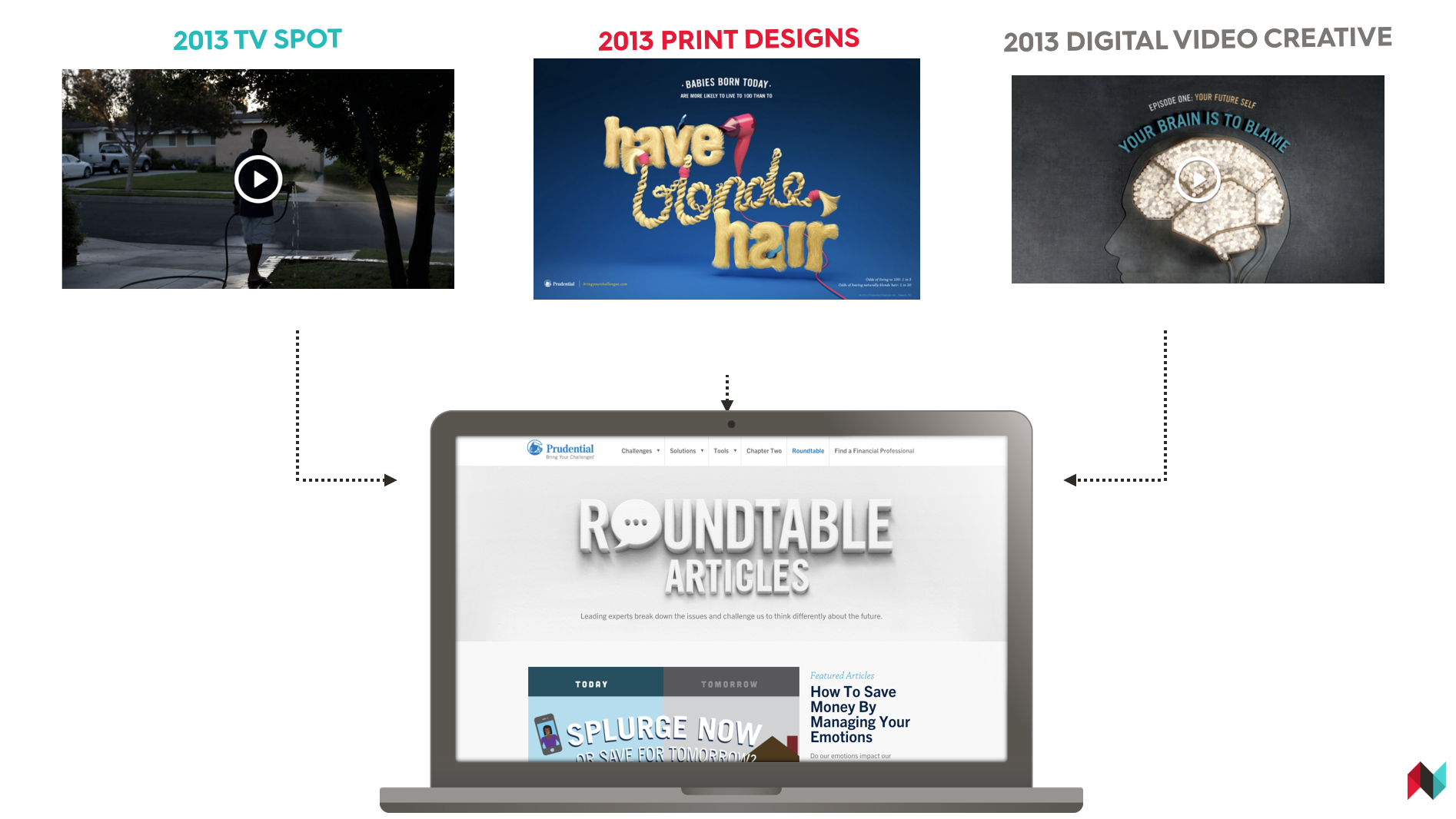 With this long-term strategy in mind, the team took its engagement from campaign-based peaks and valleys to building an active audience through always-on content.

Content marketers should approach their advertising team with the same coordinated distribution strategy to make a joint investment in content marketing to grow the total allotted budget.
Bottom Line: Marketers spend a lot of money each year on paid advertising. An investment in exceptional content is a step towards optimizing that spend by reducing bounce rates and increasing pages per session on each campaign with editorial content that captures prospects' attention and earns you the permission to further advertise your products or services.
Human Resources + Employee Advocacy
Employee advocacy is a hot topic. Interest in the concept has risen 191 percent since 2013 according to a recent article by Linkedin. The 2016 Edelman Trust Barometer report stated, "Employees are among the most trusted of all company spokespeople – even more than the CEO."
Building a culture of employees feeling inclined enough to share content is difficult, but the marketing team can reap huge rewards. While only 3 percent of employees share content about their company, those shares are responsible for driving a 30 percent increase in the total engagement a company sees, according to LinkedIn. Additionally, socially engaged companies are 57 percent more likely to increase sales leads.
A strong employee advocacy program has the ability to build brand awareness and accelerate sales growth. Marketers should be redistributing a piece of their paid social budget towards employee advocacy as it is an extremely cost-effective way to increase organic reach on social for your content marketing efforts.
Rackspace is a great example of a company seeing huge results by implementing an employee advocacy program, as showcased by its customer spotlight on Linkedin's Marketing Solutions Blog.
"Fanatical Support" is at the heart of Rackspace's company values and Elizabeth Jurewicz, Social Enablement Strategist, saw an opportunity to leverage employees to amplify that value to their personal networks as a way to raise brand awareness, expand Rackspace's reach, and attract the best talent.
Rackspace focused on earned media to prove the business value of their investment in their employees' social activity. In order to calculate this and build the business case Jurewicz took Rackspace's cost per engagement (CPE) number and multiplied it by the engagement across the employees' extended network. She further validated her spend by showcasing that if Rackspace used paid strategies to reach this amount of engagement, it would cost hundreds of thousands of dollars.
"It was also important to point out that our employees' networks were a net new audience," she added. "Without employee advocacy, we couldn't reach these people as effectively or efficiently. With a solid employee advocacy program, not only could we reach that audience, but the message was also coming from someone they knew and trusted."
Bottom Line: An effective employee advocacy program paired with truly differentiated and impactful content can build strong brand awareness, showcase thought leadership in one's category, and project your brand's values in order to efficiently recruit and hire the best talent across several departments.
Social Media
Too often, social media is viewed as a separate strategy from content marketing. In reality, social should be a primary deployment tool for a brand's content marketing efforts.
Jason Miller, Global Content and Social Manager at LinkedIn believes that "social media channels are the tentacles from which your content extends its reach while opening up a direct line of communication with your customers and prospects."
He's not alone. The Content Marketing Institute reports in its 2017 B2B Benchmarks, Budgets, and Trends Report that 57 percent of B2B content marketers believe that social shares are a key success metric of their content marketing efforts.
As social continues to expand with growing user bases across new and existing platforms, brands need to create content in order to properly populate these channels consistently. However, to be successful in social, brands have to have something interesting to say. And in order to do that, brands need to invest in creating good content.
Additionally, leveraging the social team can be an impactful way for content marketers to make the business case for investing in newer, more expensive formats that perform well on social, like video. In a recent survey, 65 percent of decision-makers clicked through to a website, and 39 percent of those made a phone call to a new vendor after viewing a video.
Social media is a great way to build brand equity and increase trust in your brand. According to Brandingmag, brand equity is studied through a diffraction of four relatively independent dimensions: differentiation, relevance, esteem, and knowledge.
Social media brand equity can be measured by looking at these four pillars:
Differentiation: Is the brand known for a distinct feature of personality?
Relevance: How does a brand compare to others in a certain product category on key social networks?
Esteem: Positive minus negative associations with the brand in social media discourse. Note that this is an indicator that is quite in vogue already under the name "brand sentiment" that is predominantly measured through social media data.
Knowledge: Comparative presence in unexpected areas of the collective brain that show the brand is transcending its category; association with behaviors that means more than pure necessity or functionality.
At the heart of influencing each and every single one of these pillars is content, because brands that are doing content and social media marketing the right way are striving to be engaging, insightful, and thought-provoking. They're perceived as thought leaders in their space and they're saying something new and in the process building strong relationships with existing and potential customers.
Social media teams at B2B brands are tasked with controlling the social-media-accumulated perception of a brand. Content can be a powerful tool in their arsenal to positively influence prospective clients and current customer perceptions. CMOs and VPs in marketing departments care deeply about improving brand equity. By aligning content and social media as a key way of influencing that, marketers have the ability to capture meaningful amounts of dollars.
GE is a great example of a brand using social media as a primary distribution vehicle for its content as a means to build strong brand perception.
Linda Boff, CMO at GE, recently re-affirmed this when speaking about GE's new video series, "In the Wild": "We know our brand well. Because our brand stands for innovation, the desire to express that in new ways, on new platforms, is one that kind of feels core to us. What we've tried really hard to do is to create content that tells our story through the voices, the formats, and the platforms that we think will reach the right audiences. So something like 'In the Wild' was a great way to do first-person storytelling [with the] borrowed equity of Adam Savage and his sidekick Alie Ward, to [have them] come and kind of experience the grandeur, the geekiness of GE firsthand, and to tell those stories."
These values are further epitomized on GE's Facebook mission statement: "This page is meant to provide a positive, engaging community where forward-thinking individuals can join the conversation around innovation in energy, health, transportation, and infrastructure, as well as GE and its products."
Bottom Line: Without content, social is limited to only scratching the surface of success and, ultimately, without content, the only real use case for social is customer service. Kissmetrics succinctly summarizes how many social media marketers are measured by saying, "If you want to measure awareness, then use metrics like volume, reach, exposure, and amplification. If you want to measure engagement, then look for metrics around retweets, comments, replies, and participants. If your goal is to drive traffic to your website, then track URL shares, clicks and conversions."
Public Relations
PR and content marketing teams share a common goal: to create a positive brand message and help influence public perception. According to Cision, a leading PR software vendor, "creating great content helps your audience answer a question or solve a problem, and it keeps your client or brand top-of-mind. When implemented along with traditional media outreach and social media campaigns, you're getting the most reach possible to promote your client and tell their story."
PR professionals' goals are focused on building industry awareness, earning media opportunities, attracting links, and reaching new audiences. To achieve these goals, it makes sense for PR and content teams to align media pitching with the editorial content calendar in order coordinate tactics to amplify content's reach and ensure brand message consistency.
Bottom Line: In order for PR teams to have journalists perceive their brand and employees as true thought leaders they need to be able to project that thought leadership in a way where it can be easily digested. Gathering earned media opportunities in the form of mentions, quotes, interviews, or backlinks is difficult. But when PR pros are armed with exceptional content that showcases a brand's first-party data, unique industry perspectives, and future vision, they have a leg up on their competition in the space.
Summary
According to Bill Macaitis, former CMO of Zendesk and Slack, "the typical enterprise customer will have 10-30 interactions with a company before buying software. And because of up-sell and cross-sell after the sale, more than half of the customer's revenue potential occurs after the customer starts to pay."
Those 10-30 interactions happen across several different channels and across different stages of the customer journey. Content sits at the center of these marketing and sales activities. If content marketers can adequately sell the role content can play in improving brand equity and increasing marketing sourced while serving the needs of both their OKRs and other teams', they can grow their budget substantially and get a more prominent seat at the budget discussion table.
Neil Barlow is an Enterprise B2B Sales Director at NewsCred.
Originally published on Jul 6, 2017 10:00 AM, updated Jul 7, 2017