For many content marketers, Labor Day means that it's time to pack our bags and head to Cleveland for Content Marketing World.
This year, NewsCred returned to the industry's largest conference as a platinum sponsor, giving us the opportunity to fuel attendees with free, local, pour-over coffee and learn what issues are most pressing for content marketers today. (Common concerns: scaling content with lean teams and proving content marketing ROI.)
With dozens of sessions over three days, Content Marketing World is also a chance to learn from the industry's best. Here, a roundup of actionable tips from senior marketers at leading brands.
How to Tell Inspiring Stories: GE
GE was a content marketing pioneer. The 125-year-old company launched its content hub, GE Reports, back in 2008 and continues to lead the space.
At the heart of its strategy: Storytelling.
"GE loves great stories," said Linda Boff, GE's Chief Marketing Officer, at Content Marketing World's opening keynote.
GE's storytelling formula is: Being the first on platforms + Activating unlikely audiences + Finding the human in the digital x Staying in continuous motion.
The company executes that formula using these tactics:
Know who you are. What is your DNA? What does your company stand for? For GE, it's showing that it's a company that embraces innovation.
Know your tone. This is your secret sauce – it's how you bring your vision to life. According to Boff, GE strives to be relevant and relatable, like a person, not a company.
Make a statement. There are creative ways to convey ideas. For example, when GE made a commitment to hire more women in technical roles, it released a moving video celebrating women at the company, rather than issuing a dry corporate release.
Find unexpected audiences. There's a joy that comes with reinventing stories for new audiences, Boff said. To introduce younger generations to GE's culture of innovation, the company ran a Super-Smoker BBQ lab at SXSW where a data scientist ensured that the meat came out perfectly. It was such a successful activation that GE took it to college campuses.
Experiment early and often. As Boff said, "You have to be there on the field." There's no cost to enter most social platforms and start trying different tactics.
Stories are right under your nose. There's a compelling story behind even the most seemingly boring topics. Try changing the lens through which you tell them or bring in different storytellers. For example, GE recently launched an "In the Wild" series of 10 YouTube videos where "Tested" host Adam Savage and "Innovation Nation" correspondent Alie Ward explored GE's facilities to learn about industrial innovation.
How to Create Data-Driven Stories: Monster
Data can be a powerful content marketing tool, according to Margaret Magnarelli, Managing Editor and Senior Director, Marketing, at Monster. Data builds trust, credibility, and authority. Stories provide humanity, context, and perspective.
"If you have data without a story, you have empty numbers," she said. "You're not leaving anyone with anything tangible to latch onto."
To create data-supported content, Magnarelli recommends first deciding what story you want to tell. Then, think about the numbers that would bolster it. Next, consider what mediums you'll use to spread that message at each point of the sales funnel.
Marketers can source data in three ways:
Create data: Proprietary data is ideal. It's new, owned, and can perfectly align with your story. However, proprietary data can be costly. A commissioned, third-party study can run more than $10K. There are workarounds, though: Your research team can poll customers or you can use free tools like SurveyMonkey or Twitter. (Those results won't be as data-sound but will likely net you usable statistics with a large enough sample size.)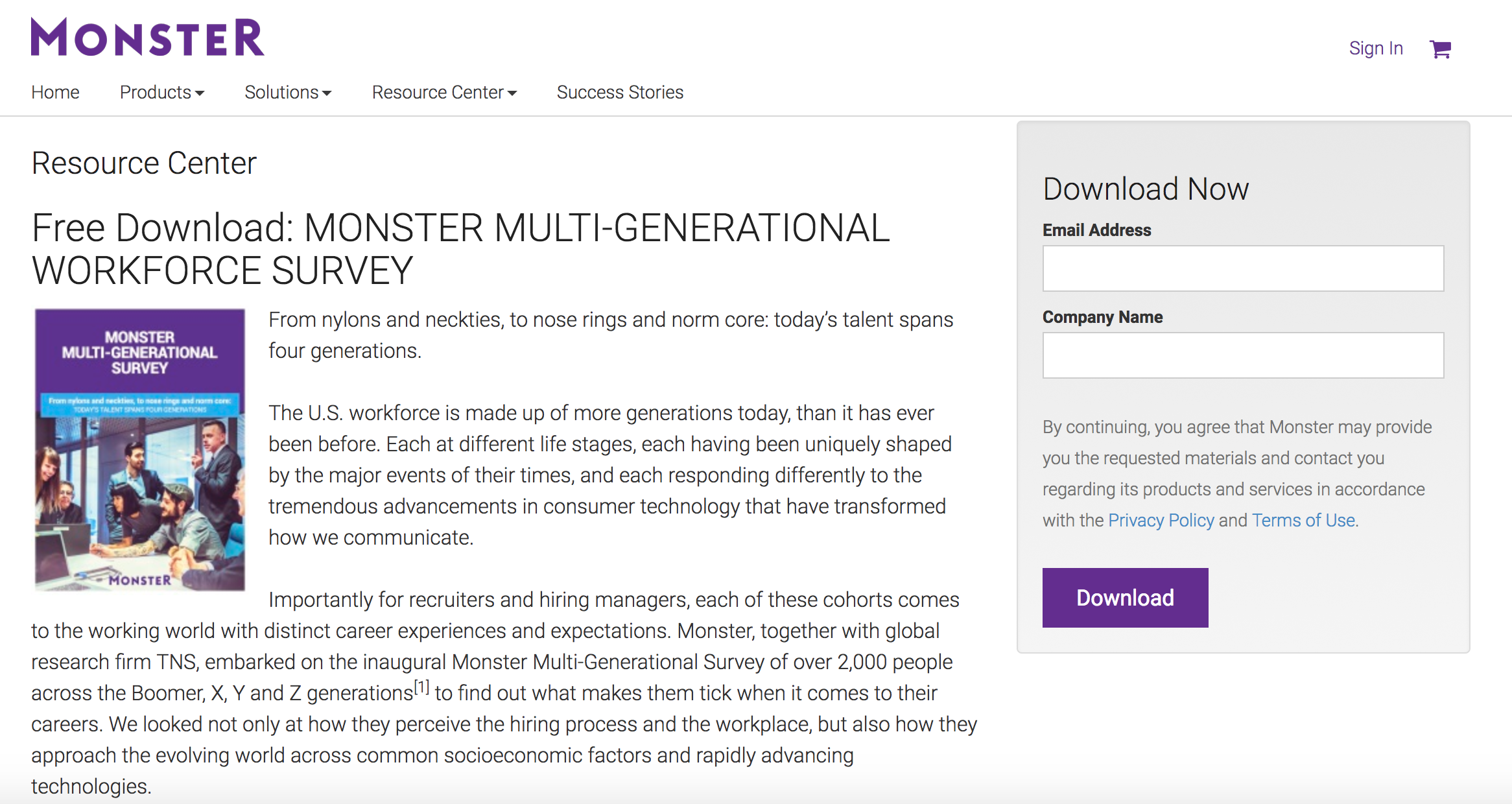 Monster's Multi-Generational Survey, created with research firm TNS, drove 900 leads, thanks to the proprietary data.
Unearth data: A lot of data exists in your company – to access it, you'll need to build relationships with the data owners. Try tapping product, sales, analytics, and PR teams. The data you find will be new to your audience and specific to your business. However, you may need to layer on a narrative to align it with your story.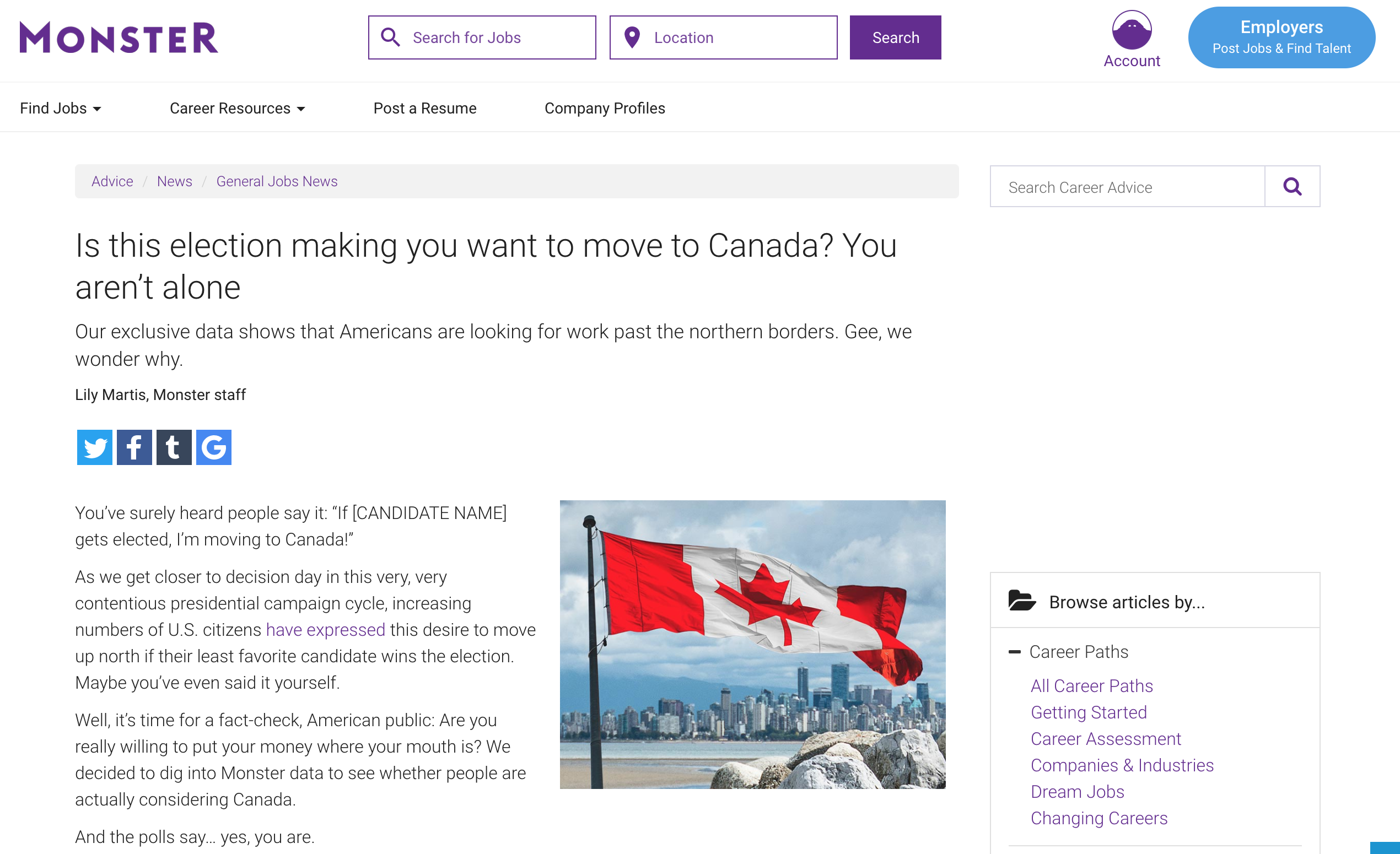 Before election 2016, Monster noticed a spike in "Canada" job searches. The resulting article received 10,000 pageviews and 52 media hits from publications including the Wall Street Journal and Marie Claire.
Borrow data: You can also source data from outside organizations: reports from other companies, government data sets, business partners who've commissioned studies. While it may not perfectly suit your messages, you can layer your own narrative on top.
How to Drive Sales through Social Media: Estee Lauder Companies
Estee Lauder has 32 brands ranging from beauty giants like MAC and Clinique to boutique offerings like Too Faced and Becca. Together, those 32 brands drive $11.3 billion in annual sales – and much of that is through content.
"Content fuels everything at Estee Lauder," said Alicianne Rand, Executive Director, Global Content Marketing, Estee Lauder.
Seventeen to 24-year-olds are responsible for 94 percent of revenue growth in the beauty category. That's why the Estee Lauder companies place so much emphasis on social media; they reach 83 million people daily on Facebook. Instagram, and YouTube.
"Beauty is such an emotional category," said Rand. "Feeling beautiful inside and out means that we have to tell really compelling stories."
Here's how the Estee Lauder companies do so:
Use data to drive content strategy: Rand and her Estee Lauder team built a framework for evaluating data. First, they use social listening to determine where trends start and how they're growing. Next, they analyze content and brand performance against owned, earned, and paid media, as well as search trends and sales. According to Rand, share of growth is the most important metric to track. Finally, they map all the metrics against business goals at each part of the funnel: awareness, consideration, and acquisition.
Create products with content in mind: From the early stages of research and development, the Estee Lauder companies ask: "How will this perform on social? Will it have a transformative impact? How will it look on YouTube? On Instagram? Can we package it and send to influencers?"
BECCA created this video to promote a custom Chrissy Teigen makeup palette. Thanks to Teigen's quirky authenticity and Instagram promotion, the video received 4.5 million views and BECCA doubled its market share in the face category.
Remeber that creativity can come from anyone, anywhere: Everyone is a content creator, according to Rand: celebrities, social media stars, micro influencers, makeup artists. Rand recommended ceding control to the masses: "See what your best advocates come up with." For brands, then, synchronization is key: What is your overarching theme and DNA, and how will you leverage aligned user-generated content pre-, during, and post-launches?
Create new paths to discovery and conversion: How can you give people new and exciting ways to experience your brand? Smashbox, for example, thinks about retail as content and is transforming that experience. The brand's first U.S. store in Venice, California, is designed to look like a studio where people can try on makeup and take photos or videos. It also doubles as a community event space. "It's a place where people can experience and share," Rand said.
How to Reinvent Your Brand through Moving Stories: Coca-Cola
"Now is the best time to be a storyteller," said Kate Santore, Senior Integrated Marketing Content Manager at Coca-Cola. But with marketers spending $4.3 billion in content last year, "we have no time for creating content that makes noise," she said.
At Coca-Cola, Santore and her team strive to imbue meaning into the brand, along the lines of what Maya Angelou once said: "At the end of the day, people won't remember what you said or what you did. They'll remember how you made them feel." Coca-Cola does so using these tactics:
Be true to you. Coke is a democratic, optimistic brand, according to Santore: "You can go to any country in the world and it tastes the same." The company promotes that inclusivity through content, like its famed 1971 "Hilltop" ad.
Be the star of your own show. Your brand should play a role in the story you tell, according to Santore: "If I removed Coke from the story, could it still be told? If the answer is 'Yes,' it's not something we want to tell."
Use stories as your connective thread. Coke seeks to tell its story at every touch point, from out-of-home media to packaging to trucks to social. At the same time, Coke also embraces that fans are telling its story – they create 80 percent of Coke content online. Like this video:
Evolve: "Coca-Cola looks to tell timeless stories but the chapters must be timely," said Santore. At this year's Super Bowl, Coca-Cola re-aired its 2014 "America the Beautiful" ad, which celebrated diversity and inclusion – a timely move, considering President Donald J. Trump had just announced his travel ban. Santore noted that though some people lashed out at the brand, Coke did not back down. "The hate will come first, but love overcomes," said Santore.
Ask: "What if?" To keep pushing creative boundaries, Coca-Cola asks big questions: "What if we dove inside a vending machine? What characters live there? What if we could create a real-time Super Bowl spot that reacted to the game in 30 seconds? What if a boy bought Mean Joe Greene a Coke? What if two countries that were separated for more than 60 years were brought together to share a Coke?"
How to Keep Going When the Odds Are Stacked Against You: Colson Whitehead
We content marketers know that our work isn't easy. It's challenging to ideate, write, edit, approve, and promote high-quality content every day.
Perhaps this is why author Colson Whitehead's second-day keynote address was so well received. The author of the best-selling novel "The Underground Railroad" shared a hilarious, self-deprecating, and moving account of his career that spanned working his way up as a Village Voice television writer to publishing eight novels – despite rejection, self-doubt, inertia, and the changing publishing industry.
But his message surely resonated with every content creator in attendance: Keep writing. Keep trying. Your work will speak to people.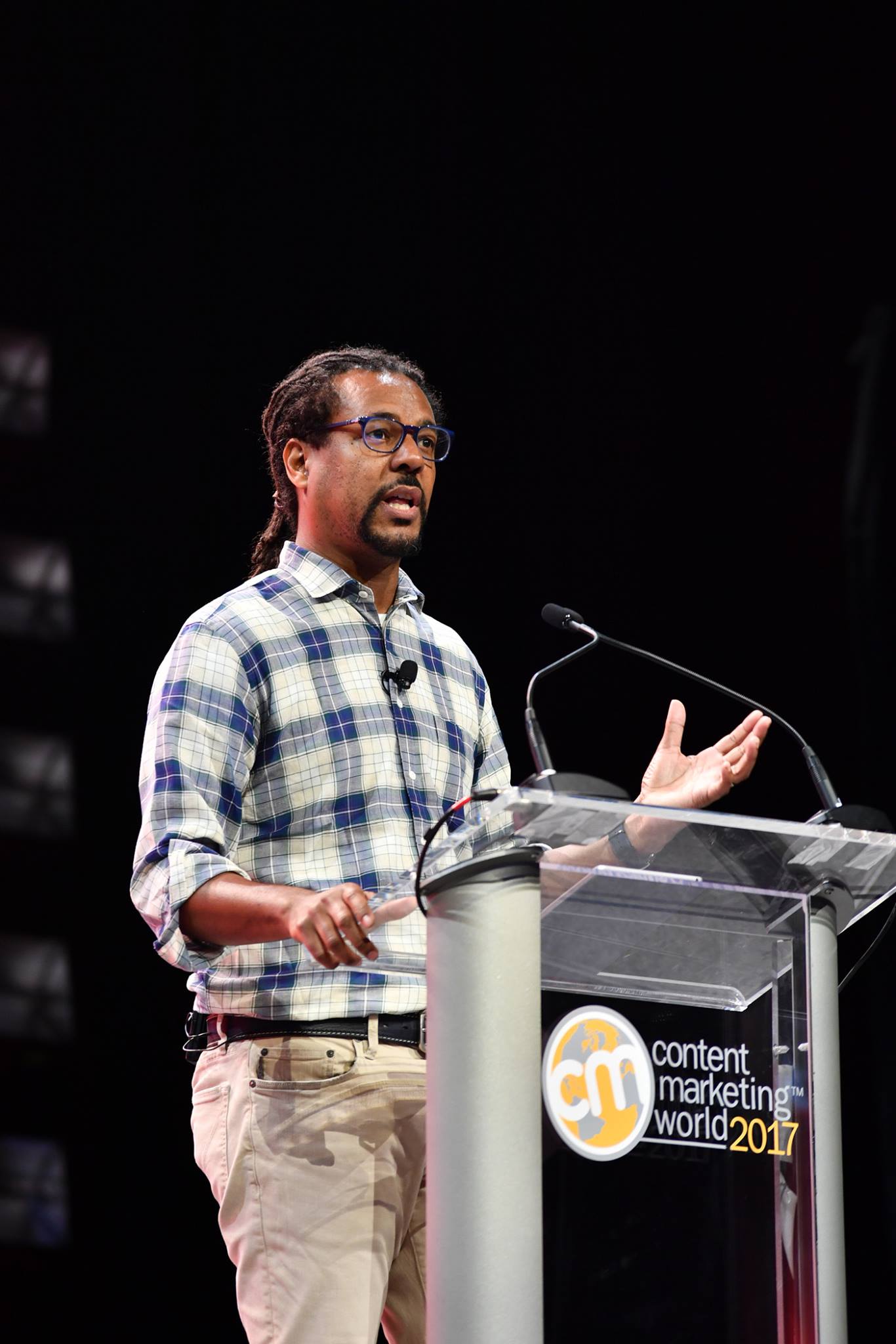 Author Colson Whitehead at Content Marketing World 2017
More from Content Marketing World 2017: Read a full recap of NewsCred CEO Shafqat Islam's session, "How the NewsCred Methodology Drives Content Marketing ROI."
Heather Eng is NewsCred's Executive Editor.
Thank you for subscribing!
Our best content will now come straight to your inbox.