At Content Marketing World 2017, NewsCred CEO and Co-founder Shafqat Islam shared these remarks about the performance era of content marketing – and how NewsCred uses its proprietary methodology to succeed in it.
The performance era of content marketing is truly here.
CEOs, CFOs, and senior business leaders have new expectations for content marketing teams: Business results.
That means that traffic and engagement metrics are no longer acceptable proof of ROI. C-suite executives want tangible evidence that content marketing produces revenue, cost savings from increased operational efficiency, and improvements in brand equity.
For the longest time, content marketers didn't have a way to prove that. We could create beautiful brand stories and videos, but lacked a solid way to measure their efficacy. On the other hand, with performance marketing like direct response, we could personalize and target ads to specific audiences and then track their impact on the business.
It seemed like marketers had to choose between brand and performance. But that's no longer the case.
Banner ads aren't working. Ninety-one percent of total ad spend is viewed for less than a second; as a result, $38 billion in digital ad spend will be wasted in 2017. Plus, consumers have made it clear that they don't want ads. Ad blockers are on 615 million devices.
But think about it: What if we could take the best part of performance marketing – the ability to accurately track and measure – and marry it with brand marketing? What if, instead of trying to optimize banner ads that nobody cares about, we optimized content that people actually want to read and share with their friends and colleagues?
That's where we are in this new era of performance content marketing.
The Science of Content Marketing
At NewsCred, we wanted to build a repeatable way to help marketers succeed in the performance era. We wanted to show how they could invest in content marketing and get predictable results.
We surveyed our customers and devised the Content Marketing Maturity Curve. It includes the major milestones content marketers should strive for in order to ensure their programs are set up to achieve tangible, measurable results.
To identify where marketers are on the curve, we developed the Content Marketing Maturity Index. It's an assessment, based on leading indicators, that highlights your strengths, identifies growth opportunities, and provides actionable next steps to improve your program. (To learn where your program falls on the Maturity Index, take our 14-question assessment.)
We found that most marketers progress to a specific point: driving traffic and measuring engagement. But few go beyond that. Everything afterward, like connecting actions to ROI, is really hard.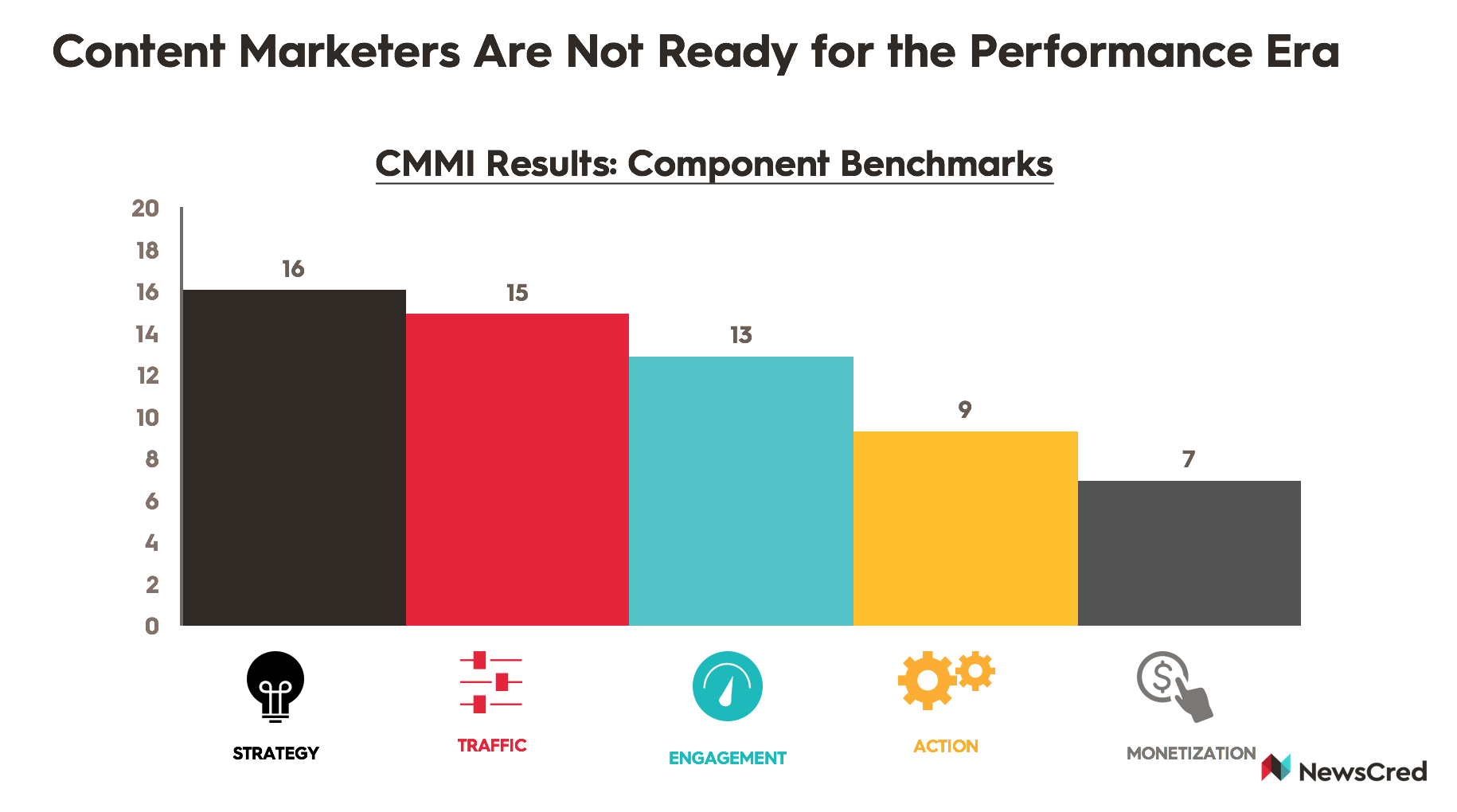 In addition, we learned that some industries are more mature than others. Telecommunications and technology companies are leading the way.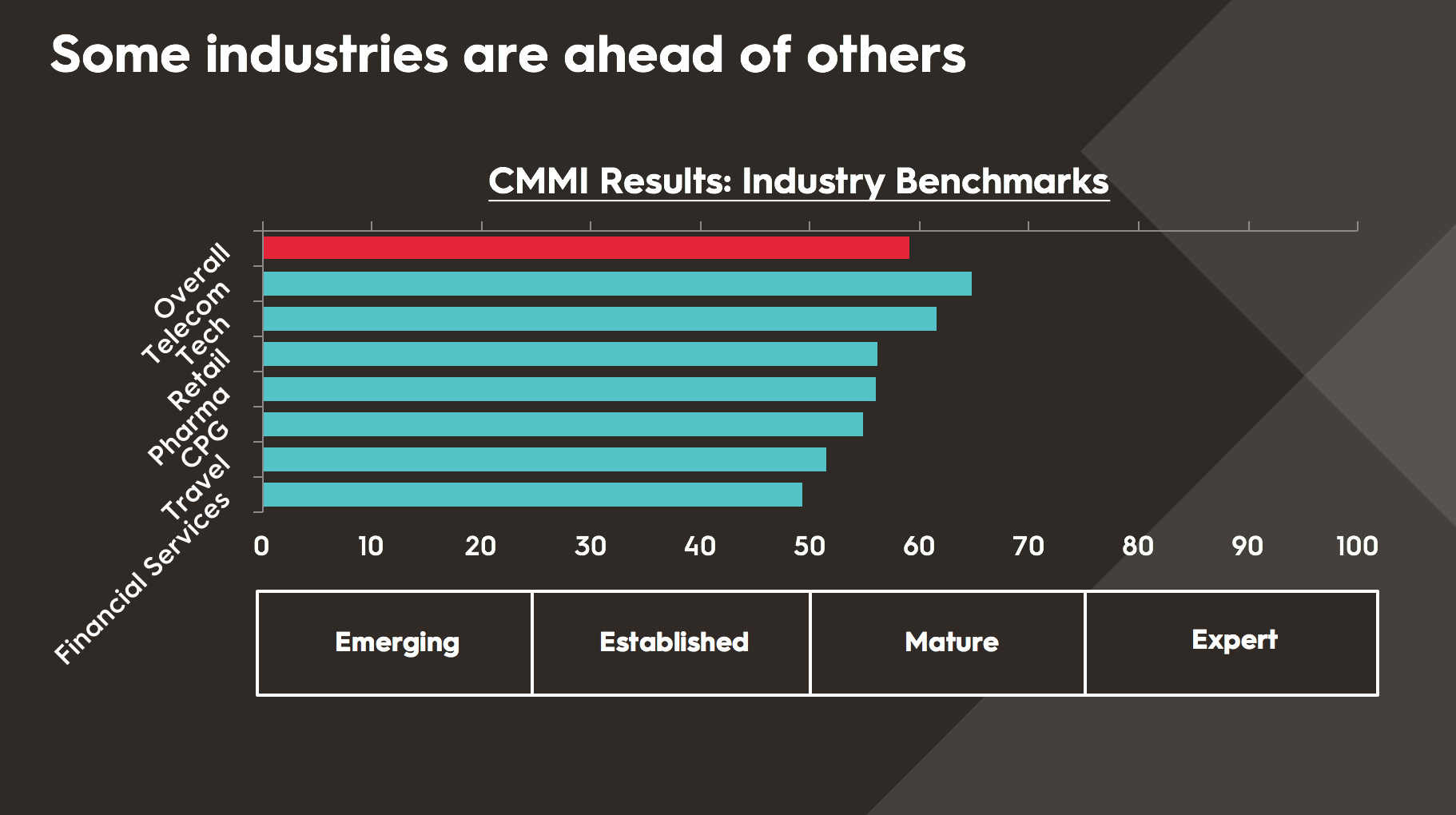 To help marketers move up the curve, we developed the NewsCred Methodology. If you follow each of its steps, you'll be able to tie content marketing to business results.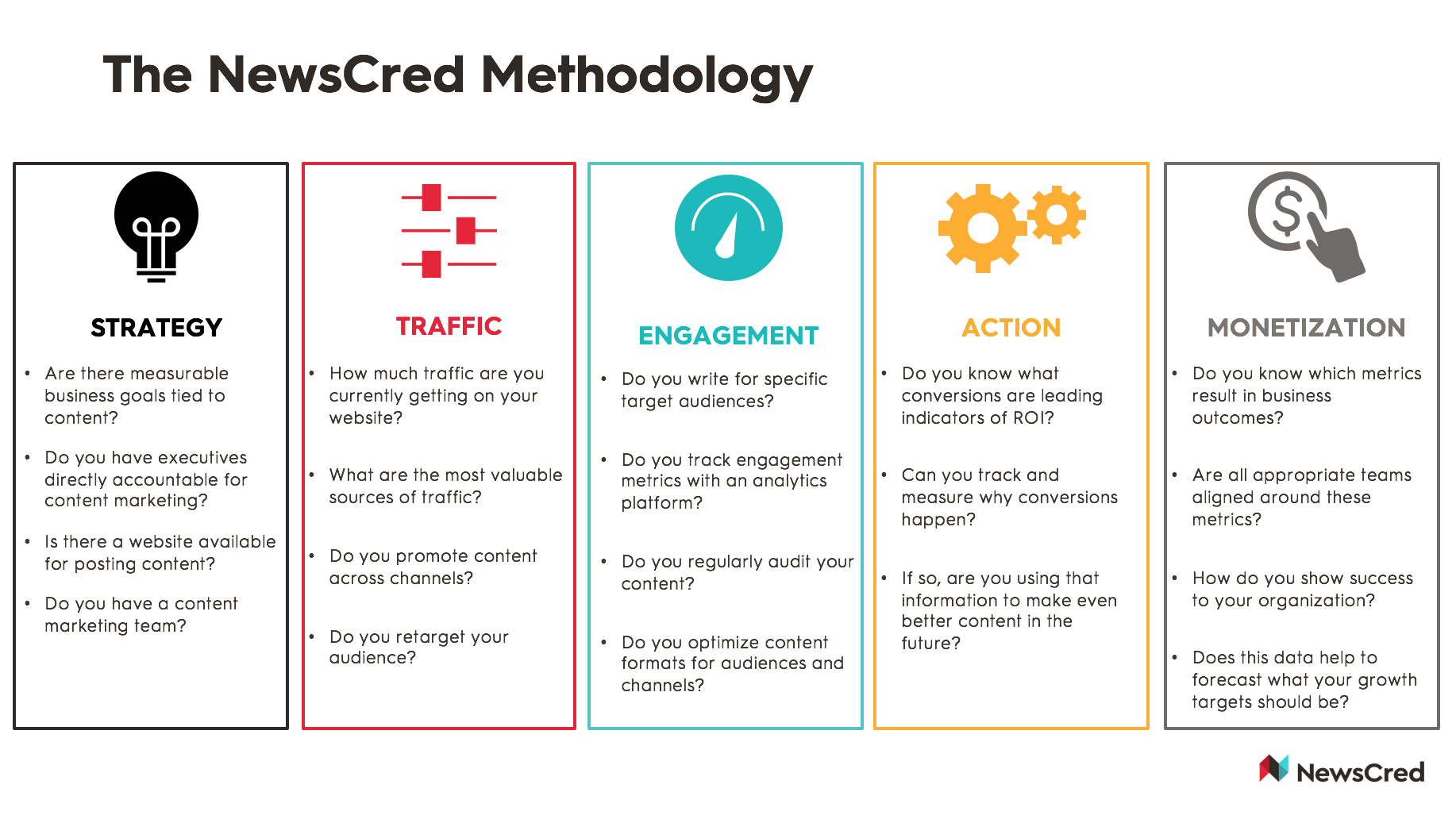 We know because we use the methodology, ourselves.
How NewsCred Drives ROI through the NewsCred Methodology
Strategy
The first element of the NewsCred Methodology is creating a documented content marketing strategy. (If you want to see what that looks like, download our template here.) Your strategy should articulate your content creation and distribution processes and team responsibilities. Perhaps most importantly, your strategy should also include your goals, KPIs, and measurement framework.
NewsCred's measurement framework helps content marketers define the key actions that they'll track at every stage of the buyer funnel. Ultimately, those actions will lead to monetization. We know that the buyer journey is more complicated in reality since people can enter the funnel at any time. But this helps us get a baseline for rough conversion rates. For example, if you're an airline that needs to generate 10 flights, or a hotel company looking to get five bookings, how many readers will you need?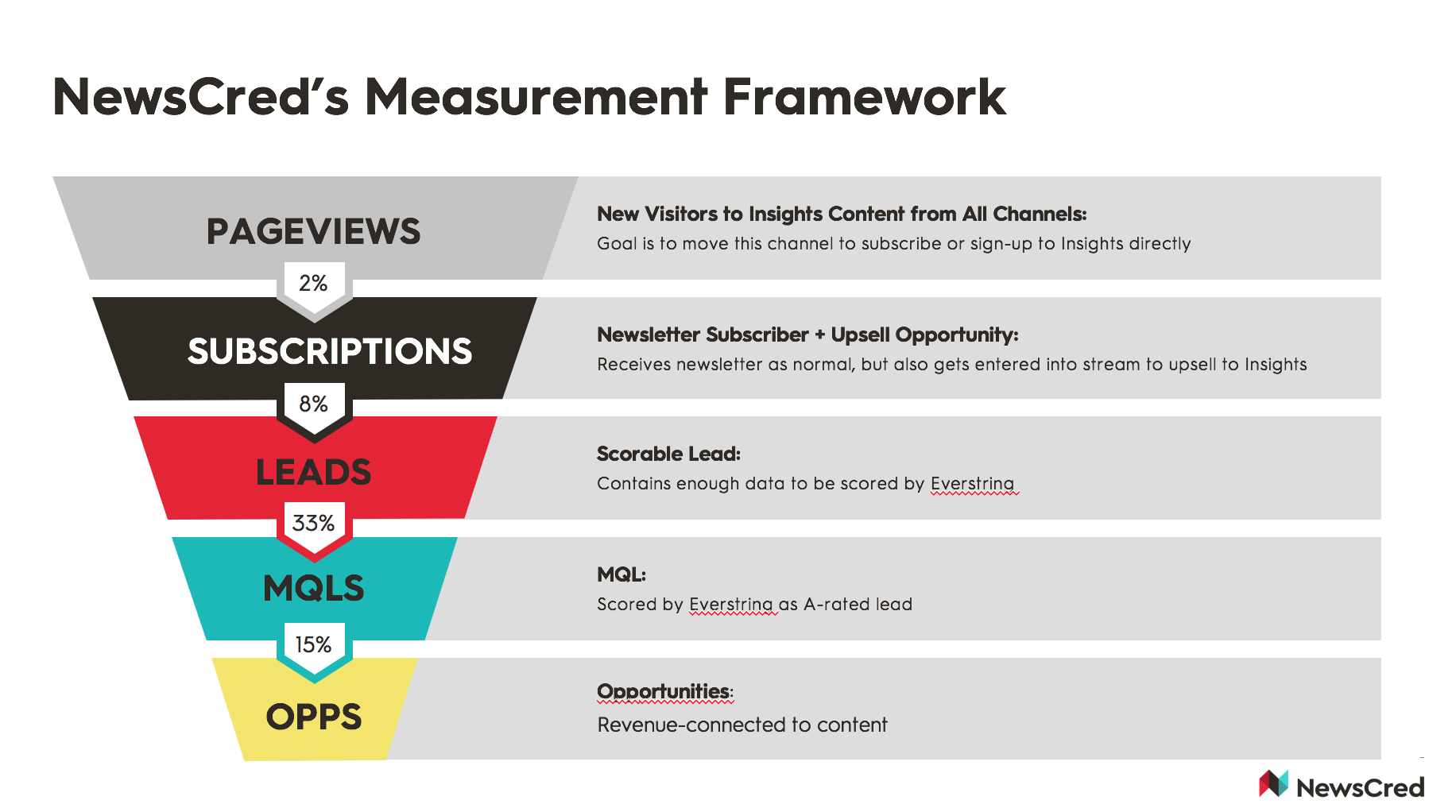 All these strategic components ensure that your entire marketing team, not just the content team, is aligned on the business goals you hope to achieve, how you'll do it, and how you'll measure your work. We treat our content marketing strategy as a living document that we update as we iterate based on insights from the analytics we track.
Traffic
Traffic is the second element of the NewsCred Methodology.
A few key components go into generating a healthy traffic stream: creating quality content that your readers want to read and distributing it where they are.
At NewsCred, we strive to provide our readers with value at every interaction by creating content that is in-depth, data- and research-driven, and tactical. We publish three original pieces and one licensed story per week.
Since the customer journey is more fragmented than ever, we meet our audience where they are on various channels: email newsletters, Facebook, Twitter, LinkedIn, Instagram, events. All lead back to our content hub, Insights.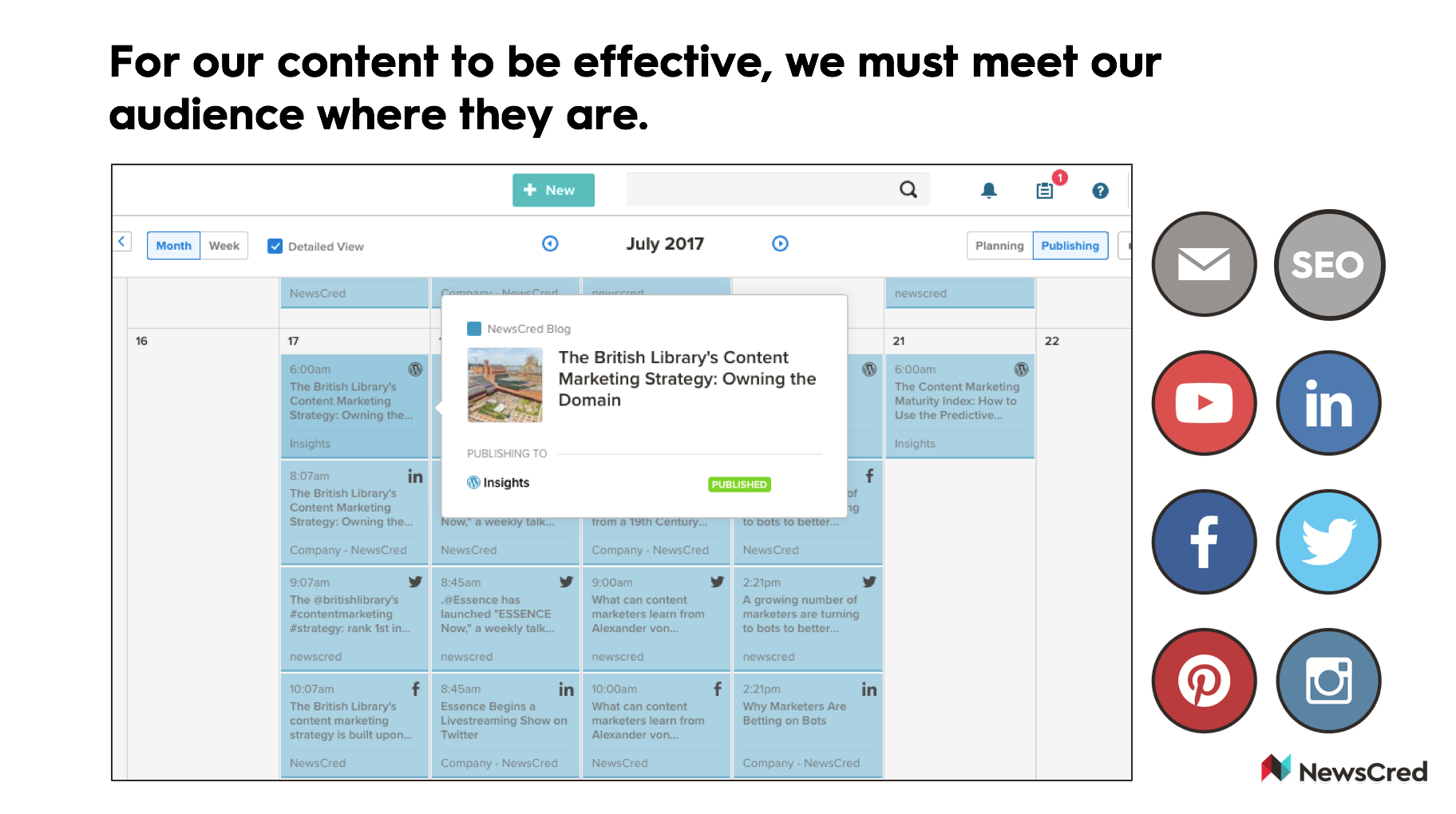 In addition, we focus on search engine optimization (SEO).
SEO gives us a better understanding of our audience: what they care about, what they're searching for, and how. We also get a better read on keyword search volume and whether it changes seasonally. If you're not thinking about SEO, you're missing out on a massive opportunity to improve your program.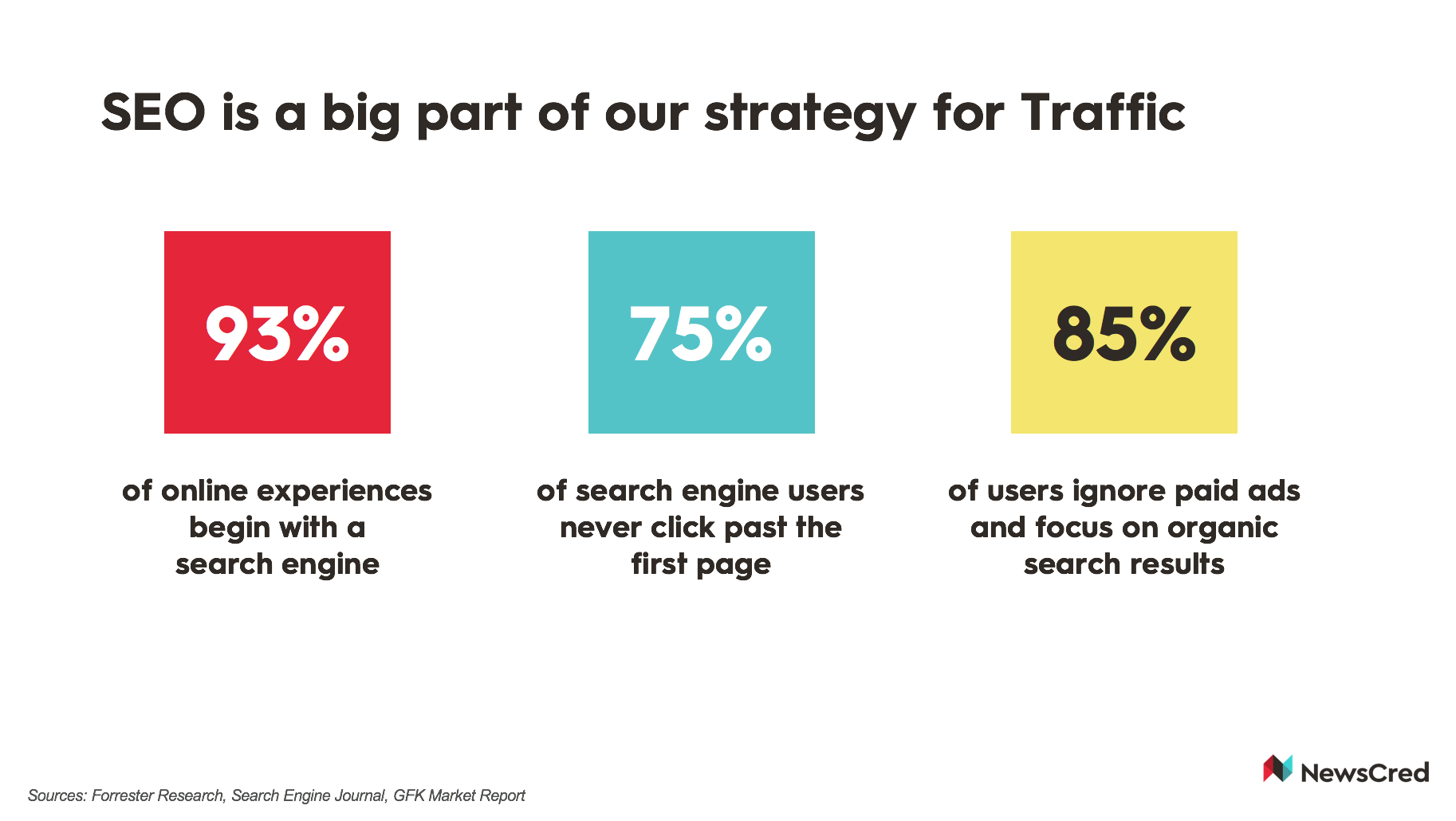 In our software, we have functionality that suggests keywords relevant to your content, what questions people are asking, and what they're saying on social. We're bringing more and more data-driven insights into our platform each month.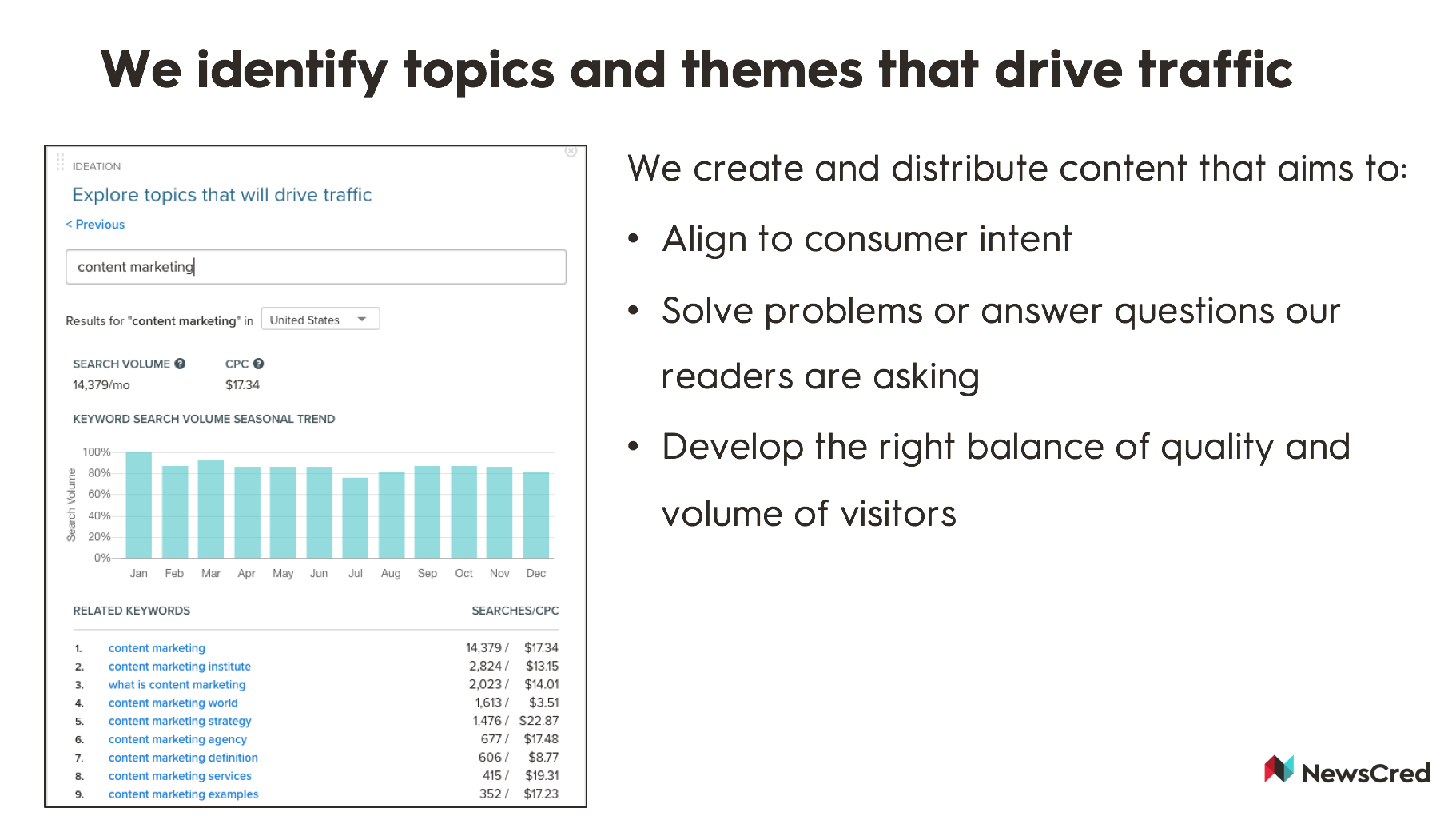 Engagement
The most important part of engagement is creating quality content – because if your content isn't engaging people, they won't return to spend more time with you.
At NewsCred, we ask ourselves hard questions like, "Does this piece of content need to exist in the world?"
To hold ourselves accountable to creating quality content, we have a content scorecard. We fill it out for every piece of content we create. If something doesn't meet our standards, we don't publish it.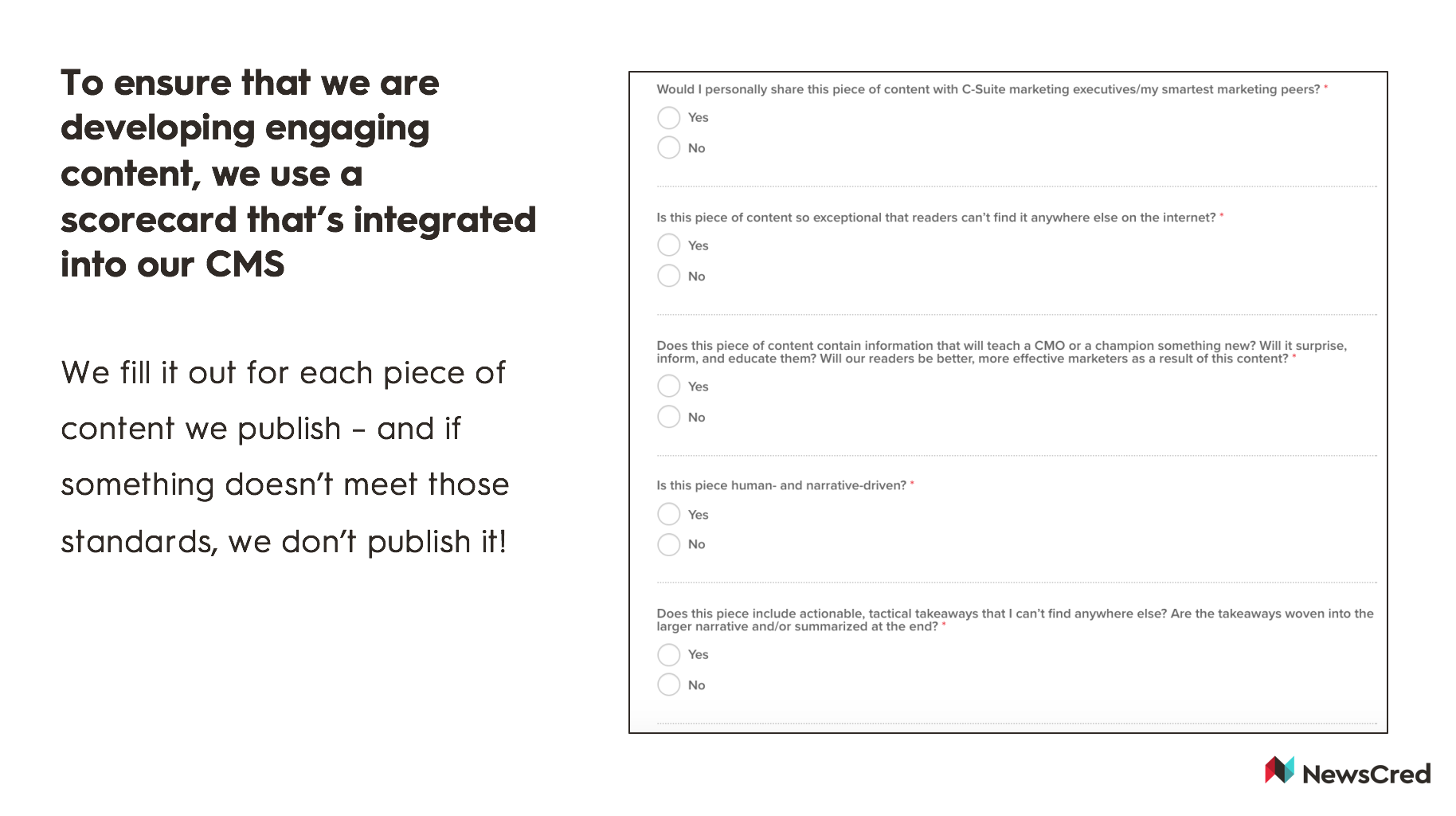 We measure attention time and engagement rate to ensure that our content resonates with users.
We then find opportunities to optimize. For example, our content marketing platform highlights pieces that have high engagement but low traffic. This indicates that the article is of high quality, but not enough people are seeing it. Using that insight, we'll promote it in our newsletter or put paid social behind it.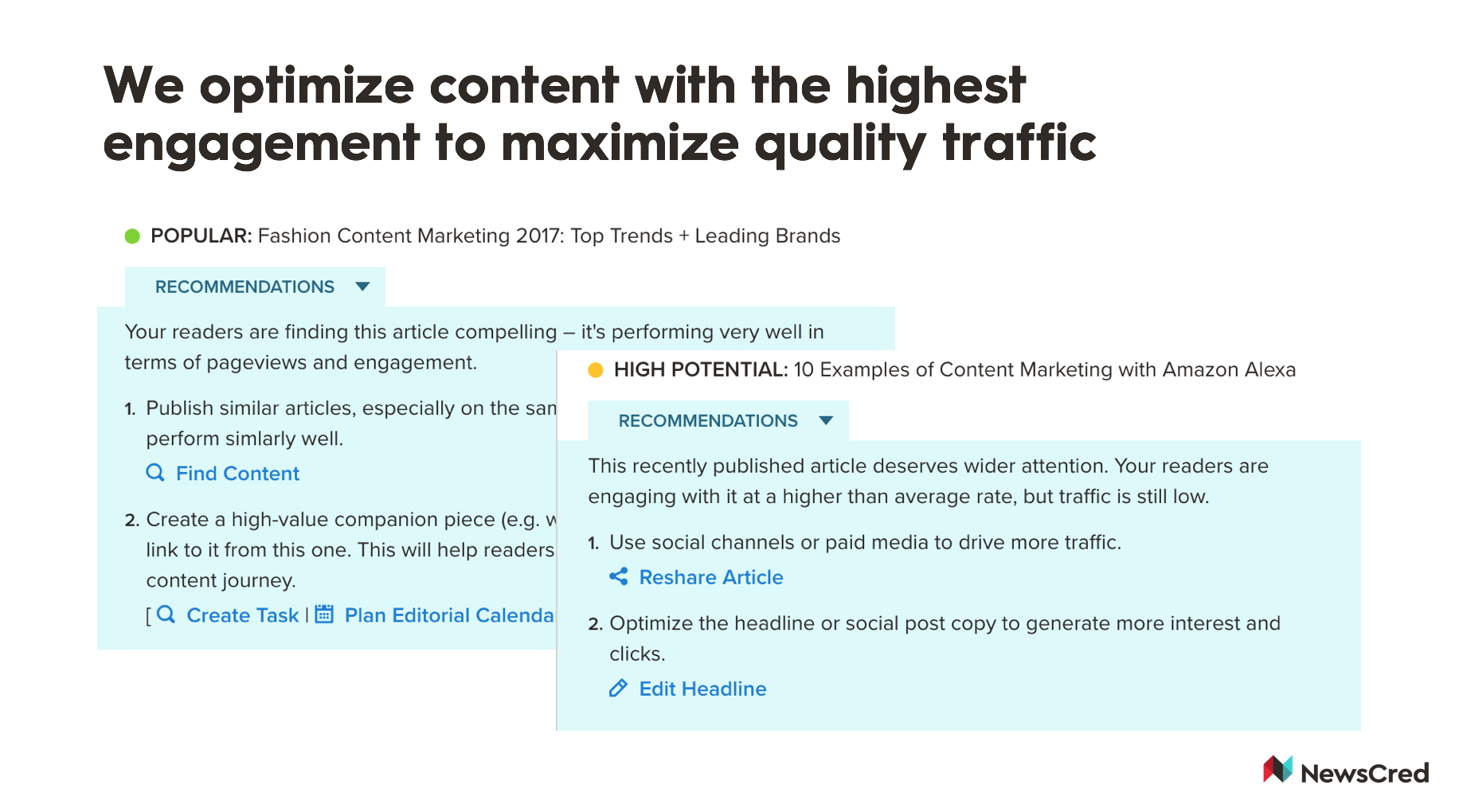 Action
The "Action" part of our methodology is where most marketers get stuck. And that's why we're pleased to offer you concrete steps to get unstuck.
In order to measure content marketing performance, you need to identify the actions or micro-conversions that people need to take on their way to becoming a customer. What actions can people take on your site after reading your content?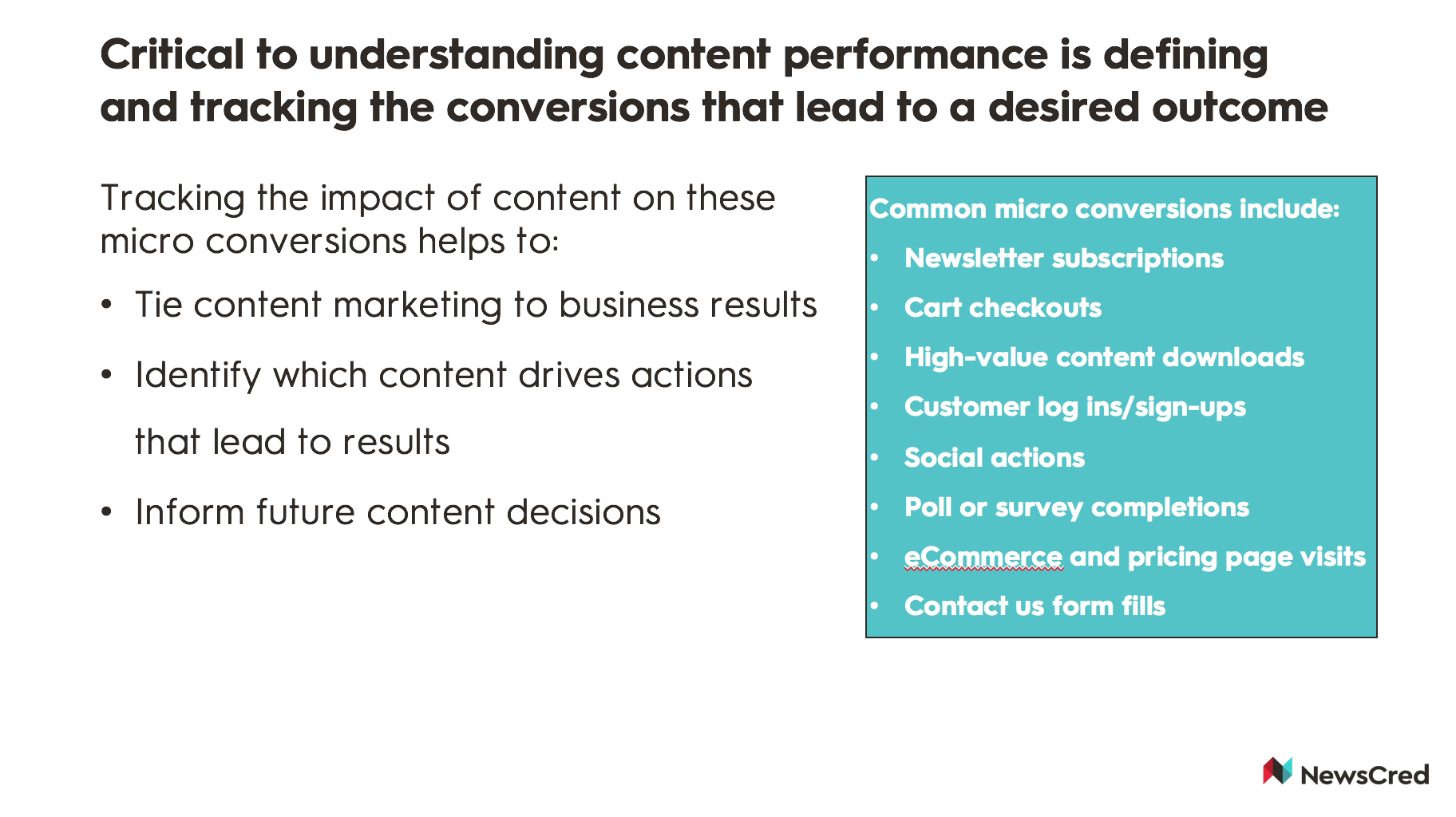 At NewsCred, we ask people to sign up for our newsletter. In addition to building a stronger relationship with them, we've also found that people who subscribe to our newsletter are three times more likely to become a scorable lead.
To get them to subscribe, we trigger a lightbox pop-up when they've read 50 percent of a story. Yes, pop-ups are annoying and we don't recommend using lots of them. However, I think it's okay to ask permission if you're providing them with value.
We send out four email newsletters a week. Each one features articles geared to educate and inspire our audience. We're not using the newsletter to push our platform or services.
If you're not doing email marketing, I'd start yesterday. Email is the ugly stepchild of marketing channels, but it's the most effective. It's a gift that keeps on giving. Your subscribers are people who want to talk to you.
On Insights, we signpost at every point in the user journey; there are no dead ends. We drive people to more longer form, deeper funnel content.
Once we know which pieces of content perform well, we double down on them to create big rock content. We create an ecosystem around the content that performs well.
We do gate some high-value content, like presentations and white papers. You have to be careful because gated content can be annoying. You have to earn it. However, I think it's fair that if we give you a lot of great, free content, you can tell us a little more about yourself and then we'll give you even more high-value content.
Monetization
Any time a lead gets created, we tag it so we know it's an Insights lead. We can see what this lead does, how many pieces of content they read and which ones. This used to be manual. But because our platform integrates with marketing automation and CRM systems, like Marketo and Salesforce, we can attribute the leads and revenue that content generated and influenced.
You'll see that there were often many pieces of content read in each journey – and you're leaving a lot of money on the table if you can't show the content that played a role. (We redacted the names in this image.)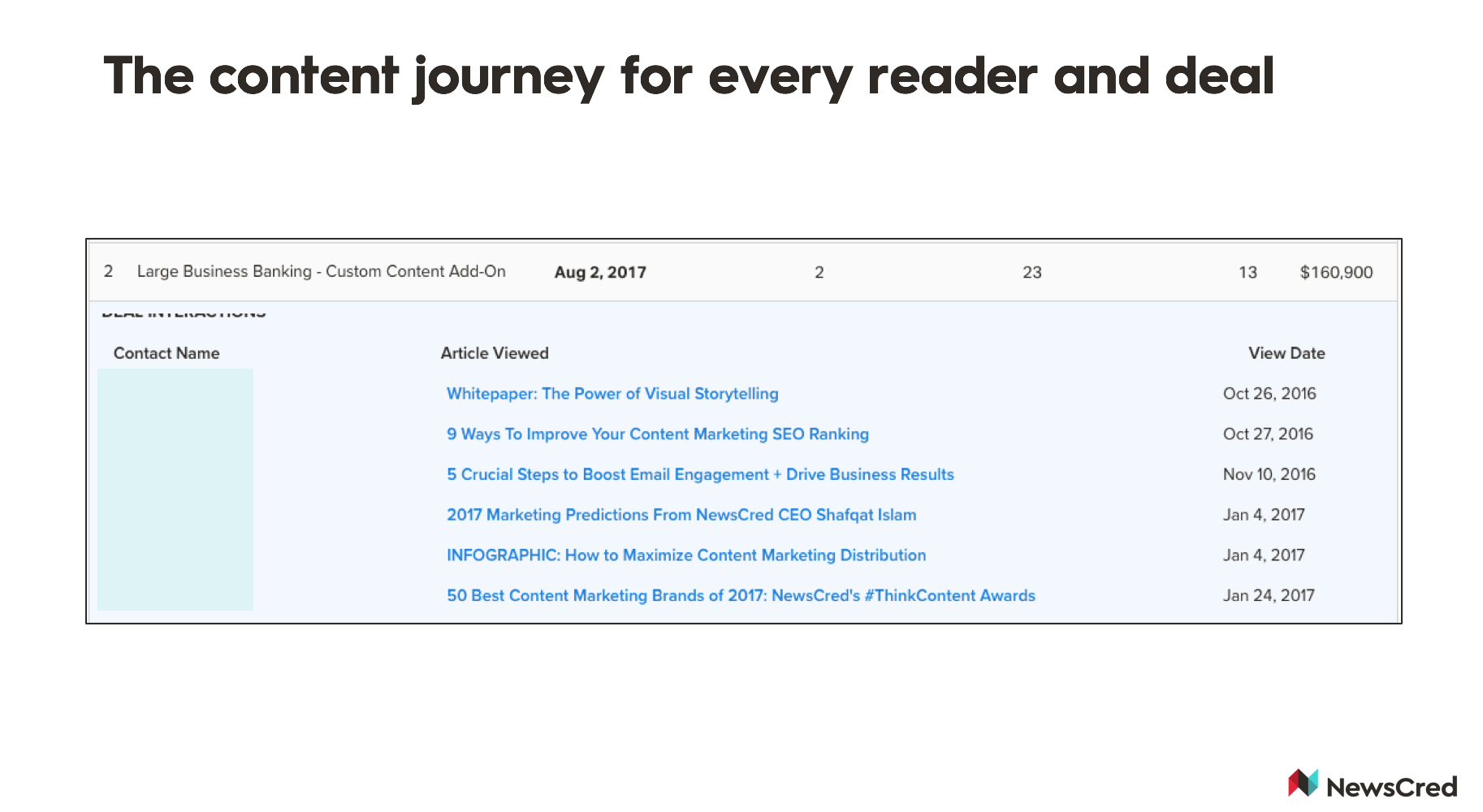 This is the mental shift we need to make as content marketers. We need to track actions at all stages of the buyer journey in order to not only prove content marketing ROI, but also optimize content to improve future results and deliver even more ROI.
In this performance era of content marketing, we have the best of both worlds. We can have exceptional content and the ability to measure it. And the marketers doing so are ultimately the ones who will truly shape the way we do marketing for years to come.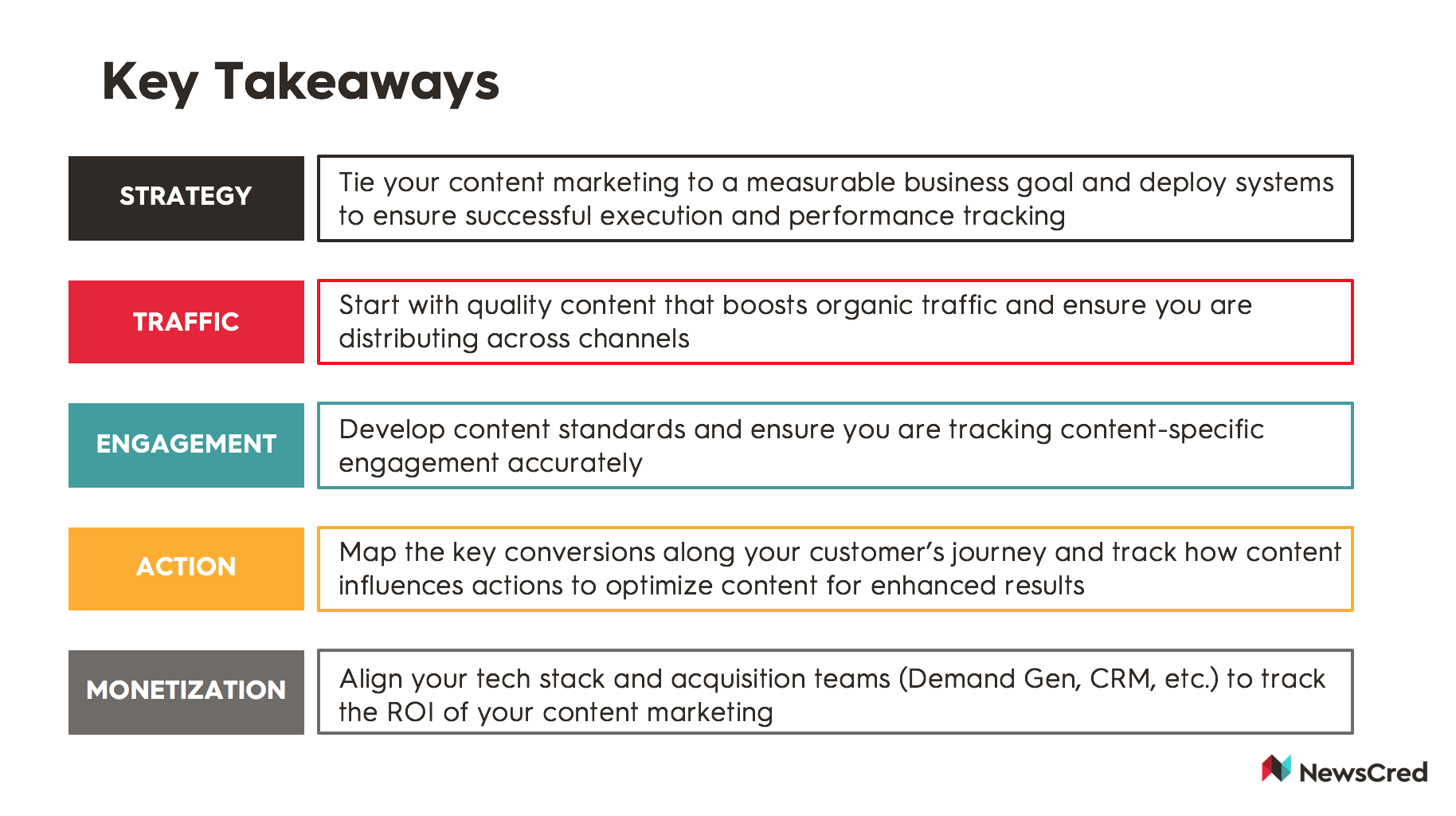 Watch the full video of Shafqat Islam's talk here. To learn where you fall on the Content Marketing Maturity Index, take our 14-question assessment. To read more about the NewsCred Methodology, download "The Five Elements of Content Marketing Success."
Shafqat Islam is NewsCred's CEO and Co-founder.
Originally published on Sep 8, 2017 7:56 PM