Let's face it, content marketing isn't easy. Here at NewsCred, we know this more than anyone having pivoted from a syndication business into a full-fledged content marketing SaaS company a few years ago. Like many of you, we have learned from our successes – as well as the failures – along the way and wanted to share our experience as we navigate the world of content marketing together.
Where We Came From
In 2014 we realized that we needed to stop marketing to brands and start connecting with people. We made this a reality in April 2014 when we made huge shifts in our content strategy – and the results showed. 
From 2014 to 2015 we saw:
– 49% increase in unique visitors by increasing our original content production.
– 800% ROI from producing just one whitepaper (400 leads and 3 opportunities generated on average).
– And once converted to a customer, we saw a 41% higher renewal rate, 33% upsell rate, and 24% higher MRR than average – equaling to $72M in customer lifetime value. 
Where We're Going
At NewsCred, we put content at the core of our marketing strategy. Instead of traditional ways of thinking about channel and demand generation strategy first, we organized the principle of content before building out our channel strategy. 
This also requires a fundamental shift in the way that we think about the marketing organization as a whole. Unlike common perceptions, we believe that marketing is a revenue driver, not a cost center. 
Today, marketing drives 40% of NewsCred's revenue on a first-touch basis, and influences 100% of deals. The best news? Content marketing is our most cost-efficient channel! For every $1 we put in, we get $14 out.
Building the Business Case for Content Marketing
Most marketers focus on vanity metrics such as followers, pageviews, and traffic and not enough on the business goals. While these are important, they do not tie to the KPIs and company OKRs that your CMO and CEO care about. 
While we all know that revenue is what we ultimately need to prove, the big questions is how do you work backwards to get there? That's why we built a simple framework that enables us to consistently measure the right things to determine if our efforts are working:
1. Brand Awareness + Health: Is your content driving early stage prospects to you? How do they feel about you?
2. Conversions: Is your content turning prospects into customers?
3. Retention: Is your content driving retention and upsells?
Then, we dig deeper and look at the metrics associated with each of those bigger business goals. The trick is that they need to ladder up to KPIs, and not stop at the vanity metrics themselves. Take a look at the chart below.
For example, when we think about conversions, we look at conversions across the entire sales funnel. This helps us prove our overall revenue impact while focusing on one KPI. There are four ways in which we measure this: 
1. Intent: Are people taking behavioral actions that are a leading indicator of their interest in NewsCred?
2. Action: Are people starting out as blog subscribers and then filling out a second, third, or fourth form?
3. Relevance: How does our content marketing channel compare to our other channels? 
4. ROI: How do the numbers of deals and cost per opportunities/deals compare to our other channels? 
At this point, you're probably wondering how to measure these metrics and KPIs. This level of analysis requires the right marketing technology infrastructure, and for us that means that our data is connected between our software, Marketo, and Salesforce. While this enables us to understand how content and specific channels impact deals, it also allows us to bring in cost information and see what content converts. This allows you to analyze your channels, which in turn can inform the rest of your demand generation strategy. Here are some of the insights we learned:
 
Creating Content Your Audience Actually Wants
Content marketing is all about the value exchange between your brand and your audience, and the content you develop should align to your brand's purpose while directly correlating to your audience's interests. This usually means being able to talk about a variety of topics that surround your brand or industry.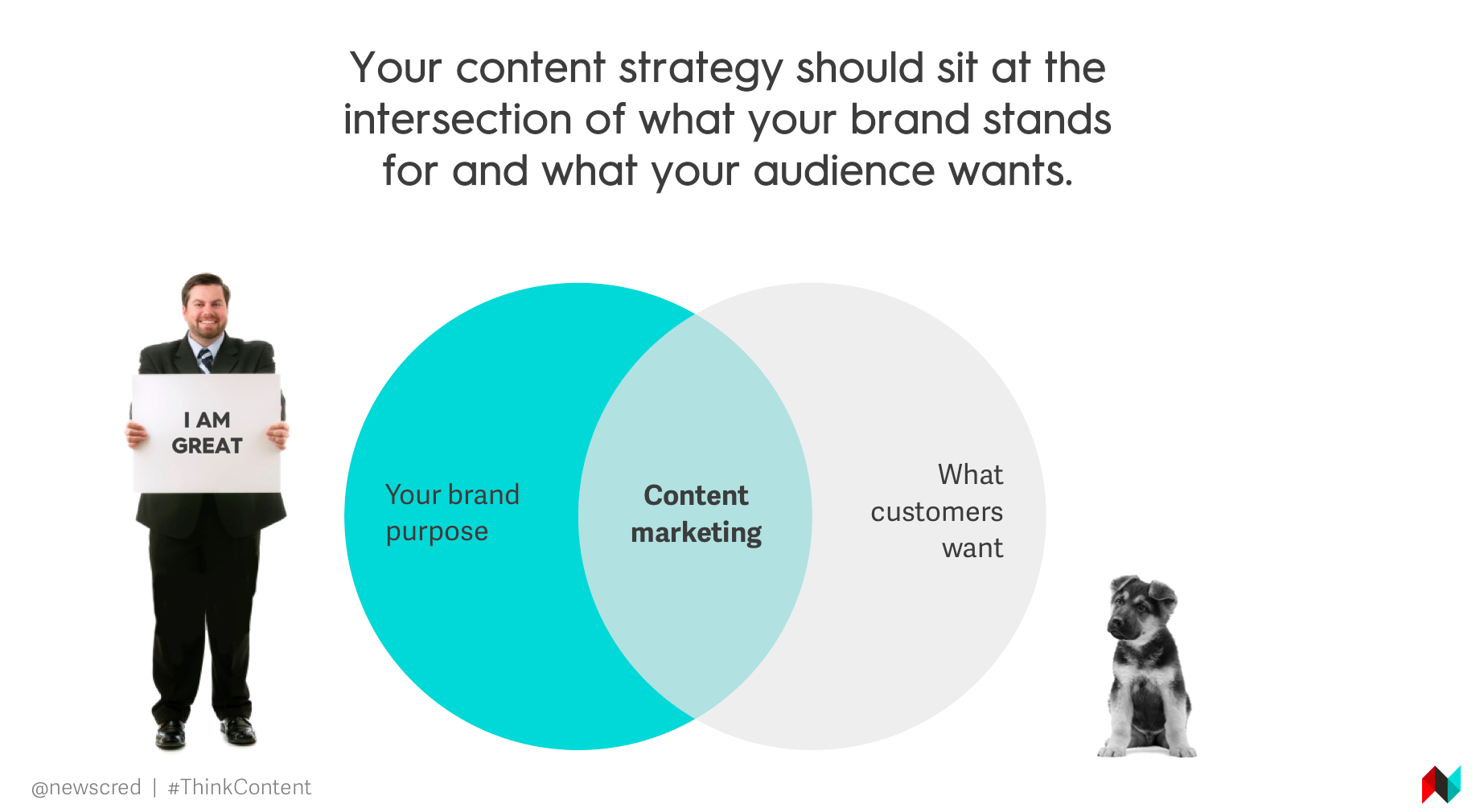 Even if your brand is already creating content, many marketers find themselves asking, "But how do I really know what I should write about? Does it resonate with my audience? How can I make my content better?" The single answer is that you need to build a framework to make the decision process easy, and the way to do this is to analyze the KPIs mentioned before while clearly articulating your brand purpose. 
When in doubt of what to write, there's always the tried-and-true gut check of, "Would I share this article with my smartest friend?" This is something that we at NewsCred believe so firmly in that we have created a scorecard in our own product to make sure that we're hitting our own benchmarks. Here's a look at our scorecard: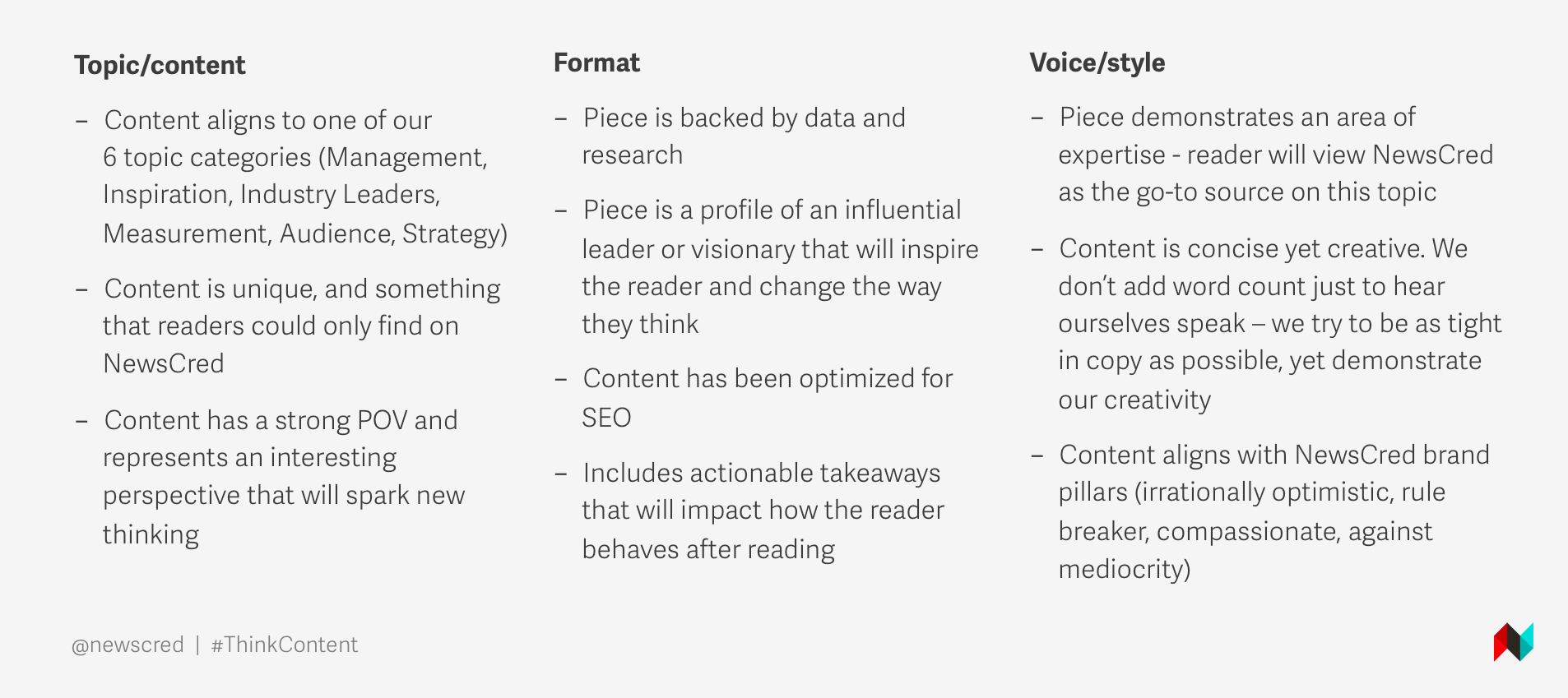 In our experience, there are three content buckets that consistently perform at a high-level, both in engagement and moving people down the funnel:
1. Tactical stories + best practices
2. Data-drives stories or trends + research
3. Exclusive interview + profile pieces with CMOs
To prove this, let's take a closer look at a recent piece of content that drove high traffic and engagement. This January we published "Infographic: How Consumers Really Use Snapchat," a piece of data-driven content strategically timed to coincide with the buzz around Snapchat campaigns and the Super Bowl. We surveyed Snapchat users about their in-app habits, analyzed the data, and partnered with Column Five to create an infographic to visualize our findings – here's a portion of it: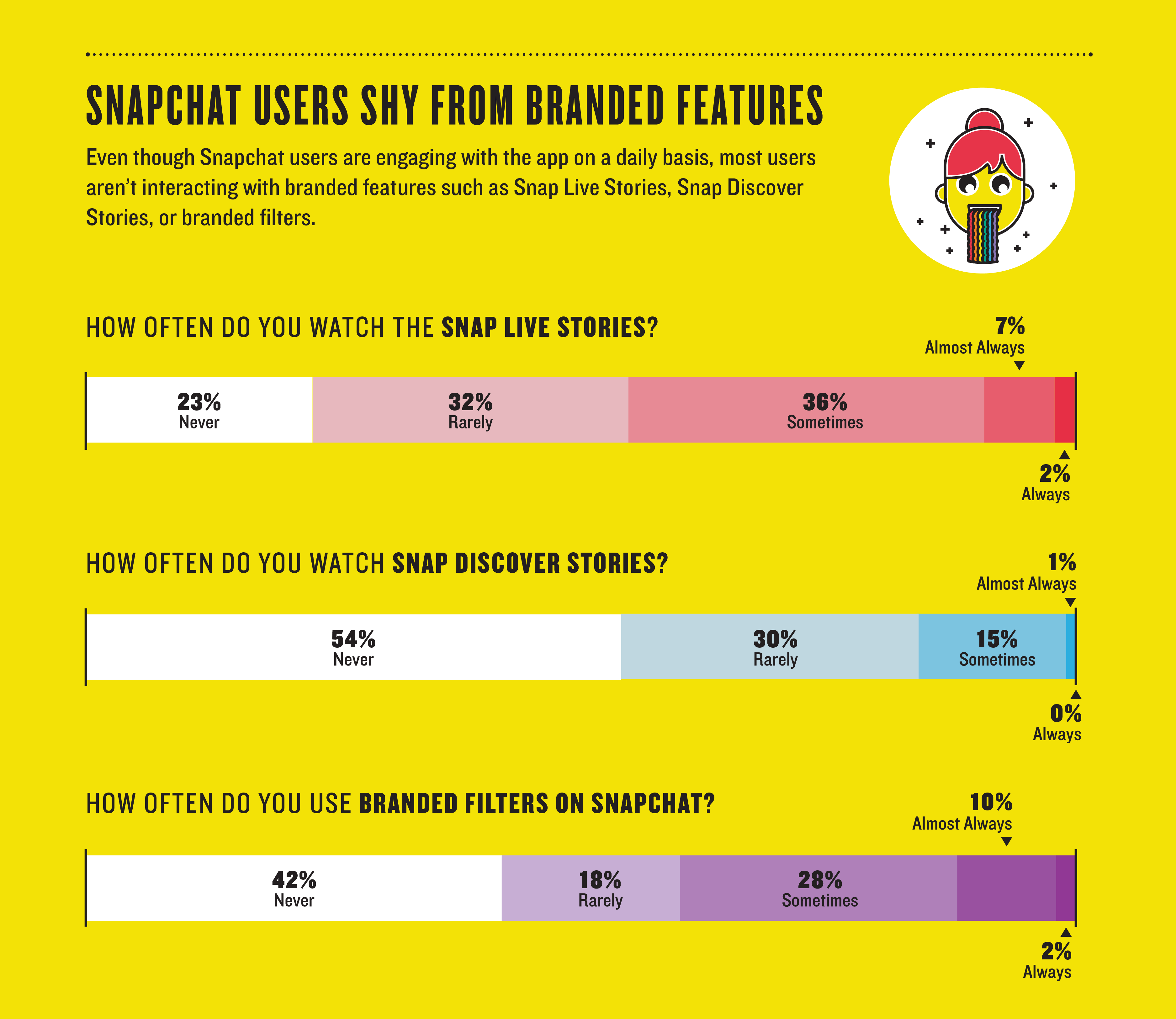 In less than two months, this piece of content received 6K shares, 20 PR features, and made its way into our top five performing pieces of content of all time. How? By adhering to our content framework (relevant, strong POV, SEO optimized, creative/visual), being highly data-driven, and publishing around a specific event with lots of organic discussion.
Deliver Content the Way Your Audience Wants It
Of course, having great content is nothing without a distribution strategy. However, while most companies say to meet your audience where they are, we say own your audience. This means creating a completely unique and differentiated offering that is tailored to your audience's content consumption and learning style. 
Newsletters + Webinars
Sometimes your highest performing channels might not be the ones you think. For example, newsletter distribution is the #1 driver of traffic to our blog posts. We have done extensive analysis of our newsletter and have identified these features as contributors to a high click-to-open rate:
1. Time of Send: Mid-morning on weekdays is the best time to send
2. Superlatives: Phrases such as "the best," "most important," and "essential" grab attention
3. Sharable Content: Infographics and highly visual content always performs well
4. What/Why: Answering common marketing questions leads to higher readership
5. Name Recognition: Mentioning brands and topics such as Birchbox, Intel, or the Oscars leads to high engagement
Webinars are another example of an effective and efficient distribution channel, especially for lead nurturing. We have found that 20% of all NewsCred webinar registrants are new contacts, and with a creation cost of nearly $0, are a scalable way to enhance your demand generation. 
High Value Content + Structured Learning
Earlier we discussed creating content at every stage of the buyer journey, and how people consume that content is essential. Through our research, we've discovered that structured learning is important, as long it's actionable. If you're considering making the leap into structured learning, there are a few elements you must consider:
1. You need to make it easy for people to change pats and preferences at any point
2. The tone should be encouraging, and the experience should never feel like work
3. A sense of community is a feeling, not a feature 
4. Consider bringing your online and offline worlds closer
5. Provide ways for people to apply learnings after they engage with content 
Last week, we launched NewsCred Insights, our new educational content hub combining our blog and former Academy into one destination. What we learned during the process was that marketers wanted some level of curated and personalized content, while maintaining the freedom to discover content on their own and move through a self-guided experience.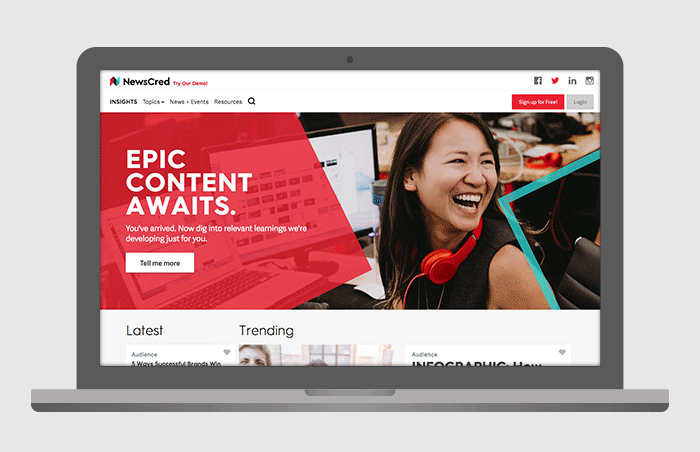 If your organization is thinking of entering the structured learning space, we would suggest conducting lots of user testing to find out what kind of content your audience wants, how they want it presented, and how they want to interact with it. While it has only been two weeks since launch, the initial response has been overwhelmingly positive – and we were sure to thank each and every person that gave us a shoutout on Twitter. As we have said in previous posts, thanking people not only humanizes your brand, it increases organic engagement and followers.
Measuring the Right Metrics + Proving ROI
Content marketing is a marathon not a sprint. Results take time but the diligence of delivering a regular cadence of content pays off in a big way. We analyzed our own customer base and found one consistent insight: there is a compounding effect to content marketing. 
Consistency Is Everything
If you publish consistently everyday, month over month, the value of your content and ultimately your ROI will increase over time.
Looking at the below graph, the yellow bars represents the number of articles published every month. As you can see, their publishing cadence remains consistent month over month, however the total number of articles viewed (the blue bar) increases over time. This is because articles published in earlier months continue to drive traffic over time due to SEO and building a bank of evergreen content that drives new visitors. In addition, the number of pageviews increases over time, proving that a steady publishing cadence leads to a compounding effect due to engagement and traffic.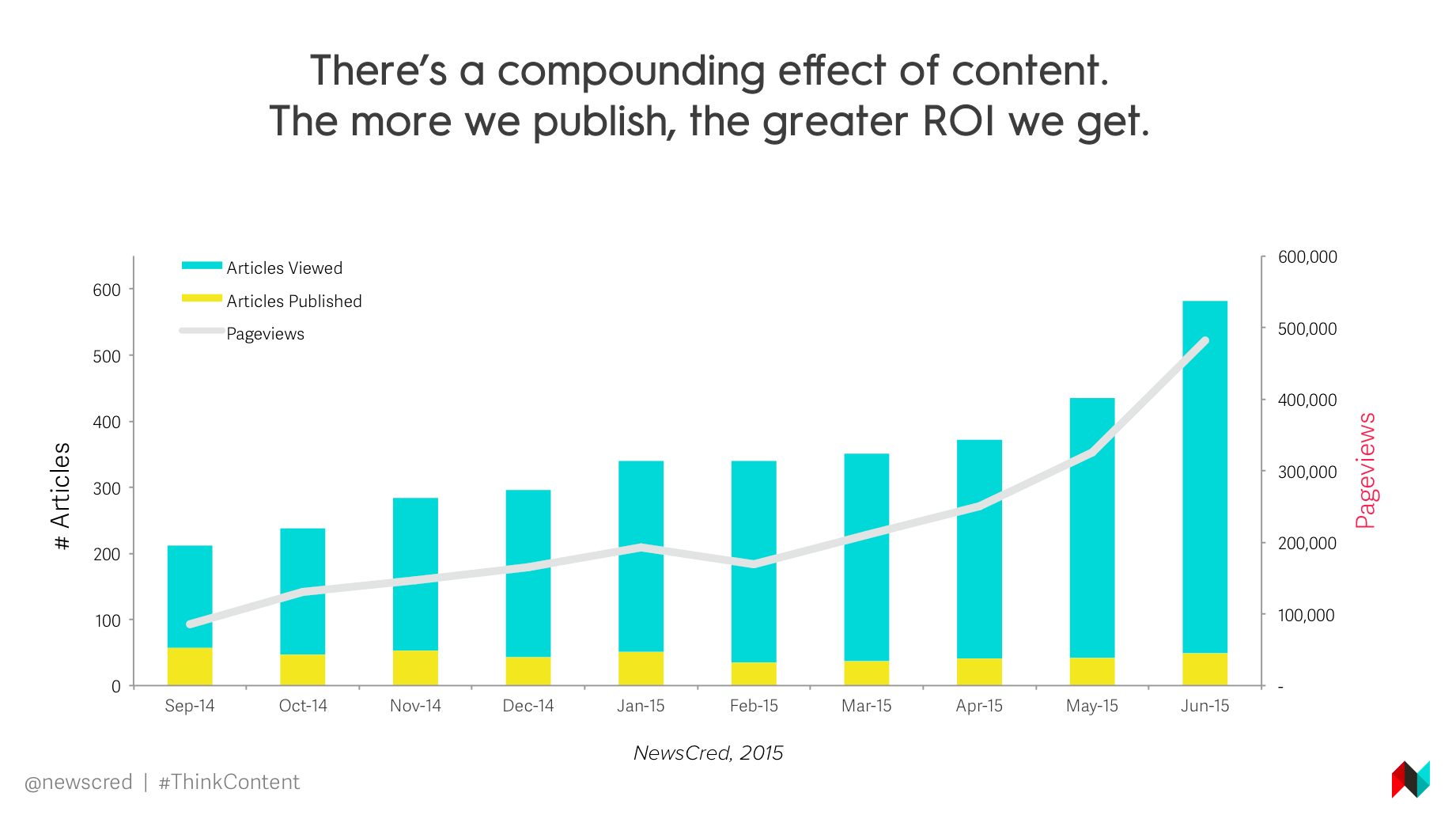 Play the Long Game
A content-driven traffic strategy will always be better than an SEM-driven traffic strategy. Why? This allows you to fully own your audience's attention without buying it because you own the traffic and it builds on itself over time. When presenting this case to your CMO or CEO, always remember that while SEM-driven traffic has faster ROI at the start, it will become much more expensive over time.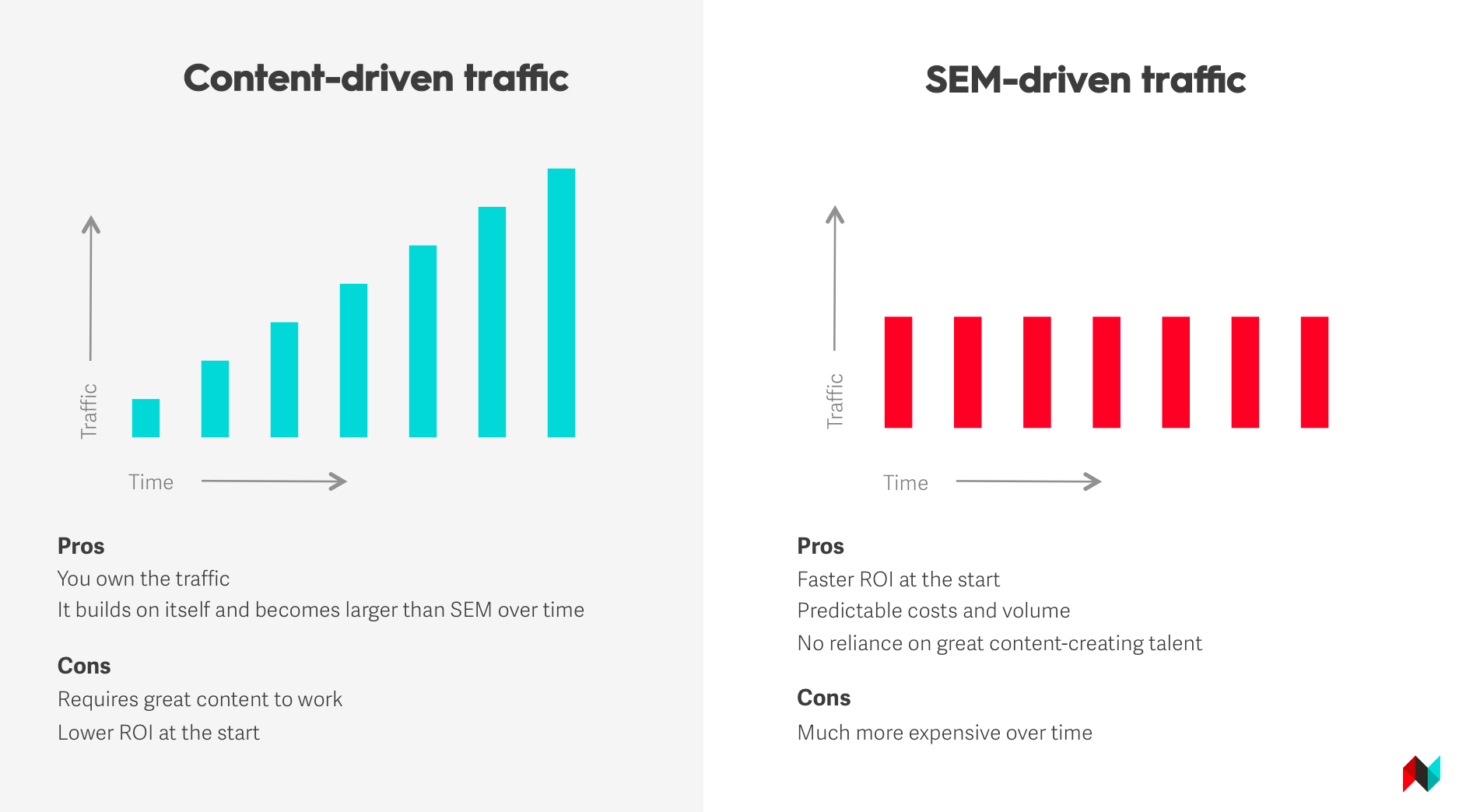 However, an always-on content strategy is only possible with a strong process and infrastructure. We're a pretty small marketing team, just 10 people in an almost 200-person organization, so we needed to find the most efficient way to scale our process. This starts with the right workflows, calendaring, and right mix of content. Publishing content doesn't require you to constantly create new blog posts, and optimizing your old posts is just as (or more) valuable than creating net new content. Here are some ways to do this:
1. Optimize old posts that have high engagement but low(ish) pageviews
2. Focus on moving posts with a SEO pagerank of 4 or 5 to a pagerank of 3 or higher – this will make a massive difference in traffic
3. Look for posts that get a lot of search traffic but aren't in your top 50 to 100 blog posts, and make them better, longer, and more valuable
Focus on Retention Just as Much as Acquisition
We believe that content marketing has a huge opportunity to increase retention, brand loyalty, and upsell revenue. In NewsCred's case, because we work with global enterprises, the ability for us to grow our relationships is hugely important. 
In addition, we know that increasing the lifetime value of our customers not only increases revenue but drives down our acquisition cost. And too many businesses focus on transactional customer value and forget to invest in the experience post-sale.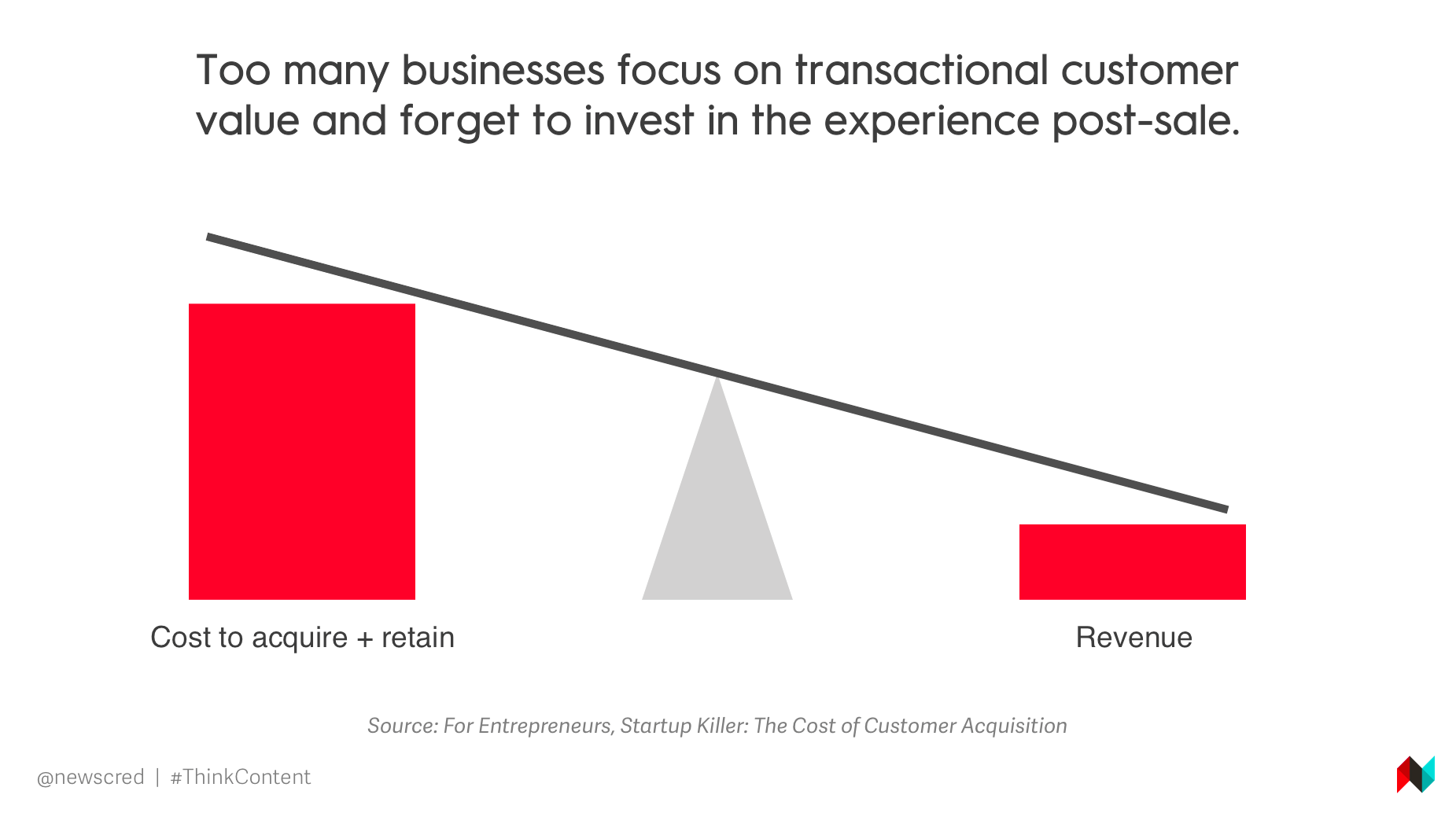 In reality, the lifetime revenue of of a customer should be 3-5x the cost to acquire and retain them. Our attention must shift to the customer experience post deal in order to succeed. 
When looking at the below chart, strategies like inbound marketing and customer referrals drive your customer acquisition cost down, while field sales typically drives cost up. At NewsCred, we focus on what can negatively impact revenue once a prospect becomes a customer – high churn rates, low customer satisfaction, and slow or ineffective onboarding.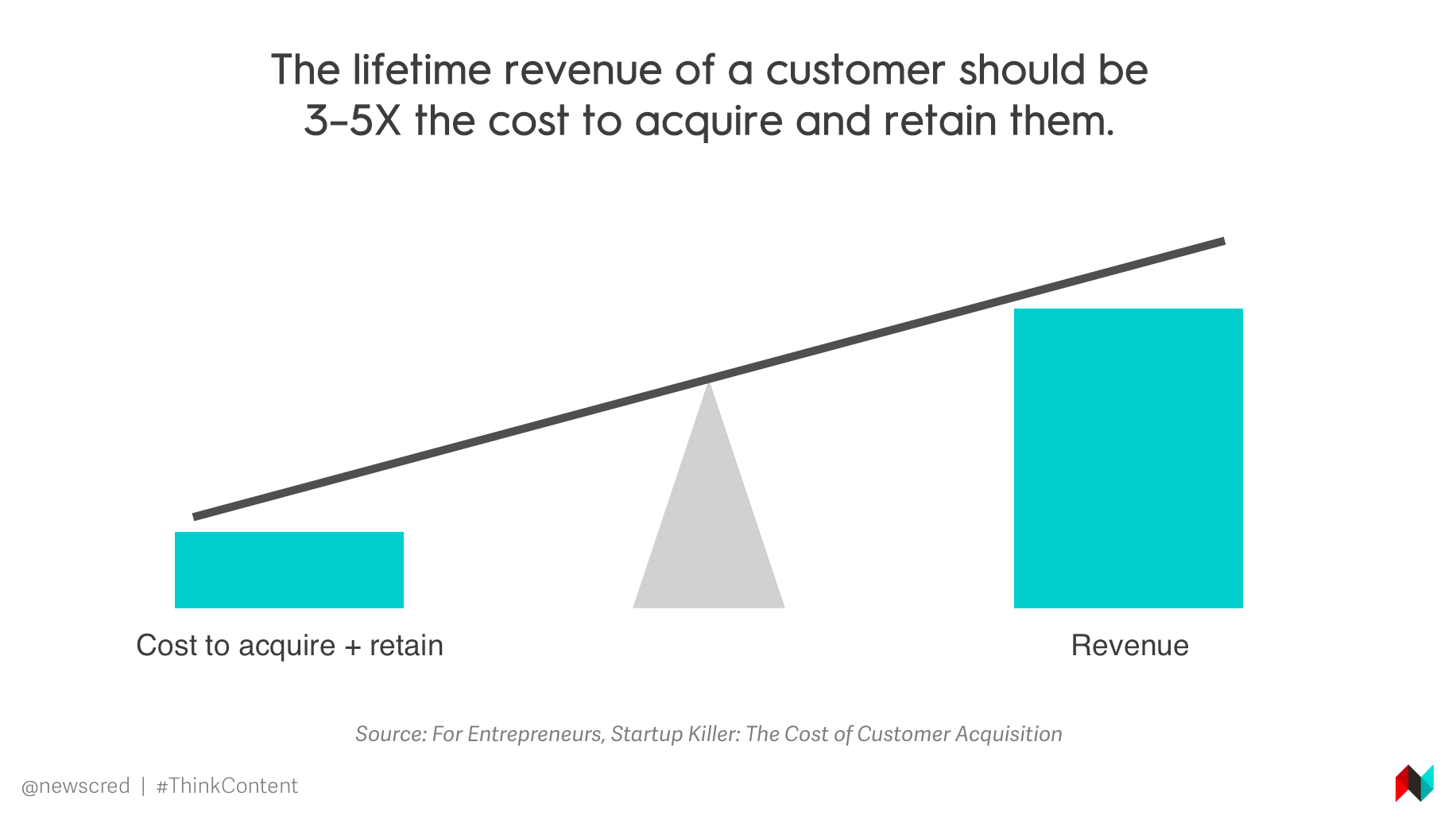 This is where we had our big idea. Knowing that retention is largely decided in the first 30 days of a customer lifecycle, we thought we could add the most value by making our onboarding process incredible. Part of this was empowering customers to ramp up faster, while cutting down on our own organization's investing in  time and resources.
At the end of the day, by focusing on content marketing, retention, upsell, and cross-sell value we've seen a 41% higher renewal rate, a 33% increase in upsells, and 24% higher MRR than average. 
Think of Events as an Extension of Your Content Strategy
One of the big differentiators with NewsCred's strategy is treating our events as an extension of our content strategy. Not only is this a way to accelerate leads, it's also a way to build relationships with existing customers. In 2015, our marketing team held 95 events, and our organic event channels represented 76% of all marketing-driven opportunities. 
Our #ThinkContent Summit, now in its fourth year, is up next on our events calendar on June 2, 2016. For those who have never attended, we bring over 1,000 of the best and brightest marketers together for a day of content marketing inspiration, tactical presentations, and networking. Registration for #ThinkContent is now open, and more information can be found here.
We hope you gained some insight into how we do content marketing at NewsCred! Of course if you have any questions or would like additional information about any of the material that we covered, please take a look at Insights or drop us a line on Twitter @newscred.
Alexa Biale is a Brand Marketing Manager at NewsCred.
Originally published on Mar 11, 2016 11:00 AM