There are 1876 marketing technology companies according to chiefmartec. Of these, over 80, including NewsCred, are listed squarely in "Content Marketing." It doesn't take an expert to tell you that the content marketing software industry is exploding. Venture capital in this space is growing at an unprecedented rate. On the heels of our own investment announcement, we wanted to know how much investor money is actually in the content marketing industry? And how much is the content marketing industry actually worth according to marketing budgets? These numbers were nearly impossible track down in one place so we did a little math.
As of September 2015, a total of $1,097,847,416 (according to recent, publicly available data from CrunchBase) has been invested from 2006 to present in the 89 companies chiefmartec defines as "content marketing" technology platforms.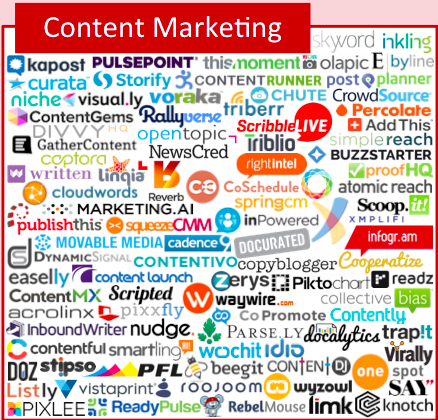 I legitimately went blind after looking at this for an hour.
This now-blanket term includes visual marketing platforms, content creation agencies, video content platforms, and UGC software.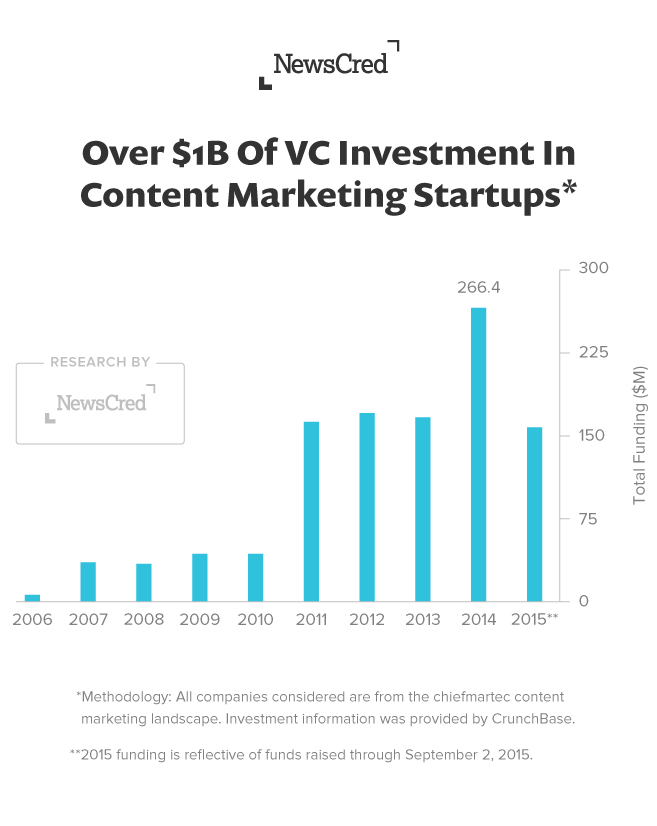 The Content Marketing Investment Build Up
2012 to 2014 really built industry momentum. Oracle, IBM, NewsCred, Optimizely, Outbrain, Skyword, and Taboola all acquired smaller companies.
In 2014, CBinsights noted that $292M had been invested in content marketing platforms (including ours) from Q2 2013 to Q1 2014, noting that there was a 125% increase in investment money as well as a 47% bump in deal activity from the prior year.
"People are absolutely spending money on this. Venture funding is through the roof," Rebecca Lieb told Fortune. "It is exploding and will continue to explode." 
We cross-referenced our chiefmartec list of companies against CrunchBase's investment funding database to narrow down the top 20 content marketing companies by investment funding.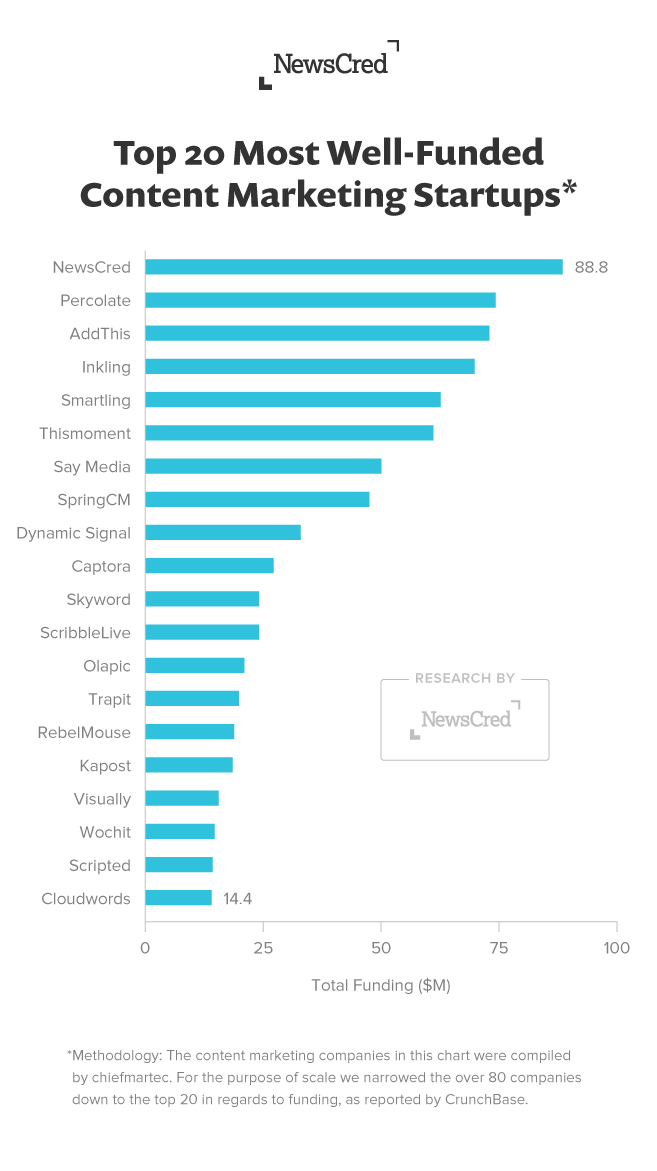 This of course does not include companies like HubSpot who went public last year after raising $100.5M, or companies like Sprinklr or HootSuite who have raised a substantial amount of money ($123.5M and $284.9M respectively) but are considered "social media" players by the industry.
The Industry Budget + Revenue For Content Marketing
Now that we know how much money is invested in the content marketing space, how much money are these companies actually making? The content marketing software and services industry pulled in an estimated $26.47B in revenue in 2014, with an overall growth of 13.3% according to analysts at PQ Media. This growth is estimated to continue in the double digits this year, with content marketing global spend estimated at $145B for 2015, with revenue slightly over $30B. Industry budget growth overall is estimated by PQ Media's Global Content Marketing Forecast 2015-19 at $313B by 2019.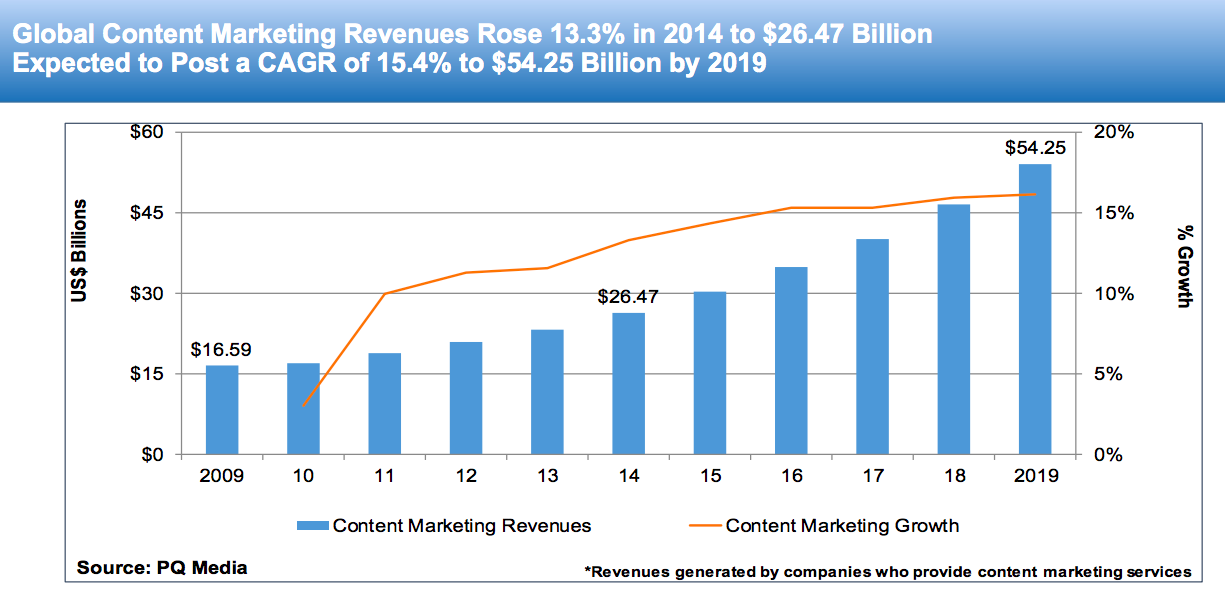 In 2013, the Custom Content Council listed content marketing as a $44B industry, meaning brands were spending that much globally on content marketing strategy and services. According to PQ Media, global content marketing revenue has continued to soar in 2015, with content marketing set to grow to a $313 billion industry by 2019.
In 2014, revenue generated by content marketing technology and services brands grew 13.3% to $26.47 billion, according to PQ Media, and 2015 will be the sixth consecutive year of double-digit growth in the content marketing industry.
"Content marketing has emerged as the most vibrant and talked-about marketing sector of the past five years, building momentum at a faster growth rate each year from 2010 through 2014," PQ Media's chief content officer Patrick Quinn told MarketingMag.
"Growth momentum continued in the first half of this year, driven in part by the increasing sophistication with which leading brands, marcom agencies, and forward-looking boutique content marketers are studying and engaging their target users with more testing, research, planning, and leveraging their most effective and efficient content, technology and talent. Ultimately, the best content marketing overlays engaging storytelling with a strong content foundation; concise and insightful prose; and the use of creative design aspects."
According to PQ Media's report, the US has the largest content marketing market share with $12.11B in 2014 revenues. According to MarketingMag and PQ Media, "the fastest-growing content marketing category in 2014 was 'digital-only channels,' which jumped 27.7%, driven by rapidly growing channels such as branded mobile content and apps, which soared 61.5% last year."
So what does this mean? The content marketing software and services industry is growing mind-blowingly fast, but things will soon start to merge. There will be more acquisitions. There will be a race to raise more across the board (as there is in all industries). The numbers ticking up correlates with what we've seen in the industry – brands finally "getting" that content marketing is a necessity, not a nice-to-have; and that the best brands in each space stand out because of it. We won't stay at the top of that chart forever, but hopefully we'll continue to grow in a way that best serves our customers, employees, and investors; continuing our mission to make marketing better for everyone.
Amber van Natten is Managing Editor at NewsCred in NYC and Razin Mustafiz is a Product Manager at NewsCred in Dhaka.
Methodology:
Content Marketing Technology Startups Considered
| | | | | | | | | | | | | | | |
| --- | --- | --- | --- | --- | --- | --- | --- | --- | --- | --- | --- | --- | --- | --- |
| Company | Website | CrunchBase | Category | 2006 | 2007 | 2008 | 2009 | 2010 | 2011 | 2012 | 2013 | 2014 | 2015 | Total |
| Skyword | http://www.skyword.com/ | https://www.crunchbase.com/organization/skyword | Platform |   |   |   |   |   | $546,000 | $6,000,000 | $6,700,000 | $11,000,000 |   | $24,246,000 |
| Inkling | https://www.inkling.com/ | https://www.crunchbase.com/organization/inkling-systems |   |   |   |   |   | $9,125,000 | $24,000,000 |   | $16,000,000 | $6,000,000 | $15,000,000 | $70,125,000 |
| Kapost | http://kapost.com/ | https://www.crunchbase.com/organization/kapost |   |   |   |   |   | $1,118,000 | $1,500,000 |   | $5,600,000 |   | $10,300,000 | $18,518,000 |
| PulsePoint | http://www.pulsepoint.com/ | https://www.crunchbase.com/organization/pulsepoint |   |   |   |   |   | $1,000,000 | $9,500,000 |   | $3,000,000 |   |   | $13,500,000 |
| Thismoment | http://www.thismoment.com/ | https://www.crunchbase.com/organization/thismoment |   |   |   | $3,500,000 | $7,446,000 |   | $10,649,000 | $22,500,000 |   | $17,600,000 |   | $61,695,000 |
| Olapic | http://www.olapic.com/ | https://www.crunchbase.com/organization/olapic | Visual Marketing |   |   |   |   |   |   | $1,000,000 | $5,000,000 |   | $15,000,000 | $21,000,000 |
| Ebyline | https://www.ebyline.com/ | https://www.crunchbase.com/organization/ebyline | Content Creation |   |   |   |   | $1,500,000 | $5,000,000 |   |   |   |   | $6,500,000 |
| Curata | http://www.curata.com/ | https://www.crunchbase.com/organization/curata |   |   |   |   |   |   |   |   |   |   |   | $0 |
| Storify | https://storify.com/ | https://www.crunchbase.com/organization/storify |   |   |   |   | $23,000 |   |   | $2,000,000 |   |   |   | $2,023,000 |
| Content Runner | https://www.contentrunner.com/ | https://www.crunchbase.com/organization/content-runner |   |   |   |   |   |   |   |   |   |   |   | $0 |
| Post Planner | http://www.postplanner.com/ | https://www.crunchbase.com/organization/post-planner |   |   |   |   |   |   |   |   |   |   |   | $0 |
| Niche | https://www.niche.co/ | https://www.crunchbase.com/organization/the-niche-project-inc |   |   |   |   |   |   |   |   | $550,000 | $2,500,000 |   | $3,050,000 |
| Visually | http://visual.ly/ | https://www.crunchbase.com/organization/visual-ly |   |   |   |   |   |   | $2,000,000 |   | $2,300,000 | $8,100,000 | $3,300,000 | $15,700,000 |
| Voraka | http://voraka.com/ | https://www.crunchbase.com/product/voraka |   |   |   |   |   |   |   |   |   |   |   | $0 |
| Chute | http://www.getchute.com/ | https://www.crunchbase.com/organization/chute |   |   |   |   |   |   |   | $2,720,000 | $7,000,000 | $3,000,000 |   | $12,720,000 |
| Crowdsource | http://www.crowdsource.com/ | https://www.crunchbase.com/organization/scalable-workforce |   |   |   |   |   |   |   | $12,500,000 |   |   |   | $12,500,000 |
| Content Gems | https://contentgems.com/start | https://www.crunchbase.com/organization/contentgems |   |   |   |   |   |   |   |   |   |   |   | $0 |
| Rallyverse | https://www.rallyverse.com/index.html | https://www.crunchbase.com/organization/rallyverse |   |   |   |   |   |   |   |   | $1,000,000 |   |   | $1,000,000 |
| Triberr | http://triberr.com/ | https://www.crunchbase.com/organization/triberr |   |   |   |   |   |   |   |   |   |   |   | $0 |
| Percolate | https://percolate.com/ | https://www.crunchbase.com/organization/percolate |   |   |   |   |   |   | $1,500,000 | $9,000,000 |   | $24,000,000 | $40,000,000 | $74,500,000 |
| DivvyHQ | http://divvyhq.com/ | https://www.crunchbase.com/organization/divvyhq |   |   |   |   |   |   |   |   |   |   | $1,800,000 | $1,800,000 |
| ScribbleLive | http://www.scribblelive.com/ | https://www.crunchbase.com/organization/scribblelive |   |   |   |   |   |   | $4,000,000 |   | $8,000,000 | $12,000,000 |   | $24,000,000 |
| AddThis | http://www.addthis.com/ | https://www.crunchbase.com/organization/addthis |   | $2,600,000 | $15,500,000 | $18,000,000 |   |   | $37,000,000 |   |   |   |   | $73,100,000 |
| GatherContent | https://gathercontent.com/ | https://www.crunchbase.com/organization/gathercontent |   |   |   |   |   |   |   |   |   |   |   | $0 |
| Opentopic | http://www.opentopic.com/ | https://www.crunchbase.com/organization/opentopic |   |   |   |   |   |   |   |   |   | $825,000 |   | $825,000 |
| Triblio | https://www.triblio.com/ | https://www.crunchbase.com/organization/triblio |   |   |   |   |   |   |   |   |   | $3,400,000 |   | $3,400,000 |
| SimpleReach | http://www.simplereach.com/ | https://www.crunchbase.com/organization/simplereach |   |   |   |   |   |   | $100,000 | $1,600,000 |   | $9,000,000 |   | $10,700,000 |
| Captora | http://www.captora.com/ | https://www.crunchbase.com/organization/captora |   |   |   |   |   |   |   |   | $5,300,000 | $22,000,000 |   | $27,300,000 |
| NewsCred | http://newscred.com/ | https://www.crunchbase.com/organization/newscred |   |   |   |   |   | $1,000,000 | $4,000,000 | $1,800,000 | $15,000,000 | $25,000,000 | $42,000,000 | $88,800,000 |
| Right Intel | http://rightintel.com/ |   |   |   |   |   |   |   |   |   |   |   |   | $0 |
| Buzzstarter | http://buzzstarter.com/ | https://www.crunchbase.com/organization/buzzstarter-inc |   |   |   |   |   |   |   |   |   |   |   | $0 |
| Written | https://written.com/ | https://www.crunchbase.com/organization/written |   |   |   |   |   |   |   |   |   |   | $1,000,000 | $1,000,000 |
| Linqia | http://www.linqia.com/ | https://www.crunchbase.com/organization/linqia |   |   |   |   |   |   |   | $3,400,000 |   |   |   | $3,400,000 |
| Reverb | https://helloreverb.com/ | https://www.crunchbase.com/organization/reverb-technologies |   |   |   | $1,000,000 | $3,700,000 | $6,500,000 | $1,600,000 |   |   |   |   | $12,800,000 |
| Coschedule | http://coschedule.com/ | https://www.crunchbase.com/organization/coschedule |   |   |   |   |   |   |   |   |   | $500,000 |   | $500,000 |
| Atomic Reach | https://www.atomicreach.com/ | https://www.crunchbase.com/organization/atomic-reach |   |   |   |   |   | $150,000 |   |   | $1,300,000 | $2,800,000 |   | $4,250,000 |
| Cloudwords | http://www.cloudwords.com/ | https://www.crunchbase.com/organization/cloudwords |   |   |   |   | $2,900,000 |   |   | $2,400,000 | $9,100,000 |   |   | $14,400,000 |
| SpringCM | https://www.springcm.com/ | https://www.crunchbase.com/organization/springcm |   |   |   |   |   | $15,000,000 |   |   | $6,000,000 | $24,000,000 | $2,700,000 | $47,700,000 |
| Scoop.it |   |   |   |   |   |   | $8,400,000 |   |   |   | $2,600,000 |   |   | $11,000,000 |
| Marketing.AI | http://marketing.ai/ | https://www.crunchbase.com/organization/marketing-ai |   |   |   |   |   |   |   |   |   |   |   | $0 |
| PublishThis | http://www.publishthis.com/ | https://www.crunchbase.com/organization/publishthis |   |   |   |   |   |   | $7,700,000 |   |   |   |   | $7,700,000 |
| SqueezeCMM | http://www.squeezecmm.com/ |   |   |   |   |   |   |   |   |   |   |   |   | $0 |
| InPowered | http://www.inpwrd.com/ | https://www.crunchbase.com/organization/inpowered |   |   |   |   |   |   |   |   |   |   |   | $0 |
| Xmplifi | http://www.xmplifi.com/ | https://www.crunchbase.com/organization/xmplifi |   |   |   |   |   |   |   |   |   |   |   | $0 |
| Movable Media | http://www.movablemedia.com/ | https://www.crunchbase.com/organization/movable-media |   |   |   |   |   |   |   |   |   |   |   | $0 |
| Cadence9 | http://cadence9.com/ |   |   |   |   |   |   |   |   |   |   |   |   | $0 |
| Docurated | http://www.docurated.com/ | https://www.crunchbase.com/organization/docurated |   |   |   |   |   |   |   | $1,600,000 |   | $3,800,000 |   | $5,400,000 |
| Infogram | https://infogr.am/ | https://www.crunchbase.com/organization/infogram |   |   |   |   |   |   |   | $225,762 |   | $2,144,739 |   | $2,370,501 |
| Dynamic Signal | http://dynamicsignal.com/ | https://www.crunchbase.com/organization/dynamic-signal | Employee Advocacy |   |   |   |   |   | $8,000,000 | $13,300,000 |   | $12,000,000 |   | $33,300,000 |
| Contentivo | http://www.contentivo.com/ | https://www.crunchbase.com/organization/contentivo | Employee Advocacy |   |   |   |   |   |   |   |   |   |   | $0 |
| Copyblogger | http://www.copyblogger.com/ | https://www.crunchbase.com/organization/copyblogger-media |   |   |   |   |   |   |   |   |   |   |   | $0 |
| Cooperatize | https://www.cooperatize.com/ | https://www.crunchbase.com/organization/cooperatize |   |   |   |   |   |   |   |   |   |   |   | $0 |
| Easelly | http://www.easel.ly/ |   | Visual Marketing Solutions |   |   |   |   |   |   |   |   |   |   | $0 |
| Content Launch | http://contentlaunch.com/ | https://www.crunchbase.com/organization/content-launch |   |   |   |   |   |   |   |   | $225,000 | $200,000 |   | $425,000 |
| Zerys | http://www.zerys.com/ |   |   |   |   |   |   |   |   |   |   |   |   | $0 |
| Piktochart | http://piktochart.com/ | https://www.crunchbase.com/organization/piktochart | Visual Marketing Solutions |   |   |   |   |   |   | $150,000 |   |   |   | $150,000 |
| Readz | http://www.readz.com/ | https://www.crunchbase.com/organization/readz |   |   |   |   |   |   | $645,000 | $4,500,000 |   | $1,300,000 | $7,200,000 | $13,645,000 |
| ContentMX | http://www.contentmx.com/ |   |   |   |   |   |   |   |   |   |   |   |   | $0 |
| Scripted | https://scripted.com/ | https://www.crunchbase.com/organization/scripted |   |   |   |   |   |   | $700,000 | $300,000 | $4,500,000 | $9,000,000 |   | $14,500,000 |
| Waywire | http://waywire.com/ | https://www.crunchbase.com/organization/magnify | Video |   | $1,200,000 | $1,000,000 | $471,000 | $500,000 | $413,200 |   | $1,000,000 |   |   | $4,584,200 |
| Collective Bias | http://collectivebias.com/ | https://www.crunchbase.com/organization/collective-bias |   |   |   |   | $500,000 |   |   |   | $10,500,000 |   |   | $11,000,000 |
| Acrolinx | http://www.acrolinx.com/ | https://www.crunchbase.com/organization/acrolinx-gmbh |   |   |   |   |   |   |   |   |   |   |   | $0 |
| Pixxfly | http://pixxfly.com/ |   |   |   |   |   |   |   |   |   |   |   |   | $0 |
| CoPromote | https://copromote.com/ | https://www.crunchbase.com/organization/copromote |   |   |   |   | $250,000 | $500,000 |   |   |   | $1,800,000 | $480,600 | $3,030,600 |
| Contently | https://www.crunchbase.com/organization/contently | https://www.crunchbase.com/organization/contently |   |   |   |   |   |   | $335,000 | $2,990,000 |   | $9,000,000 |   | $12,325,000 |
| InboundWriter | http://www.inboundwriter.com/ | https://www.crunchbase.com/organization/inboundwriter |   |   |   |   |   |   |   | $2,500,000 |   |   |   | $2,500,000 |
| Nudge | http://giveitanudge.com/ |   | Measurement |   |   |   |   |   |   |   |   |   |   | $0 |
| Parse.ly | http://www.parsely.com/ | https://www.crunchbase.com/organization/parsely | Measurement |   |   |   | $20,000 | $800,000 |   |   | $5,200,000 |   |   | $6,020,000 |
| Localytics | http://www.localytics.com/ | https://www.crunchbase.com/organization/localytics |   |   |   |   | $18,000 | $750,000 | $2,500,000 | $5,500,000 |   |   |   | $8,768,000 |
| Trapit | http://trap.it/ | https://www.crunchbase.com/organization/trapit | Employee Advocacy |   |   |   |   | $1,000,000 |   | $8,100,000 | $1,000,000 | $10,000,000 |   | $20,100,000 |
| Contentful | https://www.contentful.com/ | https://www.crunchbase.com/organization/contentful |   |   |   |   |   |   |   |   | $3,800,000 |   |   | $3,800,000 |
| Smartling | https://www.smartling.com/ | https://www.crunchbase.com/organization/smartling |   |   |   |   |   | $4,100,000 | $10,000,000 |   | $24,000,000 | $25,000,000 |   | $63,100,000 |
| Wochit | https://www.wochit.com/ | https://www.crunchbase.com/organization/wochit | Video |   |   |   |   |   |   |   | $3,900,000 | $10,900,000 |   | $14,800,000 |
| Virally | http://virallyapp.com/ | https://www.crunchbase.com/organization/virally |   |   |   |   |   |   |   | $153,915 |   |   |   | $153,915 |
| DOZ | http://www.doz.com/ | https://www.crunchbase.com/organization/doz |   |   |   |   |   |   |   |   |   | $1,500,000 |   | $1,500,000 |
| Stipso | http://www.stipso.com/ | https://www.crunchbase.com/product/stipso |   |   |   |   |   |   |   |   | $310,000 |   |   | $310,000 |
| Beegit | https://beegit.com/ | https://www.crunchbase.com/organization/beegit |   |   |   |   |   |   |   |   |   | $138,000 | $220,000 | $358,000 |
| ContentDJ | https://www.contentdj.com/v2 | https://www.crunchbase.com/organization/contentdj |   |   |   |   |   |   |   | $40,000 |   |   |   | $40,000 |
| OneSpot | https://www.onespot.com/ | https://www.crunchbase.com/organization/onespot |   |   |   |   | $4,200,000 | $682,200 |   | $1,500,000 | $5,300,000 |   |   | $11,682,200 |
| Listly | http://list.ly/ | https://www.crunchbase.com/organization/list-ly |   |   |   |   |   |   |   |   |   |   |   | $0 |
| Roojoom | http://www.roojoom.com/ | https://www.crunchbase.com/organization/roojoom | CMP |   |   |   |   |   |   |   |   | $600,000 |   | $600,000 |
| Wyzowl | https://www.wyzowl.com/ | https://www.crunchbase.com/organization/wyzowl | Video |   |   |   |   |   |   |   |   |   |   | $0 |
| Say Media | http://www.saymedia.com/ | https://www.crunchbase.com/organization/saymedia | Vertically Integrated Network | $3,500,000 | $15,000,000 |   |   |   |   | $27,000,000 |   | $5,000,000 |   | $50,500,000 |
| Pixlee | http://www.pixlee.com/ | https://www.crunchbase.com/organization/pixlee | Visual Marketing |   |   |   |   |   |   |   | $1,500,000 |   | $4,000,000 | $5,500,000 |
| ReadyPulse | http://www.readypulse.com/ | https://www.crunchbase.com/organization/readypulse | Distribution |   |   |   |   |   |   | $1,000,000 |   | $2,000,000 | $5,000,000 | $8,000,000 |
| RebelMouse | https://www.rebelmouse.com/ | https://www.crunchbase.com/organization/rebelmouse | Distribution |   |   |   |   |   |   | $2,500,000 | $10,300,000 |   | $6,000,000 | $18,800,000 |
| Limk | https://limk.com/ | https://www.crunchbase.com/organization/limk | Distribution |   |   |   |   |   |   | $40,000 |   | $293,000 |   | $333,000 |
| HubSpot | http://www.hubspot.com/ | https://www.crunchbase.com/organization/hubspot | marketing tech | $500,000 | $5,000,000 | $12,000,000 | $16,000,000 |   | $32,000,000 | $35,000,000 |   |   |   | $105,000,000 |
| Knotch | https://www.knotch.it/ | https://www.crunchbase.com/organization/knotch | Measurement |   |   |   |   |   |   |   | $1,500,000 |   | $4,000,000 | $5,500,000 |
|  TOTAL |   |   |   | $6,600,000 | $36,700,000 | $35,500,000 | $43,928,000 | $43,725,200 | $163,688,200 | $171,319,677 | $167,485,000 | $266,400,739 | $158,000,600 | $1,097,847,416 |
Originally published on Sep 2, 2015 10:59 AM