As a result of a three-company merger in 1911, the Computing-Tabulating-Recording Company (C-T-R) was officially renamed The International Business Machines Corporation (IBM) in 1924. Since the early days at its first office in New York City, IBM has been at the forefront of information technology innovation. The company initially focused on a product line for the booming accounting market, providing businesses with solutions like the mechanical key punch, the vertical sorter, and custom-built tabulators.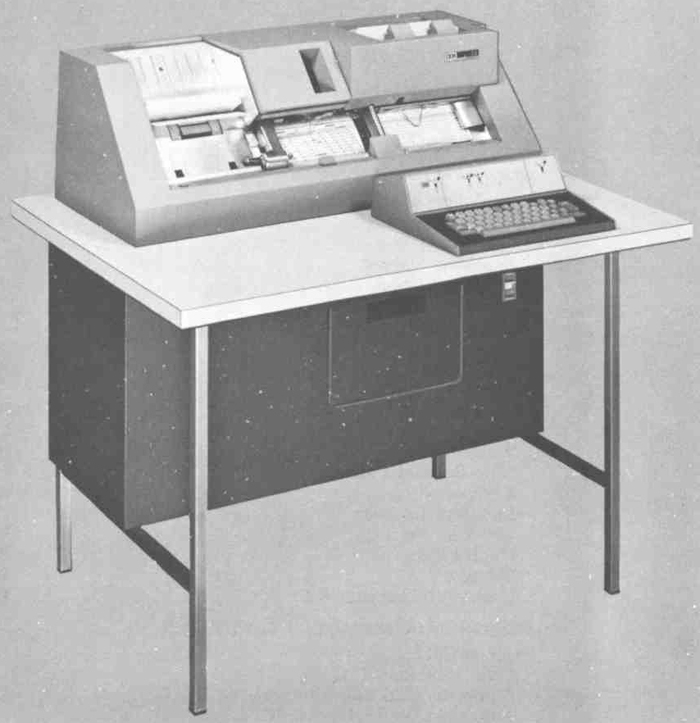 An early IBM 029 Key Punch (Source: Columbia University)
Most recently, IBM has been on the tip of technology's tongue for Watson, its proprietary 750-server artificial intelligence platform that is further narrowing the gap between humans and computers. In addition, IBM is transforming B2B cloud storage before our very eyes, providing revolutionary solutions for enterprises to set up and manage their internal IT. Helping lead that charge is Esteban Perez-Hemminger, Design Lead for one of the HallMark Projects at IBM's Design Studio. Esteban is based in a city most known for its live music, eclectic architecture, BBQ, and now a flourishing tech and design scene – Austin, Texas. As a part of the Cloud Division's BlueMix project, Esteban's team helps developers test and monitor the apps they build before, during, and after they release them to the market.
I've had the privilege of being both Esteban's friend and colleague, working side by side with him at two different design agencies in New York City before he moved to the Lone Star state about a year ago. Throughout his tenure in Silicon Alley, he worked on award-winning projects for Liberty Mutual, American School of Bombay, Child Mind Institute, and Mack & Co.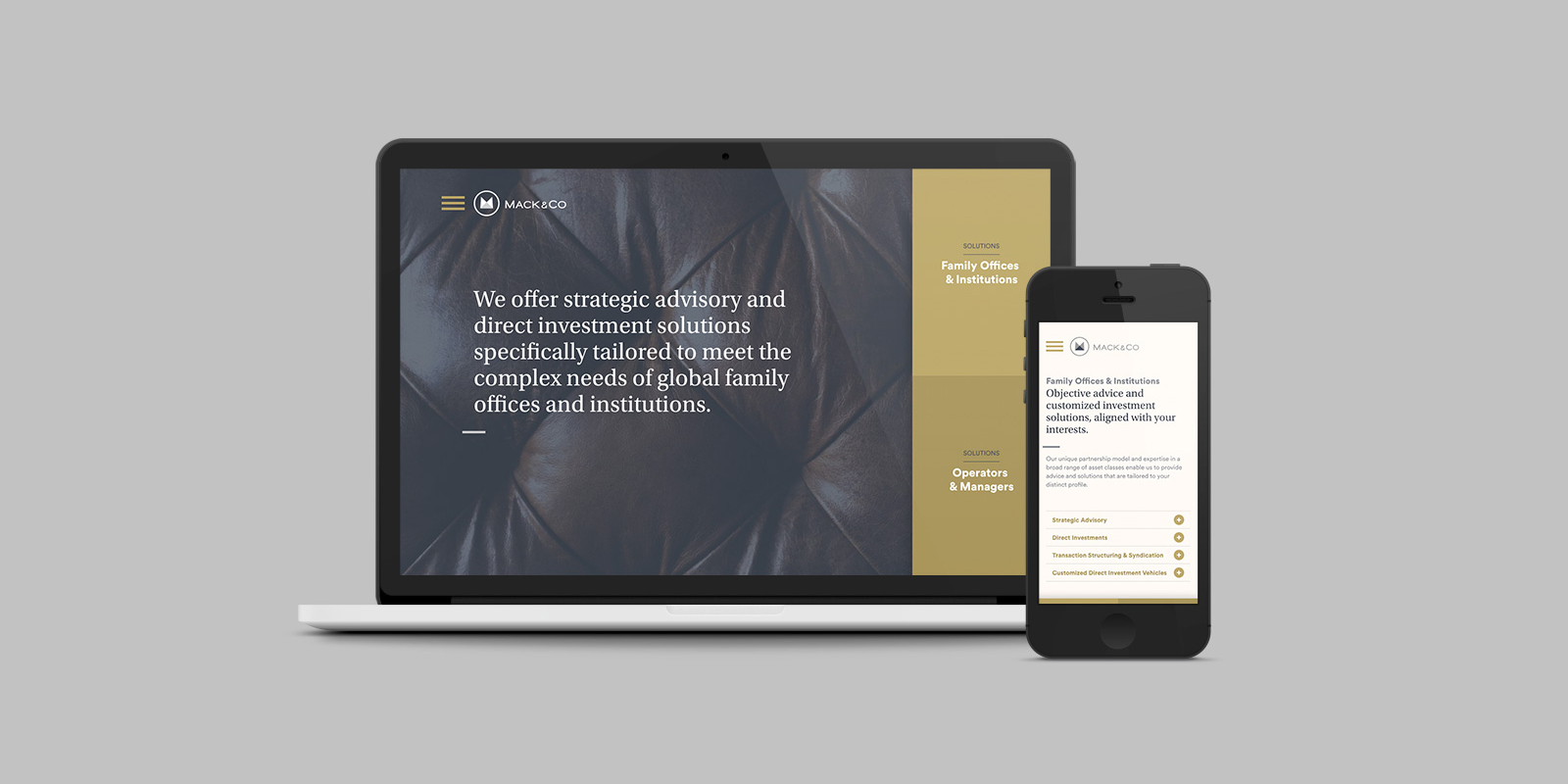 Mack & Co's responsive web experience, designed by Esteban Perez at Suka Creative (Source: Suka Creative)
Esteban's graduate thesis at the Pratt Institute in NYC was easily one of the most ambitious initiatives I've ever seen in the design industry. He founded a movement called CertifyD to begin a discussion around certification for designers. His viewpoint is unique and valid, "As a profession, graphic design needs to establish achievable standards that objectively measure educational experience, business competency, and ethics within all practicing members. These parameters would provide a platform for redefining our profession's purpose, delineating the basic qualifications necessary for professional practice, and reinforcing our relationship with society. Such principles would become a guideline for young designers, a measure of excellence among practitioners and a facilitating tool for clients to identify designers of parallel vision, beliefs and thorough expertise." To complete his thesis, he hosted a panel discussion where industry-leaders from Red Antler, The Creative Group, and Behance answered questions from students, educators, and business professionals about ethics, standards, design education, and reviewed existing certification models for other industries around the world. Needless to say, this controversial topic yielded some amazing and thought-provoking conversations.
I recently asked Esteban what he's been up to and if he could give NewsCred Insights readers his two cents on the current state of design for tech, processes for design teams, productivity apps, among other important topics. Here's what he had to say.
Jeremy: Can you tell us a little about your background; your education, how and why you became a designer?
Esteban: I was born and raised in San Juan, Puerto Rico as the middle child to an amazing, loving family. As as kid I was always drawing. Ninja turtles, basketball players, and cartoons adorned my school notebooks. During 6th grade, I started to draw on a sketchbook, which is to say a notebook that was not for a specific class. High School gave me the chance to take visual art, drawing and music classes; the latter still influences my design work. Here I learned about graphic design during one of those normally-boring career fairs, which led me to study Communications + Visual Arts in college at Universidad del Sagrado Corazón. The program balanced theory, art, and liberal art courses and allowed me to get a taste of drawing, painting, serigraphy, screen-printing, engraving, and even a graphic design elective. When I graduated, I became a full-time musician and freelance designer. A few years later, I enrolled in Atlantic College where I got a second BA, this time in Digital Graphic Design. Bit by bit I was honing my knowledge of design and my own point of view. In 2010, I moved to Brooklyn to attend Pratt Institute for a Master's in Communications Design. I can't begin to tell you how much I learned at there; I am the person I am today because I studied at Pratt for two years. The importance placed on conceptual thinking, visual trends, and solutions had an indescribable impact on my creative process and perspective. I miss the people, but not the deadlines. During my almost six years in NYC, I worked at three different design studios, as an intern and employee. The lessons I learned and the amazing people I met could fill a library.
I've always wanted to help people communicate better and become more tolerant, understanding, and embracing. Design has given me a way to use visual senses as the means to establish conversations between people; designer and client, product and user, brand and consumer. In design, I found a space where I could try different things, feel challenged, and work with people I admire and can learn from. It has allowed me to polish my craft and techniques, but more so my point of view on creativity, relationships, and the world as a whole. Design has allowed me to grow up and helped me have fun along the way. You could say I became a designer so I never had to stop learning.
J: What was the response and impact from the CertifyD design certification movement?
E: CertifyD was such an enlightening experience. The response was fierce and passionate; just the way I intended. Whenever you mention "design" and "certification" in the same sentence, you are assured some strong opinions from all sides. CertifyD opened my eyes to how much design is changing, how formal education needs reinvention, and why certification is still an important discussion. I still believe certification can improve the quality and outcome of Design work, but it's difficult to see it happening in the USA any time soon.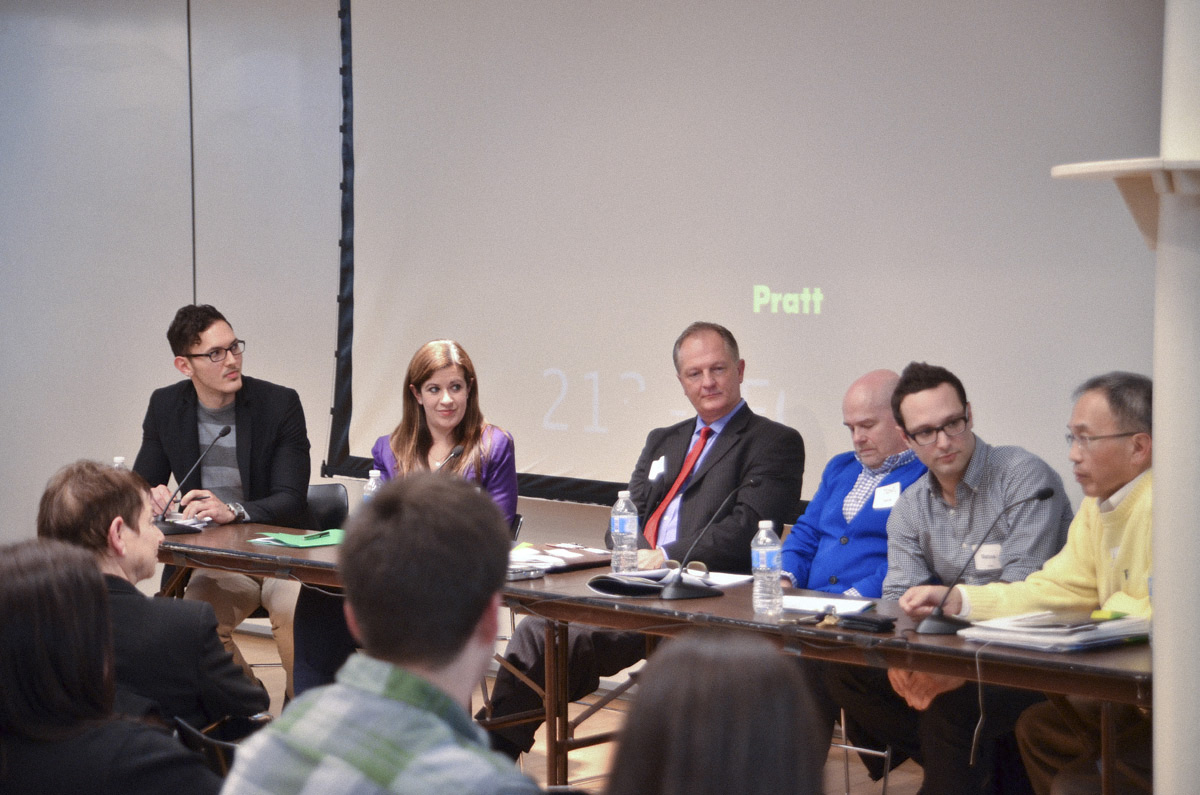 The panel at CertifyD's event (Source: certifyD.org)
J: Where do you typically look for inspiration?
E: It's easy to look for inspiration from direct competitors or products in your same landscape. Those are easy and within reach. However, I find most unique ideas come from looking "outside" of the obvious. I like to read about psychology and visual perception; after all designers are part communicators, part persuaders. More formally, I look into architecture and environmental design. Both fields have so much to offer us Visual or Experience Designers, since they create spaces that impact and influence a person's emotional state as they walk through them. UX Designers try to do the same, but via intangible and sometimes cold digital products.
J: What digital experiences have you seen recently that you wish you made?
E: Call me traditional, but I don't have Instagram, Snapchat, and have never played Pokemon GO. Is that weird? I appreciate experiences that let me accomplish a task and helps me go back to enjoying "real" life fast. I love Evernote. I relied on it heavily during grad school, so it feel like we're friends that went through a tough time and still keep in touch. Spotify is my go-to for music, something I cannot work without. On a personal note, Duolingo is a language learning app I use daily. I began learning Italian prior to my honeymoon, and have not stopped using it since. Duolingo is a great example of how to turn something that is normally tedious and intimidating into a fun and quirky game. Ciao!
J: What have you observed about the design and tech scenes in Austin vs NYC?
E: NYC is such a big place. You don't see the forest for the trees. Once you look at it from the outside you realize how many studios, competition, clients, and money is going around in the NYC design industry. It also has many top-level design programs producing properly trained and talented designers. NYC is like a factory for talent! Austin is much more close-knit. Many designers know each other from working in previous jobs, attending events or having met at a bar (or food truck). Austin's design community is thriving. Startups and tech giants coexist in a small radius, so talent is in high demand. But, since Texas universities are not as focused on design, many designers working here came from all over the states. Austin is just booming, and designers are at the core of this change.
J: Freedmen's, Franklin, or La Barbecue?
E: Tough one. I won't win with any answer. I've tried La Barbecue and Freedmen's. As a whiskey lover, you can't go wrong with properly made Old Fashioned and some great modern-ish BBQ from Freedmen's. I also hate long lines and Freedmen's never has that issue. But, I'm going to Franklin in two weeks. Ask me again then.
Source: freedmensbar.com
J: What are your thoughts on current design trends?
E: Well, they are just trends. Animated GIFs, minimal illustrations and dynamic experiences full of transitions are great to look at. As with anything "new" you need to give it time to mature. Whenever a trends takes over, you need to follow it closely to see what it turns into. Experiences with a plethora of transitions, parallax, and animated illustrations are so prevalent. But, if you look closely you can note that every trend is trying to get the user's attention and to communicate something different than how it was done before. Our job, is to transform "trends" into additional tools in our design toolbox. When used with taste, these elements and technical capabilities can add value to the experience we design for our users. As long as we keep the experience as our primary concern and novelty as second, there is always room to play and try new things.
J: What are your top five most-used design or productivity tools?
E: In the past, as long as you knew Adobe tools you were golden. Not today. Aside from manual sketches and whiteboards, my team uses Bohemian Coding's Sketch for wireframes to visual design and redlines. We use InVision and Flinto for creating user-testing prototypes and communicating interactions, respectively. You asked for five, so: Sketch, InVision, InDesign, Box, and Slack.
J: What's your role at IBM?
E: I'm a Design Lead for a product team within the Cloud division.
J: What's the size of your team and what's the process like? Do you have a design framework/practice in place that you follow for every new feature/experience?
E: I have 5 people on my team: two UX Designers, a Visual Designer, a Front-end Developer and a Design Researcher. At IBM Design we all follow our Design Thinking framework. In short, these are a set of processes and exercises that ensure we maintain user needs at the center of every decision, and that this process is consistent and scalable across teams in global IBM locations.
J: Can you please explain the concept of IBM's Design Thinking framework and how it applies to your projects?
E: Sure thing. As I mentioned before, IBM Design Thinking is the common language in which everyone at IBM Design communicates in. It defines a process made up of exercises and tasks that ensure ongoing collaboration, continuous ideation and an obsessive focus on user outcomes. The methodology ensure we all speak the same language. So, whenever a team talks to another from another division or industry, they all understand each other. Furthermore, Design Thinking is being spread across all of IBM to executive, management, sales and engineering teams. But, as with everything we ideate, design and deliver, this "language" is morphing each day. We all are Design Thinking's users. So we learn it, use it, and provide feedback. Essentially, the framework is constantly being tested and revised based on our input. At IBM Design, we live by the mantra that everything we make is a prototype and born to be revised and improved upon. Design Thinking is not the exception.
J: Is there cross-team collaboration?
E: All day, every day. We have our assigned roles and titles, but that ends at your business card or email signature. We share ideation, testing and delivery tasks across the team. We communicate with our managers and engineers on a daily basis; from quick Slack messages to meetings and working sessions. Collaboration is the only way to deliver an experience that meets our user's needs. It is sometimes hard, time-consuming and frustrating, but the right way to foster inclusion and produce the meaningful and delightful experiences we aim for.
J: What kind of projects are you working on?
E: My team works on a product, within IBM Bluemix, that helps Developers test and monitor the apps they build before, during and after they release them to the market. Our job is to minimize frustration and maximize delight for our users' users.
J: Can you speak about how IBM's BlueMix project came to be?
E: My team's product lives in Bluemix. Bluemix came about when IBM recognized the need to provide developers with a platform to create, manage, and host the apps they build. As applications get more complex and consumer demands grow every second, Bluemix aids the development process and helps make scalability easier and more secure. Further, Bluemix provides a rich library of services, APIs, and products to enrich our users' applications within an arm's reach. It's powerful, complex, and I am very excited to be part of it.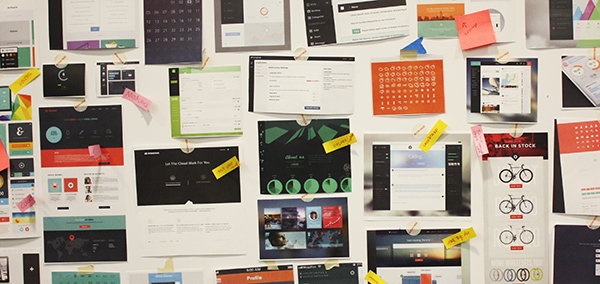 The Design Studio's BlueMix brainstorm (Source: https://www.ibm.com/design/blog-page.shtml?case-study-ibm-bluemix)
J: How do you validate ideas and early stage designs?
E: We validate at every fidelity. From hand-drawn sketches and whiteboards, to prototypes and live code products, we are constantly testing, validating, and improving our products. IBM Design has invested in a robust design research team that leads generative and evaluative testing for all teams. We try to eliminate internal opinions, biases and assumptions by gathering data from sponsor users and existing users of our product. Any personal opinion, disagreement, or discussion from IBMers vanishes whenever you show insights from how a user thinks and uses your product. We're all working for our users and validation show us where to go next.
J: How does the team prioritize features?
E: My team works on short loops (or sprints). Along with our management and engineering teams, the design team helps define our priorities and share responsibilities. As a Lead, my job is to listen, provide guidance, and ensure that user needs are always at the forefront. I try to keep my team engaged, excited, and challenged at all times. All while having a bit of fun as well.
J: How does the design studio measure a project's success?
E: Aside from market profits which are normal within any enterprise, we use the Net Promoter Score (NPS) to define our current success. In essence, this score measures if a user is satisfied with your offering and if they recommend it to their colleagues and peers. It's a bit of a complex math equation, but it stems from user input and not based on market shares nor sales.
J: What are some of the challenges you face as a designer? What advice would to offer to other designers facing the same hurdles in their own organization?
E: Lack of time. Designing software experiences is such a complex endeavor. Any type of design is complex and requires time to make it the best it can be. However, time has become a hard-to-come-by commodity. The advice I wish I was given, and that I'd love to pass along is to: let go. Designers are inherently perfectionists. We don't want to print, launch, or release something until we have full confidence in our solution. With UX design, time is of the essence and many times you have to ideate, make decisions, release, and learn from what your users tell you. Making something live before having all the answers and considering every single detail is daunting and nerve-wracking. A good designer learns how to make constantly, fail fast, and learn even faster. A great designer doesn't get too attached to the artifacts he/she creates, but sees them as a means to an end. An influential designer does all of this while being a good human being, fostering collaboration, and making others around him/her better.
J: What is your #1 most important lesson learned since joining IBM's Design Studio?
E: To keep an open mind and be humble. We have so many talented people at the studio that I feel like a fish out of water most of the time. I am humbled by how much I have yet to learn and by the ambition and passion of young designers. However, this pollination of different backgrounds, personalities, and ideas is what makes the Studio unique. It keeps us moving, never stale, and helps us empathize with other humans. The Design Studio's core success is that it allows us to interact with each other, share ideas, and build human relationships. This, I believe, is the only way we can create experiences that become different, unique and meaningful. It's humans as designers for other humans. And we never stop.
Originally published on Aug 10, 2016 10:00 AM, updated Dec 2, 2016