December is crunch time for retailers and brands, which is why so many of them are getting into the holiday spirit with innovative and engaging content. This season, it's not just about producing clever or heart-warming ads – it's about creating an amazing experience for audiences.
Here are some highlights from this year's holiday content marketing "nice" list, and what you can learn from them.
John Lewis' #mozthemonster
What can we say about John Lewis? The British retailer is the master of moving, viral holiday videos. This year's #MozTheMonster video, with a lovely cover of The Beatles' "Golden Slumbers" playing in the background, focuses on the magic of childhood imagination.
The two-minute short was created by John Lewis' agency, adam&eveDDB, shot in a London studio, and directed by Academy Award winner Michel Gondry.
"This year's Christmas campaign brings to life the power of children's imaginations and the joy of great friendships. Moz and Joe's story is magical and heartwarming," says Craig Inglis, John Lewis's Customer Director.
Stocking stuffer strategy: If it ain't broke, don't fix it – but you can enhance it. While some online critics have said that Moz wasn't as heartwarming as other John Lewis shorts (we still love Monty the Penguin from 2014!), the release of its digital videos has become a holiday tradition that's given the company loyal fans and international brand recognition. To date, the Moz video has received more than 9 million views. But to add to the experience, there's an interactive component. This year, you can create your own monster and even take a selfie with Moz.
Spotify's Year-End Billboards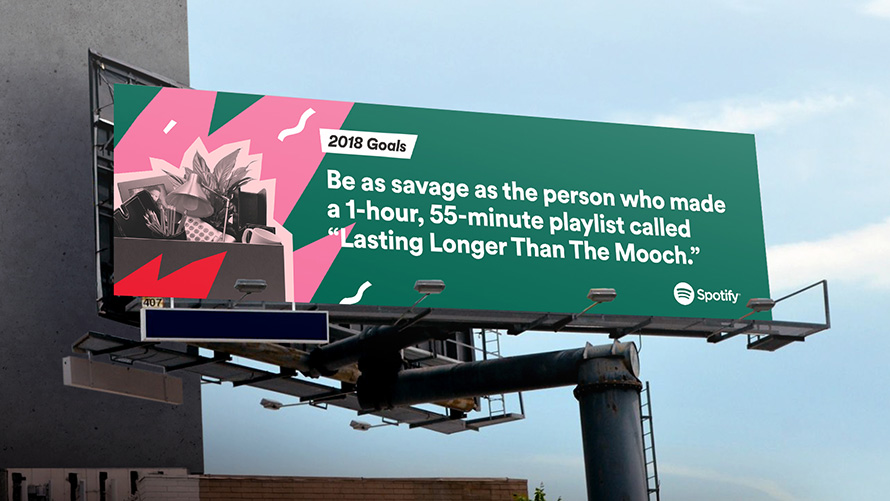 Spotify has been killing it when it comes to creating compelling content from user data, and its end-of-year campaigns are no exception. With a theme of "2018 Goals," Spotify has created giant, snark-filled billboards based on customers' streaming histories and playlists. "For us, data is this incredible insight to know what's happening deeply inside someone," said Spotify CMO Seth Farbman at NewsCred's ThinkContent 2017. And Spotify has masterfully used everything from how listeners name their playlists to their song selections for creative marketing inspiration.
Stocking stuffer strategy: Data-driven marketing and user-generated (or inspired) content can rule the holidays. Take a close look at the insights you have about your customers and consider leveraging them for your next campaign.
H&M's "A Magical Holiday" with Nicki Minaj
H&M is making a big push this year to try to stand out in the saturated retail field with a cute, Christmas-themed short with celebrity power. The film stars Nicki Minaj, Jesse Williams, and John Turturro, as well as H&M fashions, which can be purchased in H&M stores and online.
"It's exciting to see our festive designs come to life together with such inspirational talents. They definitely added some extra magic to the film and we hope that our customers will love how the fashion is presented throughout the holiday season at H&M," said Pernilla Wohlfahrt, H&M's Head of Design and Creative Director, in a company press release.
Stocking stuffer strategy: "A Magic Holiday" uses a classic Christmas fairytale theme, as well as a classic content marketing playbook strategy. While H&M features its products front and center in the short film, there are no in-your-face sales pitches. If you have seasonal products or services to promote, consider coming up with a way to entertain your audience, rather than sell to them.
Target's #TargetFun
Target's aim is to inject some fun into the in-store experience. Everything from funky photo booths, holiday treats and freebies, and product demonstrations make appearances.
"We're really trying to create excitement and joy in what at times can be a somewhat stressful season," says Rick Gomez, Target's Marketing Chief. And more importantly, Target is trying to compete with Amazon and other online retailers, which in recent years, has converted former in-store shoppers into online ones.
Stocking stuffer strategy: Combining online and offline engagement – especially the shareable kind (like the photo booth and its #TargetFun hashtag) – can help create a memorable customer experience that will make people want to get out and shop.
Sephora's "Reach Out and Gift"
Inclusivity and individuality are becoming more important to consumers, and Sephora has responded accordingly with a fantastic campaign. "Reach Out and Gift," with a YouTube spot that has more than 1.6 million views, so far, turns the spotlight on members of Sephora's diverse in-store team who embody the brand's values. Ten people were chosen from among more than 1,000 employees who applied to be featured by sharing how they define unique beauty.
"We've been having the conversation about unique perspectives in beauty and celebrating diversity in our marketing for a number of years," said Deborah Yeh, Sephora's Senior Vice President of Marketing and Brand, in a Racked.com article. "But this is our first opportunity to really show it in such a demonstrative way, by elevating real people from the real Sephora beauty community."
Stocking stuffer strategy: Your employees are often untapped marketing gold who can help champion your brand. Sephora's campaign not only offers "real person" inspiration, but it's also great for employee morale. Enthusiastic staffers make for powerful brand ambassadors.
Starbucks' "Give Good"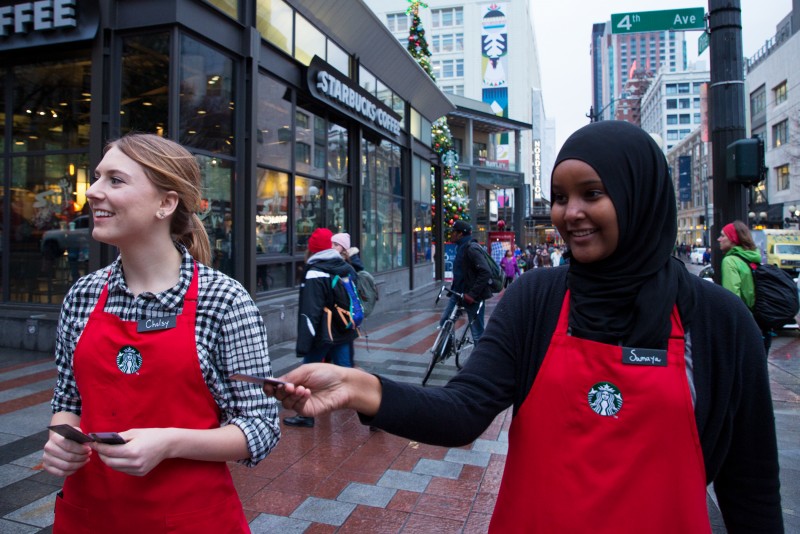 Starbucks, like Target, is all about spreading goodwill and joy this December, including its "Give Good" squads randomly surprising people at community gatherings with gift cards. The brand is also bringing back its fun Starbucks For Life Sweepstakes. And for anyone who uses the Starbucks app, they'll get an automatic upgrade to Gold status – nice!
This year's sweepstakes lets customers earn game plays when they make a purchase in participating stores, and then take the fun online to see how their game board is shaping up.
Stocking stuffer strategy: Brand devotees love to be rewarded, and surprise perks can help convert new or on-the-fence customers into loyals. Starbucks ties it all together with a holiday spin that runs in-store, online, and via the app. It even promotes the message of "Give Good" on holiday cup sleeves. We'll drink to that!
Winning holiday content marketing has evolved from a few schmaltzy ads into finding unique, creative ways to engage audiences and inspire loyalty (not to mention sales). How can you bring some of those tactics into your content marketing in the new year?
Dawn Papandrea is a NewsCred Contributor.
Originally published on Dec 11, 2017 11:00 AM, updated Dec 21, 2017