Technology is drastically changing how companies engage with consumers, and the healthcare industry is not immune.
Health and pharmaceutical companies are under immense pressure. U.S. healthcare costs are astronomical. The U.S. National Health Expenditure was $3.2 trillion in 2015, amounting to 17.8% of the Gross Domestic Product. The high cost of treating chronic conditions, like obesity, diabetes, and heart disease, is often cited as a key factor in that figure. And the current healthcare system rewards providers based on the number of procedures they perform and medications they prescribe.
In an effort to fix the system, the industry is shifting to focus on preventative care. Rather than just treating diseases as they occur, health and pharma companies are seeking to educate people on how to lead healthy lifestyles that will stave off chronic conditions. In addition, they're looking to get people to take their medication, when necessary.
"Beyond-the-pill" digital initiatives are a big part of this industry shift. They're geared towards putting patients first and using technology to regularly engage them. "Beyond-the-pill" offerings range from smartphone apps that tell people when it's time to take their meds, to connected devices that monitor users' health, analyze the data, and offer personalized recommendations.
eMarketer recently published a comprehensive look at "beyond-the-pill" programs in the recent report: "US Healthcare Beyond the Pill: Digital Tech and New Partnerships Bring New Life to the Industry."
In addition to providing an overview of the current state of the health and pharma industry, the report also covers specific companies and their "beyond-the-pill" programs, including Biogen, Novo Nordisk, Medtronic, Novartis, and many more.
While "beyond-the-pill" programs are still in the early stages, people appear ready for them. Numerous surveys, like the one below, have found that patients regularly turn to digital resources when they have health questions.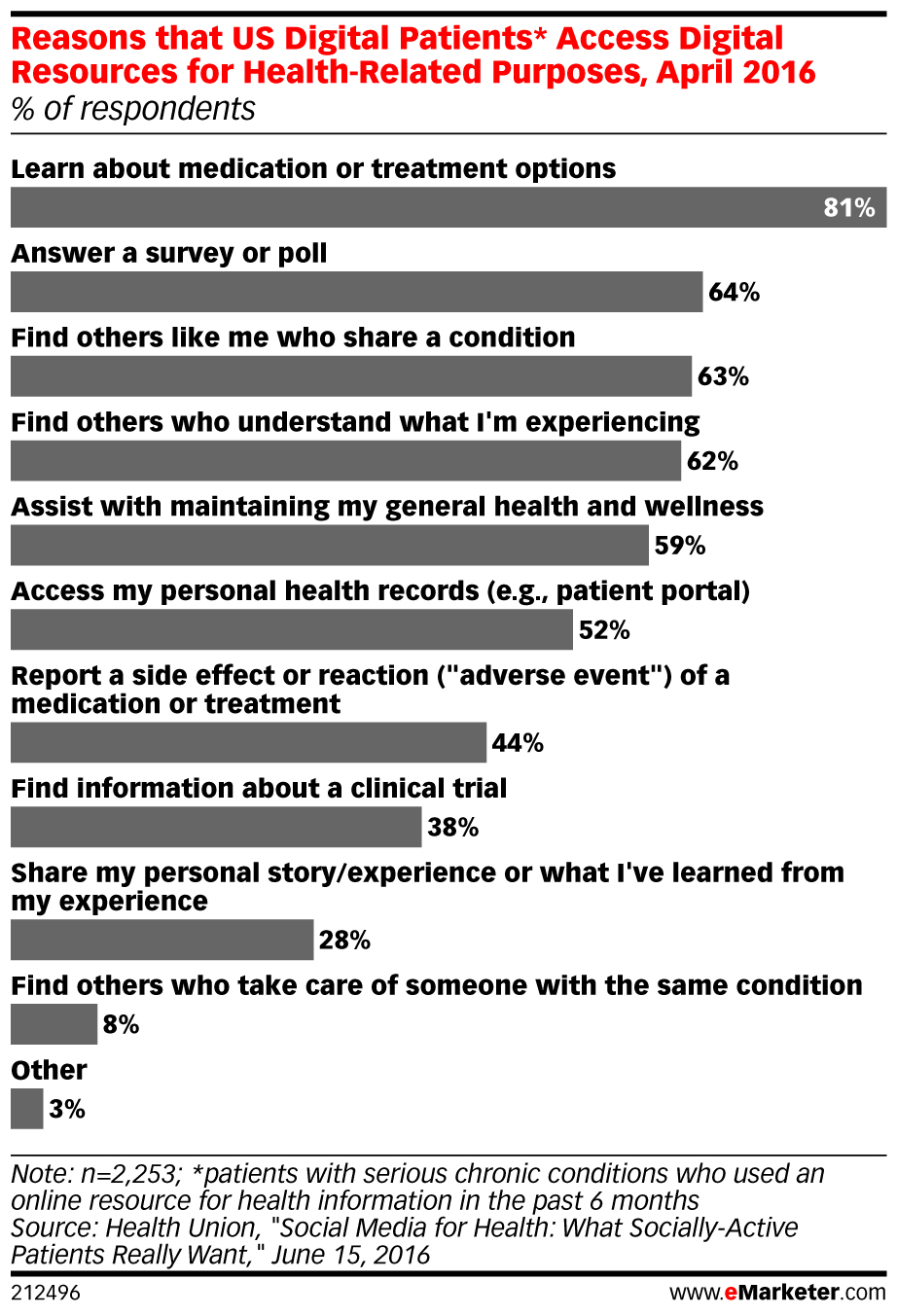 For marketers, "beyond-the-pill" initiatives provide new opportunities to build brand loyalty with customers and providers, which can lead to increased revenue.
"We're seeing pharmaceutical providers looking for ways to drive engagement and loyalty beyond patent expiries, when generic competitors come into the space," NewsCred's Mike Bower, Director of Sales, Health, and Pharmaceuticals, tells eMarketer.
"It's never been harder than current day to be Big Health or Big Pharma in the United States," says Bower. "The negative PR storm that's swarming around it is making it especially difficult to build engagement and trust among your membership or your consumer base, or the doctors with whom you're trying to engage."
To read the full report, "US Healthcare Beyond the Pill: Digital Tech and New Partnerships Bring New Life to the Industry," go to emarketer.com. Plus, learn about NewsCred's work with leaders in the health and pharma space.
Heather Eng is NewsCred's Managing Editor.
Thank you for subscribing!
Our best content will now come straight to your inbox.