GE Reports Managing Editor Tomas Kellner doesn't care for terms like "brand journalism" or "sponsored content."
Speaking at NewsCred's third-annual #ThinkContent Summit, May 14 at Manhattan's Metropolitan Pavilion, Kellner said there are really only two categories of journalism: the kind that wins Pulitzers and everything else.
"Only 2% of journalism wins Pulitzers," said Kellner. "That's not what we're aspiring to."
It's the remaining 98% he's competing with.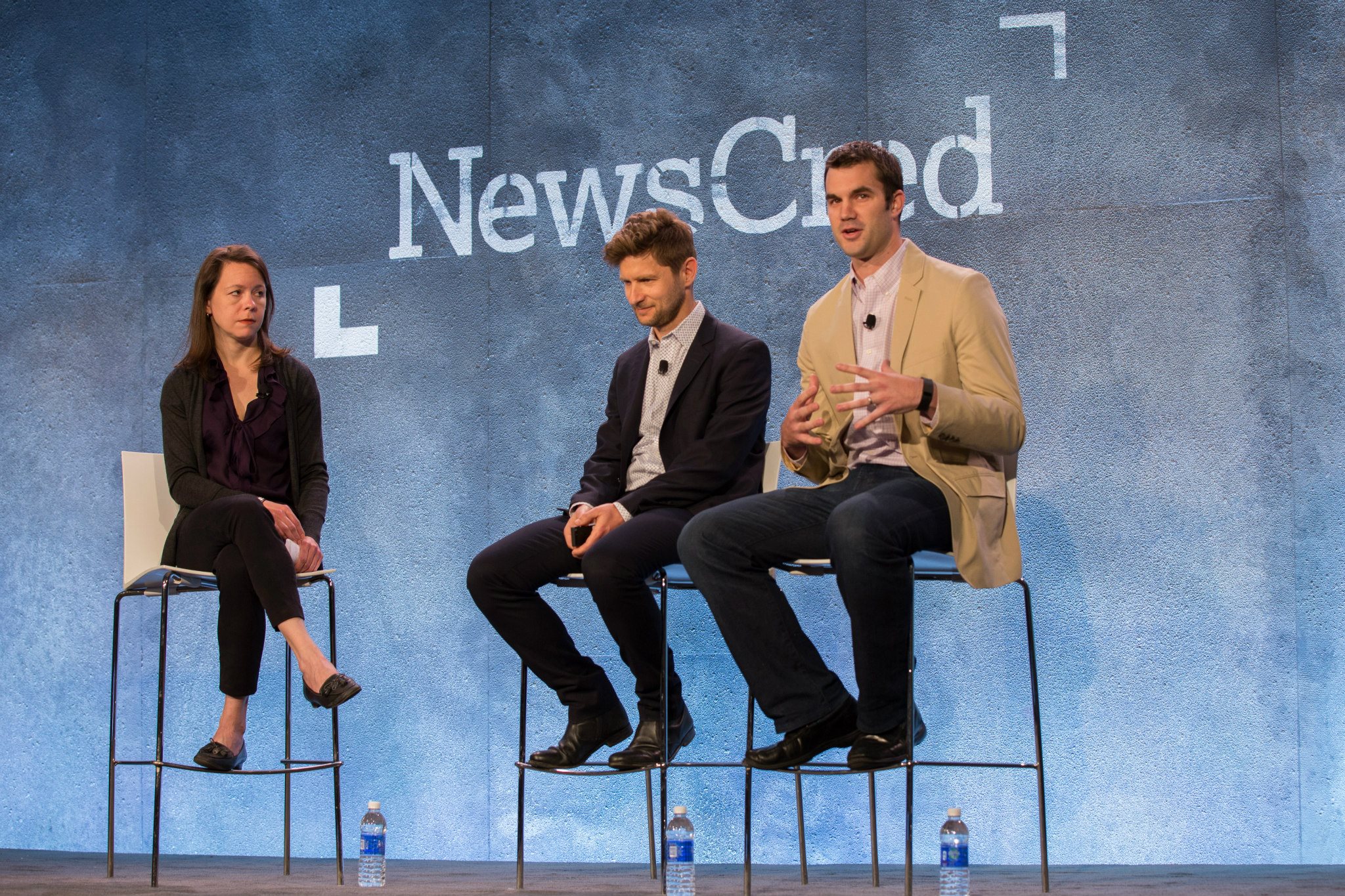 Joined on stage by moderator Lucia Moses, senior editor at Digiday, Kellner and Luke Kintigh, Global Content and Media Strategist at Intel, emphasized that quality must be the first principle if brands want their content marketing to succeed.
"The only way you can win at native advertising is if your content is on par with the editorial," Kellner said. "If you can produce content that people want to talk about and share, then you win, whether it's called sponsored or branded."
Getting people to talk about and share that content, said Kintigh, is just as critical.
When he helped launch Intel's brand publication, iQ by Intel, in 2012, Kintigh said the team realized very quickly that its if-we-build-it-they-will-come approach was not a winning distribution strategy. Transitioning from managing editor to more of an audience development role, Kintigh helped iQ to draw a million monthly unique visitors in its first two years.
In March, iQ more than doubled that to 2.2 million unique visitors with an approach that Kintigh described as a push-and-pull dynamic of pushing native content to readers on the platforms "where they're at" and pulling them back to the iQ site.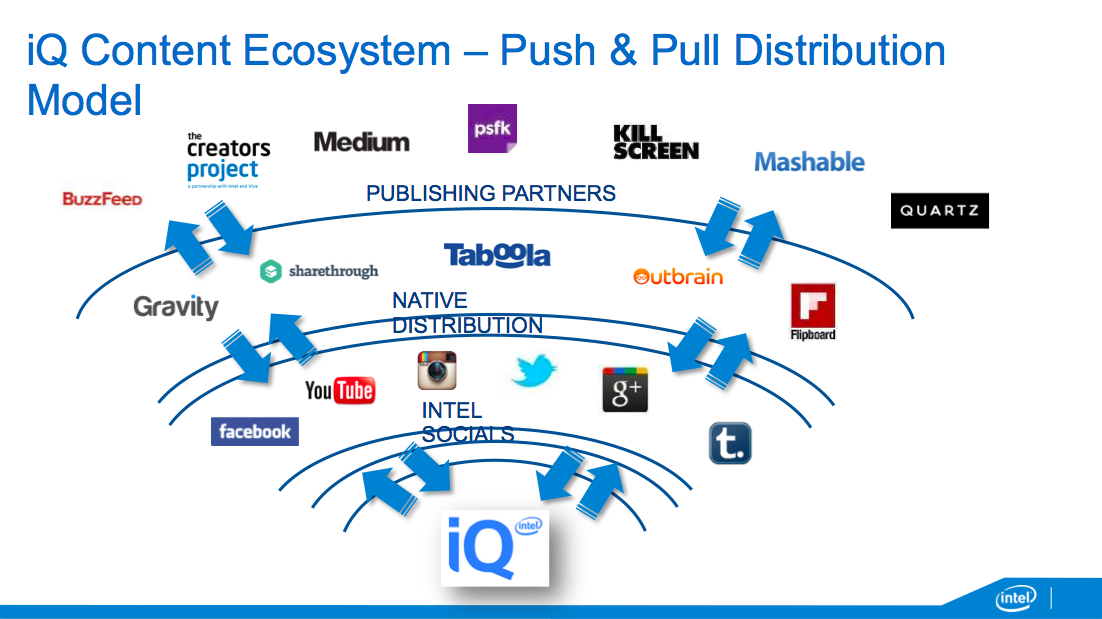 Recalling Michael Brenner's admonition earlier that morning about building houses on rented land, he said Intel's "rent-to-own" paid strategy helped them to acquire and retain readers while navigating "the dangers of the Facebook algorithm."
Measuring Successes
Pointing to recent examples of stories that were widely shared and picked up by other publications, Kellner and Kintigh identified some lessons learned about the type of content that succeeds and the difficulty of measuring that success.
GE Reports' story on the new GE Revolution CT Scanner and iQ's story on experimental designer Anouk Wipprecht's "smart spider dress" powered by Intel's Edison technology were both image-driven. "You can write 500-700 words," said Kintigh, "but it's the GIF or the Vine…that will get picked up."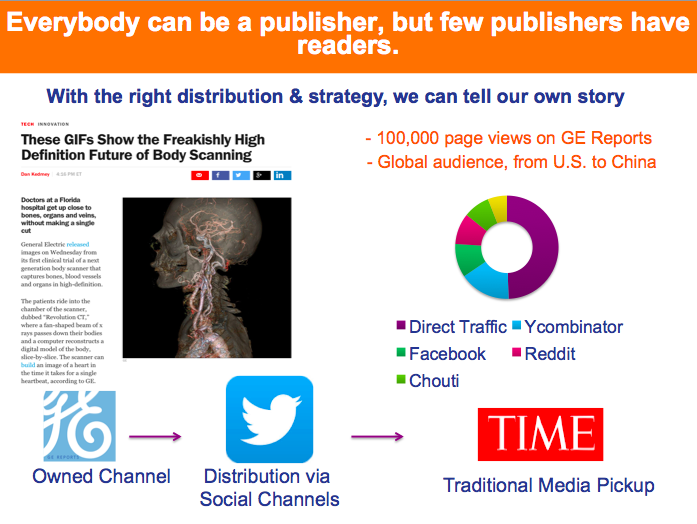 Referring to a slide showing the timeline of the CT scanner story's viral journey, Kellner celebrated the fact that dozens of publications picked up the story and that all traffic linked back to GE Reports. But he lamented the difficulty of measuring "the totality of audience."
"Metrics evolve every day. There's a new buzzy metric every day," said Kellner, who uses a combination of Google Analytics, Quantcast, and GoSquared to track key metrics like visitors, time spent, and bounce rates.
Kintigh agreed that measurement can be frustratingly elusive, noting that he's still looking for a metric that combines performance goals (page views, time spent, etc.) with media goals, like click-throughs and cost-per-click. But he warned against the false promise of Big Data and over-relying on it to the extent that it dictates content decisions.
"At the end of the day," Kintigh said, "there are some things you can't measure." And that can compound the challenge for content teams who face internal skepticism about the value of content marketing.
"The challenge is content marketing is treated like a campaign," he said. "It takes time, and people want to measure by the week. It's tricky because you can't go to your boss and say, 'Gimme two years.'"
"It is a marathon," Kellner added, not a one-and-done game. "You cannot just turn off. You have to keep building and creating."

Beyond Light Bulbs and Computer Chips
For both Kellner and Kintigh, the goal of all that building and creating is to persuade consumers to rethink longstanding perceptions of GE and Intel.
"Dishwashers and light bulbs" is the response you're likely to get if you ask people on the street about their perception of GE. "We're in the process of selling the dishwasher business, and we don't make light bulbs, we make LEDs," said Kellner. "That's a big shift. If people think light bulbs, that's a problem."
"Intel isn't known for making spider dresses," he added. But content can educate by capturing readers' interest "like candy or sticky tentacles" and encouraging them to discover more serious content.
For Kintigh, iQ by Intel is about building brand loyalty and trust among a millennial audience to change the perception from that of a computer-chip maker (cemented by the "Intel Inside" campaign) to one of a "more innovative, more powerful, more relevant" leader in wearable tech, drones, and the Internet of Things.
The goal, he said, is to engage readers who are too young to know about "Intel Inside" with content that "plants a seed, so that when they're ready to buy, they will associate Intel with quality."
Originally published on Jun 11, 2015 10:15 AM