Our world is changing fast. Really fast. With 5.2 billion mobile phone users and a global internet population of 2.4 billion, we're a vastly more open and connected world. Just think about the last five years: Spotify has revolutionized music streaming, Airbnb has crowdsourced travel lodging, Facebook has majorly impacted the media industry, and Khan Academy has democratized education. Each of these companies swiftly disrupted steadfast industries that have survived without any real innovation for the last fifty years.
So how did they do it? These startups have completely transformed the way traditional enterprises work. They think bigger and more creatively. Act faster and more collaboratively. They lead with purpose, adding real value to people's lives.
At NewsCred, we believe marketing is the most crucial department in an organization to lead this transformation. As the connective glue between "people" and "product," marketers have an opportunity to inspire positive change at a speed and scale never seen before. But in our new digital landscape, marketers are finding that their old tactics simply don't work anymore. They're moving away from traditional advertising and banners with 0.1% click rates, and instead embracing a new creative process with storytelling at the core. Increasingly, this process looks more like a 24/7 newsroom than a multi-million dollar ad campaign. The brands that are succeeding at scale are finding inventive ways to create, collaborate, and execute with greater efficiency, agility, and predictability. This is exactly where marketing technology comes into play.
Over the past three years, the marketing technology industry has exploded, growing to over 1,876 companies. $32.5 billion will be spent on marketing technology by 2018 and by 2017, CMOs will spend more on technology than CIOs. In this furiously competitive, crowded landscape, marketing technology companies are racing to win market share with promises that software will "eat the world" and "big data" will transform the way businesses operate.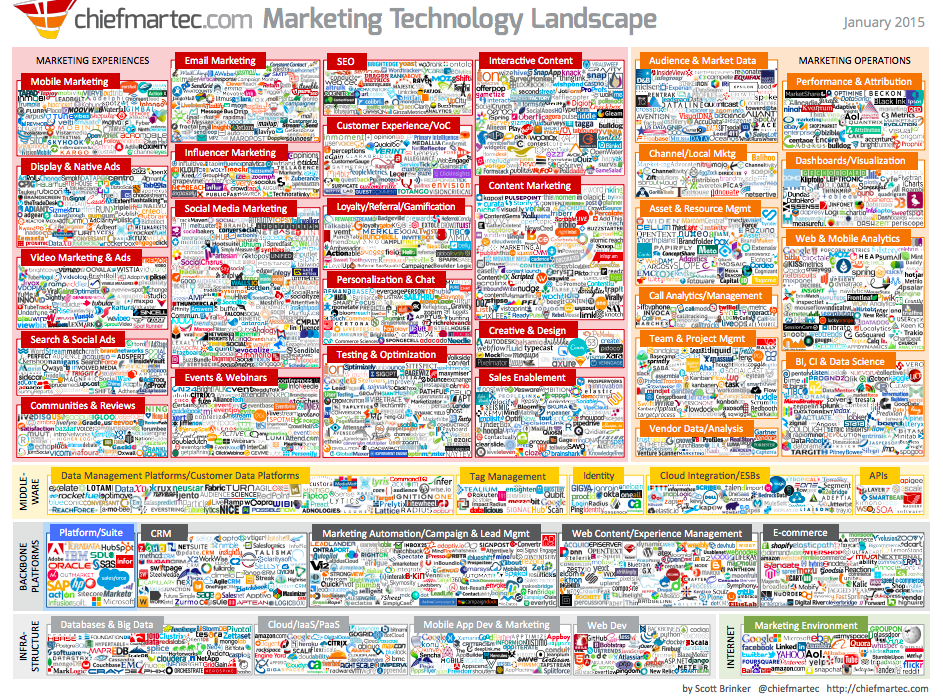 But contrary to what many believe, the purpose of marketing technology isn't the software, the data, or the tools. These are just a means to an end. "More technology" is not the answer. In fact, more data, more systems, and more point solutions often just bring greater complexity and confusion to marketers. Organizations are left with disconnected tools that don't talk to each other and huge data sets that don't drive real action.
The marketing technology industry is losing sight of what really matters. In an effort to innovate, sell and push the future of marketing forward, marketers have actually fallen into their own trap, putting the industry before our customers. That needs to change. Ask just about any marketing technology company what their end goal is and they will say that they're trying to build the next "System of Record." They're trying to be the "Salesforce for marketing." But while this may sound good to investors, this is the wrong ambition. Our purpose shouldn't be built around systems, it should be built around people.
In order for content marketing technology companies to make a meaningful difference (and revenue), we need to shift our focus away from "big data" and "tools" (the means) and instead, toward helping our customers understand, engage, and inspire real people at scale (the end goal).
So what does this mean for the future of marketing technology?
Today, Content Powers The Customer Experience
The marketing technology industry has historically been built to solve for individual channels. But whether it's Facebook, LinkedIn, email, websites, YouTube, or any other channel, there is a common thread between them all. Without content, there is no marketing.
Today, content powers the customer experience. Every 60 seconds, Google receives over 4 million search queries, 200 million emails are sent, 2.5 million pieces are shared on Facebook and 72 hours of video are uploaded to YouTube.  With so much information available, consumers are now in control — to make their own choices, wherever they are —across mobile, social, email, websites and more. Even more importantly, content directly influences purchase decisions.  On average, consumers engage with 11.4 pieces of content prior to making a purchase, and 85% regularly seek out trusted content to inform their decision-making process.
Brands need a customer experience strategy, not a channel strategy
The future of marketing technology is not about building solutions for individual channels, platforms or devices. Brands need a single platform that connects every channel. Even more importantly, this platform needs to help marketers easily and intelligently automate content creation, management, distribution and measurement across the entire customer experience, delivering value to people wherever they are.
Owned channels matter
Understanding your audience is the first step to owning your audience. At a certain point, if you aren't able to reach, engage, and convert your own audience, it doesn't matter how much content you create — you'll always have to pay someone else to reach them. We all know that organic reach on social is dying. As a result, owned properties take on a new significance. The marketing technology companies that win will recognize this and optimize for owned channels as well as social and email. Not only does this enable brands to build a complete, data-driven picture of their audience, but it also enables them to connect their marketing efforts to real revenue
Marketing technology is converging, and content is at the core
The marketing technology sector is converging with content marketing, email marketing, social media management and marketing automation. The technology companies that succeed will integrate content and data across the entire organization, helping tie different departments across a company together — social, demand generation, sales, HR and more.
The Brands That Win Connect With People On An Emotional Level
Marketing, at the most fundamental level, is about connecting with people. For brands to succeed, they need to truly understand their audiences on an emotional level — who they are, what they want, what they read and share, what motivates them. The most valuable brands in the world elicit an emotional response: Apple dares you to be different, GE inspires imagination, and Nike motivates you to achieve. In the end, they're not selling technology, dishwashers, or shoes; they're selling uniqueness, creativity, and dedication. This is what has taken them to valuations greater than $100 billion.
With so much information available, so many options, and so much competition, reaching the right people and connecting with them in a meaningful way has become a lot harder. Most marketing technology platforms provide little to no insight into who the audience is, what they want, or how to reach them.
Marketers are drowned in data. Page views, uniques, bounce rates, engaged time, time on site… but these metrics barely scratch the surface. Marketing technology must help brands better know their audience's identity, interests, and intent. Ultimately, this helps brands better target and personalize their marketing and provide more value to the end consumer, enabling them to map the entire buyer's journey with precision and predict content and marketing performance for the exact right person, at the right time and place. It's not just about more people, it's about the right people.
Brands Need A New Operating Model To Succeed At Scale
In the digital and mobile revolution, marketers now have the opportunity to build one-on-one relationships at scale. Success in our new landscape requires a total commitment to new skills and a new creative process: one in which the rules are evolving at the speed of technology and regulation, clients and agencies are working as extensions of each other side-by-side, and the turnaround time from concept to launch is often compressed into days or even hours. That's a massive departure from the traditional brand model, in which each step of the process — from brief to brainstorm, from execution to approval — is measured in weeks or months. To perform, it's essential that brands have the right process in place to engage with consumers in real-time. This doesn't mean bombarding customers with more content faster, it means providing the right content for the right context (location, person, time, motivation, emotion, etc).
Marketing technology must help brands deeply understand consumer behavior patterns, and then make it easy to intelligently create and distribute content to their audiences, wherever they may be. The key is personalization — building your strategy and technology around your customers. We need — and strive every day to build —the technology that will make marketing more human.
Shafqat Islam is the CEO and Cofounder of NewsCred.
Originally published on May 14, 2015 10:15 AM, updated Sep 1, 2016