First, the truth: B2B is, by definition, humorless.
That is unless you can capture Tim Washer-esque creativity to power your content initiatives.  As the first guest speaker at NewsCred's Content Marketing Summit 2014, Tim Washer started the day off with a presentation that was equal parts stand-up and content marketing brilliance.
He knows comedy, as a former SNL writer and improv comic who learned under funny lady Amy Poehler, but he also knows that comedy has universal appeal, even in a stuffy corporate boardroom.
Washer made the case for using humor to help your brand share its story, even if that product happens to be a router (Sexy!).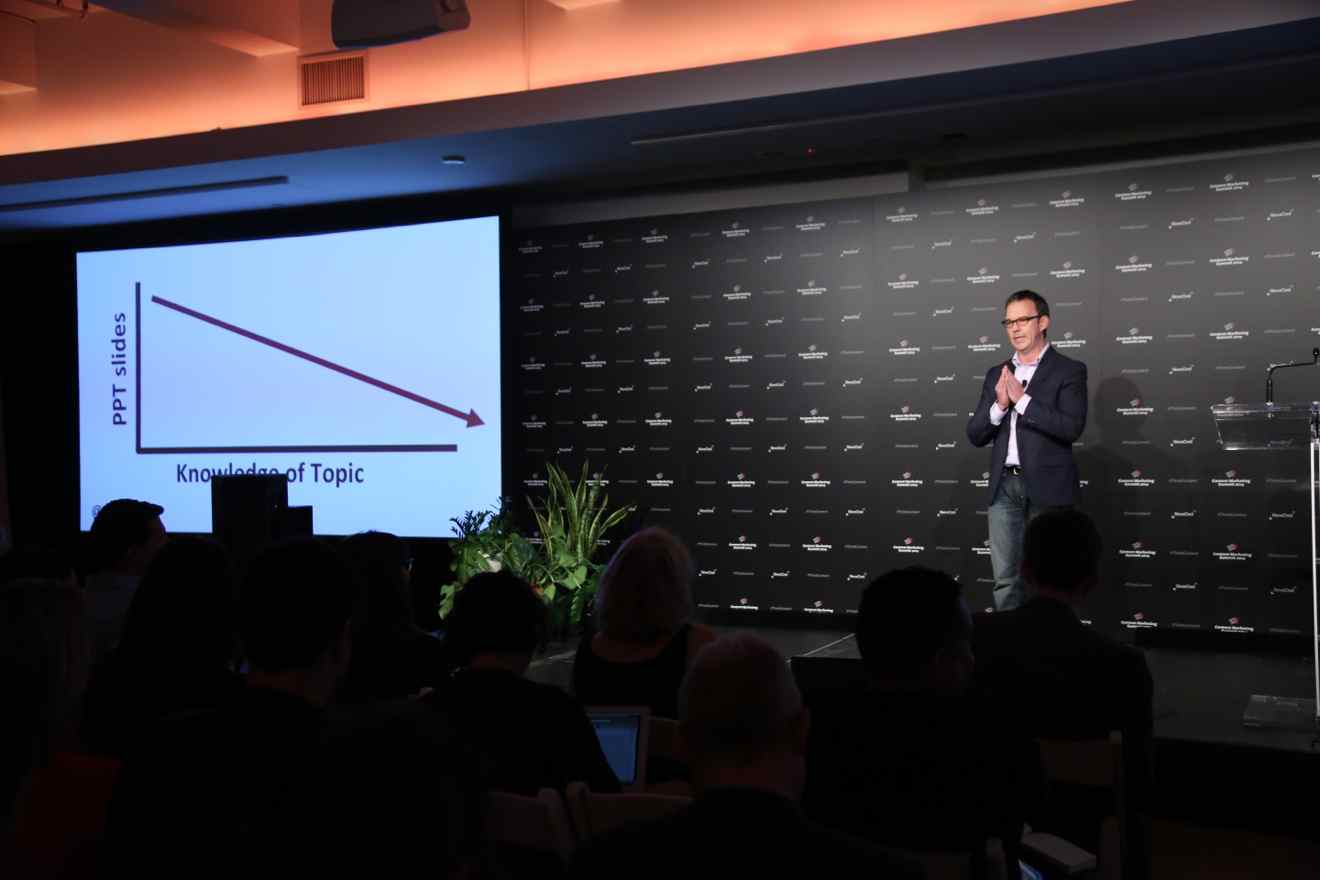 Here's what you need to know about why it's always OK – and effective — to make people laugh.
First lesson: Get past the huge B2B marketing myth that if you have expensive products with longer sales cycles, for which purchasing decisions are made by committees, you cannot tell funny stories. Remember, said Washer, that at the end of the day, it's people who read, view, and share content.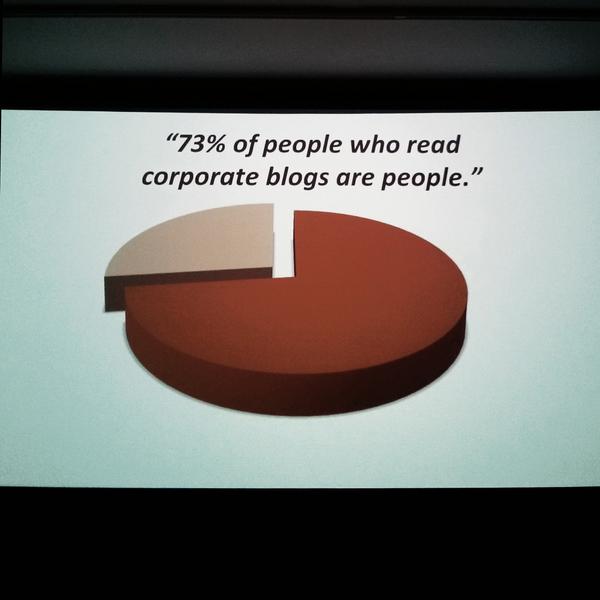 Washer then acknowledged some of the barriers of using humor in B2B content marketing:
Complexity – Washer mocked the "simplification process" that large committees often use to create content strategy. "Anytime you take the word simple and more than double the number of syllables in the word, you don't really understand the word simple," he said.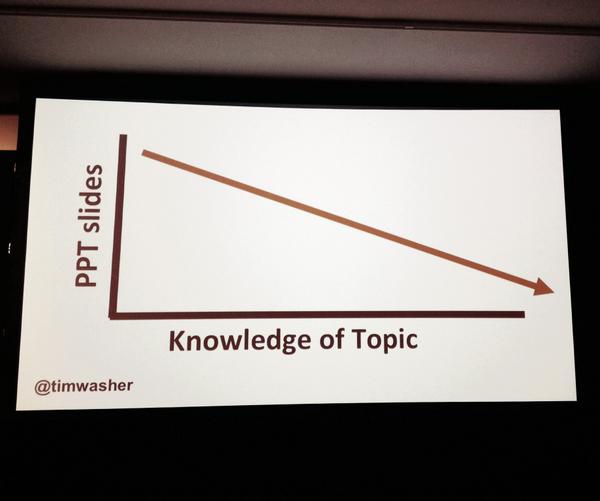 Analysis – Companies spend a LOT on analysis, said Washer, and end up with analytics that look similar to the spirograph drawing his three-year-old created. "Don't let a good idea get lost because you can't perfectly project the ROI."
Committees – After showing a perfectly diverse stock photo of a committee meeting, Washer pointed out that the bigger the committee, the less room for creativity. Sometimes committes are there for taking credit, to reduce risk, and to place blame. "That's no place for creativity. For some projects, you have to keep committee really small."
Once you can get past the barriers, you can get to the fun stuff:

What Humor Can Do
"Humor evokes positive emotion, cuts through the noise, demonstrates authenticity, and redeems," said Washer.  
He shared the example of The Center for Disease Control's (CDC) Zombie Apocolypse campaign, which proved that even a large, very serious government entity could have fun with an important topic. In this case, it was sharing tips on emergency preparedness in a new way. It caught on so well that it crashed the server, brought in 1 million blog views, and the novella had 5 million downloads.
A Content Marketing Humor Primer
If you think a humor piece you create might get you fired, you're probably doing something right.
"Follow the fear," said Washer. "If something scares you, you have an obligation to pursue that."
Encourage employee advocates. At IBM, with 400,000 employees, Washer's team gave them a simple idea and a concept — "This is where I work" – and asked them to pull together 7-10 photographs in a video format, narrate a soundtrack, and post it. "Everyone contributed, and we were able to see who could tell a story."
There is nothing that is beyond humor. At Cisco, the marketers were tasked with finding a way to promote a $100-250,000 router, which is only sold to high-end carriers. Because the product launch was February 9, they came up with the idea for 'The Perfect Gift for Valentine's Day" video. It got a lot of press, including from The New York Times.
"You're not going to eliminate a two-year decision-making cycle in a 60-second video, but if you can make an analyst laugh or journalist take notice, it can help a message and brand stand out," said Washer.
In closing, Washer encouraged the audience to take some risks this year, and try at least one funny video. Tickling a funny bone could be your introduction to a long-term customer relationship.
Thank you for subscribing!
Our best content will now come straight to your inbox.