A content marketing strategy that focuses on mobile, personalization, and authenticity is more than a passing trend – it's a must-have for fashion retailers in 2017 and beyond.
There's no question that shoppers increasingly expect a real-time and a personalized experience when engaging with their favorite brands. When they have questions, they want immediate answers. And when interacting with brands in between purchases, they're looking to be inspired, entertained, and informed.
Consider these stats:
That's why building relationships with consumers through content is so important. More than ever, fashion brands need to establish always-on distribution channels to meet their audience where they are in every part of the buyer journey – and that is increasingly in the mobile and digital spaces.
However, the brands that will succeed will be those that learn how to be more strategic with their time and resources to rise above the noise.
"Instead of contributing to the general hubbub on every platform, do targeted, impactful content that inspires people," says Duncan Edwards, a content strategy consultant, and former Head of Content Development for fashion retailer ASOS.
Here are the latest trends among fashion brands that are leveraging content marketing to build brand awareness, influence purchasing decisions, retain loyal customers, and ultimately, add to their bottom line.
Click-and-Shop Content
"Forward-thinking brands are taking steps to reduce the friction between the content they produce and the purchasing process: They're creating shoppable content," explains Ometria, a blog for ecommerce marketers.
While the trend has been around for a couple of years, it has really taken off in 2016. Improved technology and new features across platforms are enabling brands to seamlessly integrate the content and shopping experiences in creative new ways.
In April, British retailer Matches Fashion launched "digital trunk shows." These videos give users an inside look at new designer collaborations, but with one added bonus: The ability to click and automatically add items to a shopping cart.
Kate Spade is another brand that's using content in creative ways. Its "Miss Adventure" series is comprised of high-quality short films that have a clever mix of elegance and quirk – and the corresponding "Miss Adventure" landing page features gorgeous images of products from the films that users can click and buy.
ASOS has not only mastered soliciting user-generated content (UGC), but it also leverages UGC to create an engaging experience for fans.
On Instagram and its website, ASOS asks users to share photos of themselves dressed in ASOS products, tagged with #AsSeenOnMe. ASOS curators will then repost images on Instagram and the #AsSeenOnMe landing page with information so users can shop the looks. Featuring UGC photos is an all-around win: ASOS can promote its brand through valuable, authentic content (and convert some users to customers), featured customers get time in the spotlight, and other fans can glean inspiration from those UGC photos.
2017 Prediction: Look for more brands to launch shoppable content initiatives on various channels, especially video and social media. YouTube's click-to-buy function is up and running, Instagram offers shoppable posts, and Facebook is exploring shoppable video ads. Brands will likely also use more UGC on those channels to create authentic click-and-shop experiences.
Shoppable TV shows aren't out of the question, either. In October, Lifetime and Wayfair.com launched the first "fully shoppable" weekly TV series. "The Way Home" features segments on interior design, decorating, and home renovation – and every product on the show is available for purchase on Wayfair.com. Will a fashion-focused show be next?
Improved Customer Service via Mobile, Digital, and Social
While 87% of shoppers say that sales associates influence in-store purchasing decisions, more than half of shoppers feel that service is lacking online, according to Salesfloor's 2016 Omnichannel Retail Associate Study.
That can impact a brand's bottom line. A recent eMarketer survey found that 43% of UK and US ecommerce decision-makers believe that subpar digital customer service negatively impacts conversions, and 38% say it will harm their brand image.
And coupled with the fact that younger generations increasingly expect customer service over social media and mobile apps means that brands need to be on those channels and ready to supply content and information that answer users' questions.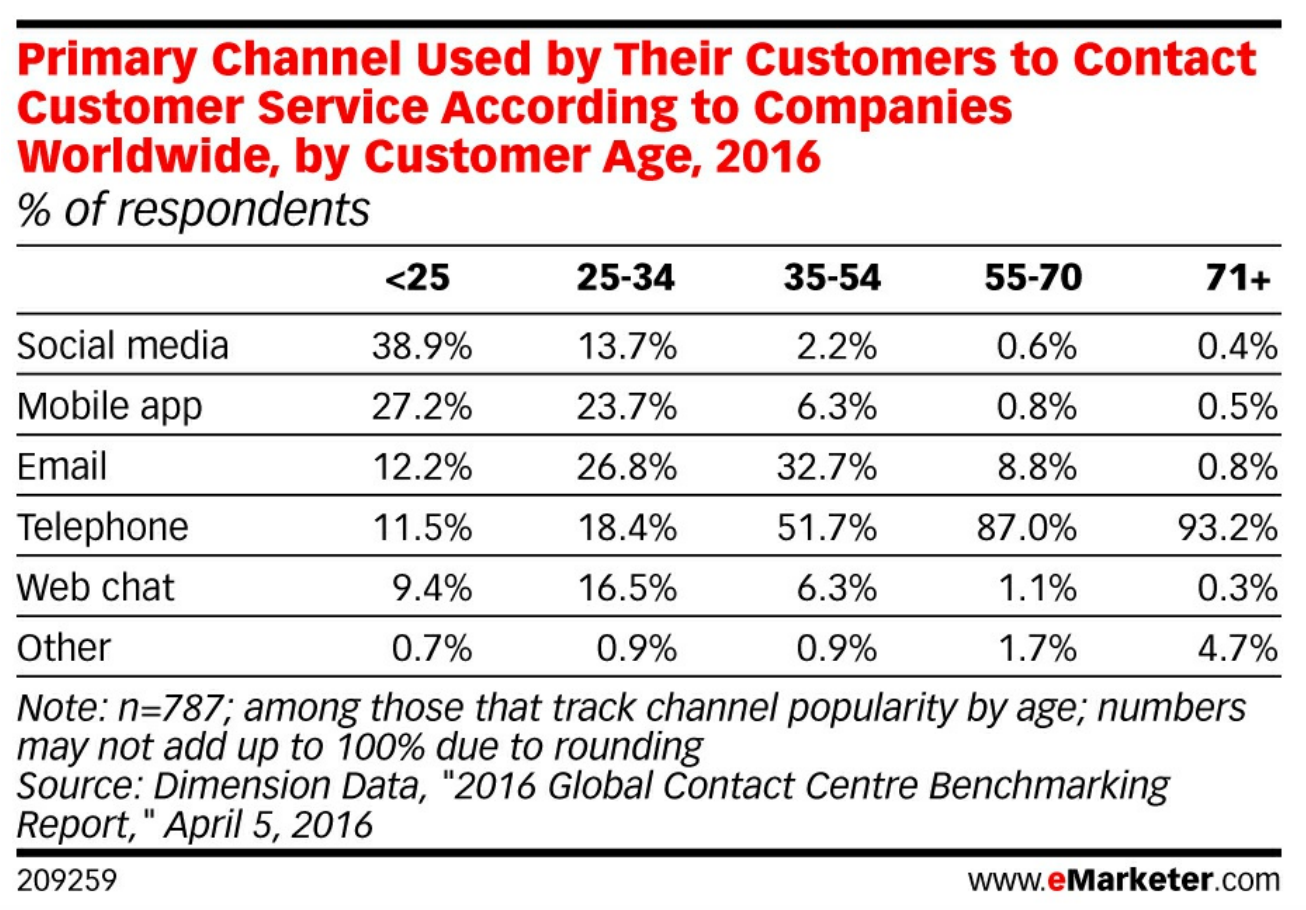 Major labels have started experimenting with chatbots to deliver content and customer service to fans.
During New York's fall Fashion Week, Tommy Hilfiger launched Facebook Messenger's first "fashion bot" to promote its Tommy x Gigi collection with Gigi Hadid. Users could click to message the brand on its Facebook page; after doing so, the chatbot walked them through the collection. In addition, customers could ask the bot questions and receive answers – the Tommy Hilfiger team pre-programmed it with more than 7,000 responses.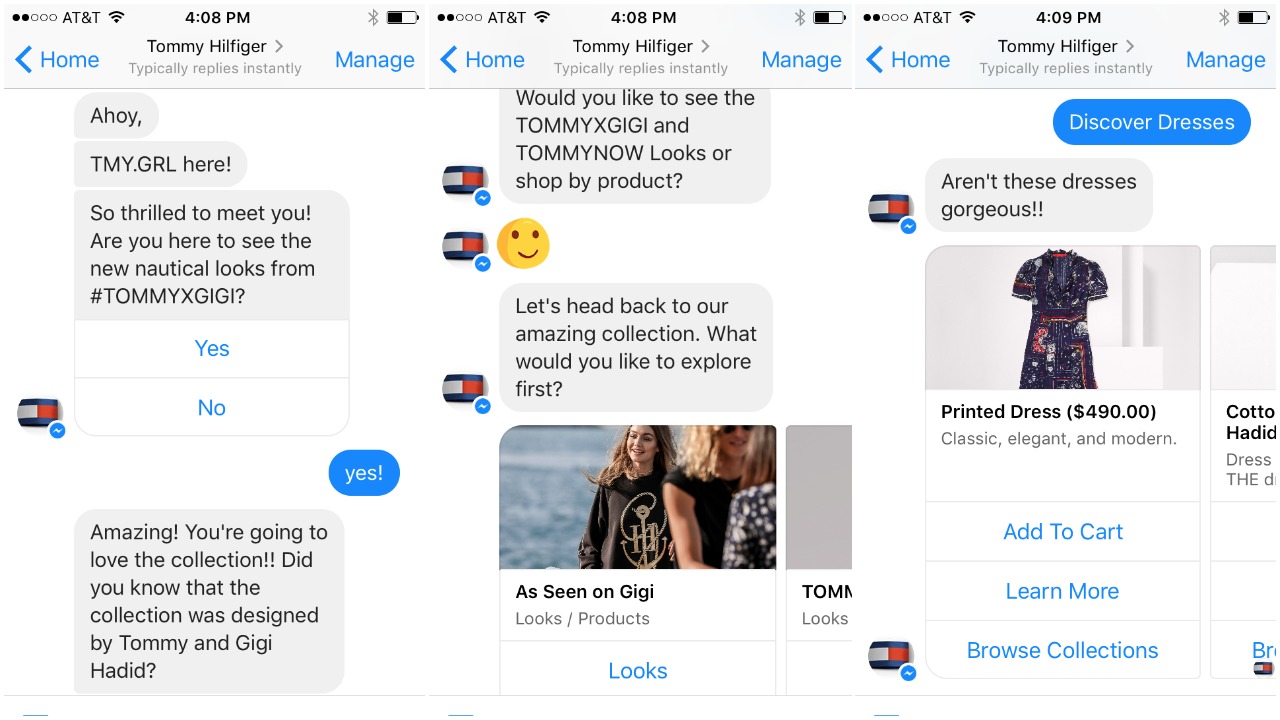 Soon after, Burberry rolled out its own Facebook Messenger chatbot in time for London Fashion Week. The bot gave users access to content around Burberry's new collection, and offered real-time customer service.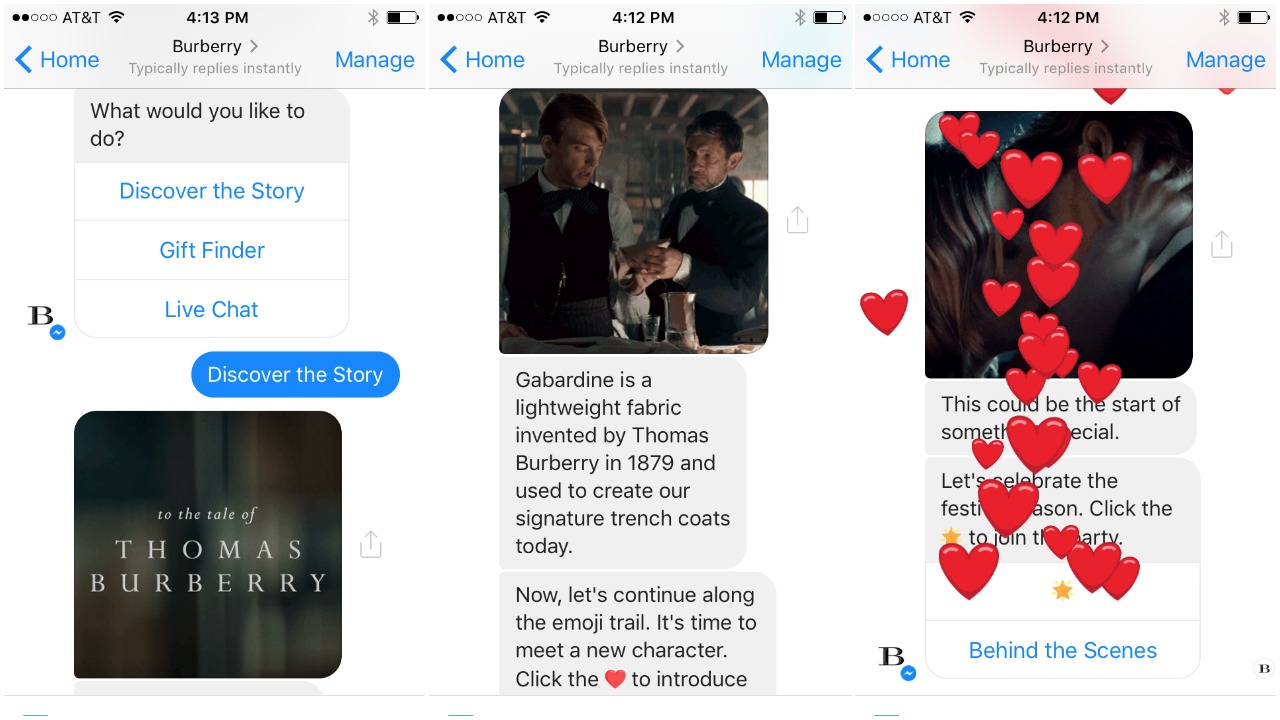 2017 Prediction: Brands can't afford to skimp on customer service, so expect to see more companies leveraging chatbots and other forms of automated technology to deliver content and address customer issues. Last month, Twitter announced that they were releasing two customer service chatbots for direct messages. And Facebook had granted brands access to reach out to consumers directly via Messenger – provided that customer had previously engaged with the brand through a message or click-to-message NewsFeed ad.
Data-Driven Email Marketing
Eighty percent of marketers surveyed name email as the most important channel for real-time personalization, according to Adobe's Digital Marketing blog. Fashion retail brands that aren't using personalization could have an untapped goldmine that's waiting to be discovered.
Case in point: Alex and Ani, the jewelry and accessories retailer, used to send all their subscribers the same email – but conversions weren't high. That led them to delve into their data to get a better sense of user behavior, preferences, and interests.
With those findings, Alex and Ani experimented with personalized emails. They sent targeted emails to re-engage people who had abandoned shopping cats, and deployed personalized emails and onsite experiences with dynamic recommendations. Their efforts resulted in a 73% increase in monthly email revenue.
2017 Prediction: As the Adobe piece points out, it will no longer be enough to simply drop a contact's first name into a standard email: "To be contextually relevant is to take into consideration where readers are now, where they came from, and where they are going next."
Brands will need to deliver emails that appear to speak to consumers as individuals, based on their habits and behaviors. B2B companies have been doing this well for a number of years, but expect to see some crossover into the B2C retail world.
As Eric Stahl, VP of Product Marketing at Salesforce Marketing Cloud, puts it: "There is a bright future for email in the multichannel world…Email will leverage every interaction from the Internet of Things, location, behavioral data, and customer preferences to deliver messages to the customer in exactly the right context."
With brands increasingly targeting millennials and Generation Z, they'll turn to email automation programs that will help them delight consumers and build trust. Look for that in the form of more abandoned cart messaging, birthday emails, and "top pick" round-ups based on past purchases.
Harder-Working Blogs
Blogs are still one of the best ways for brands to power their content machines – and fashion retailers have some of the best content hubs out there. What's great about blog content is that it works in tandem with social media and email marketing to serve as a key customer loyalty builder. A highly followed blog, and its content distributed across multiple channels, helps brands stay top-of-mind for when consumers are ready to buy.
That approach has worked for Active in Style, a UK-based women's activewear retailer.
The blog has helped establish the brand as an authority in the health and wellness space, says Thomas Gibbons, the company's Digital Marketing Manager. The main mission of his team, which is comprised of six in-house writers and three freelancers, is to maintain a loyal readership.
"Educating and building awareness of your products is as important as stocking a great product; they need to complement each other," he says.
However, they are looking ahead to adding more interactivity into their content plans.
"We have always followed the path of users from the blog to the site, especially when the post is on a new style or look," Gibbons says. "Soon our images will become interactive, and visitors will be able to shop looks seamlessly."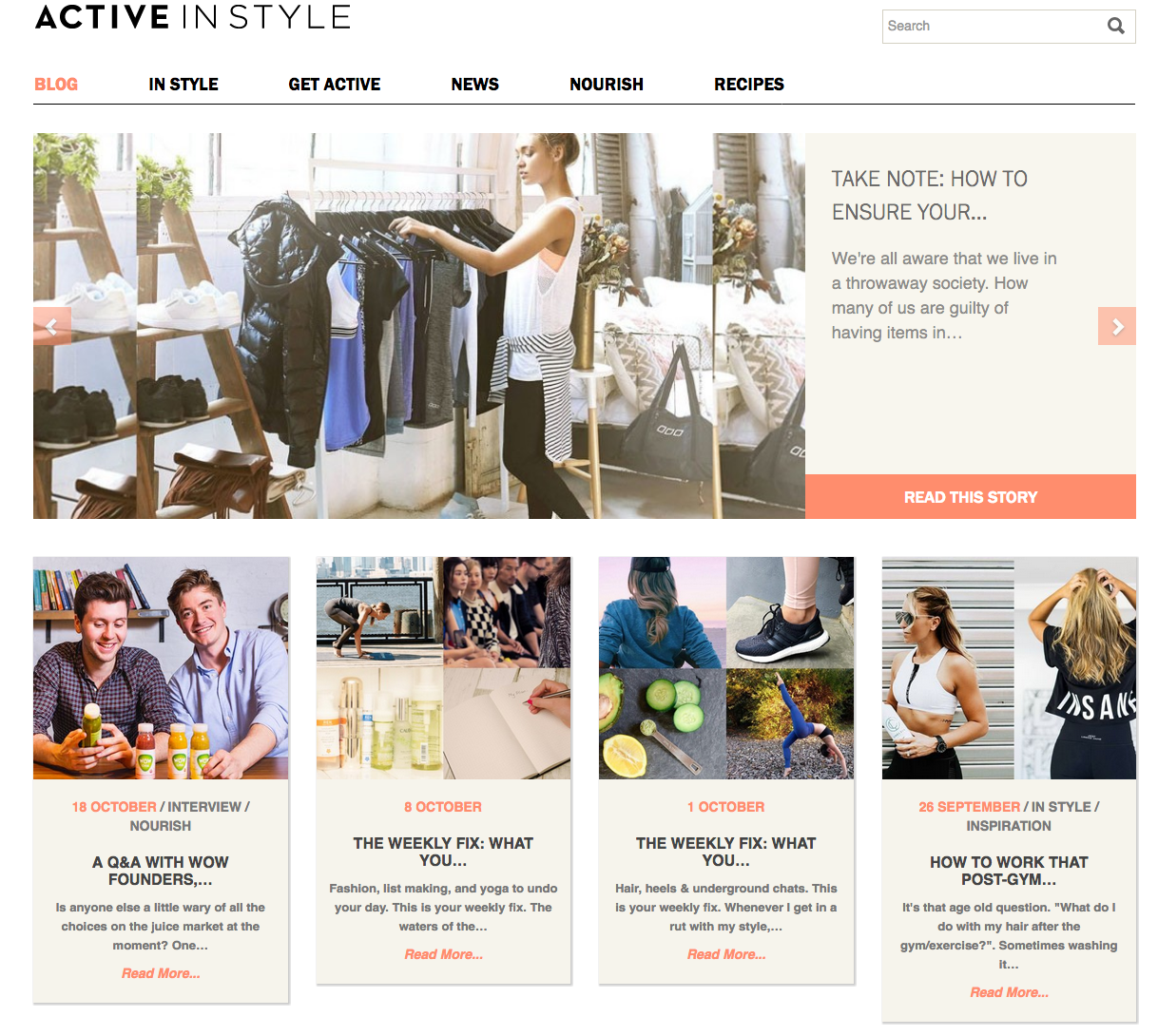 J.Crew is a retailer who's already mastered the shoppable blog experience. From real people "test driving" new products and sharing their thoughts, to behind-the-scenes looks at how pieces of clothing are made, to style hacks and local tours, this blog reads like an elegant fashion magazine – but with embedded product links that easily let customers transition from reader to shopper.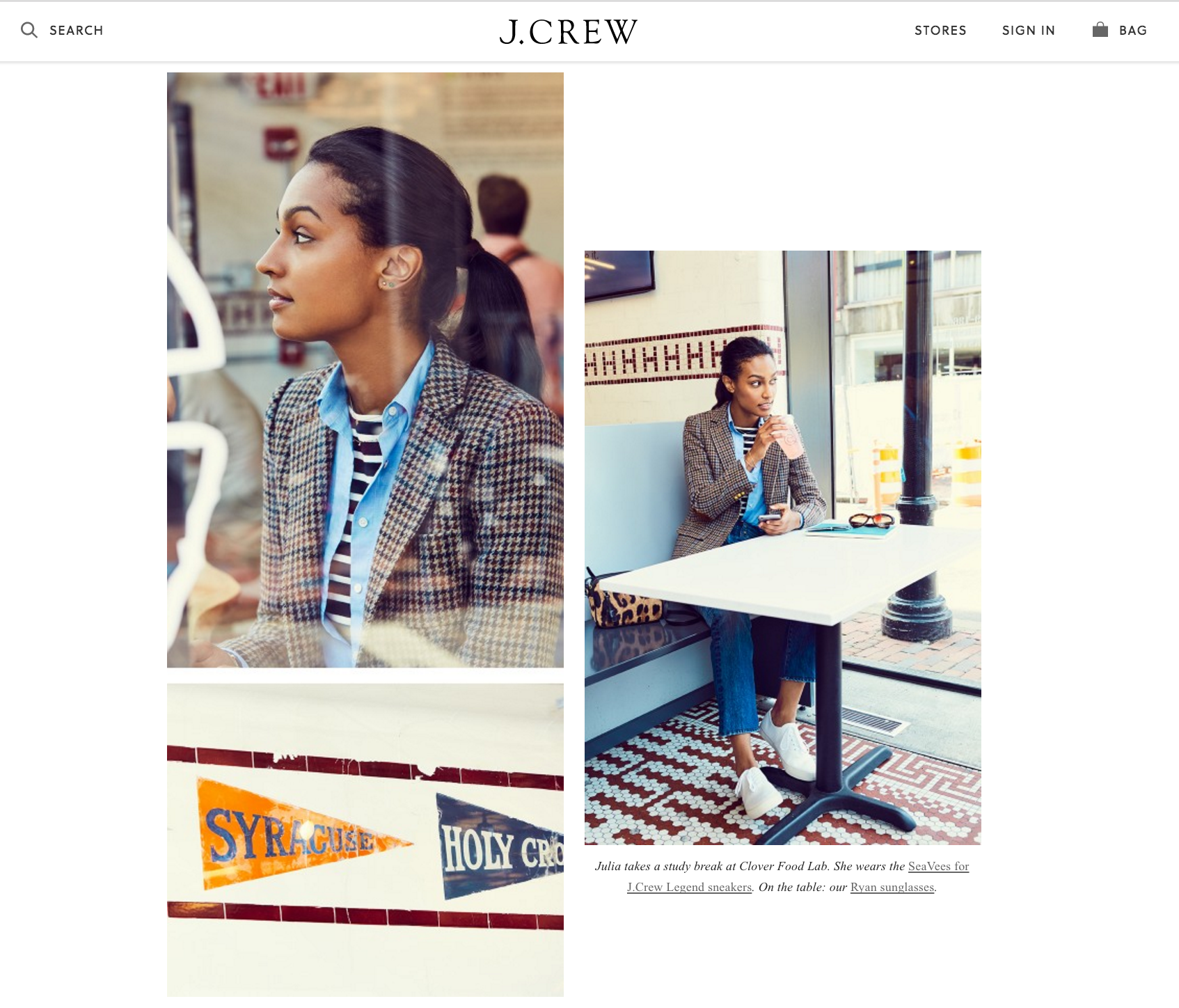 Mr Porter is another site that's known for shoppable content. Editorial feature stories, like the one below, revolve around beautiful photography and let users click and shop the items in each image.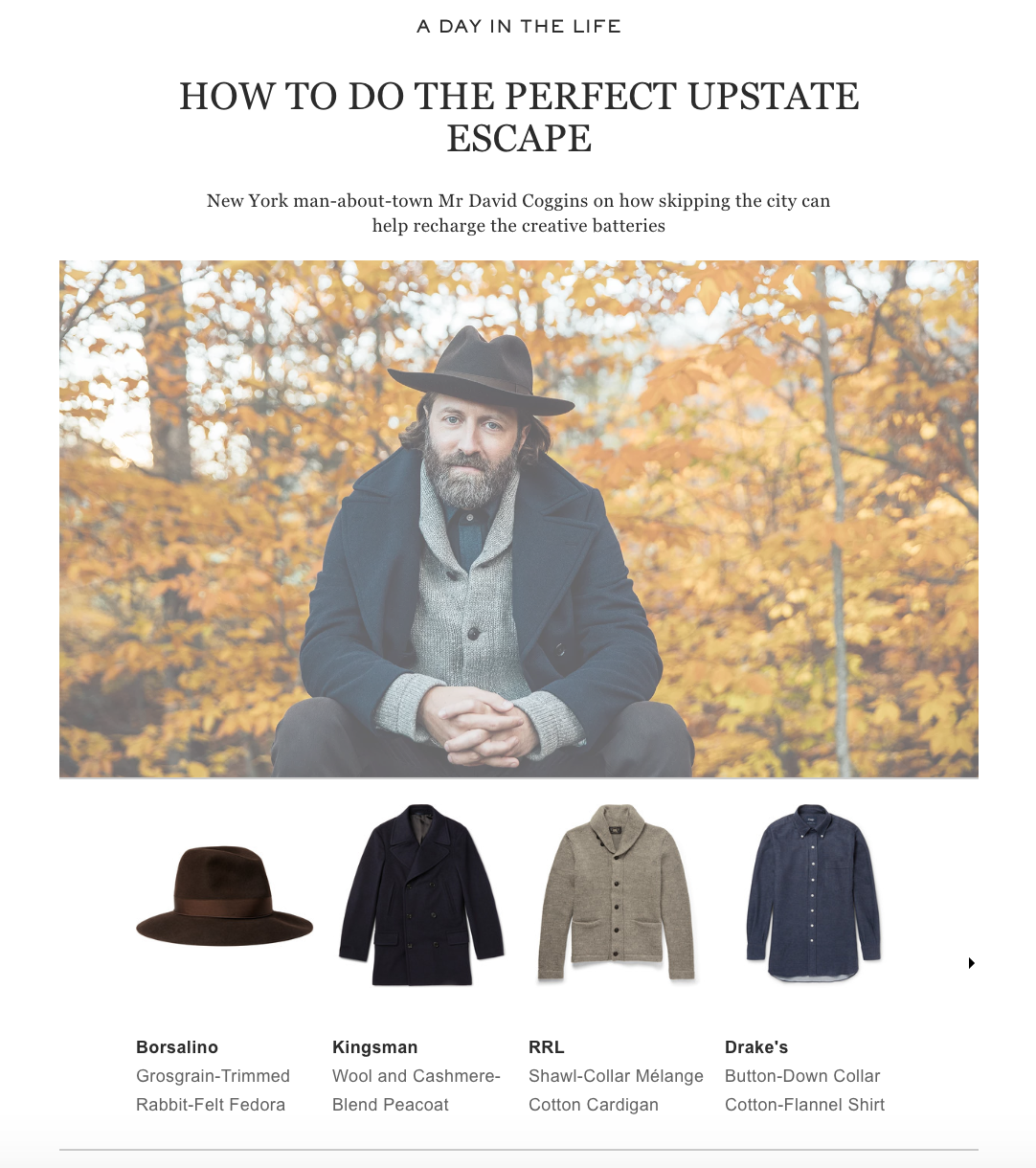 2017 Prediction: Expect shoppable content links and other technologies embedded within blog content to become the norm.
Along those lines, most CMOs agree that personalization is the key to success, according to research conducted by Forbes, entitled "Publish or Perish." Their analysis found that marketers who deliver personalized web experiences get double digit returns in marketing performance and response. Looking ahead, retail marketing teams will seek out platforms that contain modules that can serve up content based on user behavior and preferences with the goal of increased conversions in mind.
"Like anything in this industry you need to be innovative, interesting, and fashionable," says Gibbons.
More Strategic Influencer Investments
Given the amount of money brands spend on influencers, there's been a lot of talk about an "influencer bubble" – but it's unclear when that bubble will burst. 87% of US marketers plan to increase their budgets for influencer marketing in 2017, according to an August 2016 Chute and Thuzio survey. This increase can be partially attributed to influencer marketing offers a way around ad-blockers, which are on the rise.
However, 80% of US marketers said they would like to be better able to measure influencer ROI. And that's key as the cost of working with top influencers can easily run into six figures.
Revolve is a brand that's long worked with influencers (often before those influencers exploded in popularity) to drive brand awareness and conversions – not to mention a legion of fans. For the past two summers, Revolve has rented out a house in the Hamptons and hosted four weekends packed with parties and activities for celebrities and A-list fashion influencers. They've also taken top influencers on international jaunts to Jamaica, Croatia, and Mexico.
Raissa Gerona, Revolve's Vice President of Brand Marketing and Strategic Partnerships, says that the buzz influencers generate converts directly to real-time sales – and is part of the reason Revolve is projected to grow its $440 million dollar revenue by 50% in 2017.
2017 Prediction: While 2017 may not see the influencer bubble burst, expect brands to be more strategic with their spends. Rather than paying for one-off campaigns and promotions with celebrities, look for brands to build on-going ambassadorships with select influencers who make more sense, strategically, and come at a lower price point.
With many top-tier influencers becoming too expensive and selective with the companies they endorse, brands will start cultivating more relationships with "micro-influencers" – as in, the up-and-comers who have loyal followings (in the 10K to 100K range) but haven't yet made it big time. Though micro-influencers may have smaller audiences, their followers tend to be more engaged, according to a recent survey from influencer marketing platform Markerly.
This is a reason Gibbons has three freelance influencer writers on board at Active in Style.
"Their passion, personable insights, and interests make our blog more human," he says. "The result is you get great quality pieces, and you gain their personal readership. It's a great way of guaranteeing consistent traffic to your blog."
—
Like every fashion trend, each of these content marketing tactics will be most successful when brands adapt them to fit their own personalities, voices, styles, and audiences. In doing so, they'll reach customers in a way that feels relevant, personal, and authentic.
"As well as a great experience, consumers want to know the lifestyle brands they buy into share their values and taste," says Edwards. "It's what makes a brand relevant in their eyes, so it's important to demonstrate your brand DNA at every junction."
Dawn Papandrea is a NewsCred contributor.