While social media has been around a long time by Internet standards, marketers are still coming to grips with how to effectively prove social ROI – all the while sinking millions of dollars into Twitter, Facebook, LinkedIn, Instagram, Pinterest, Vine, Google+ and a host of other tools that also measure those platforms. Last year, a report from ZenithOptimedia estimated that total social media advertising spending would climb to $8.22 billion by 2015.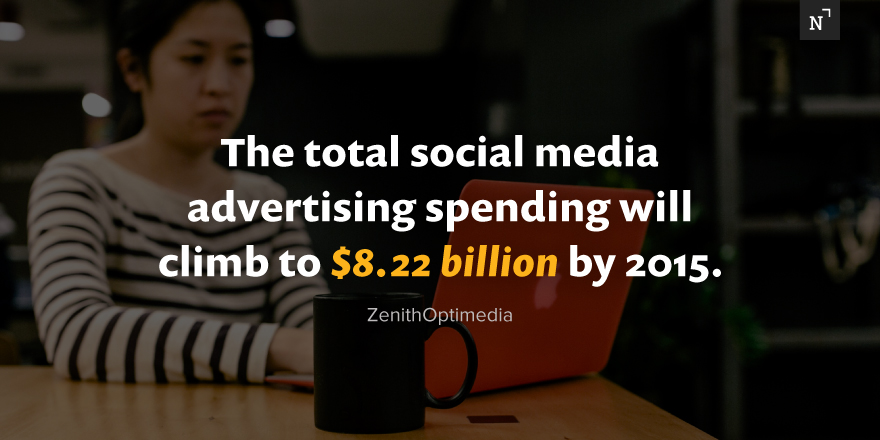 Worse yet, even though it's been a decade since Mark Zuckerberg launched the largest social media network in the world and seven years since Twitter exploded at the 2007 SXSW conference, no one company has created a consistent social media analytics system to measure marketing success on these platforms.
How are we supposed to prove the ROI of social media marketing when we don't have the resources to measure correctly?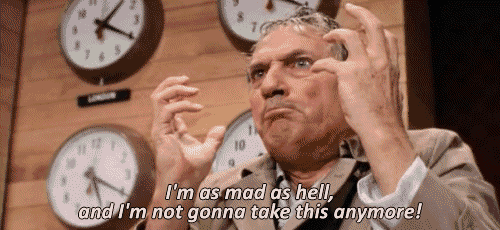 We spoke with fellow social media managers to understand the major pain points in measuring social media analytics, and attempt to get to the bottom of why these metrics are at best flawed and at worst completely inaccurate.
Social is One Big Jigsaw Puzzle
There's a twofold problem with social media metrics that marketers are still struggling to solve: 1) What KPIs to measure and 2) How to measure those KPIs. The result is often a patchwork of numbers collected from various platforms – or worse, manual calculation.
"We place a large emphasis on reporting ROI, including social metrics, and as of right now these are very hard to report on since there is no tool that generates aggregated numbers across platforms – including sharing via earned media placements," said Kelsey Cox, Director of Communications at Column Five.
Al Rossin, Community Support Specialist at Behance echoed the sentiment: "Before our analytics team really stepped in, we were using a bunch of ridiculously named tools that really didn't tell us a lot beyond how many people were clicking our links and what people were saying…I've learned that 99% of 'sentiment' ratings are useless since software can't handle sarcasm. Isn't that great? Also, most of the tools to do dreaded 'Twitter Searches' aren't very helpful. In fact, we sometimes just resort to Twitter's built-in search functions."
We've felt the same frustration. In September, we hosted our second Content Marketing Summit, and our #ThinkContent hashtag trended nationally for two days straight. Like any successful marketer, I immediately wanted to prove what I already knew from closely monitoring and participating in the social conversation – that we had increased engagement, gained followers, and facilitated intelligent dialogue between industry experts.
It took no less than seven social media analytics platforms to patch together the metrics I truly cared about. Even worse? Not a single number, from engaged users to reach, matched at all.
Two reputable social media analytics platforms in particular had a massive discrepancy when calculating total reach. To get to the bottom of this, I emailed a representative at one of the platforms, giving him both numbers. The response I received didn't make things any better: "In all honesty, both numbers aren't perfectly accurate."
How can marketers be expected to measure data when their own providers can't accurately quantify the numbers?
Measuring Content Performance is a Nightmare
Every content marketer knows that content and social go hand-in-hand, but a trend we noticed in speaking with these social media experts is that proving the ROI of content via social is nearly impossible.
"The inability to measure a single piece of content, with aggregated social sharing metrics, is the biggest flaw in social media analytics," Cox says. "This is something that would be extremely valuable to us personally, since we're creating a ton of visual content for the purpose of content marketing."
"We really love to see people share content, so we try to track the content that does really well and then find similar content on Behance, " says Rossin.
Despite multiple, big-name companies claiming to have the best, most accurate, user friendly platform, the fact remains that so far no one has created a fool proof social media analytics system – and a functional one for multiple marketing team members.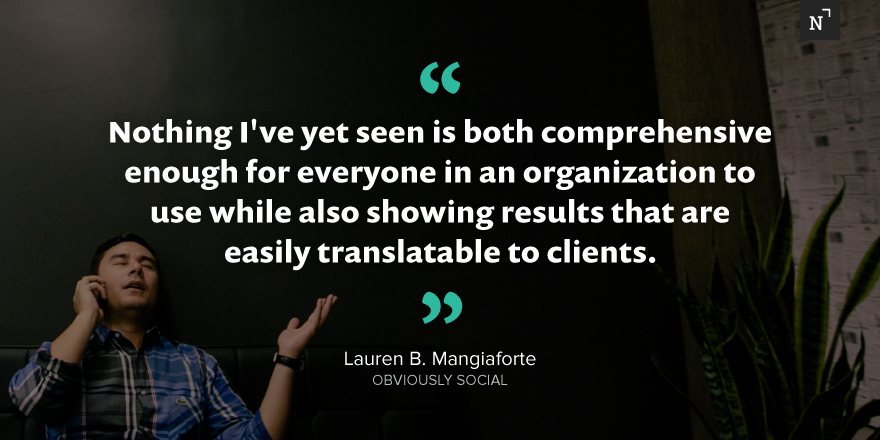 "Nothing I've yet seen is both comprehensive enough for everyone in an organization to use while also showing results that are easily translatable to clients that makes presenting results efficient for both parties," says Lauren B. Mangiaforte, Social Media Manager & Training Specialist of Obviously Social. 
"Even good analytics platforms don't seem to take it into account that different users have different needs," Mangiaforte laments. "For example, a social manager writing content might just want to know what headlines get the most clicks, while a data analyst is interested in knowing in-depth the various pathways consumers take on a website given a click-through from those various headlines on social, and an account manager wants a chart showing positive trends to painlessly hand to a client."
Proving ROI is Tedious at Best 
It's the question we're faced with at every analytics meeting and at the end of every quarter: Is social an effective marketing channel? While we all want to give a resounding "Yes!" the fact of the matter is that the real answer is more like "Maybe?"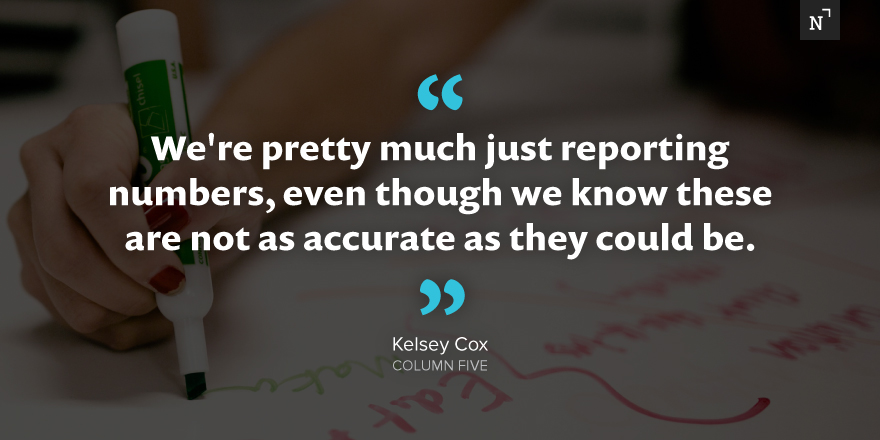 As Cox puts it, the best we can do is use the resources at hand: "We're pretty much just reporting numbers, even though we know these are not as accurate as they could be."
According to Rossin, "ROI is probably yet to be seen, but our community team does a lot other than social. We're coordinating off-line events, delivering support, and working with clients – social is really just a piece of the puzzle."
Mangiaforte says proving ROI for her clients is crucial: "Absolutely – drastically improving a client's bottom line and proving that we're doing it go hand in hand. We demonstrate an increase in traffic, revenue, and engagement from social channels month over month. It's important that we are able to demonstrate our value in terms of quantitative improvement."
So What Can You Do? Always Be Testing
Consistant testing can be one of the most beneficial ways to learn about your audience and how your brand can effectively communicate.
"We did a crude experiment looking at all of our social content and we learned that a lot of our followers just like seeing cool stuff from Behance, so a lot of the tweets with a call to action or whatnot weren't super effective, but when we announced a new feature with a great graphic or showed off an awesome project from a member, people loved it," says Rossin.
Here at NewsCred, we recently ran a Twitter experiment, launching three identical campaigns with the same copy, images, and CTA of "Subscribe to our blog." The only variable was how the tweets would appear in the feed in the form of promoted tweets, web cards, and lead generation cards. At the conclusion of the experiment, we found that our lead generation card performed the best in terms of subscribe conversions and impressions – a surprise since historically promoted tweets had outperformed our lead generation or web cards.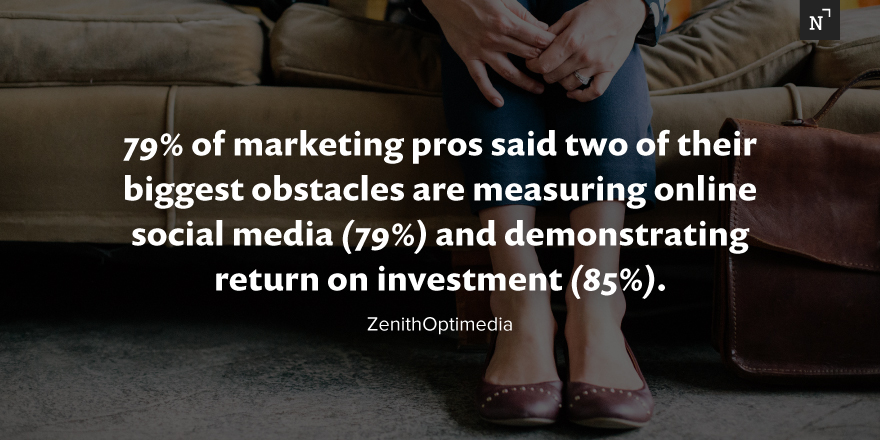 Measure What Matters to You
In conjunction with communicating KPIs with your team, settle on the KPIs that matter to you and your clients. One size does not fit all when it comes to social media measurement, and only you can decide what matters most for your organization.
"Measuring KPIs depends hugely on the client and their specific goals," says Mangiaforte. "We also go deeper for clients, identifying and reporting on the number of influencers who participate in campaigns and breaking down their demographics to give our clients an enormous amount of intelligence about their social audience." She completes this measurement through a mix of proprietary software and tools such as Keyhole and on-platform social media analytics, using this assortment of tools to, "identify influencers and measure their impact in terms of reach and engagement once we deploy them for our clients."
It is important to consider the big picture when choosing the specific data to collect. Ask yourself, does this directly contribute to my company's bottom line? How can we correlate brand awareness to lead generation or conversions? Once you have taken a step back to establish priorities, you can take a deeper, more informed dive into the data that matters most – ultimately, benefitting you and your team. Collecting data points for data's sake isn't going to solve anything.
Decode the Verbiage
One of the biggest conundrums as a social media manager is the inconsistent language across social media platforms. For example, reach (your potential audience based on your follower size) is different than impressions (the number of times your content is displayed to a social user), although social media analytic sites often use the terms interchangeably, confusing marketers and creating inflated or inaccurate numbers.
This becomes an even larger issue when using multiple social media analytics providers and trying to piece together the data. Without taking a technical dive into API capabilities and back-end engineering, use your best judgment when cross-referencing numbers. Specific platforms are unable to measure certain variables, like people that view content on non-native applications, and therefore can have drastically different numbers than another provider – even though they claim to be measuring the same thing.
Before you drive yourself crazy, make sure you fully understand the numbers that you're measuring. At NewsCred, we believe that numbers are only tell a portion of the story. We built the NewsCred People Database to complete the story for your brand by telling you about the exact people who are engaging with your content. With the People Database a pageview turns into a person, with a name, title, interests, etc. You can now see who is engaging with your content, when, and how often.
Conclusion
Measuring social media success is tough, but it doesn't mean we should give up. Social media is one of the most important vehicles in content marketing, and a key driver of brand awareness, engagement, and lead generation.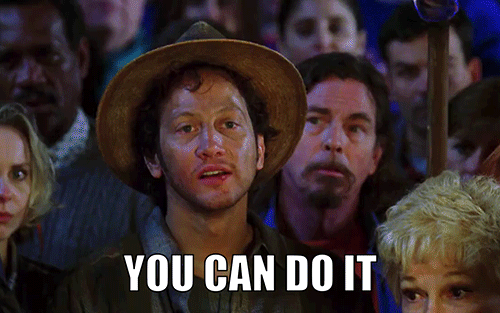 While we have a long way to go in accurate reporting for social media analytics, we've come a long way in understanding how to effectively communicate on social. Brands now know that talking at people will never work and humanizing the messages fosters real connection and brand loyalty. That development, and looking toward a future where social measurement is people-focused, is something we can all cheer for.
Alexa Biale is a Social Media Strategist at NewsCred.
Originally published on Jul 4, 2014 10:12 AM, updated Sep 14, 2016