Content marketing articles are capturing attention and engagement at a far higher rate than the few seconds that readers generally engage with a standard display or social newsfeed advertisement, according to an analysis of NewsCred data on content published on hundreds of marketers websites in the first quarter. That being said, if marketers want to reach larger audiences, they need to adapt their strategies to include paid distribution and further invest in pushing their articles through their owned channels, like email.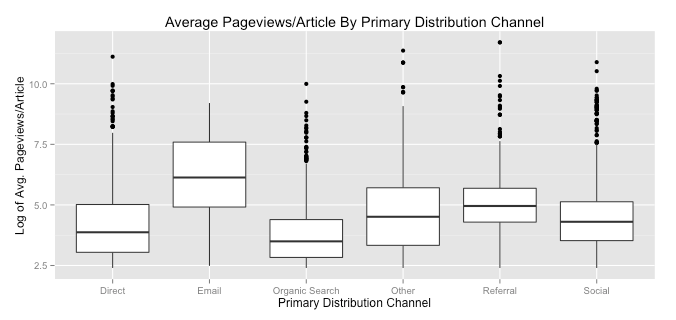 (Disclosure – I was the Director of Product Strategy at NewsCred and continue to advise the company)
Why Is Content Marketing Capturing So Much Attention?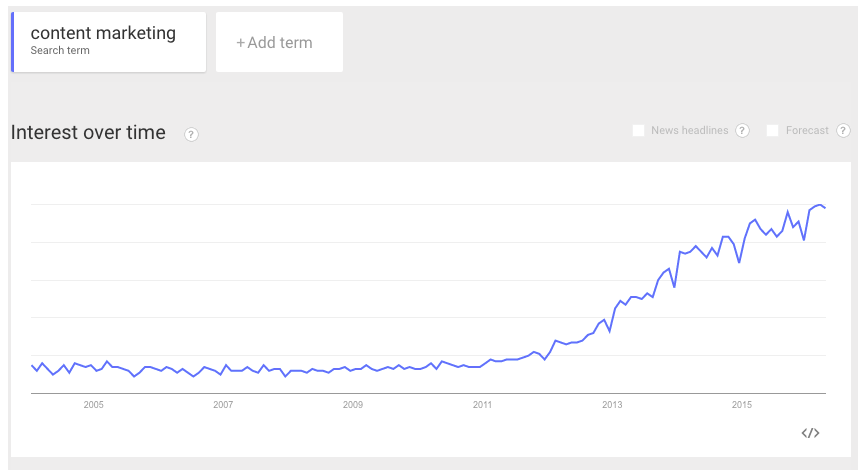 Content marketing is the confluence of several digital trends that have led to a focus on using website content or blogs as a primary distribution channel for brand messaging.  Sophisticated marketers know that they're in a battle for their lives to capture the fleeting attention of consumers on the web.  In the past, they primarily relied on digital ads distributed through publisher websites because those publishers were the only way to directly access consumers.  Social media eliminated the need to rely on publishers as marketers could directly reach their potential customers on the social media platforms.  But as those social platforms began to monetize their audiences, the marketers realized the fallacy in this plan and their dependence on the reach of Facebook.  A marketer was now beholden to Facebook to rent their audience and distribute their message.  At the same time, the largest consumer boycott in history, ad blocking, was picking up steam.  As of August 2015, approximately 200 million people, 45 million of whom were in the United States, had installed an ad blocker to prevent marketers from reaching them while they browse the web.
Marketers, primarily led by technology companies looking for a way to compete with the budgets of the largest companies, realized that they could capture the attention of consumers on their own websites and act like media companies.  Although this strategy was coined as "content marketing," as Contently points out, it's nothing new.  In fact, it's really a revitalization of the soft-selling strategies that advertisers have used off and on for more than 100 years.  The new paradigm in digital is requiring that marketers own their audiences and use Google and Facebook advertising to acquire new audiences.  Once they capture that reader's fleeting attention, they must use high value information to capture loyalty.  This strategy then allows the marketer to own the relationship with the consumer and continue to reach that person across many distribution channels to encourage repeat visits and an eventual purchase.
Capturing An Audience's Attention Is Valuable
Senior marketers recognize that the benefit of using content on their websites is driving higher engagement.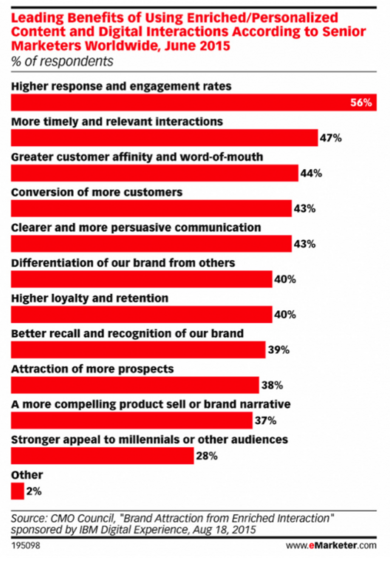 And Chartbeat proved several years ago that brand recall increases with engagement.  With higher recall, customers are more likely to purchase from your store or visit your website to learn more about your products.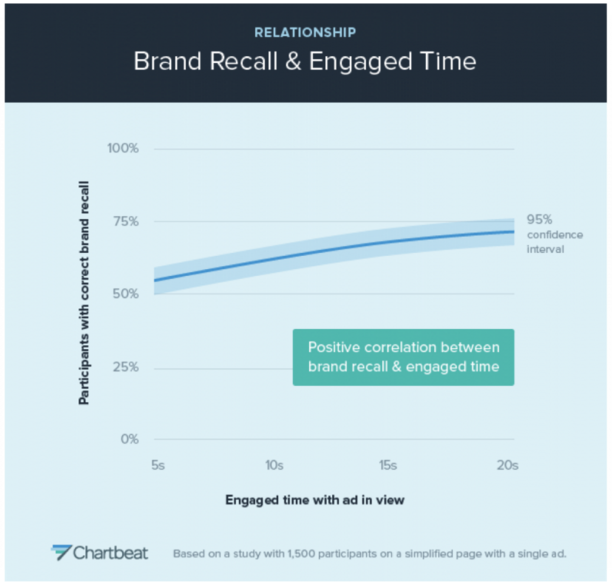 Despite What You Might Think, People Do Spend Time Reading Content Marketing Articles
In analyzing NewsCred's data, marketers are seeing strong engagement on the average article.  In fact, the median average time spent with an article published in Q1 was 37 seconds.  The distribution of performance varies, but it's clear from the chart below that the majority of clients are capturing attention.

Many clients employ several strategies for distributing their content.  When we look at the NewsCred data, however, we can see that engagement rates are only slightly impacted by the distribution channel driving the most traffic.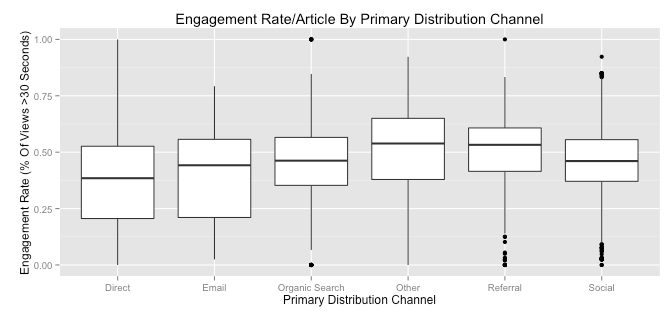 But, the primary distribution channel has a significant impact on the number of visits an article receives.  The outliers on this chart in the social, other, and referral categories are driven primarily by paid distribution on those channels.  No matter what content marketers want to believe, they must pay for distribution to reach large audiences on the web.  Perhaps, even more significant is that when email is the number one traffic source, the average article significantly outperforms other articles.  Whoever said email is dead, is definitely wrong.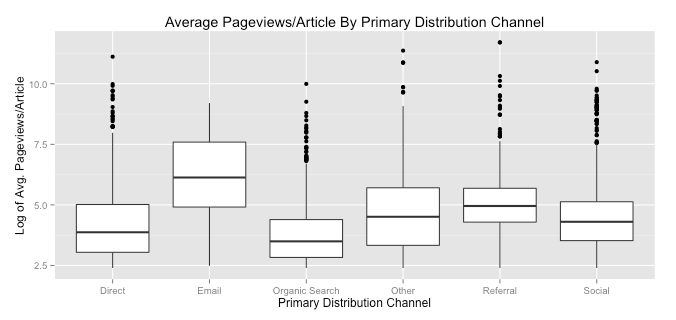 Fortunately, it seems that no matter where people come from, though, the average engaged time per article stays relatively consistent.
Finally, since NewsCred has a very unique data set on the difference between licensed articles and original, it's interesting to note that licensed articles seem to outperform our clients' original content on certain distribution channels based on average engagement time and engagement rate.  This might indicate the value of capturing audience attention with high quality journalism, rather than just your typical marketing blog content.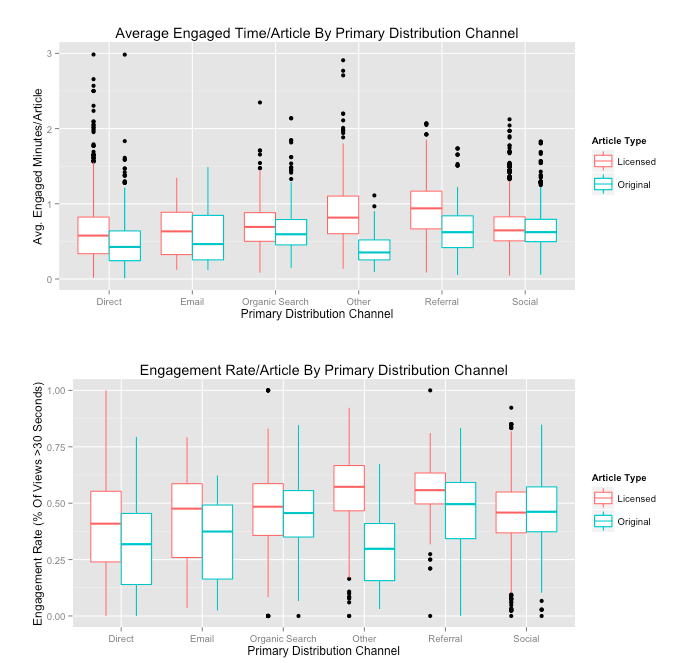 In conclusion, your distribution channel strategy matters a lot for capturing a larger audience with email demonstrating the most significant impact on overall reach.  Additionally, content marketers are capturing attention with these articles, and that should help them drive other business objectives.
This article was written by Benjy Boxer from Forbes and was legally licensed through the NewsCred publisher network.

Originally published on Apr 21, 2016 10:00 AM, updated Aug 11, 2016