Thanks to the explosion and the proven value of content marketing, it seems like every brand these days has its own publishing house and an elaborate content marketing strategy to boot. They're creating content on dedicated websites to target their demographic, convert visitors, increase their exposure, and establish themselves as voices of authority within their industries.
However, like much of the content out there on the internet, most branded content is not exceptional. Some brands just don't get their customer base, while others recycle articles, photos, and videos instead of producing original pieces and are too pushy trying to sell their products.
If you're gearing up to start your own branded content website, and want to get the most content marketing ROI, you should research what the best-of-the-best brands are doing. We spoke to four of them — Casper, GE, Barneys, and Williams-Sonoma — about how they built their sites and consistently put out excellent content.
These content creators discuss about their content marketing strategies, their methodologies, and their goals when it comes to building a branded content site.
Casper: Focusing on awareness, not conversion
Van Winkle's editor-in-chief Jeff Koyen does not consider himself to be a marketer. Instead, he's a journalist who manages other freelance journalists. Like traditional reporters, they strive to tell good stories and raise awareness about certain issues. For Koyen, that issue is sleep.
"We are not converting people to Casper.com, which is what makes Van Winkle's unique," he said. "We are not measured by conversions or mattress sales."
The goal is to invent a new vertical, sleep, and try to have "more eyeballs on Van Winkle's. If we do create the sleep category, ultimately, Casper will benefit from it. They will get people to say 'Gee, we need a better mattress.' It's my job to create cultural awareness. My competitors may benefit from it too, but it's ultimately up to Casper to position themselves in a way that they will be there when customers want to make a purchase."
So, what has Koyen found that his readers are most interested in when it comes to sleep? "Not surprisingly, posts about boners perform well," he says. "I did one on morning erections. Another one is about how to wash your sheets. Those two posts had a far reach on social."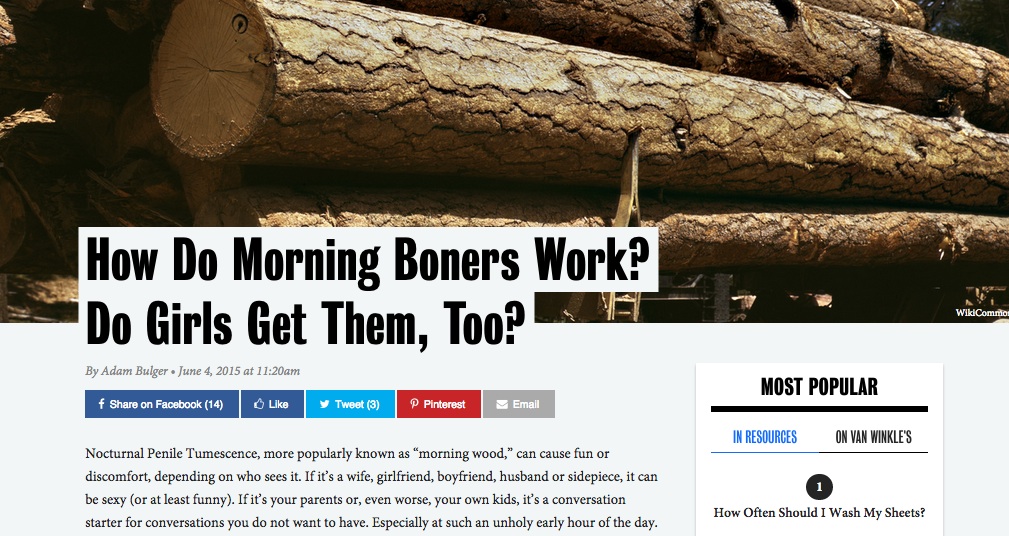 Koyen's advice for other brands hoping to start their branded content websites is this: Don't be too cautious. "It takes bravery to let an editorial entity launch and run on its own," he says. "When most people get to launch day, they think someone on the brand side will blink and say, 'I don't know if this story is on message for the brand. They may overthink it to death. If you want something that's publishable, you need to be brave and trust your editor. If you just want to convert eyeballs or sell Red Bull then don't do this. If you want to do higher level real journalism, you have to find the right editors and make sure they answer to themselves."
Barneys: Provide exclusive branded content
Your brand has a unique perspective and access to individuals and information that other brands don't. On The Window, which is the branded content site for Barneys, the staff knows this.
The content that does the best on the site, according to editorial director Marissa Rosenblum, is interviews with Barneys' designers and "things you could only get from visiting The Window," she says. "This is because of the access we have at Barneys. You can't read about the exclusive collaborations we're doing elsewhere."
The Window has a plethora of this kind of original content, from written pieces about their designers, to pictures from Barneys' photo shoots, and videos of their runway shows.
If brands want to succeed, they need to stick to the old advice and write what they know, says Rosenblum. "Tell the stories you're an expert on, and people will care about your brand's point of view. They're interested in what we have to say about emerging designers, fashion, and style. We're still trying to sell them something, but it doesn't change the fact that our point of view is well respected and regarded."
Williams-Sonoma: Aim for return visitors 
Success cannot simply be defined by how many visitors your branded content site converts. Don't forget that loyal, returning customers are crucial to your brand.
Merritt Watts, the senior manager of content at Williams-Sonoma, says that with their website, Williams-Sonoma Taste, they want to keep people coming back for more content. "A return visitor means we're truly connecting with our customers. They may not be purchasing every time they visit the blog, but when they do they'll come to a trusted place — a place that's already successfully shown them cooking techniques, offered inspiration for hosting a memorable holiday brunch, and recommended some restaurants to visit on their trip to Austin. That's the kind of long-term success we are after."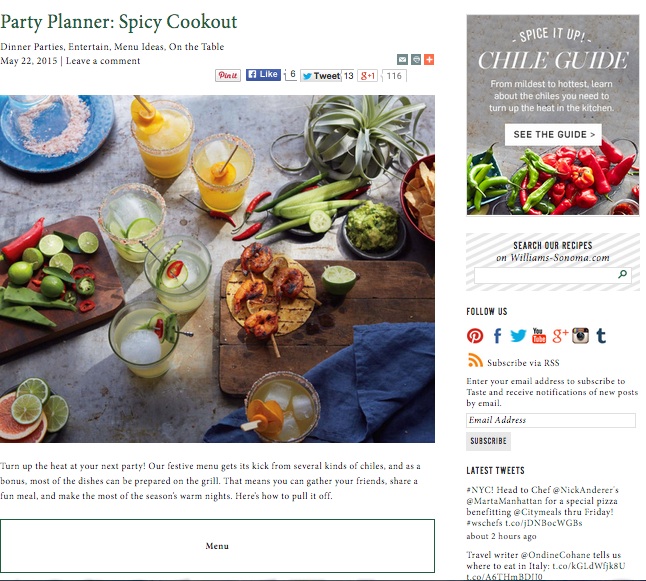 To encourage customers to return, Watts and her team of in-house and freelance writers produce content that adds value to their customers' lives. "Our main target is the home cook," she says. "They don't have to know how to sous-vide or be able to whip up a soufflé without a recipe (though we have a hunch that plenty of our customers do!) (editors note: Seamless?!) but they are people who want to be inspired, who love getting their kitchens a little messy, and setting a table for friends and family with a meal they're excited to serve."
Some recent pieces for their demographic cover planning a spicy cookout, how to construct ice cream sandwiches, and making homemade pasta by hand.
GE Reports: Find the scoop
In creating GE Reports, Managing Editor Tomas Kellner (read a full interview with him here) says that the brand wanted to tell their own stories and appeal to a B2B audience. They also hoped to be seen among influencers as more than just an appliance company.
To do this, they report on innovations in technology. They find out the latest on topics like 3D printing, medicine and science, and information technology, and then aspire to have it distributed by other publishers like Gizmodo and Fortune, which have large readerships.
"With one of our stories on 3D printed jet engines, we got hundreds of thousands of views on the site, and it got picked up by other sites, which generated another large universe of impressions," says Kellner. "Ultimately, the impression is more important than the traffic you bring back to the site."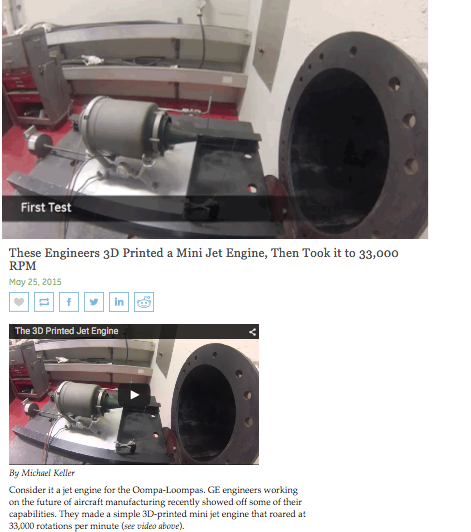 Since GE produces technology, Kellner has access to these stories in innovation. He looks inward at what stories he thinks would be a hit among his readers, and then he assigns them. "If I just try to sell to my readers, they're just going to walk away," he says. "You have to be authentic and tell the truth, but also be informative, newsy, and useful."

Thank you for subscribing!
Our best content will now come straight to your inbox.