You've written blogs, compiled white papers, posted Instagram photos, explored memes, and released infographics. Now may be time to try a new medium: Video.
Video's popularity among marketers is strong and continuing to flourish. According to a recent survey of 398 marketing and sales professionals by Demand Metric and Ascend2, 69% of them have utilized video marketing, while 31% plan to in the future.
In another study, it was found that online video is replacing television usage among millennials. An October 2013 survey by The New York Times found that 34% of millennials watch mostly online video and no broadcast television. They're turning to the online realm for entertainment, which means that you should meet them there with a branded web series.
Why create a branded web series?
Aside from reaching a younger demographic, a branded web series, if done well, can grip your audience and draw them into your brand. Consumers will also feel like they're receiving something in return for their attention, fostering loyalty, brand affinity, and ideally, word of mouth brand awareness.
According to AdAge's Andrew Hampp, creating a branded web series is very economical when compared to other advertising methods. Writes Hampp: "The typical web series consists of a half-dozen five-minute episodes costing an average of $100,000 to $1 million to create — a paltry sum considering a typical 30-second spot can cost more than three times the price the most expensive web show."
If you're convinced, and now you want to start on your own web series, here are some guidelines to keep in mind.
Recreate the Brand Experience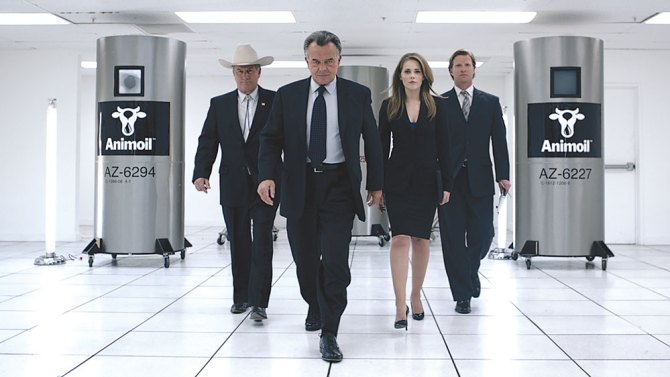 Chipotle's "Farmed and Dangerous" image courtesy of Variety
Your web series should be completely reflective of your brand. If you're Red Bull, you're going to produce exciting, adrenaline-filled videos for sports fans who consume the energy drink. If you're Chipotle, you'll promote your anti-processed foods, anti-hormone philosophy in a sarcastic web series that makes fun of big agribusiness.
When coming up with your web series content, think about what customers experience when interacting with your brand. After consumers drink a Red Bull, they feel pumped and ready to move. Upon stepping into a Chipotle and seeing all the marketing messages, they're tempted to learn more about sustainable farming practices. Your web series shouldn't come out of left field; it has to be relevant and communicate what it's like for consumers to take part in your brand.
Enlist the Help of Relevant Celebrities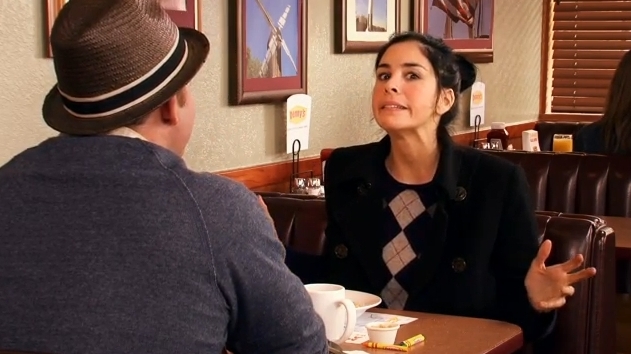 Image courtesy of AdRants.com
In an attempt to reach their 18-to-34 demographic, Denny's created a branded web series with College Humor called "Always Open," which featured Dave Koechner talking off-the-cuff with his fellow comedian friends at Denny's. Will Arnett and Jason Bateman from "Arrested Development," stand up Sarah Silverman, Chris Pratt from "Parks and Recreation," and Kristen Bell, star of "Forgetting Sarah Marshall," all appeared on the show. According to Ignite Social Media, the web series paid off; Denny's impression score rose from 6.2 to 25.4 among 18 to 34 year olds.
If your company can swing it, hiring celebrities is extremely beneficial to your branded web series. People tuned into the Denny's series because they wanted to see celebrities being themselves. It was a chance to see them in a different light than what they're used to. Celebrities with big Twitter, Facebook, and Instagram followings will also boost your views. Not to mention, you'll get street cred from your demographic for including people they know and love in your content.
Make it Mobile-friendly
Mobile phones are where short-form video shines. According to Content Marketing Institute and a Nielsen study, 28% of consumers online "watch video on their mobile devices at least once a day."
When creating a branded web series that's compatible with mobile phones, you want to keep episodes short. According to Ooyala, an online video technology company, people want to watch videos that are shorter than six minutes on their phones. Make sure your episodes aren't too long, and if you can avoid it, don't include pre-roll advertisements. People frequently use their cell phones on the go, and they don't have time to wait for your web series to load.
Don't Focus On the Numbers
You shouldn't start production on a branded web series with the attitude that it has to go viral in order to be considered a success. What matters is increased brand awareness and the amount of engagement with the videos. Are people talking about on it on your social networks? Are they sharing the videos and commenting on them? Are they writing in to you, hoping you produce more? Focus on creating a great product, and not on how many views you think you need to receive. You need to have faith in your brand and realize that if you put out excellent content, you will receive a positive response.
Kylie Jane Wakefield is a NewsCred Contributor.
Thank you for subscribing!
Our best content will now come straight to your inbox.