The British coffee industry is a £6.2 billion market, and Costa Coffee has certainly worked long and hard to gain its place as the UK's preferred purveyor of coffee. A dose of confidence can go a long away, and when Costa put its best foot forward with a new marketing campaign in 2010, people noticed.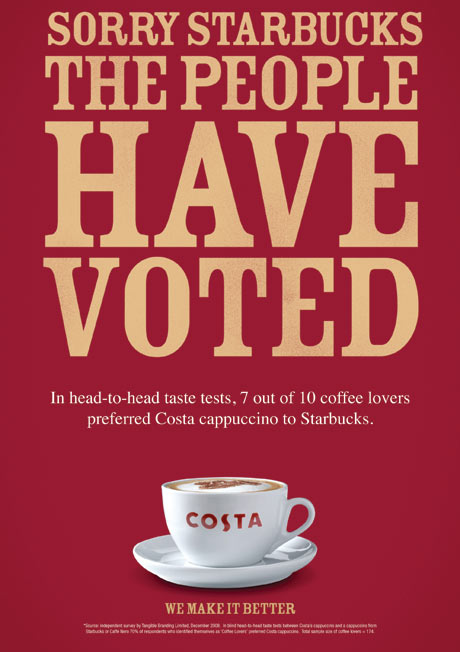 The following year, the company went on to earn Marketing Week's Brand of the Year Engage Award, as well as the Marketing Society's honour for Global Marketing Excellence. Sales have been on the up and up ever since, with The Guardian reporting a 22 percent rise in UK and Irish revenue this year, as well as £1.2bn in worldwide sales.
Accordingly, Costa is expanding through Europe and abroad, opening four locales in Paris and adding over 70 new shops across China last year. To accommodate global growth – and the goal of doubling business by 2018 – the brand has continued to grow its marketing team and boost engagement efforts. Here's a look at what's helped the company secure its place at number one.
Costa Cares
While green marketing, or "greenwashing," has received some criticism, but when the fit is right, we say go for it. Audiences care about global issues and respond to good deeds; Costa serves 100% Rainforest Alliance Certified™ coffee and sources meats in the UK locally. The Foundation sets yearly goals, like educating 50,000 children and building 50+ schools in coffee communities by 2017.
It's easy to get on board a cause so worthy. Last year alone, the brand raised over £1.5 million in generous donations from an inspired audience.
Coffee Heads
The Coffee Heads campaign in 2012, Costa's largest integrated marketing initiative yet, ran across TV, print, digital, and in-store. The television spot featured a daydreaming barista, driven to song by his passion for coffee. The original ad was popular among followers, who were encouraged to record their own renditions on an accompanying app.
Winning submissions were chosen to appear in a UGC-focused follow-up clip, showcasing Costa fans bopping their heads to KISS's "I Was Made for Loving You." With only 1,800 views on the brand's YouTube page, however, the effort seems to have fallen short. Perhaps next time some amped up engagement might do the trick; it's always good to expect a little more from your audience.
Instead of karaoke, maybe they should be writing their own songs. Instead of sitting, maybe they should be dancing. Don't be afraid to go a bit bigger.
Coffee Club
As a company that prides itself on making decisions based on customer insight, Costa has used data and research to its fullest potential. After discovering that even return customers also had no problem consuming competitors' coffee, Costa launched a loyalty scheme – aptly titled Coffee Club.
An instant success, with more than six million cards in circulation within the first 18 months, Costa definitely struck the right chord. The free program earns people points with every purchase, unlocking free products and rewards when enough accumulate.
Subscribers receive very little communication, to avoid overwhelming or frustration at overflowing inboxes. Two emails per month inform of special offers and customized content based on a user's past behavior and point balance. This kind of messaging has been painstakingly designed using hard data, and the results show a job well done.
Fast Company reported that "an estimated 35% [of emails] are opened by recipients and rates of redemption on the offers they contain have, on occasion, exceeded 70%." Considering how many emails are never opened or get deleted point blank, that's pretty extraordinary.
Consistent Innovation
Beyond all of the creative energy going on in the marketing department, Costa has devoted just as much care and attention to product development as well. The company has consistently worked to provide its customer base with more and more choices, new alternatives, and seasonal varieties.
In 2010, the company introduced the Flat White, a milky coffee beverage popular in New Zealand and Australia. The unveiling led to a reported seven percent increase in sales within its first three months in stores. Another drink, the Costa Light, was launched after hearing what customers had to say in focus groups. Perfect for those on a diet or trying to cut down on caffeine, the under-80 calorie option was introduced alongside a competition looking for new comedic talent – and engaged social media followers.
Costa doesn't stop at coffee, though. The brand continuously strives to provide the kind of service they know their customers want – just check the data. There are currently over 3,400 Costa Express self-serve set-ups throughout the UK, and drive-thru expansions seem to be on the rise with up to 80 equipped branches planned for the foreseeable future.
That's Costa for you – always raising the bar. A quality product paired with superior marketing efforts? Make ours a double!
Originally published on Sep 5, 2014 11:15 AM