With the glory of the recent Cavaliers NBA Championship still hanging in the air and a Cheap Trick concert on the horizon, Content Marketing World (CMW) 2016 descended upon Cleveland, Ohio from September 6-9th.
NewsCred showed up to support as a platinum sponsor with representatives from our Executive team, Sales, Customer Success, Marketing, and Engineering, and we certainly weren't the only ones – in addition to individual marketers and speakers, more than one hundred companies from around the world sent at least five people to CMW2016. The diverse makeup of companies and attendees displayed how much interest continues to pour into this industry. NewsCred's booth certainly felt like it saw close to the volume of marketers that attended the 2015 conference (3,500!), elbowing towards the local pour-over Rising Star Coffee and canvas bags for the taking.
Throughout the conference, nearly every speaker hit upon one theme: Creating great content. (A belief we at NewsCred also hold strongly.)
As Joe Pulizzi, Founder of the Content Marketing Institute, put it in CMW's opening keynote: "Mediocre content will hurt your brand more than doing nothing at all."
Currently, only 20% of content marketers said they were committed to a full content marketing approach: Hitting a defined audience with one message, finding compelling angles from which to tell your story, staying consistent over time, and building value outside of the products and services you offer, according to Pulizzi.
The other 80%? They're creating a lot of content, but not building a loyal audience or telling a new story.
Here's what some of our favorite speakers had to say about how their companies are creating great content and staying ahead of the pack in the content marketing space: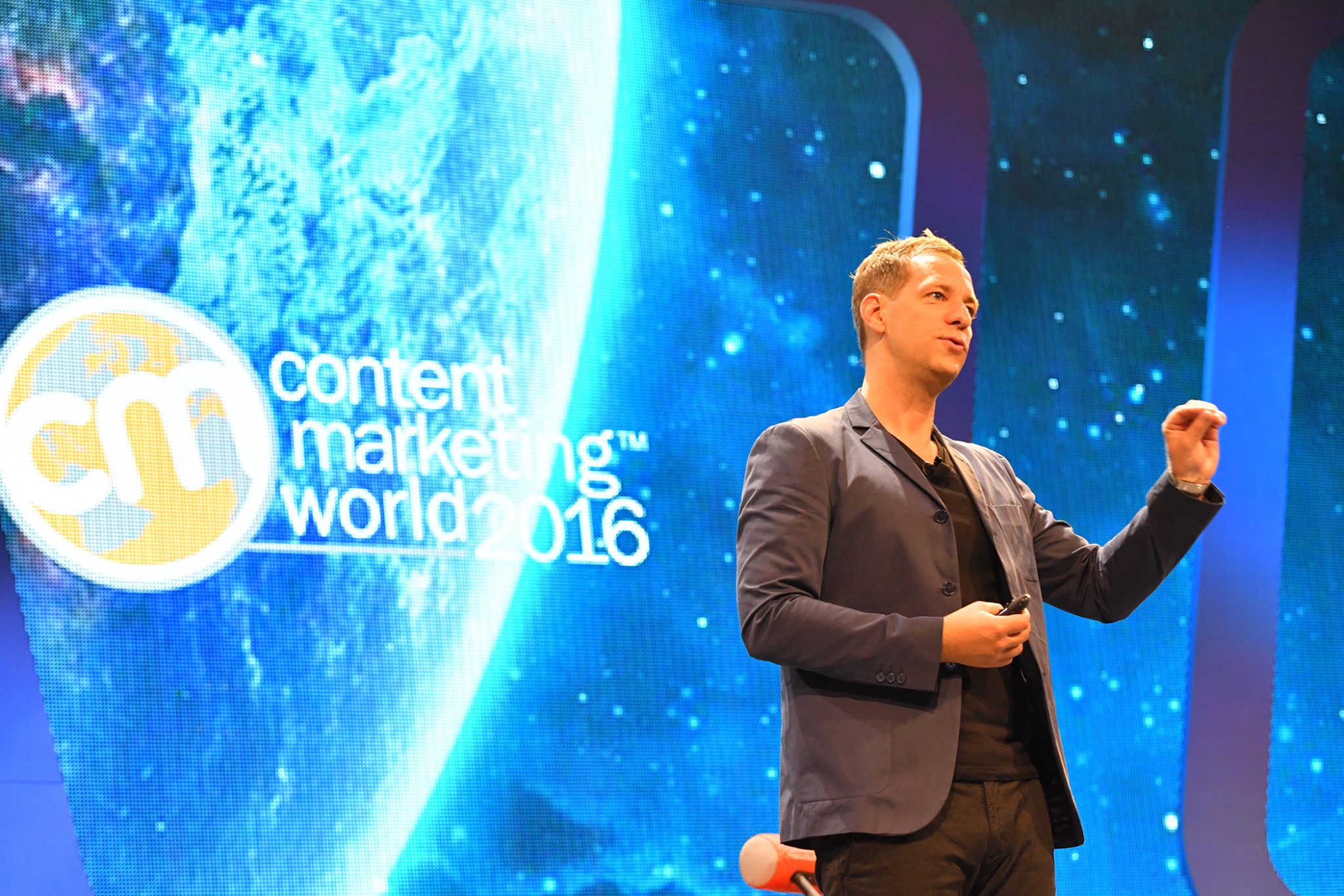 How LEGO Built a Content Marketing Strategy Around UGC
To create and support a 24/7 content marketing machine, LEGO has harnessed user-generated content (UGC) to increase and diversify their creative production.
LEGO has found that their fans aren't shy about being centers of attention – they're proud of their LEGO creations, according to Lars Silberbauer, LEGO's Global Director of Social Media and Search Marketing. As such, the company has crafted its content strategy around two pillars: Building Together and Pride of Creation. LEGO's initiatives inspire builders to create – and showcase their finished products on social media for others to see.
With its "Kronkiwongi Project," for example, LEGO asked kids around the world to create their version of an imaginary Kronkiwongi without instructions of any kind, using only LEGO bricks as their canvas. The result: hundreds of unique creations.
Efforts like these have ignited the creative juices of LEGO fans to the point where they're making 20 times more content than Silberbauer's teams do internally. By having this depth of UGC, LEGO has no shortage of content to post and promote on social media and other channels, which inspires more creators to create – giving LEGO even more valuable content.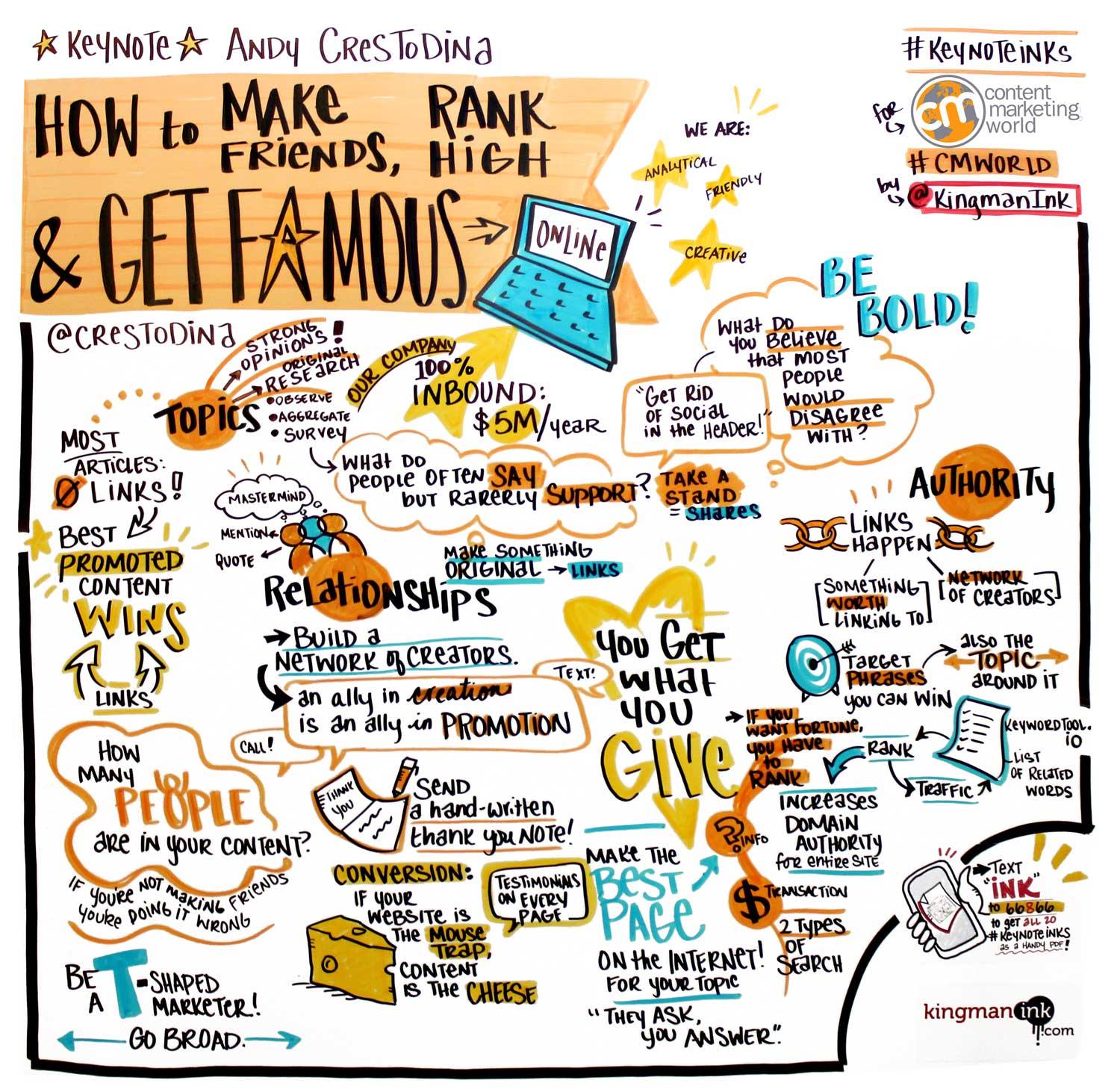 How to Make Friends, Rank High, and Get Famous Online
Good content is amazing, but the bad stuff results in nothing at all, noted Andy Crestodina, Principal, Strategic Director of Orbit Media.
Proving his point: a BuzzSumo study that found that 75% of all content gets zero external links, and 50% of it has two or fewer Facebook interactions.
To ensure your content doesn't fall into those categories, Crestodina offered two pieces of advice: "If you want to create highly shared content, then you should concentrate on strong opinions and original research."
How to produce original research worth linking to? Try observing interesting industry trends or standards (like how websites are most effectively designed), aggregating readily available information (like average marketer salaries), or creating surveys to get fresh data sets (polling your peers on how long it takes to put together a blog post).
As for strong opinions, taking a firm stance requires courage, but will set you apart from the content pack. Wouldn't you want to read an article titled "What Questions Are People in Your Industry Afraid to Answer?" or "15 Things to Remove from Your Website Immediately"?
Crestodina's final tip: Leverage relationships to spread your message. "An ally in creation is an ally in promotion," he said. So feature partners in your industry to make use of reciprocal generosity. Content optimized for social networks (made up of people) should include people!
Why Personalized Emails Are More Effective Emails
Now that emails are a cornerstone of ecommerce, brands are facing the challenge of delivering more customized nurturing experiences to potential customers.
That kind of personalization is something consumers are looking for, according to Liz Bedor, Senior Content Marketing Manager, Bluecore, and Bill Connolly, Director of Content Marketing, Olapic. A recent Accenture Interactive study found that 61% of U.S. consumers prefer relevant offers more than keeping their online activity private from brands. And 73% will buy from brands that use consumer information to deliver more efficient shopping experiences,
Sur La Table is one brand that's experimented with creative, personalized emails. The high-end cookware company will send shoppers recipe recommendations that incorporate products they previously viewed but didn't purchase.
Once campaigns like these are implemented, however, the challenge becomes creating enough diverse and relevant marketing content to engage customers along the funnel. As one solve, some brands have started trying to capture and curate high volumes of high quality UGC.
"If a lead has engaged with our content, they're twice as likely to take a meeting with us" – @shafqatislam #CMWorld pic.twitter.com/rgZNtFPEQt

— NewsCred (@newscred) September 8, 2016
How to (Finally) Solve the Content Marketing Attribution Problem
"The end goal of content marketing is business action, not eyeballs," said NewsCred Co-founder and CEO Shafqat Islam, who led off the second day of sessions.
Content marketing is not about simply publishing – it's key to measure the ROI. At NewsCred, we've been able to track the correlation between our content marketing efforts and business goals. Leads who engage with our content are twice as likely to take a meeting with us, and the average prospect engages with 20 pieces of content before they become a customer, according to Islam.
To start your measurement, solidify your business goals, whether they're brand health and awareness, conversions, or customer loyalty and retention. Then, determine how you'll measure your progress and success.
For example, for tracking brand health, consider how much your content's SEO strength saves you in equivalent SEM dollars. Unlike paid search, with SEO content you own the traffic and it will only grow over time.
Another correlation to keep an eye on is social shares versus follower growth. If both increase at related rates, your organic social shares are reaching the reaching the right audience for your brand (even if there isn't a large correlation between shares and ROI). In addition, search for your company's name on Twitter against those of your competitors and compare your market share – hopefully your share of voice of daily tweets comes close to matching expected levels of industry attention.
No matter your business objectives, according to Islam, the goal isn't to be good at content. The goal is to be good at business using content.
How to Use Customer Service and Community to Create Killer Content
Jay Baer, "the most retweeted person in the world among digital marketers," used his time on stage to set the record straight on the importance of customer service.
The numbers illustrate the disconnect: 62% of B2B customers purchase more after a good customer service experience, according to Zendesk. But research by Bain shows that only 8% of customers say they receive exceptional customer service – and 80% of businesses say that's what they deliver.
And despite annual spending of $500 billion each year on marketing, companies only allocate $9 billion to customer service.
"Content creation is a trio, not a solo act: marketing, sales, and customer service," said Baer. Content creation must work in conjunction with customer advocacy efforts. Baer encourages companies to turn community topics into content that will speak authentically to your most frank and vocal consumers. Monsanto, for example, has a customer forum, called "The Conversation," which addresses controversial views of the company by linking to educational pieces of content.
Baer also encourages companies to "hug their haters" by answering complaints in order to increase customer advocacy.
"Haters are not your problem; ignoring them is," he said.
Furthermore, because only 5% of dissatisfied customers complain in a way companies will know about, they should actually seek to increase the number of complaints they receive.
How REI Found Success with Long Form Content
While short form content works well for social media and paid distribution, it has limitations – there's only so much information you can convey, and it's hard to create meaningful engagement, said Eric Hess, Senior Content Marketing Program Manager at REI. With long form content, people have to stop and give their full attention. There's greater potential for brands to create emotion and meaning.
REI has rolled out a number of long form initiatives that proved successful. The outdoor brand has an expert advice learning library of about 400 articles, each around 3,000 words, that go deep into a topic (e.g. "Running Shoes: How to Choose"). Mobile users spend an average of 5.5 minutes reading each piece, and the section is the most highly rated on REI's website.
REI's recent "Every Trail Connects" long form video series features films that are each about six minutes long. The videos gained 2.7 million views, with a 50% completion rate on YouTube. 73% of the videos had a 100% completion rate on REI's site.
Besides building brand awareness and loyalty, there are other key business reasons for creating long form content.
"Long form isn't just cool, it's useful for: 1. SEO 2. Extending content's reach," said Hess.
Long form content tends to rank better in search because the articles cover more keywords, are often more authoritative, and get more links and shares (perhaps because people have spent longer engaging with the pieces and want to share what they've learned).
In addition, resource-strapped content teams can create blog posts, infographics, gifs, videos, and other shorter forms of content from long form pieces. In doing so, brands can tailor content to various distribution channels and maintain message consistency.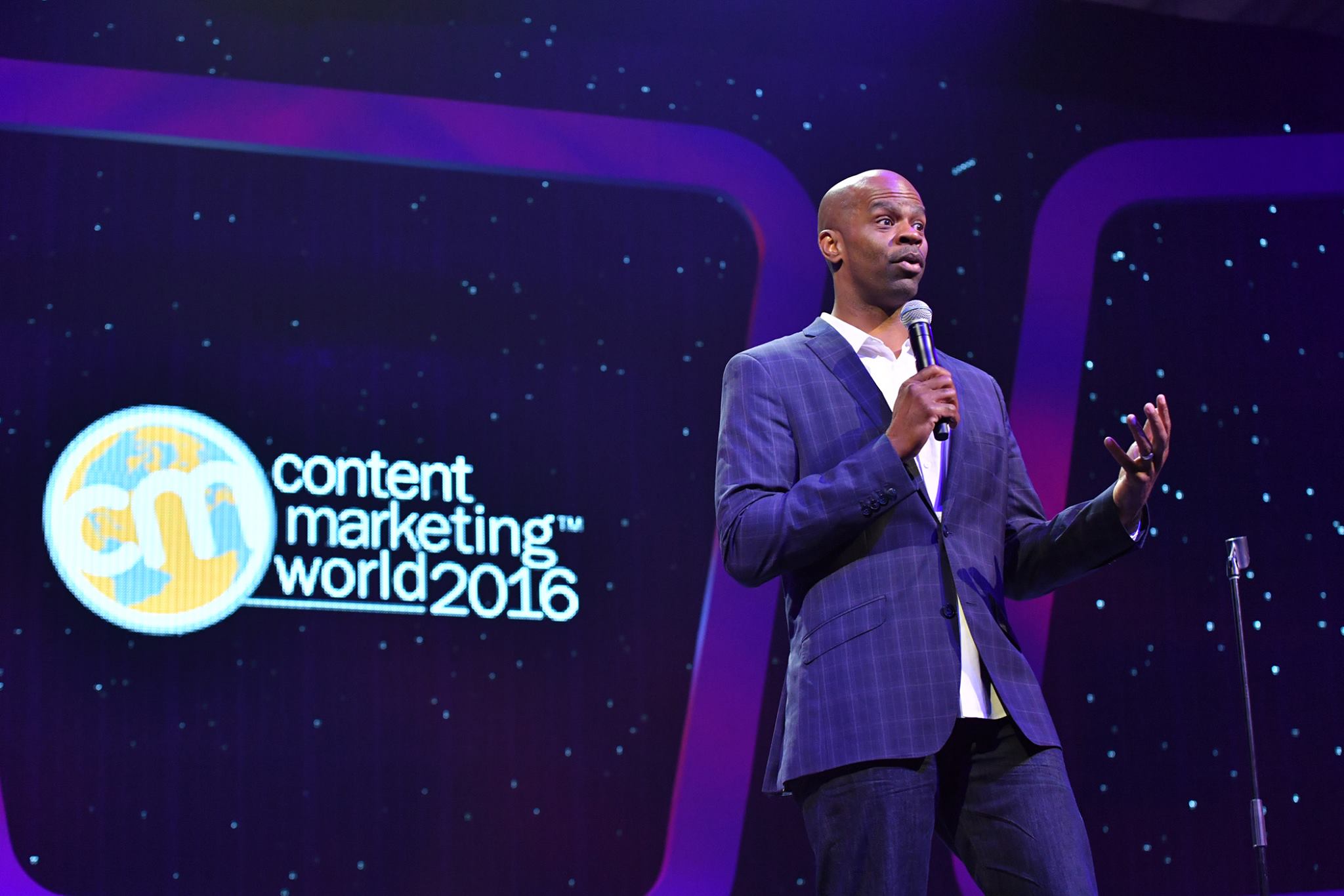 Why to Find Your "Why"
In a morning keynote that brought the CMW audience to its feet, comedian, author, and director Michael Jr. explained how comedy works in an amazingly similar way to content marketing: You have your setup that moves people in one direction, then you deliver a punchline that gives both listeners and the deliverer revelation, fulfillment, and joy.
According to Michael Jr., your punchline will be even more powerful if you know your "why" – your inherent reason for doing what you do.
"If you understand your 'why,' your 'what' has more impact," said Michael Jr.
For Michael Jr., his setup is doing comedy. His punchline is bringing laughs to underserved groups: performing for those in prison, homeless shelters, homes for abused children.
By finding your own punchline and connecting your content to your "why," your message will be more authentic and better speak to your mission; that will make it more powerful. And that should result in more people actively engaging with your content rather than passively consuming it.
Brian Caulfield is a Program Manager at NewsCred. Heather Eng, Managing Editor at NewsCred, contributed to this report.
Originally published on Sep 12, 2016 10:00 AM