Content marketing jobs are in higher demand than ever before, and salaries for content directors are on the rise, according to Conductor's annual Inbound Marketing Job + Salary Guide. That indicates that companies are increasing their investments in content marketing and looking to pay more for qualified talent.
Conductor's salary guide, which crunched publicly available data from numerous careers sites, including Glassdoor, Payscale, LinkedIn, and Indeed, sheds some insight into the state of content marketing today.
Among the top takeaways: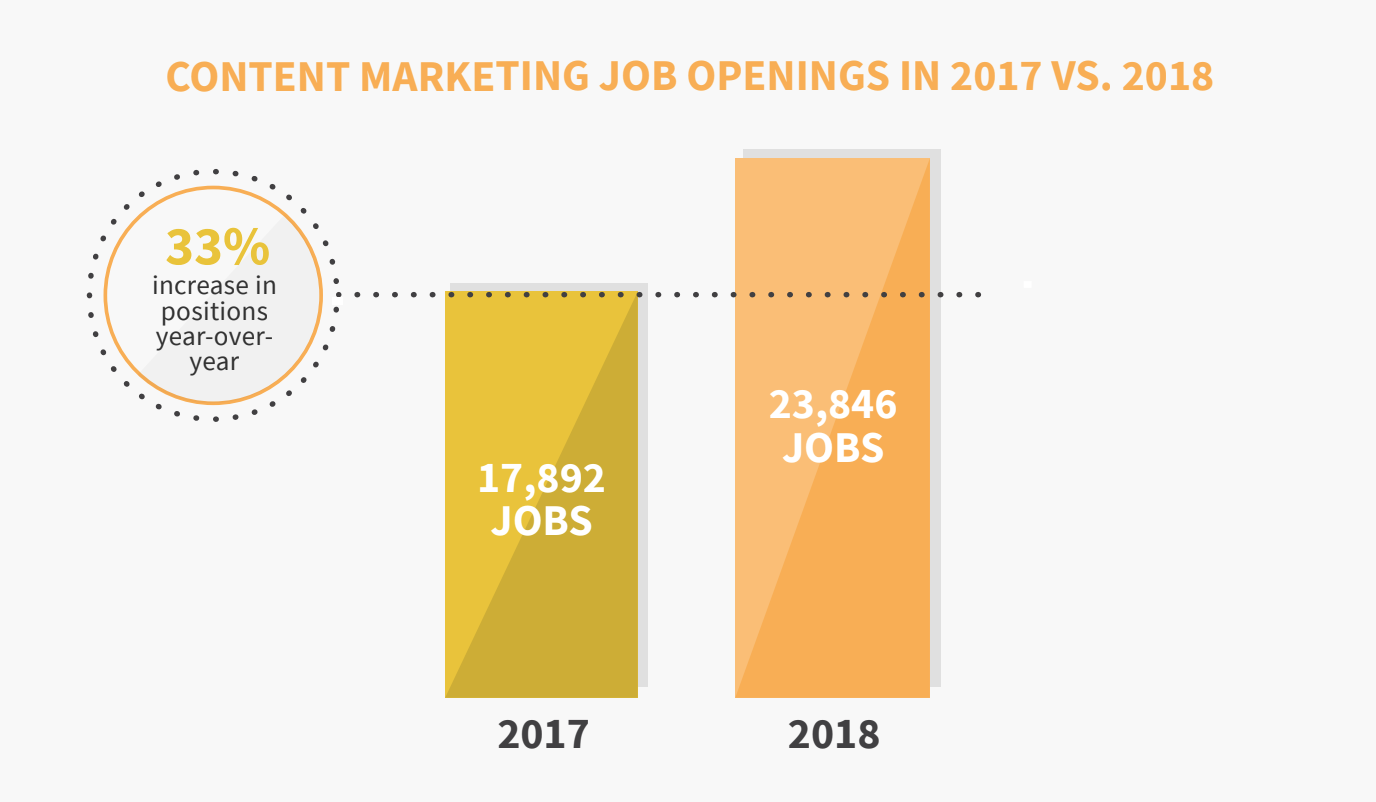 The number of open content marketing jobs have increased 33 percent between 2017 and 2018.
In 2018, there are 23,846 open content marketing jobs, compared to 17,892 in 2017. This increase shows that the content marketing field is maturing and more companies are seeing a need to integrate content into their marketing strategies.
"Organizations across every vertical are recognizing the importance of value-driven marketing: creating assets that build trust with savvy audiences, and bringing value to current and future customers. That's what content marketing is all about," says Christine Schrader, Content Marketing Manager, Conductor. "As companies continue to invest in and embrace content as an essential and high-impact part of their marketing arsenal, we expect to see this trend continue."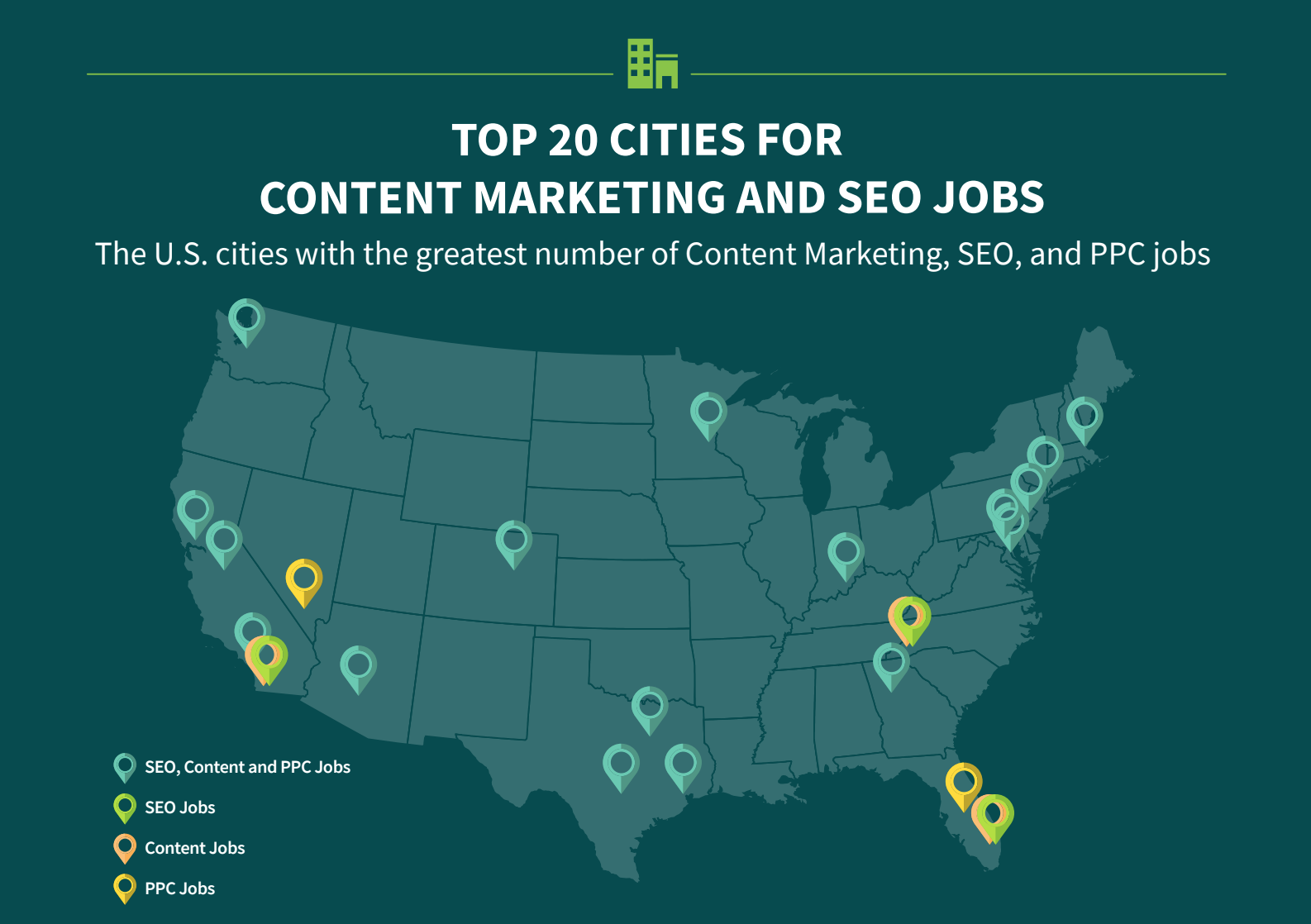 Content marketers in New York, San Francisco, Los Angeles, Washington, DC, and Boston are in luck.
Those are the five U.S. cities with the greatest number of content marketing jobs.
Content director salaries have increased 13.08 percent since last year.
The average salary for a content director is now $87,142, which is a 13.08 increase from last year. This role has seen the largest pay jump in this year's survey.
"Senior content-specific roles used to be the exception; now companies recognize the need for much more focused, strategic, goal-oriented content aligned with business goals," says Schrader. "That means that content professionals who have broadened their abilities to incorporate broader marketing strategy and business considerations are highly valued, and organizations are willing to invest in those positions."
However, there's a wide average salary range for all content marketing positions.
In the United States, the average salary for content directors ranges from $42,000 to $155,000. Similarly, the average salary for a content manager spans $32,000 to $108,000. Average content marketing specialist salaries range from $25,000 to $95,000.
"The large ranges for average salaries across content positions are largely due to changing dynamics in the marketing field as content becomes more prominent in organizations," says Schrader. "We expect to see those windows narrow regionally as those titles become more standardized across organizations and 'content' becomes less of a catch-all and more of a specialization."
Content marketing requires a number of digital marketing skills.
True to its name, content marketing requires both creative and strategic skills. In addition to writing and editing, content marketers also need to be proficient in SEO, social media, and strategy development – because to be successful at content marketing, you must produce high-quality content and have a robust distribution and measurement strategy to ensure that your audience will see it.
Forty-four percent of content directors list SEO as a skill, as do 48 percent of content managers, 36 percent of content strategists, and 30 percent of content specialists. Those job roles also list social media as a top skill.
"Content marketing is a comparatively new field, and in the past, we often found content teams led by managers and directors from other functions like demand generation or merchandisers," says Schrader. "That's changing. Content marketers are being promoted into those mid- and senior-level positions. We are seeing a lot of growth within content teams, particularly mid-level editorial positions that feed into content director positions.
"Our biggest piece of advice is to keep larger marketing strategy and business goals in the content conversation, and continue to evangelize the importance of content across all marketing initiatives. That is the way marketing today is developing, and the professionals and organizations that are at the forefront of the new mode of value-driven, customer-first marketing will be the best positioned for success in their individual careers and in their marketing results."
For full details and average salaries for content marketing jobs in different cities, see the full Conductor Inbound Marketing Job + Salary Guide here.
Heather Eng is NewsCred's Executive Editor.
Thank you for subscribing!
Our best content will now come straight to your inbox.