For the past five years, the Content Marketing Institute has released a series of annual reports that delve into the aptly titled "Benchmarks, Budgets and Trends" of our blooming industry. The CMI works hard to monitor the field and understand its ever-changing parameters, consistently shifting their definition of content marketing and all it entails. This year's interpretation?
"A strategic marketing approach focused on creating and distributing valuable, relevant, and consistent content to attract and retain a clearly defined audience—and, ultimately, to drive profitable customer action.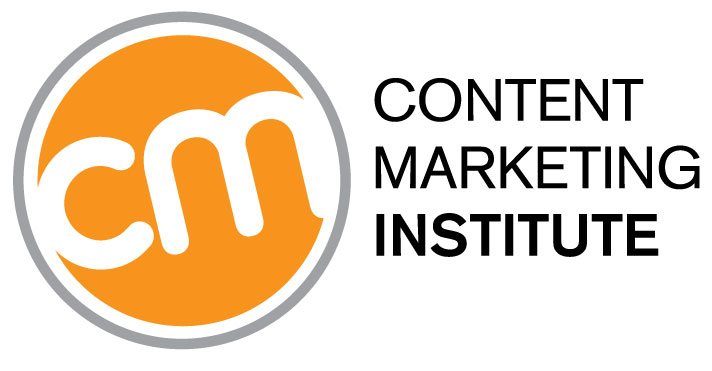 In other words, content marketing is no longer merely about "creating and distributing," it's blossomed into a business in its own right. As people-focused marketing takes over the industry, we're starting to realize that the difference between B2C and B2B processes is becoming increasingly narrow.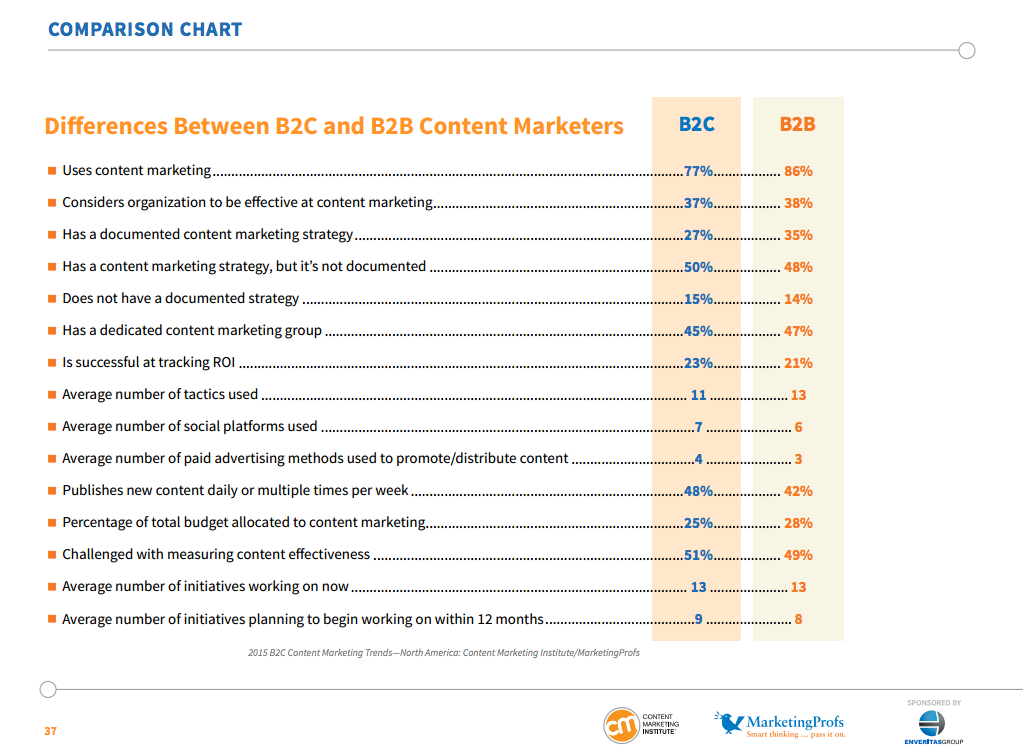 This year's CMI reports reinforce that truth, and shine some interesting light on what we can do to optimize our practices. Useful, given that only 23% of B2C marketers and 21% of B2B reported successful tracking of return on investment (ROI) in their content efforts. There are, however, some steps that we can take towards better understanding.
Documenting Your Content Strategy
CMI states that 43% of B2C and 60% B2B marketers who implement a documented content marketing strategy report higher success in effectiveness and understanding ROI. That means that simply putting your strategy into organized writing can send you well on your way to developing a deeper comprehension of your ROI. Nevertheless, a shocking 50% of CMI's sample has until now limited their content strategy to simple verbal exchange.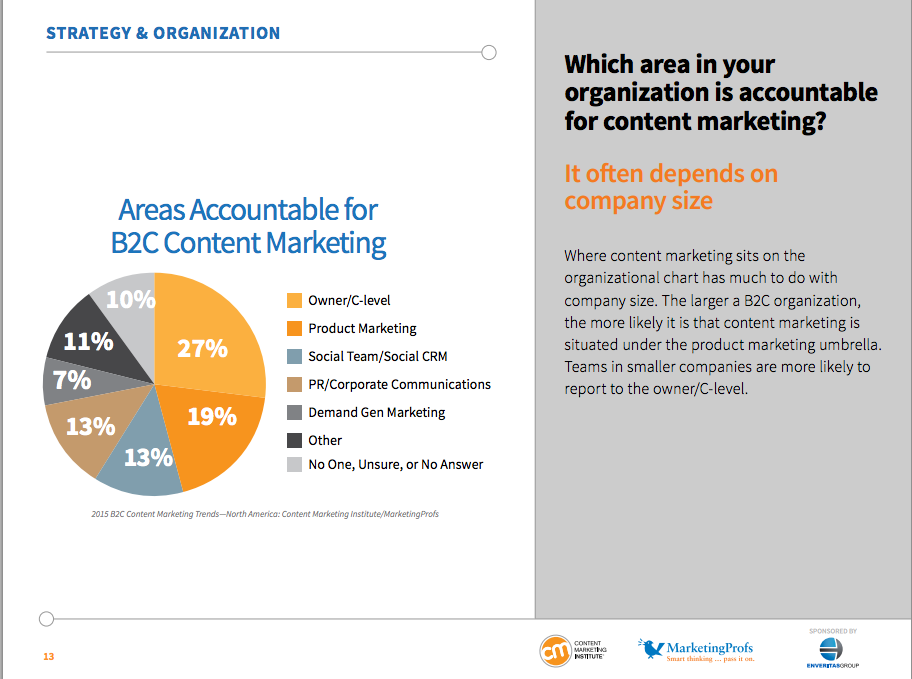 Who's responsible? Numbers and ratios were strikingly similar in B2B practices.
With just 45% of B2C marketers working with a dedicated content team, that number becomes a little less surprising. Although blog usage has dropped five percent over the last year, content is certainly on the rise – about 70% of both B2C and B2B marketers are creating more now than they were in 2013, while the use of branded content tools like apps or online trackers and calculators went up a whole 10%.
In any case, keeping a written-out and structured account of your content marketing strategy seems to be the key to at least some success. The 27% of respondents who were found to document their strategies reported higher efficiency throughout their entire content formula and routine, including better luck with tracking ROI and greatest overall content creation and output. 
Stay Focused
The trick is sticking to it. If you have a strategy, follow it. When it comes to effective measurement, the more variables you can remove from the equation, the better. Adhere to what you've set up for yourself so you can test and study results more logically and plan out your next moves within a stronger framework. After all, 52% of the most effective B2C marketers report following their documented strategy very closely. Leaving out this step is like writing a term paper without an outline; doable, but so much simpler and smarter with a solid road map.
Getting Started
Further CMI findings to get you thinking as you sit down to draft up your plan:
B2C initiatives target an average of four audiences, while B2B companies target however many are appropriate according to their size.
The top five content marketing tactics among B2C marketers are: non-blog social media content, e-Newsletters, articles on your website, illustrations and photos, and video. For B2B counterparts, the use of infographics went up almost 10% since last year.
In terms of effectiveness, however, the top five come in as: e-Newsletters, in-person events, illustrations and photos, non-blog social media content, and blogs and videos tied for fifth.
Usage is steadily increasing across all tactics, with the exception of online articles, which was steady, and the aforementioned five percent dip in blogs since last year.
Social Media
It's no surprise that social media comes out on top when looking at content marketing strategies. In fact, the average number of social media platforms in use by B2C marketers has bumped up to seven networks from last year's six. The top five are Facebook, Twitter, YouTube, LinkedIn, and Google+, with Pinterest and Instagram trailing behind, which is interesting considering the growing importance of visuals in terms of engagement practices.
As with the increase in activity of almost every type of tactic, usage across all social platforms – with the exception of LinkedIn, which remained steady – has skyrocketed as well. For 94 % of B2B marketers, however, LinkedIn remains the platform of choice. Facebook, on the other hand, has unsurprisingly been rated the most effective B2C sharing network, though it looks as though "confidence in it dropped four percentage points" since last year.
Getting Down to Business
Naturally, none of this matters without the actual product: content. You need to be creating something to be pushing it out – ideally, a lot of that something. Forty-eight percent of B2C marketers report that their organizations publish new content daily or multiple times per week. Note: that's six percent more than their B2B counterparts.
Paid advertising is naturally part of a healthy marketing mix, and CMI found that B2C marketers use four paid ad methods on average while 92% use at least one paid method to promote and distribute content. Among their preferred methods are print or other offline promotion, search engine marketing, social ads, promoted posts and traditional (non-effective) online banner ads, and native advertising.
Interestingly, B2C marketers use slightly more paid approaches than B2B teams, and make use of a wider variety of avenues for said content. While print and offline promotion may come in at number one with 71% of B2C marketers claiming usage, only 46% of them actually think it's effective. Maybe that's one reason why in contrast only 52% of B2B marketers partake, preferring search engine marketing instead.
Spending Money to Make Money 
When it comes to spending, CMI found that 25% of a B2C organization's marketing budget is spent on content marketing. They also discovered an exciting correlation between effectiveness and the amount of budget given to content. "The most effective B2C marketers allocate 29%, on average, whereas the least effective allocate 17%. B2C marketers who have a documented content marketing strategy allocate even more budget (32%)."
What's more, 59% of B2C marketers – including 55% of the most effective and 61% of the least effective – revealed plans to increase content marketing spending over the coming year.
Measuring Success & Looking Forward
The plan to increase content spend is good to hear, considering the 15% jump in B2C marketers reporting that their biggest challenge is measuring content effectiveness. Slightly less daunting is producing engaging content, lack of budget, and producing content consistently and with enough variety. B2B marketers are similarly stumped when it comes to measuring success and creating perfect branded content, while 32% reported difficulty in actually finding trained marketing professionals to work with. That's 22% more than last year, and we're happy to see that the search for content marketers is on the up and up, regardless of whether you're catering to businesses or individuals. 
To keep informed and inspired; this is what your B2C industry colleagues are currently focusing on:
Converting more visitors on website: 65%
Creating more engaging/higher-quality content: 62%
Becoming better storytellers: 61%
Optimizing content: 61%
Organizing website content: 61%
This is how they majorly differ from their B2B counterparts: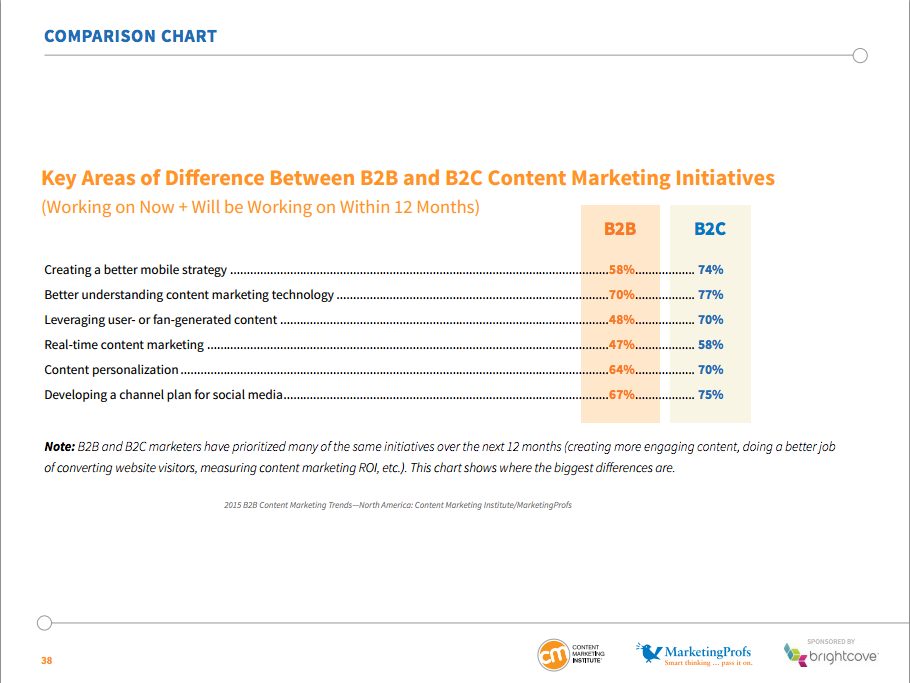 Here's to 2015, which is sure to surprise and delight as all sides continue to innovate and this exciting field continues to evolve.
Check out the full B2C and B2B reports right here:
Anastasia Dyakovskaya is a writer, editor and creative consultant from New York City. When she's not writing for NewsCred, she's developing copy and editorial for brands and tech startups. When she's not working, she's likely behind the camera or planning her next adventure. Follow her @worldinquestion.
Originally published on Oct 22, 2014 11:15 AM, updated Sep 7, 2016