How do marketers in the travel space succeed at content marketing? This question was on the minds of over 150 marketers seated in a content marketing session during HSMAI's Digital Marketing Strategy Conference in New York City. With small margins and constant competition, travel marketers are always looking for an improved return on their digital dollars. It's no surprise that conversions are front and center when evaluating the success of most marketing programs. Though it might seem that content marketing falls into unfamiliar territory, a well-documented strategy can lead to positive ROI.
Below are the top six themes we took away from the event and relevant takeaways to help content marketers from any industry.
Know who you are and whom you are speaking to.
Identifying a target audience is perhaps the most basic tenet of marketing but when it comes to content, fleshing out your brand's unique selling proposition is incredibly important.  Proprietary content unique to your brand will engage audiences and can also highlight ways that your brand stands out from the crowd.
Consider crafting content pillars that are distinct to your brand and audience. To do this, try to understand who your customers are and why your brand is relevant to them. Determine what content would be the most compelling and relevant. Create and distribute content that truly creates a personalized experience that your customers won't forget.
What do you visualize when you think of Four Seasons Hotels and Resorts? Exotic locations? Luxury bed linens? Once in a lifetime experiences? Four Seasons is the destination for the world-class luxury traveler. They created a premium online travel magazine for their audience that complements their brand position in the market. By continuously producing best-in-class content, not only are visitors drawn to return and engage with their content but they also have a reinforced image of what Four Seasons represents in the hospitality space.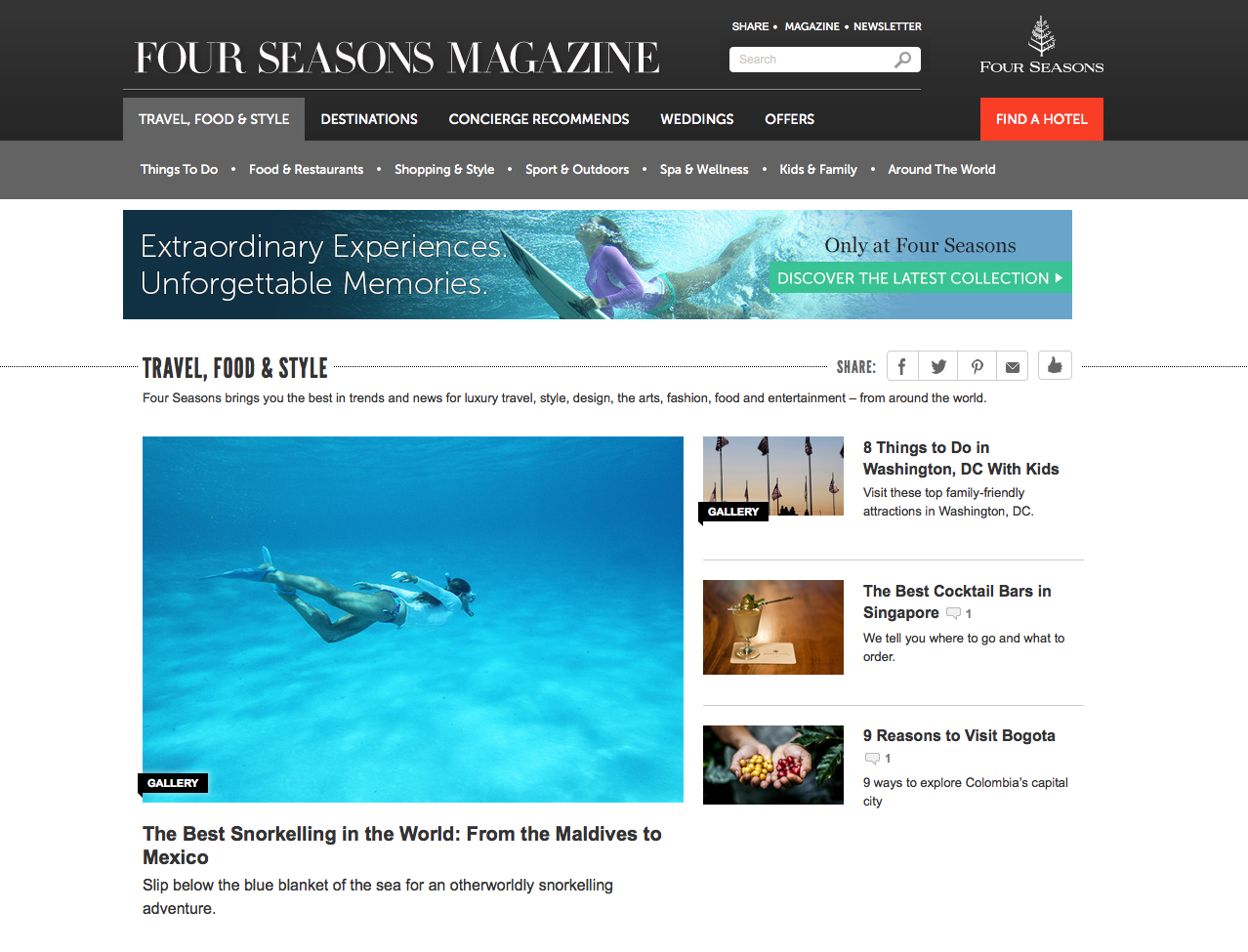 Takeaways
Four Seasons stays top of mind with its affluent audience by providing content at every step of the buyer journey. From creating content for those looking for their next adventure to highlighting Instagram photos and other UGC content from current guests, Four Seasons knows exactly how to reach their demographic. For more on Four Seasons' content marketing success, check out our case study on SlideShare.
Travel is emotional. Treat it that way.
Digital advertising has come a long way, however, it is still incredibly challenging for display ads to create an emotional connection. In contrast, storytelling captures the hearts and emotions of consumers. Stories make people feel something; they create a connection. Leveraging the emotional element of travel and connecting with consumers through shared experiences is the most effective and powerful way to really relate to your audience.
It is essential to find the balance between creating inspirational content in addition to promotional content. Using emotion as a connective thread can help consumers view your brand differently. No longer will they look at you as "the best price on Expedia" or "a place to sleep for the night" but rather "the only place to stay for a memorable weekend getaway that won't be forgotten."
Airbnb leverages emotion to create communities for hosts and guests. During the 2015 holiday season, more Americans than ever were traveling on Airbnb to celebrate. Hosts were able to generate additional income and guests were able to find affordable and comfortable places to stay to be with family and loved ones. Airbnb decided to share those numbers not only with their hosts but with their guests who make the community possible. Their report humanized an otherwise chaotic and hectic travel week and tied in the emotional connection that hosts and guests feel towards the Airbnb brand.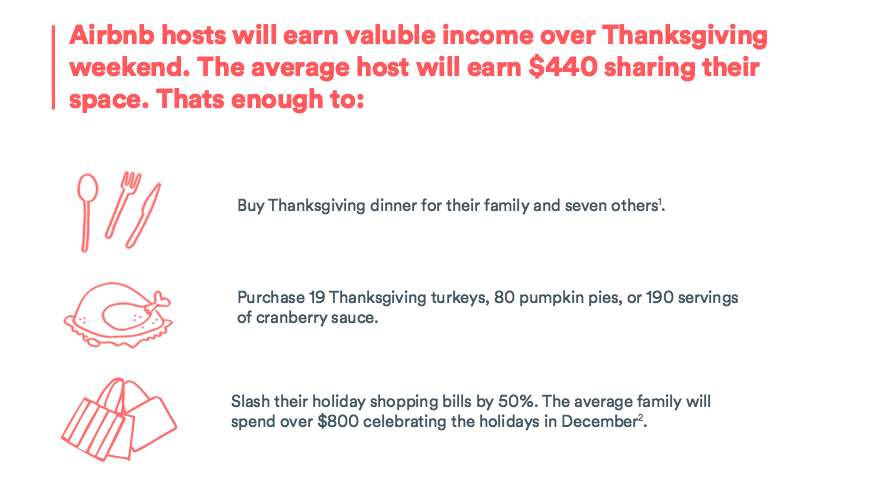 Takeaways
Creating authentic experiences is a two way street, and Airbnb understands that facilitating self-expression is the key to creating lasting relationships with consumers. Eric Toda, Head of Global Social Marketing at Airbnb, confirmed that they encourage their audience to "storyMAKE not storytell," during our #ThinkContent Tour in San Francisco this fall. By allowing consumers to have some freedom in how they interact with content, the bonds become more emotional and less transactional – a tough feat in the travel industry. To see more from Airbnb at #ThinkContent San Francisco, click here.
Your customers are mobile and you should be too.
Today, consumers own multiple devices and have shorter attention spans. The fact that consumers are mobile doesn't stop them from consuming content. Create content that breaks through the noise and compels someone to engage and share – not just click.
It is essential to build mobile responsive sites and content assets that look good on a variety of screens. Make sure that the experience is consistent from email and social to your brand site – no matter what device the user is viewing it on.
Hilton has elevated the customer experience by creating a mobile app that allows guests to bypass check-in, unlock their hotel room, make arrival requests, and order room service. Hilton thought through the connected consumer journey and made the inconveniences of travel easy or as they put it, "We make it all easy. The way that planning a trip should be."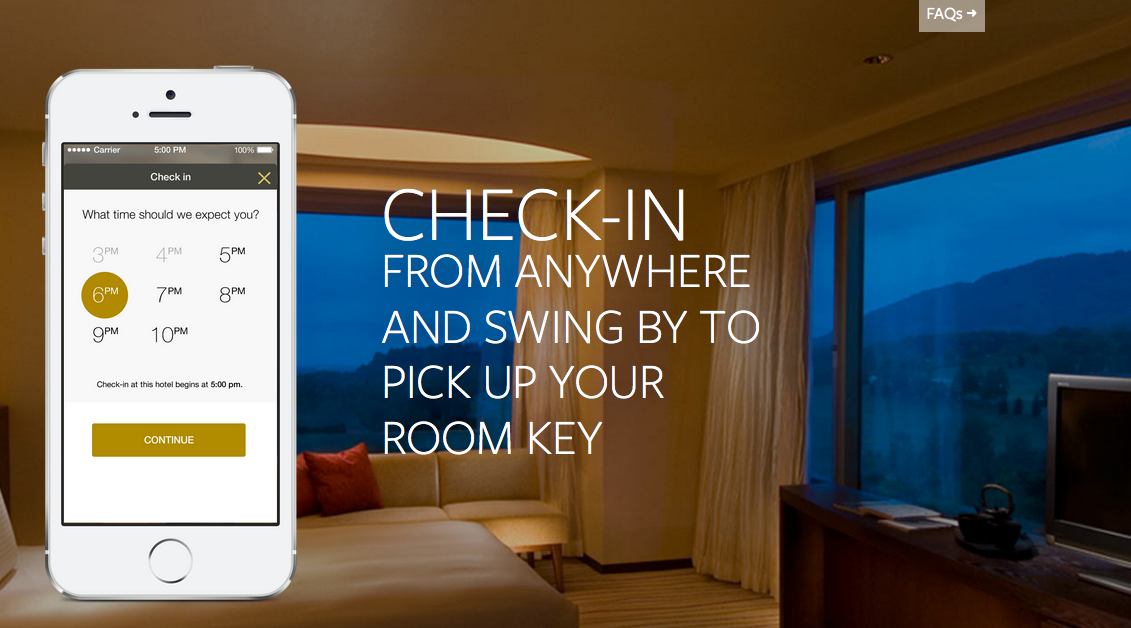 Takeaways
One of the most effective and simple ways to engage your audience is to create a cohesive experience across all of your owned properties. By following Hilton's example by maintaining constant branding and unparalleled customer service, brands have the ability to reach consumers across multiple touch points from social to mobile. Just make sure to triple check the usability of your site across devices to make sure the customer experience is in tip top shape at all times.
Content is king. Duh.
Customers engage with various forms of content – blog posts, area guides, promotional videos – in different ways each day. How do you ensure that your content breaks through the noise and captures the attention of your target audience? A varied cadence of content (editorial, visual, video, UGC, promotional, etc.) will keep audiences engaged and content fresh.
Your content strategy must align with the customer journey. This allows you to deliver content that is relevant, valuable, and personalized to customers, accelerating them through the funnel, and driving customer retention. (Don't forget your loyalty program members!)
Marriott created an original short film, Two Bellmen, that went viral and gained traction among the brand's key demographic. This action comedy about two bellmen who prove their loyalty and commitment to delivering great customer service makes Marriott a more relatable brand who broke through the typical promotional noise.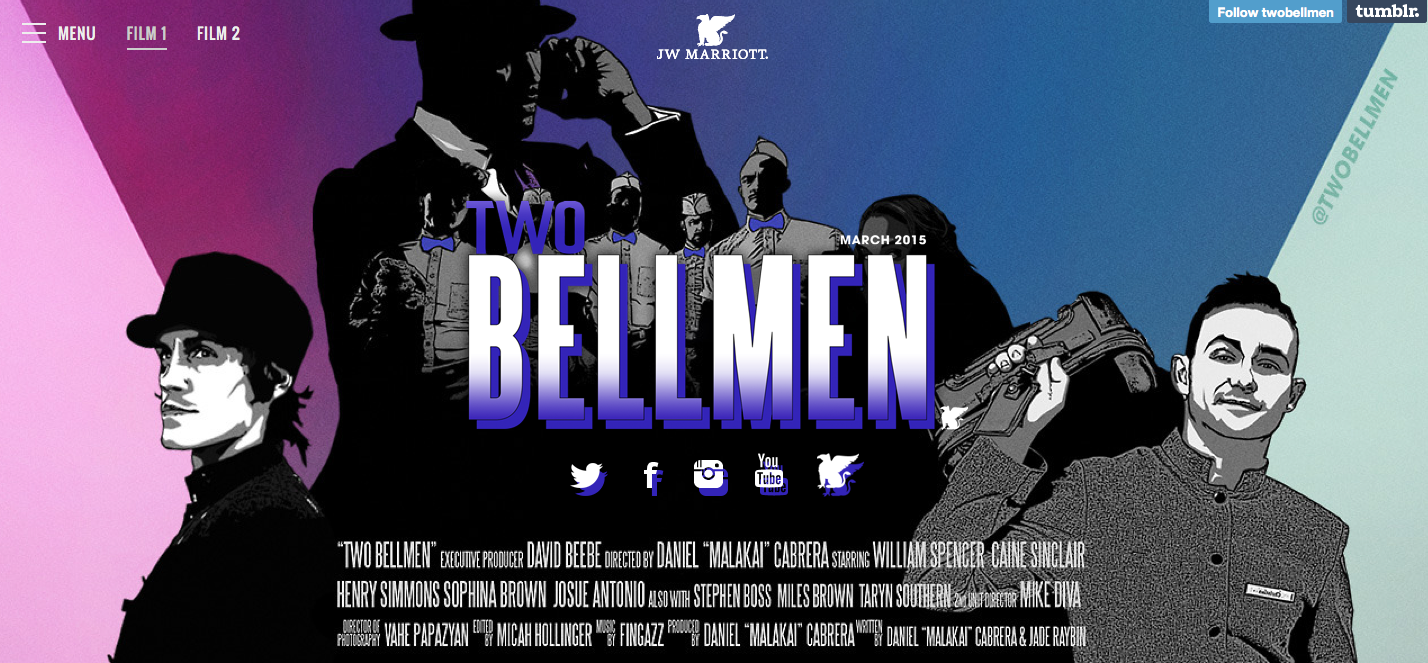 Takeaways
Sometimes you need to take a risk to see the return. Sure, it can be daunting to create out-of-the-box content like a film, but the potential to break through the noise becomes exponentially higher. That's why Marriott doubled down on its content creation in 2014 and took a leap by breaking into the entertainment space. While it might not make sense for every brand to follow this path, it certainly is valuable to see how less traditional content can play a major role in creating engagement and moving the needle.
Don't ignore distribution
Great content is awesome, except when no one sees it. Making sure your brand has a strategy in place to drive customer engagement – email newsletters, organic social posts, SEO, paid media campaigns, etc. – is key. Consider adding social sharing widgets to encourage customers to share because it's easy.
Content distribution performs best when it's meant to align with and optimize other marketing programs. The location and referral traffic of high-performing content can help travel brands make decisions around where to invest or reinvest marketing dollars.
Skift distributes a daily content roundup email to amplify and scale their brand. They also make sure to post current content on their social media channels at multiple times throughout the day. Skift has become one of the most reliable resources for travel marketers not only because of their quality content but because they have various channels in which they are able to effectively share with their audience.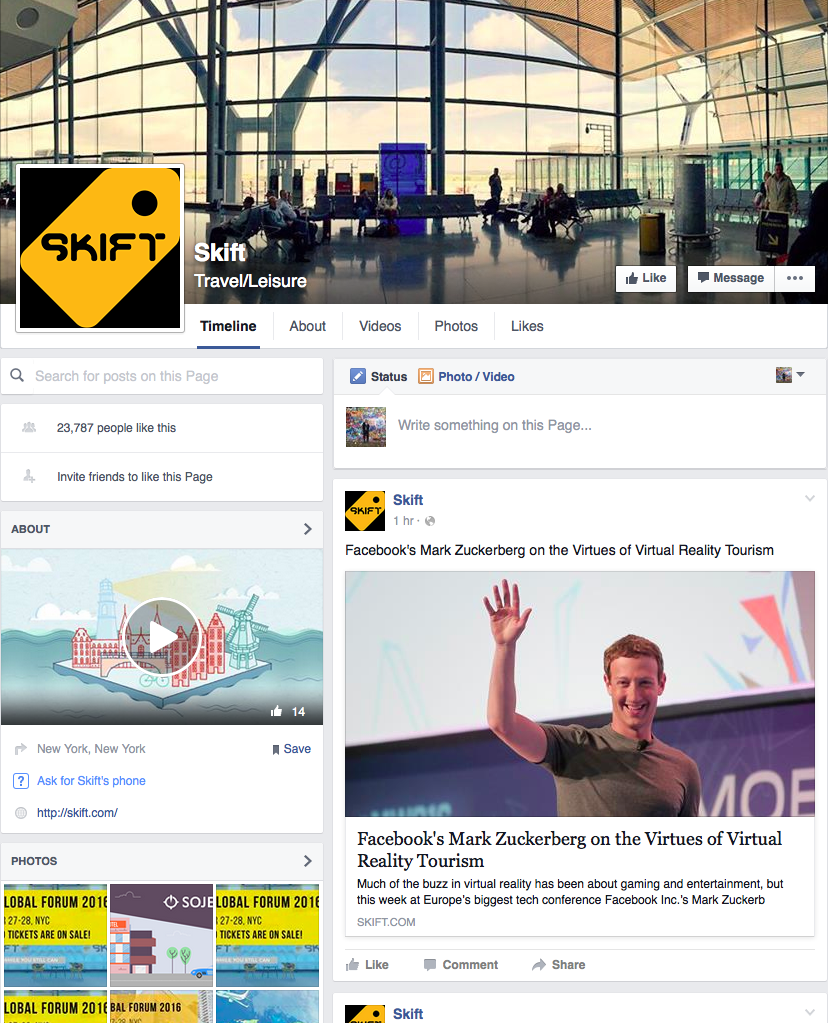 Takeaways
One of the biggest and most common mistakes that brands make is focusing too heavily on content creation and far less on distribution. While creation is half the battle, the other half is making sure you're getting your content in front of the right people at the right time. For this, it's essential that brands use an analytics tool that can give actionable recommendations about top performing content. This type of measurement should answer these questions: Why did this content perform well? Who was engaging with the content? How does this stack up against the competition? Once you have these questions answered, you'll be able to create a solid distribution strategy based on hard data rather than hypotheses.
Conclusion: put it in writing.
Craft a strategy that can be shared throughout all teams (content, social, brand marketing, agencies, etc.). A written strategy will help you decide what you want to talk about, when you want to talk about it, and how you plan to measure.
Evaluate operationally effective ways to scale your strategy and the impact these methods will have on how you work. How easily can the process scale as you increase your publishing cadence? What seasonal topics are of interest to your audience that align with your strategy? What content is the most successful and how can we create more of it?
Overall, the HSMAI Digital Marketing Strategy Conference was full of valuable information for both global and local travel marketers. When it comes to content, leverage the tips above to create content campaigns that stay true to your brand and resonate with your customer – no matter what industry you work in. My only recommendation, let's host the next HSMAI event some place sunny and warm. A New Yorker needs her sunshine fix during these cold east coast winters!
Alyson Casey is the Director of Travel, Entertainment, Transportation and Dining at NewsCred.
Thank you for subscribing!
Our best content will now come straight to your inbox.