When we think about content marketing and demand generation, it's easy to get caught up in the acquisition bubble. How much did that lead cost? How many new leads did we generate this week? Particularly for marketers who come from a direct marketing background, it can be hard to see past the allure of the net new lead. However, in our new world of content marketing, correctly retaining and nurturing existing visitors with content is often the real key to driving more traffic.

What's so important about retention?
Content marketing is a marathon, not a sprint. Unlike many traditional forms of marketing, the success of a campaign is often not achieved through a single touch point, but instead comes from relationship building with a collection of quality content. In NewsCred's own case, an average customer interacts with 14 pieces of content throughout the sales cycle. Particularly for content hubs, creating an environment where visitors return and engage with content is the strongest way to achieve success and prove ROI.

The trouble is that many marketers new to content marketing simply don't have a plan set up to retain and capitalize on their audience. They place too much focus on the net-new visitor and don't strategize about how to use their returning visitors as content ambassadors. By relying on the same marketing methods that have worked in the old world of demand generation, marketers often look at results as a failure in content marketing. This is not the fault of marketers but is a consequence of entering the new world with an old guidebook.

So what can you do to drive returning visitors and create influencers from them?
1. Build a Strong Newsletter Database
There are few marketing channels as dependable as your newsletter for regular traffic, high engagement rates, and high returning visitor rates. However, unlike many other channels, your audience cannot be bought – it must be earned.

Once you earn a newsletter subscriber, you have acquired a reader who not only is a good fit for your content but is also giving you explicit permission to keep sending your content to them. This invitation creates a list that delivers open rates higher than purchased lists, with engagement rates that cold outbound emails could only dream of.

More importantly, this highly engaged audience is where your nurturing efforts will often move a passive reader to a likely prospect. In NewsCred's recent case study, we highlighted that every time we promote a webinar to our newsletter database, 20% of all registrants who filled out a multi-field form were previously an anonymous email address in our database.

Newsletters that provide quality content on a consistent basis are also easy to share, and can become vehicles for net-new leads themselves. Particularly for B2B newsletters, strong content frequently gets shared with team members and colleagues. To capitalize on this, test various calls to action in your newsletter to encourage sharing.

Building a newsletter database takes time and is primarily fueled by having high-quality content, but there are a number of steps you can take to capture as many as possible.
1) Content Pop-Ups
Now, before you cry hypocrisy, pop-ups still remain the strongest method of acquiring new subscribers. While it's true that the use of AdBlockers has (rightfully) been on the increase, pop-ups still have a very valuable place in the acquisition toolkit.

If you get your content strategy right, you'll begin to drive visitors to your site from referrals and organic traffic, where they will frequently have little to no knowledge of your content. Pop-ups provide a great tool to prompt them to receive more content like the type they're currently reading.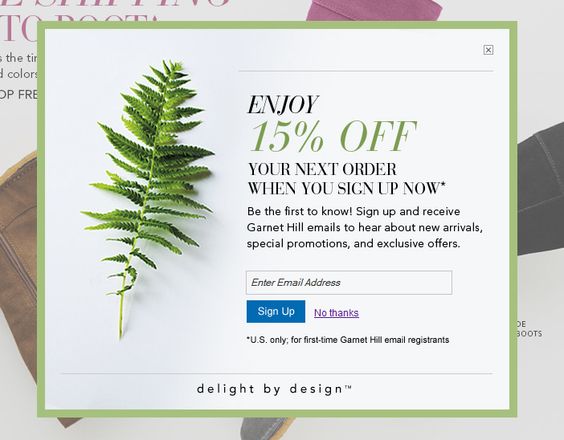 In fact, on NewsCred's own blog, we have tested newsletter sign-up options in all different locations on the page, and the pop-up still accounts for 70% of all new signups. Creating a successful pop-up is a topic that easily warrants its own post, but here are some useful tips to optimize the effectiveness:
Delayed Pop-Up: If your pop-up appears instantly when a visitor arrives to your content, then you're not providing value – you're negatively impacting the user experience. You want to make sure you've left enough time for them to sample your content before they're ready to give their information away. This also ensures that those who fill out your form are more likely to keep engaging as they are a better match than those who fill out a form mere seconds in. Finding the right balance is the key. Test different time intervals until you find the highest performer.
Create Compelling Copy: The difference between a helpful pop-up and a hindrance is in the copy. If you don't provide enough reason for readers to give away their email address you're only interfering with their experience. You're trying to build a relationship with this reader and your copy should reflect that. Testing will be your best friend here.
2) Static Placement
Though it likely won't yield the same volume as your pop-up, it's still smart to diversify your sign-up options. Placing a static sign-up box on your page will provide you some comfort against the ever-increasing threat of AdBlock. Just like your pop-up copy, compelling reasons to sign up will make all the difference. Don't just settle for a box with a submit button. Play with the button text to create a module that calls attention to itself and draws the reader in.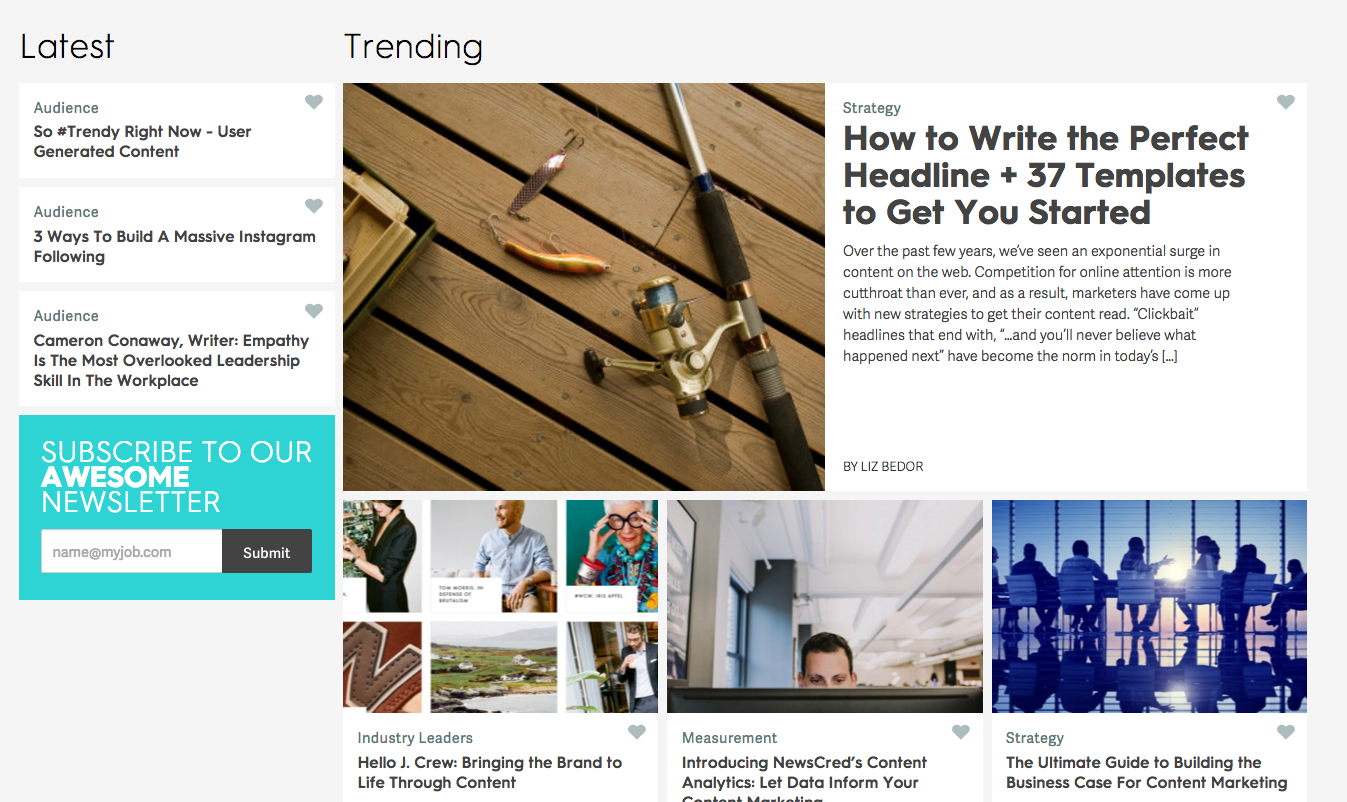 Tracking will also be a key aspect here. There is no one winning placement on the page, so test all different options until find your winner. Be sure to give each form a unique identifier so that you can track the success rates of each and learn the winner.

Once you've set your content hub up with some sign-up calls to action, you'll be in a strong position to capitalize on each piece of content that you create, particularly once you start building organic traffic. As dependable as email newsletters are for traffic, it's also important to recognize the massive opportunity that is social.
2. Create a Customized Nurturing Program
While your newsletter is an element of nurturing, there is much more you can do to bring a visitor back to your content and further down the sales cycle. Marketing automation software such as Marketo, Pardot, and Eloqua, offer nurturing stream that allow you to set each lead that enters your system on a preset path of emails over a course of time. The key is to build a stream that provides relevant content to readers, and opportunities to move closer to being a customer.

To do this, you need to think about one question – how can I personalize the audience journey? The days are quickly vanishing where a "one size fits all" strategy will work. Audiences everywhere are expected a tailor-fit experience and failure to deliver it will result in ignored emails and lost visitors.

So how do you give them an experience that matches their needs? When it comes to content, by tagging and categorizing your content correctly, you can use your marketing automation software to deliver relevant content to bring leads back to your hub. By utilizing tokens, and thinking about bundles, you can create experiences that are more valuable and unique, without necessarily building large and complex streams.
Email recommendation examples from Pinterest

3. Utilize News Aggregators
Our increasingly busy lives have made apps like Flipboard and Feedly incredibly popular. If you're not building a strategy to capture these users, you could be missing out on volumes of lost returning users. For many readers, not having a presence on these and other apps means you're simply not able to get their attention.

Flipboard, which boasts an incredible 80 million users, allows users to create 'boards' which collect content around topics and interests. Board creators can attract followers by curating strong and consistent content and become powerful influencers themselves. As they find content that sparks their interest, they 'flip' it into their board to both keep it themselves and also to share it with their followers. The power of these influencers can't be understated. For example, the Recipes board has 1.4 million followers. Getting featured on one of these boards could be a huge driver of traffic, all from nurturing readers to become flippers.

Reddit, the self-proclaimed "front page of the internet", boasts an astonishing 231 million unique users generated an absolutely incredible 8.19 billion pageviews per month. Broken up into communities called 'subreddits', it has literally hundreds of thousands of groups from topics as broad as 'Funny' (10.8 million subscribers), to as oddly specific as "Squirrels Eating Unconventional Things" (which has over 1,200 subscribers). Users 'upvote' for content they like, and 'downvote' things they don't, and those that really resonate often go on to become internet-wide viral hits within just hours.

A word of warning about Reddit – there are few places on the internet where clearly corporate content hidden as user generated content receives much backlash. In fact, a highly active subreddit called 'Hail Corporate' exists solely to gather posts that scream of poorly thought our corporate viral campaigns. If you're looking to make it big on Reddit, focus on creating genuinely high quality content, and spend some time looking for the right audience. There are no guarantees, but if you succeed, the payoff can be enormous.

With Feedly, which has more than 15 million users, readers curate their own topics, allowing them to keep up-to-date on their interests without needing to check in with multiple newsletters, open multiple tabs, or any other complex filing system of high value blogs. They simply all show up under one channel as new content arrives.

If you're not part of these environments, you may be losing out on countless visitors who are interested in your topic. So how to do you get in on this?


The simple answer is to make those options available and easy on your content hubs. Whatever CMS (content management system) your content lives on, you'll likely find a vast array of sharing and pinning options to help you get these options on your site. Make sure that your content is easily shareable, and that these options are clearly visible without harming the user experience.
Summary
Creating quality content is difficult, so make sure that you give that content every opportunity to find new audiences by making it highly shareable across all the popular destinations. In this quest to find new audiences, however, don't lose sight of the value of your existing audience. Build a strong newsletter program and nurturing program to nurture. By building this relationship, you'll have more opportunities to bring these visitors further down your sales funnel and you'll also create brand ambassadors of them in the process.


Liam Moroney is a demand generation manager at NewsCred. Follow him on twitter @liamdmoroney
Originally published on Apr 8, 2016 11:39 AM