It's been a busy quarter here at NewsCred, and our engineers and product team have been hard at work delivering exciting updates to our world-leading Content Marketing Platform (CMP). Scroll onward to stay up to date on all the new features and functionality — from SEO and Share of Voice data insights to customizable analytics reporting and more.
---
Analyze Performance Metrics With Complete Control
The Content tab within Analytics has received a facelift to improve the user experience and streamline your ability to analyze pertinent performance information. In addition to the new interface, the content tab now provides:
Previous period benchmarking, so you can quickly visualize and compare current versus past performance

Increased control over what information is shown on the chart by easily clicking on individual channels and performance metrics in the legend

An easy-to-read table, with standard summary metrics at the top and a fixed Article column, as well as the ability to customize the table to surface relevant metrics
Already a customer? View Your Analytics Here
Evaluate Analytics By New vs. Returning Visitors
The Analytics module now provides a dedicated New vs. Returning visitor tab, allowing you to drill into audience segments and quantify the different behaviors of your traffic to see how content is resonating with each group. By consolidating New vs. Returning data in a single view you can rapidly:
Access standard metrics — such as page views, attention time, engagement rate and more — by percentage of new vs. returning traffic

Break down new and returning visits to your site by channels and actions

Collect the information you need for business performance reviews
Ultimately, reviewing this standard report provides deeper insights that help influence and inform your strategy.
Current Customers: View Your Report
Gain SEO Insights And See How You Stack Up Against Your Competition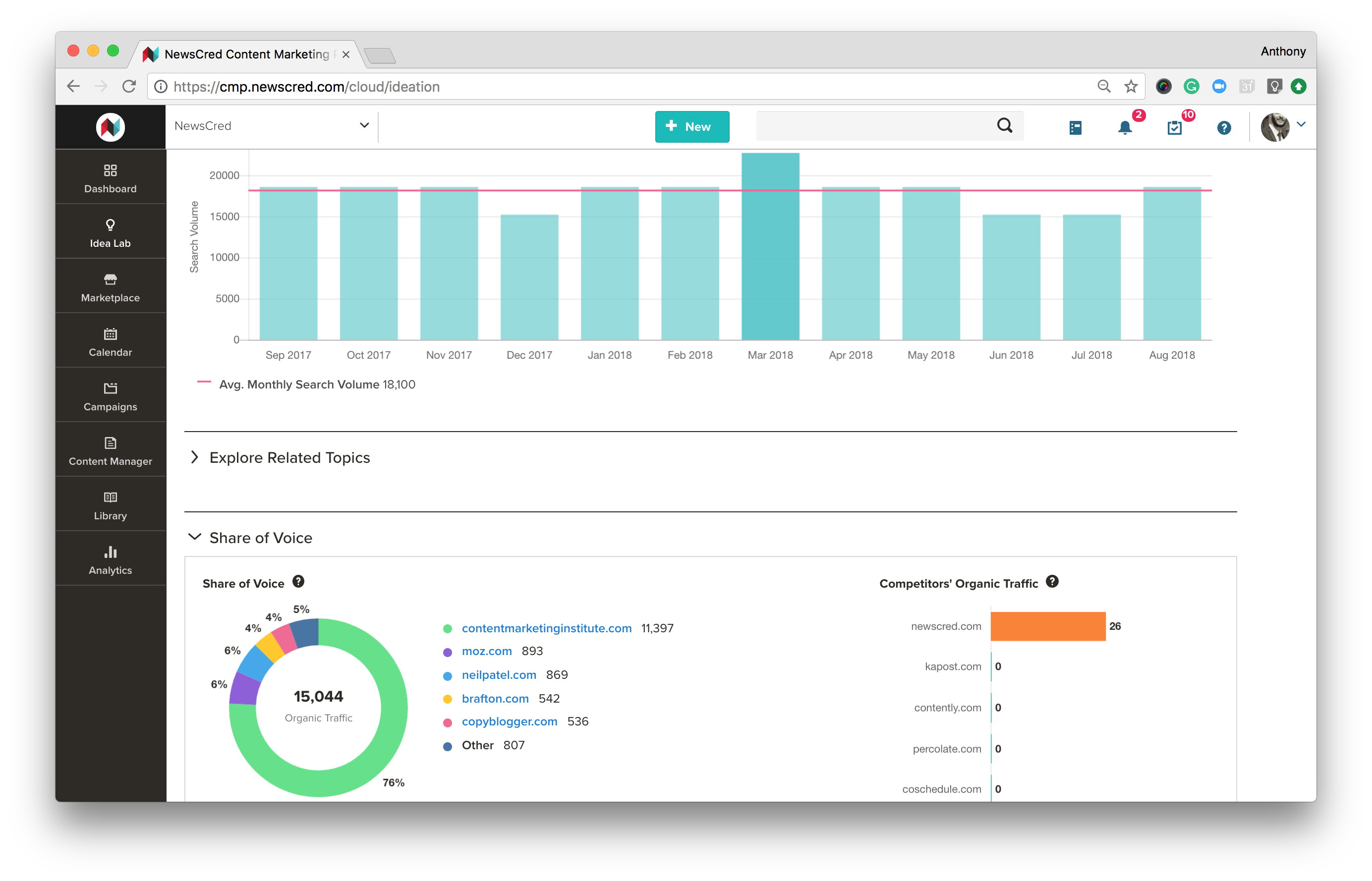 In addition to Keyword Research & Recommendation, Commonly Asked Questions, and Social Trend Data, Idea Lab now offers Share of Voice and Domain Search to improve your knowledge of the competition and provide a more holistic view of the SEO opportunity.
Share

of Voice: Identifies the complete set of sites and the amount of traffic they are driving from specific keywords and topics so you can review the content that is generating the most traffic and optimize your SEO to win the battle in organic search.
Domain Search: Surfaces the keywords and associated SERP positions for your site and those of your competitors, so you can better understand the strategies and content competitors are using in

search. Monitor the rankings of your keywords to evaluate your SEO success.
By aggregating SEO data inside the CMP, Idea Lab gives you a one-stop resource for insights to develop targeted content that increases organic traffic, knocking down the silos between ideation and execution.
Already A Customer? Conduct a Search Here
Create Custom Labels For Quick Navigation And Analytics Filtering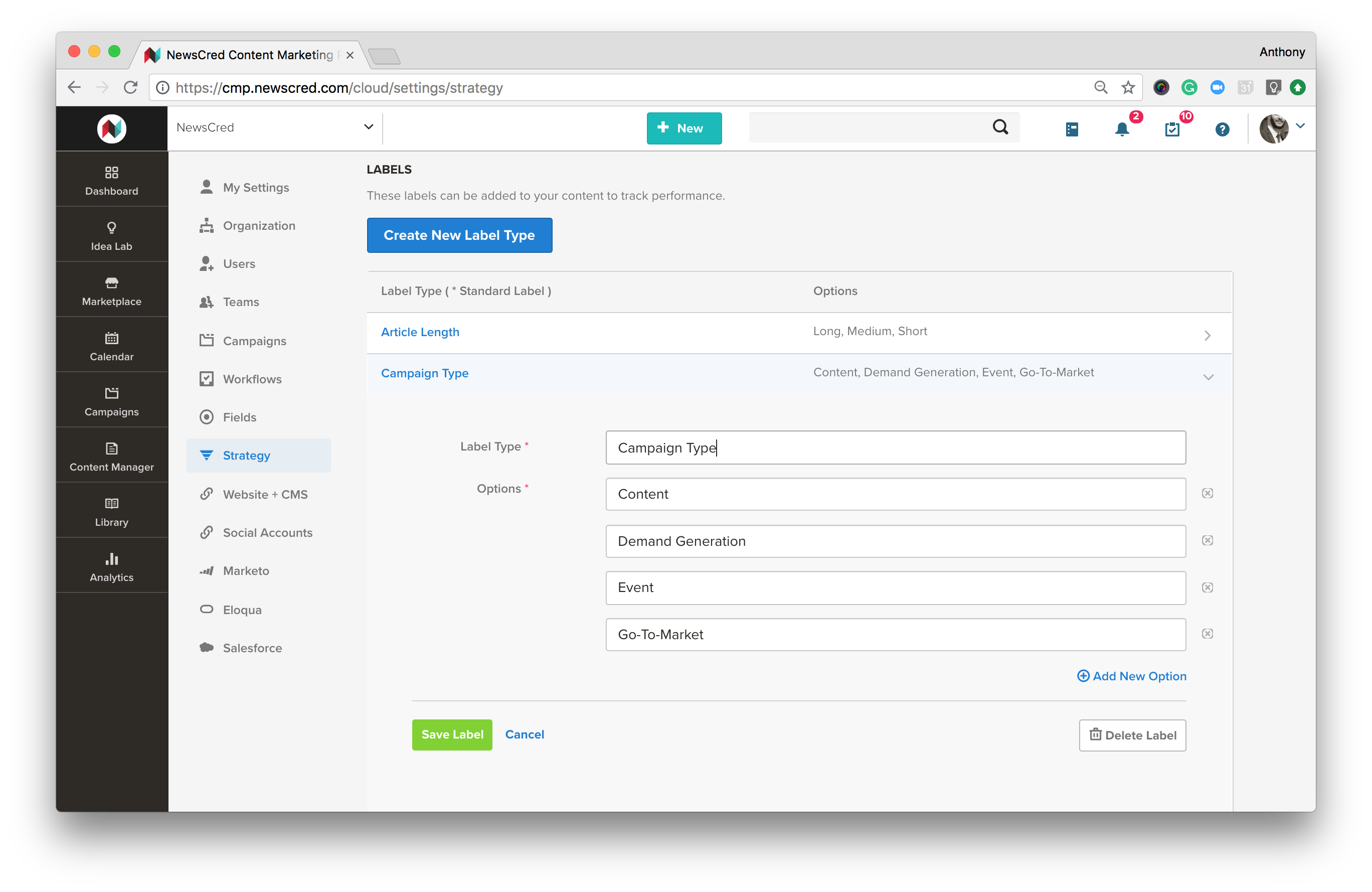 Custom Labels extend the metadata management capabilities of the Newscred Content Marketing Platform (CMP) by enabling you to seamlessly represent your brand's unique taxonomy across all CMP modules. Using Labels you can now:
Create a Label based on any attribute, such as strategy, product line, or geography

Apply Labels to individual content assets, campaigns, pitches, tasks, and events

Filter by attributes to rapidly find content, view the status of activities, and surface analytic insights
The enhanced visibility from labeling in the CMP helps you improve governance, make better decisions, and plan more strategically — optimizing your team's performance. To get started, check out this article on the Knowledgebase, or reach out to your account manager with any questions.
Already A Customer? Set Up Labels Here
Work Faster With UX And Load Time Improvements

In the ongoing pursuit of making the CMP more efficient to use, we've made several time-saving enhancements that we hope will improve your experience, including:
Global Search: In addition to extending the size of the search results box to yield the full title of an article or task, the new Global Search displays individual icons for each channel destination as well as color-coded indicators for the associated campaign.

Calendar Performance: The second generation of our editorial calendar now performs 3x faster, minimizing load time and accelerating your ability to surface relevant activity when applying multiple filters and labels.

Filter Modal: Located throughout every module of the CMP, the Filter modal now offers a 'Collapse All' button to help simplify navigation, as well as displays the number of selections for each label filter when collapsed.
NewsCred Customers: Explore the CMP
Interested in learning more?
If you'd like to see the platform in action, or if you have any questions, don't hesitate to let us know.
Anthony Aiosa is a Senior Product Marketing Manager at NewsCred.
Originally published on Oct 18, 2018 12:00 PM