Charles Hough recently joined NewsCred as President and COO. Previously, he was COO at VTS, the leading SaaS platform in the real estate space. Prior to that, Charles was COO of Lithium, an early leader in the enterprise social space. Charles has been through multiple IPOs and 20+ acquisitions/mergers, including at Interwoven, one of the early pioneers in the CMS space. Here, he shares what brought him to NewsCred.
I feel immensely blessed to join this special family called NewsCred. Some people asked me what drew me to NewsCred.
There are largely three reasons.
Shared Purpose
My personal journey with digital content started twenty years ago when I joined a small startup that specialized in what is now known as Content Management Systems, or CMSs.
It was at this company where I started to grasp the vast potential of digital content for both businesses and consumers. Businesses could use content to deliver information, inspiration, and thought leadership – and in doing so, build trust and loyalty with customers. And customers would learn to look to brands for valuable content.
Soon after realizing this, I took up this challenge, too. I made it my own purpose to help strengthen the relationships between content, businesses, and consumers.
Over the next two decades, though, despite some remarkable advancements, the Internet has become more challenging to use, in many ways. One negative effect of the proliferation of digital content is that more than ever, authentic stories of passion, advocacy, and purpose have to compete for attention against a mind-numbing, ever-growing amount of irrelevant "digital waste."
From day one, NewsCred has been devoted to making the Internet a better place: to help businesses harness the true value of content, to enable individuals to find content that contains substantial and relevant value, and to assist businesses and consumers in connecting and building meaningful relationships with one another.
NewsCred's purpose is an extension of my two-decade-old passion. To join NewsCred was to complete my own purpose.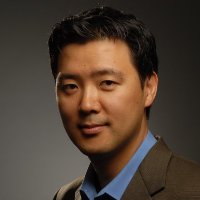 Charles Hough, President and COO of NewsCred
Cherished Culture
My first breakfast meeting with Shafqat Islam, NewsCred's CEO and Co-founder, started like a bad date.
He was almost an hour late.
But yet I waited.
I still wonder whether fate induced my inexplicable patience that day. Despite how our meeting started, Shafqat quickly made up for his tardiness by delving into NewsCred's special culture.
NewsCred's culture is lived, shaped, and improved every day by a team that is committed to compassion, candor, camaraderie, trust, and subversion of the norm.
NewsCred's expense policy? "Be reasonable."
Two words also sum up the management philosophy: "Be compassionate."
That night, Shafqat followed up our meeting with an email that contained NewsCred's recent accomplishments and current challenges in intimate detail. Although the wins were nothing short of remarkable, I was more moved by the fact that he would entrust me with such transparency in detailing the challenges. His irrational trust in me compelled me not to take the privileged information lightly, but to think about it deeply and give meaningful feedback.
Trust is magically empowering.
NewsCred employees share many of these attributes.
The culture almost sounds too idealistic, but those at NewsCred naturally practice it every day. It isn't just a story told through the company website, pretty signs plastered on walls, or corporate perks. At NewsCred, we bring our culture to life in every little way we work together. The amalgamation of these everyday interactions is what make us NewsCred.
This culture captivates, humbles, and energizes me.
NewsCred's culture is my home.
Massive Opportunity
NewsCred's founders – Shafqat, Asif, and Iraj – began with an audacious idea of licensing content from publishers to brands. By having this valuable content, brands could distribute it to build recognition and loyalty – and gain customers.
Through hard work and perseverance, the founders built NewsCred into a true pioneer in the marketing world. NewsCred has successfully defined a new category, and it is leading the content marketing category.
NewsCred is the only company that offers an optimal blend of original and licensed content, chosen from its industry-only licensed content marketplace, to ensure the best business result for clients. NewsCred's customer-first approach is the sole guiding principle for product, services, and everything else that we do. It is under this principle that the team has built a strong customer base, including some of the largest household brands from around the world.
Further, based on our unrivaled expertise, we recently announced the industry's first Content Marketing Advisory Services. This team of seasoned experts will work closely with clients and ensure that they achieve optimal results from their content marketing programs.
NewsCred has already achieved a lot, but we have not seen anything yet. Marketers have only begun to use evergreen content as a way of improving brand equity, marketing efficiency, and business results. This unbounded opportunity is hugely compelling for anyone.
And for me, it sealed the deal.
Future
NewsCred has it all: the purpose, the team, and the opportunity. When someone asks me why I joined the company, I smile and utter these three words.
They may sound simple, yet it is not easy to have all three. I feel truly blessed to be here.
At the same time, I feel indebted. I will do my best to turn the irrational trust granted to me into a multiplier for the team, the customers, and the industry.
Charles Hough is NewsCred's President and COO.
Originally published on Apr 4, 2017 4:00 PM