Email open rates are, on the whole, abysmal.
According to MailChimp, most industries have a 20 to 25% open rate, while media and publishing hovers around 23%.
One publication that has seemed to crack the code of email marketing is TIME. They boast a 40% open rate and click-through rates are 16%, which is double the industry average, according to Callie Schweitzer, the editorial director of audience strategy at TIME and Time Inc.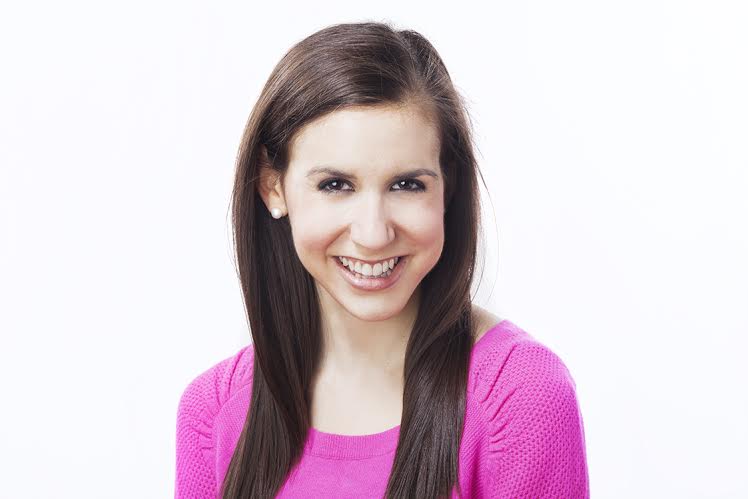 Schweitzer, who originally started out at the company as director of digital innovation, credits the daily newsletter's achievement to the fact that it delivers on what it promises readers. "The premise of The Brief is that the editors of TIME are giving you the 12 things you need to know right now," she says. "We've successfully given you a look at the news you need to know."
Earlier this year, The Brief was launched alongside TIME's new website, notes Sam Kirkland of Poynter. Previously, the company offered newsletters covering 10 different verticals that, on average, had an open rate of 17 percent. The readership of all 10, which was made up of 850,000 subscribers, was combined.
This past October, Schweitzer took over as editorial director. Before TIME hired her, she worked for Vox and Talking Points Memo and wrote for The New York Times, The Huffington Post, People magazine, and Mashable. She says that her passion for the news prepared her for the role.
"I've always been a voracious consumer of news and newsletters in particular. I've learned a lot from subscribing to dozens of newsletters and seeing what works and what doesn't."
A typical Brief email contains 12 hyperlinked headlines, a short explainer paragraph for a few of the listed items, and a thumbnail photo relating to each of the articles' contents. The headlines highlight news from around the world from different beats including weather, politics, and the arts. Readers on the go can catch up with a podcast version of the newsletter.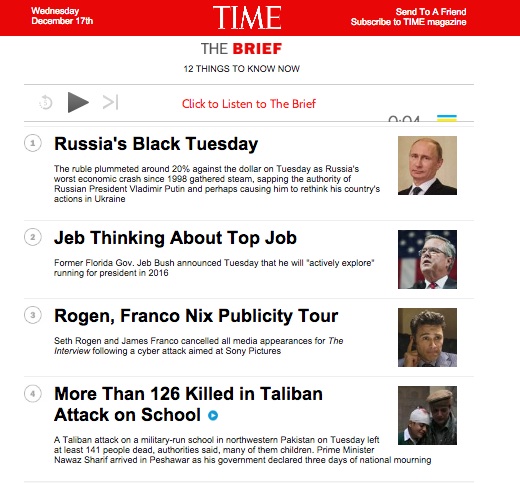 "The Brief is not a breaking news alert," says Schweitzer. "It's a primer and a recap of everything you need to know right now."
Instead of trying to cram all of the information in the newsletter into the subject line, the TIME team found that it was better to feature one headline. "The subject lines are chosen by a team of editors who look to promote the best content from TIME and Time Inc.," says Schweitzer.
The email arrives daily at 7 a.m. EST because people will be able to either read or listen to it on their commutes to work. It's responsively designed and is easy to read on mobile and desktop devices. According to Schweitzer, she and her team use the CheetahMail software to send out and test the newsletters' subject lines, content, and scheduling.
Schweitzer says that in general, email open rates are low because there is simply too much competition for space in peoples' inboxes. However, unlike social media marketing or other types of advertising, it "serves a real streamlining function for people."
What's made TIME stand out is that they understand who they are and what purpose they serve. "What's really important to The Brief's success is that there is a clear definition to the product," says Schweitzer. "We know what it's supposed to achieve. I think readers really appreciate knowing that something is coming into their inbox every single morning at the exact same time."
What can brands learn from TIME's success to apply to their email marketing campaigns?
Deliver on what you promise in the subject line – no link baiting!
Be consistent and reliable with content and scheduling.
Make sure it can be read on multiple platforms.
Test your subject lines, send out times, and content to see what works best with your audience.
Find your niche function for your audience and stick with it!
Kylie Jane Wakefield is a NewsCred Contributor