One of #ThinkContent's most inspiring – and hilarious – presentations came from BuzzFeed CEO Jonah Peretti, who delivered a talk called "The Social Experiment – Creating a New Media Model." Jonah Peretti shared that of BuzzFeed's 150 million monthly visitors, 75 percent are driven via social and over half are in the coveted 18-34 demographic. "There's a need to deliver things that people want to share everyday," says Jonah Peretti.
But the question remains: "How can we make things people love and want to share?"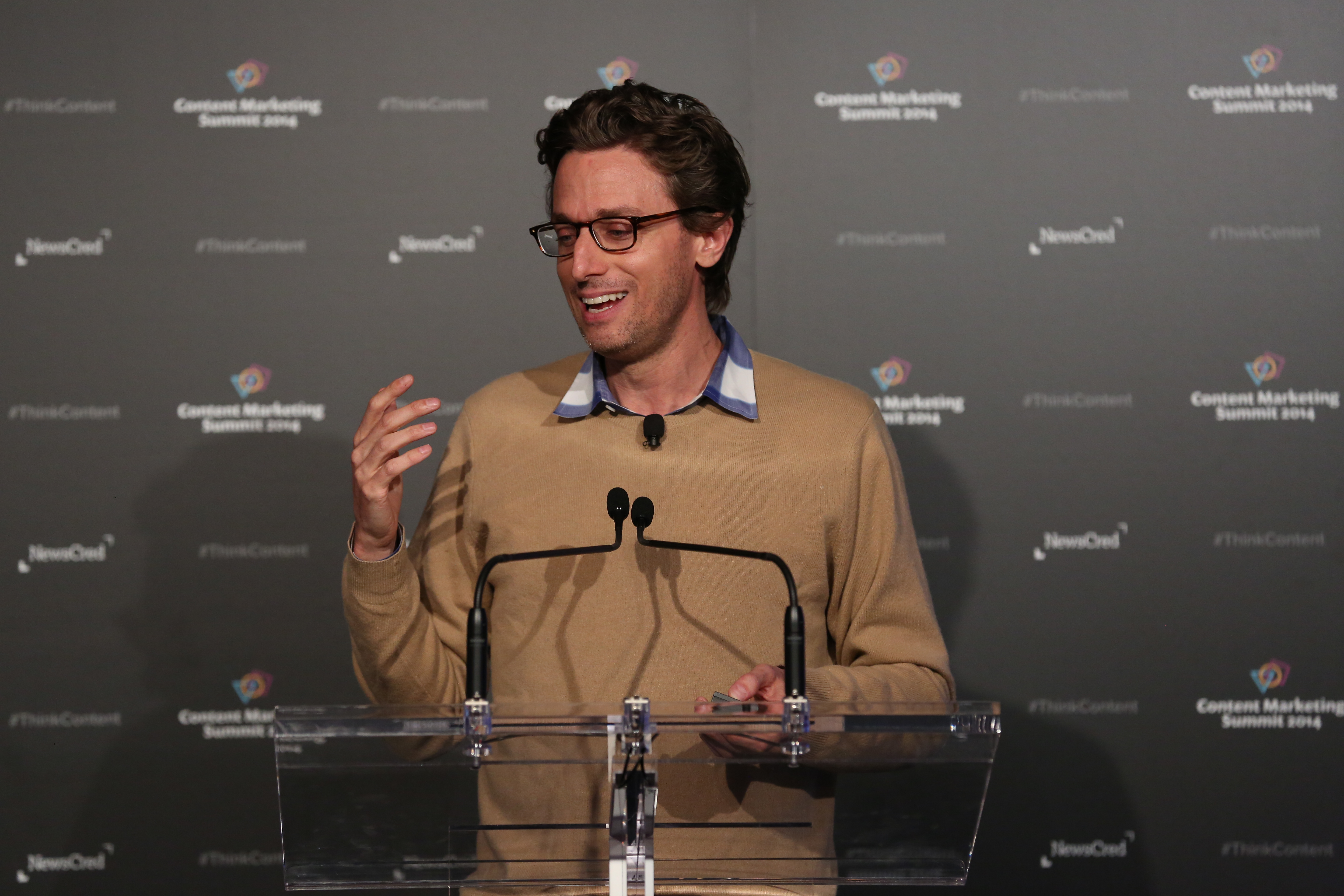 Peretti's definitely one to know; he's been going viral since before the word took on its second meaning. Back when he was a grad student at MIT Media Lab – when chain email forwards were still a thing – his hijinks were already attracting tons of attention. It all started with a simple Nike order. Apparently ordering a pair of personalized kicks with the word "Sweatshop" stitched into them wasn't going to fly with the brand. Soon enough, a back-and-forth emerged between Peretti and a Nike exec, which he forwarded to his friends as a joke. Before long, the correspondence had reached millions of people, with reporters knocking on Peretti's door.
The rest, as they say, is history.
John Peretti was floored. He asked himself, "Why am I here instead of someone who actually knows about the issue?" The realization came quickly: "I made something that people wanted to pass along."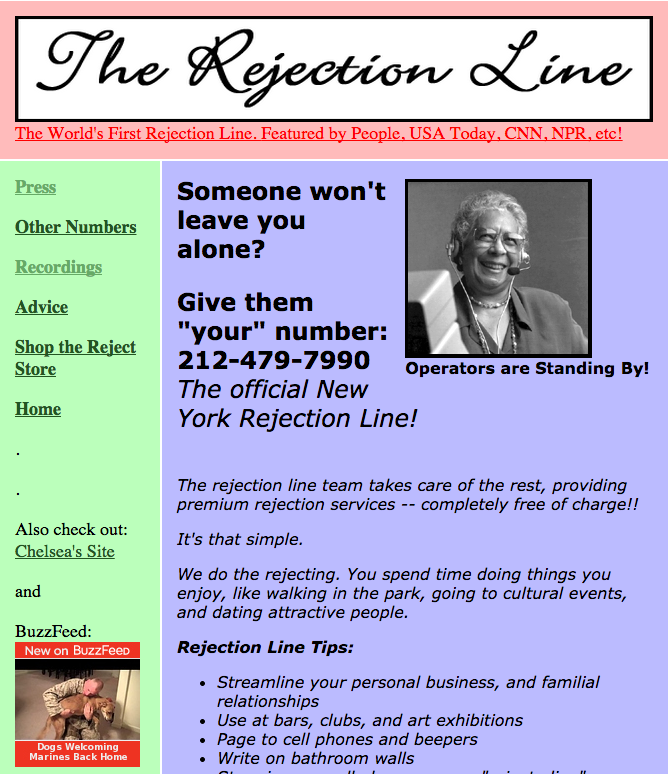 In the years that followed, Peretti didn't shy away from creating similar spotlight-stealing shenanigans like New York's official Rejection Hotline (which still works!), How to Dance Properly, and, who could forget, Black People Love Us, all of which caught the attention of national news.
Even more impressive when you remember that, "Back in 2001, there weren't a lot of people trying to make things go viral." Peretti just happened to be a natural.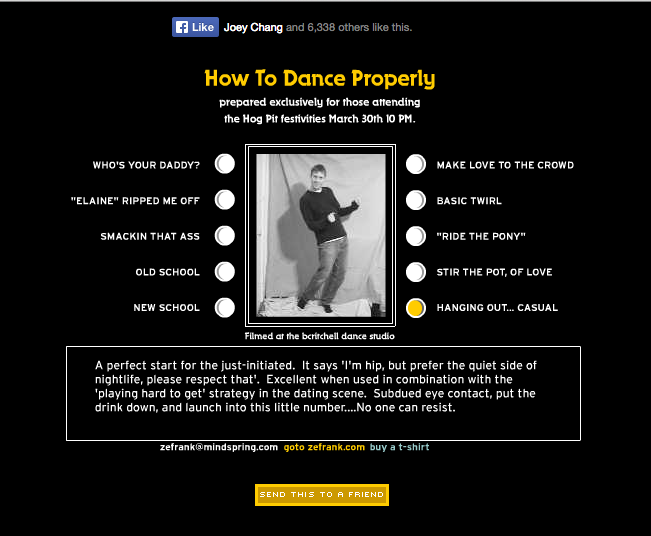 Looking back, BuzzFeed's success in John Peretti's hands seems less surprising. Early experiments like these and the spiraling popularity of lists and memes like "Disaster Girl" helped Peretti and his growing team begin to understand a rapidly changing landscape. "BuzzFeed started as a lab to explore how this stuff works; ways to reach people that are totally divorced from the way the traditional industry works."
Things were evolving for BuzzFeed during a "period of Internet culture where people were remixing things like jokes and one-liners," Peretti explained. "Why is making fun of animals so popular? They're both cute and LOL, and they allow you to connect with other people in your life. Sharing cute animals allows you to feel the same emotions as your friends, making you feel closer to each other. Petting the family dog makes you feel closer to the dog, and to the rest of your family. The next day, you don't remember specific jokes; you just remember laughing with your friends." 
So, the company started focusing on content that was essentially perfect for those "bored at work" times. "Half your day is spent working, and the half of it is spent sending funny things," says John Peretti. BuzzFeed's only too happy to provide those laughs.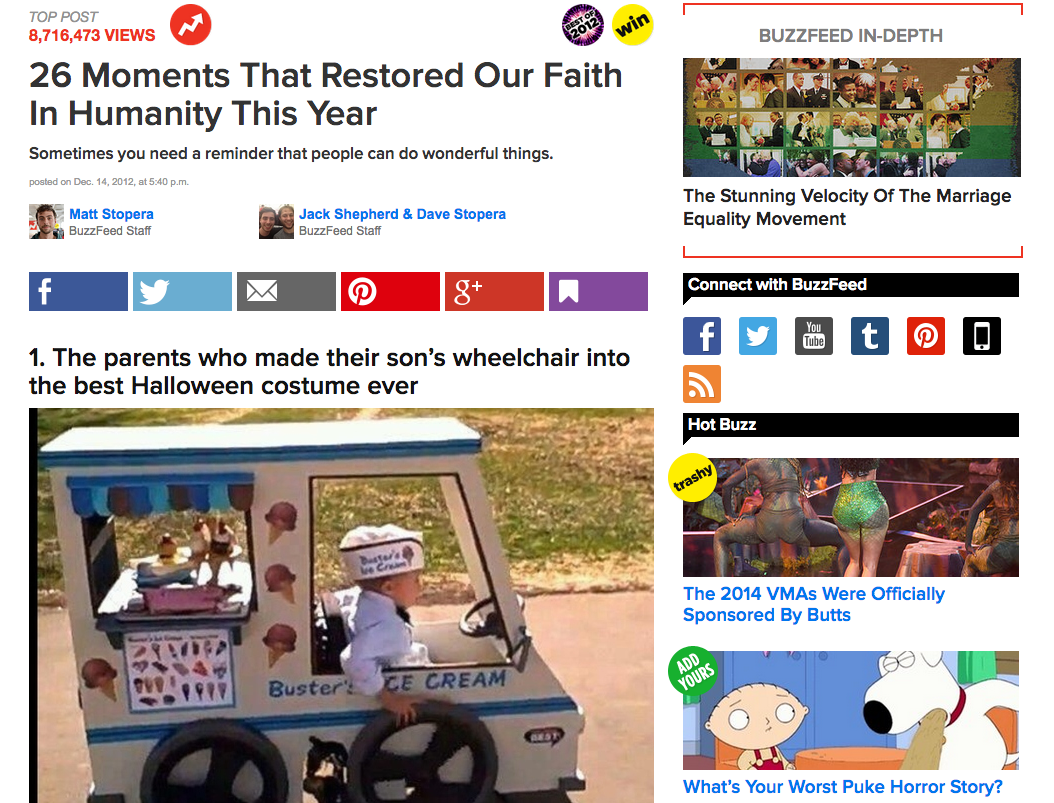 But these days, the company's not all fun and games. What's been somewhat unexpected was the introduction of serious news and somber topics into an otherwise very silly site. After Sandy Hook, for example, the team knew that people were in search of inspiring, uplifting content. On the day of the horrible tragedy, BuzzFeed released its "26 Moments That Restored Our Faith in Humanity This Year," which has since accumulated over 8.7 million views.
Ben Smith, BuzzFeed's Editor in Chief, is credited with injecting a healthy dose of reality into the site. With a journalism background, he realized the importance of interjecting funny cat videos with actual news, increasing the chances of people seeing and being aware of both. As a result, BuzzFeed is now establishing themselves as the ones to break news – like McCain endorsing Romney in 2012.
As it continues to grow, BuzzFeed has morphed from jokes and memes into a full-fledged media company – and it has no qualms about moving into as many spaces as possible. There's BuzzFeed Life, for instance, which receives 40 million unique per month and pushes content that's "all about making your life better," through initiatives like the Clean Eating Challenge and access to a Test Kitchen where the team creates and documents new foods and recipes.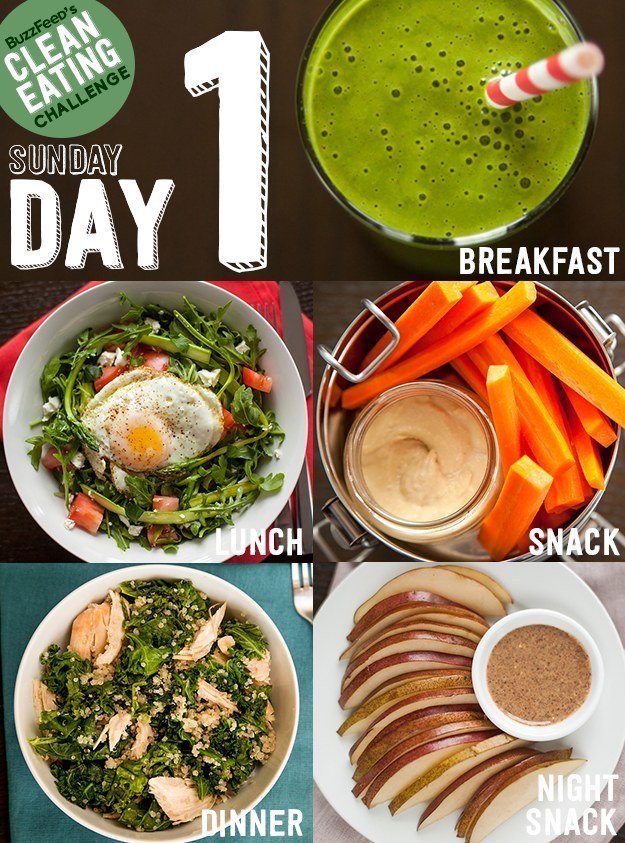 Then there's BuzzFeed Motion Pictures, which has already raised $50 million. This move makes sense when you consider that BuzzFeed videos have garnered 400 million video views across YouTube, Facebook, and other platforms.
"BuzzFeed is bigger than major TV networks in terms of how many people we reach each month," said John Peretti. "The way people are consuming media has really changed. Primetime for BuzzFeed is the same as it is for TV. That was never true three to four years ago, when websites were always bigger during the day. Web and social media are much bigger in the evenings now, and mostly on mobile."
Naturally, all that success is leading to even more. "BuzzFeed works with a ton of brands, taking all the ways in which people consume media and turning them into solutions for clients and partners. Whenever we develop a new format, we extend that to branded content, and we make sure that every campaign we do converts to earned media."
"Dear Kitten," a video produced for Friskies Purina, is one such example that has attracted over 15 million views, many of them organic, according to John Peretti.
In creating video content, BuzzFeed asks, "How can we tell a brand story? Here's what you care about, here's what customers care about; let's find an intersection between the two. If something's great for you, but your consumers don't care, it's not going to work."
Echoing the advice of many others who #ThinkContent, Peretti says: "You need be learning from data each time around." To do so, it's essential to have a solid measuring architecture in place so that you can always be trying new ideas and finding out if your content is working.
That's how BuzzFeed functions – as well as one of the secrets to the company's success: "We're constantly making media and learning from it. The process is great for creative people because they can immediately see what works and what doesn't. No matter the results, they always lead to new inspiration. That kind of marriage between data and creativity is a theme that we'll see much more of in the coming years."
Anastasia Dyakovskaya is a writer, editor and creative consultant from New York City. When she's not writing for NewsCred, she's developing copy and editorial for brands and tech startups. When she's not working, she's likely behind the camera or planning her next adventure. Follow her @worldinquestion.
Originally published on Sep 24, 2014 8:23 PM