Inspired leadership is fundamental to the success of all companies striving to achieve market distinction and ensure exceptional customer experiences.
With a company as prodigious as Bloomberg L.P., progress and innovation are possible only with visionary leaders driving change in every part of the complex organization. Bloomberg's Chief Marketing Officer Deirdre Bigley is one such leader.
Hired from IBM in 2009, Bigley built Bloomberg's corporate global marketing department from the ground up. Today, she leads marketing efforts for all Bloomberg businesses globally, including Financial Products, Media, and the Vertical Industries.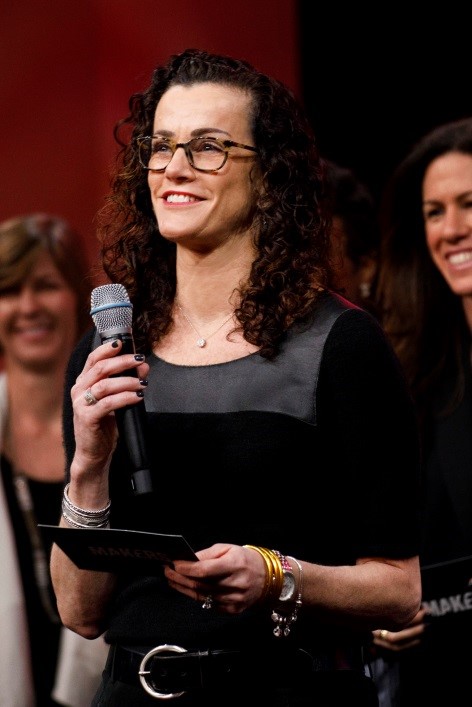 Deirdre Bigley, Chief Marketing Officer, Bloomberg L.P.
From the beginning of her tenure, Bigley has focused on developing cross-disciplinary teams, comprised of content, design, and technology, to deliver the unique value of the Bloomberg brand. Every marketing program aims to be a reflection of the company's core mission: to provide accurate news, economic data, and industry analysis to customers so they can make informed decisions.
Her success is manifested in the breadth of her marketing organization, which spans and aligns multiple regions across the globe, but also in the countless ways she has influenced those she has managed and mentored.
I first met Bigley when I was an intern at Bloomberg in the summer of 2016. I was invited to a Women's Community Group mentoring session which brought together a dozen young women from various departments within the company for an opportunity to connect with Bigley. Her message to us was clear and inspiring, drawing from her own experience as a young, professional woman entering into the industry and rising quickly through its ranks.
"Always keep an eye on who you are and what you're worth," she exhorted, reminding those in the room to understand the values that define them.
She stressed the importance of building networks, finding a mentor, and voicing a strong and confident opinion: "If you have a seat at the table, and you don't say anything, you're not really there."
Two years later, I have come to recognize that discussion with Bigley was a significant moment in my personal development as a young professional. To this day, I continue to feel inspired by her confident leadership, her commitment to younger professionals, and her sage advice. An outspoken leader and a board member of the feminist media company MAKERS, Bigley is committed to and passionate about fostering a culture of diversity and inclusion, both within and outside of the workplace.
In fact, this year, Bloomberg earned a spot on the NewsCred Top 50: Best Content Marketing Brands of 2018 for the Bloomberg D&I blog and content marketing program, which highlights the company's commitment to an inclusive workplace and strives to attract and retain a diverse workforce.
It was a privilege for me to catch up with Bigley to discuss her transformative work in building Bloomberg's marketing operation, her commitment to diversity and inclusion, and her take on the role that content plays in communicating the unique value proposition of the Bloomberg brand.
As Chief Marketing Officer at Bloomberg L.P., what are your key priorities and responsibilities?
My number one priority is to have solid measurement for every program that we put into the market, and wherever possible, to understand the return on our marketing investment.
We also sit at the intersection of all the businesses within the company, so we have a responsibility to connect the dots between them and tell a more holistic Bloomberg Story.
Each year, we have to have a handful of truly innovative, imaginative ideas.
Finally, I have a responsibility to ensure that the culture within the marketing department is strong and that we are working as a team with common goals.
Prior to joining Bloomberg in 2009, you spent 13 years at IBM in several senior-level marketing roles. What about Bloomberg inspired the move?
When you get a call from a great brand, it's always head-turning. But when the call comes from your mentor, and the job is building a marketing organization from the ground up, it's impossible to say no.
In building Bloomberg's corporate marketing business from the ground up, how did you ensure that all teams were aligned?
It has been a nine-year evolution – the biggest moves we made to ensure alignment:
Consolidating all marketing resources into a single global organization.
Building our own studio instead of using outside agencies. This allows us to move very fast, try new things, and hire our own creative talent.
Focusing on metrics (almost maniacally) which includes building out the systems to help us measure everything we do.
When you have a company like Bloomberg that is so complex, how do you establish a brand that communicates its unique value?
There are a lot of pieces to Bloomberg that may seem disconnected or overly complex, but at our core, we are about one thing: providing data, news, and insight so that our customers can make the most informed decisions. Every business and marketing program ladders up to that.
How can marketers use storytelling to create content experiences that bring their brand to life?
It's easy to build content and push it. It's much harder to tell a story that motivates people to invest their time with you. Each piece of content we develop has to have enough insight to stand on its own. Collectively, the content should present a layered brand story. For Bloomberg, that includes deep insight into the financial markets; our devotion to philanthropy; our commitment to diversity and inclusion; and our unusual and special culture. When you combine all these pieces with interesting insights, then you are telling your brand story.
Over the years, you have been honored with a series of awards which recognize your success in the workplace and at home – from AWNY Top 50 Women in Advertising, to Working Mother Magazine's Top Established Mom Award. How do you manage work/life balance?
It's become much easier now that my kids are in college, but from someone who's been through it, I always say there's no such thing as work/life balance. You have to get comfortable with guilt. There are going to be times when work wins, and there are times when home has to win. And you always feel guilty about whoever is getting the short end of the stick. You do your best and learn to forgive yourself for whatever you deem to be your shortcomings.
Can you tell us about your commitment to Diversity & Inclusion in the workplace?
This is really personal for me. I am very active with women at Bloomberg. I'm the executive sponsor of the Latino community and I'm on the board of MAKERS. I know that a diverse team outperforms. I'm committed to pay equality, inclusivity, and recruiting a diverse population. The best work comes from teams that have completely different backgrounds and points of view.
What should all CMOs be aware of as we move deeper into 2018?
It would be easy to give the obvious answer about the importance of data and analytics and the need to target your messaging and show strong ROI. But, I also believe in the importance of culture. Building a team that is guided by a common mission, that has mutual respect for each other, and truly enjoys coming to work every day (OK…most days) is a team that can accomplish anything.
What is the most surprising trend you see shaping the future of marketing?
The rise of internal agencies. I'm stealing this line from a colleague, but by combining content, design, and technology on a single team, you can become a nimble and effective marketing organization. That can only be done in-house. And the talent is absolutely available.
See all of the NewsCred Top 50: Best Content Marketing Brands of 2018 here.
Gaby Tama is NewsCred's Social Media and Content Marketing Associate.
Originally published on Jun 25, 2018 12:30 PM