UPDATE: See the 2018 NewsCred Top 50: Best Content Marketing Brands.
Each year, it's fascinating to see which brands rise to become content marketing industry leaders.
Whether hot new startups or global giants, the best content marketing brands are the ones with splashy, interactive content hubs that drive conversions, stellar social media presences, innovative new technology integrations, and strong behind-the-scenes strategies and measurement plans. They're the brands that make us stop and rethink what we're doing and inspire us to push the boundaries with our own content marketing.
NewsCred's inaugural #ThinkContent Awards celebrate those best-in-class content marketing brands.
You may be wondering how we selected the top content marketing brands of 2017 when the year has just begun.
The answer is this: These are the brands that are currently doing the best work in the space. Their approaches to content marketing are fresh, innovative, and creative. Even better, these brands have found solutions to some of content marketing's most pressing issues, including using personalization to give people the right content at the right time, leveraging new content formats, and measuring ROI.
It's clear that these companies are fully invested in content marketing.
These brands finished 2016 strong and we can't wait to see what they'll do this year.
And now without further ado, NewsCred's #ThinkContent Award Winners – 50 stellar content marketing examples:
Health, Fitness + Lifestyle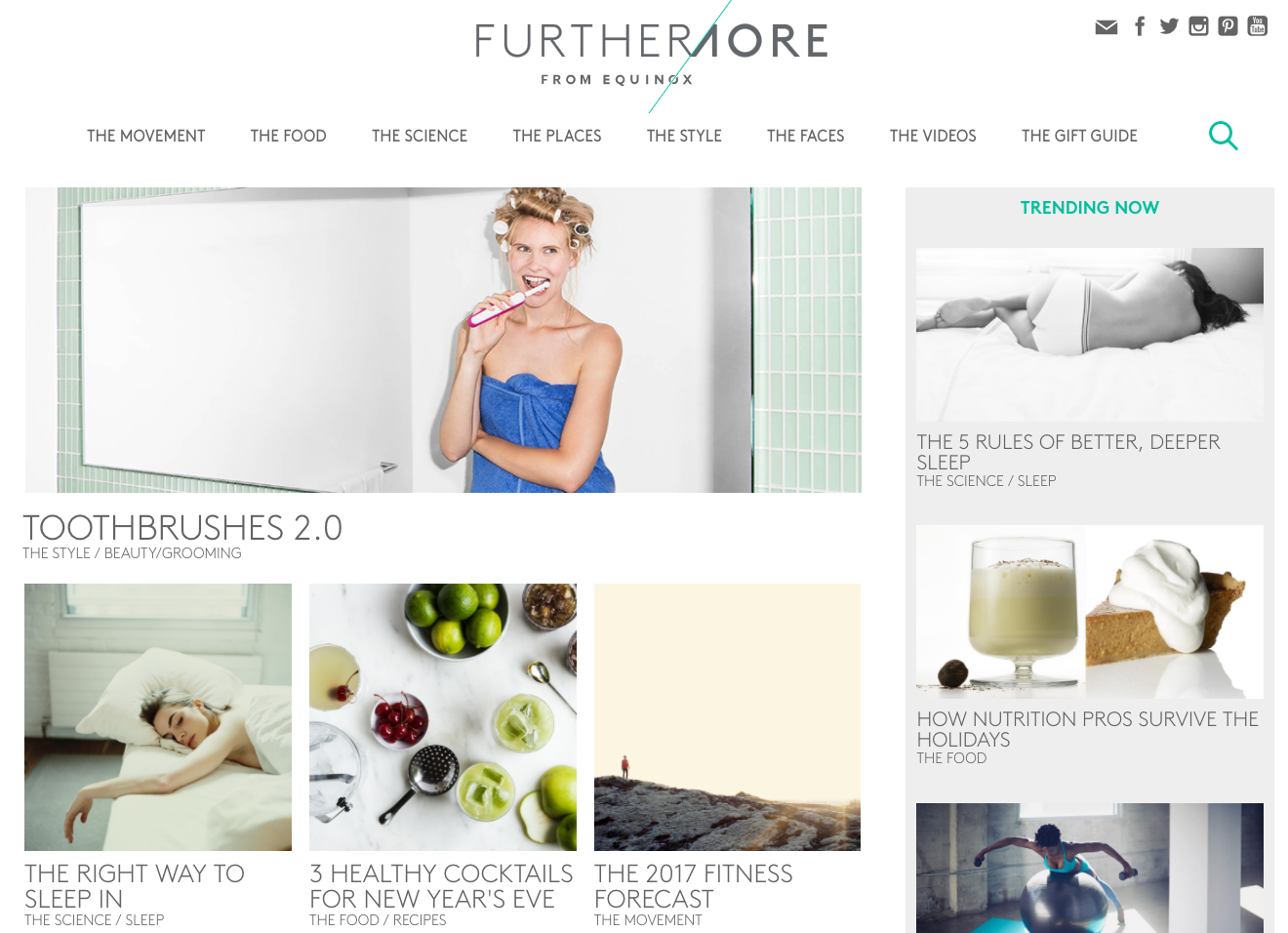 Equinox is a brand that found great success with content marketing – and has expanded its strategy accordingly.
The fitness and lifestyle company launched "Q," a blog on Equinox.com, in 2011. Within a short time, it gained a loyal readership of more than 1 million monthly users, 30-40% who were Equinox members. Equinox saw that they had a captive audience who wanted more content than "Q" was set up to offer. So they crafted an expansion plan.
In January 2016, Equinox launched Furthermore, a standalone digital magazine, complete with its own social handles. The plan is for Furthermore to become a self-sustaining publication through advertising, while continuing to build the Equinox brand as an upscale lifestyle company committed to offering "the best combination of science-driven fitness content and lifestyle inspiration," according to Furthermore Editor-in-Chief, Liz Miersch.
Furthermore has a depth of content that spans fitness, science, nutrition, style, travel, and videos. Equinox is planning to expand its editorial into print, podcasts, and other mediums – all under the Furthermore brand.
Patagonia's mission is rooted in social responsibility: "Build the best product, cause no unnecessary harm, use business to inspire, and implement solutions to the environmental crisis."
It's a lofty and worthy goal, and not one that's easily communicated through banners or 30-second ads. To get its message across, Patagonia uses content to build a passionate community of people who share those values – and eventually support the company through purchases.
Patagonia's blog, The Cleanest Line, shares stories about the environment, including firm declarations about where the company stands on issues; for example, "The Day After" is a post that rallies readers to hold political leaders accountable for protecting the environment. The company also has a longstanding partnership with the Dirtbag Diaries, a podcast about the outdoors. In addition, they've produced and supported short films that tackle environmental issues, such as "The Refuge" (above), about two women from the Gwich'in people of Alaska who are on a quest to protect their land.
Patagonia has a large, active, and engaged social media following, especially on Instagram (more than 2.3 million followers). They use these as key distribution channels to drive fans to the longer-form blog content and spread their environmental message – rather than promote sales.
REI is another outdoor company with strongly held beliefs, a passionate and devoted following, and lots of content to sustain that community. REI believes that "a life outdoors is a life well lived," and it brings that philosophy to life through content marketing.
The outdoor lifestyle company has found success with content in many formats, especially when it comes to long-form.
Their Expert Advice learning library consists of in-depth explainer articles that average 3,000 words, and is the highest rated section on REI's website. It's a key driver of SEO traffic, and articles have an average engagement rate of 5.5 minutes, according to Eric Hess, REI's Senior Content Marketing Program Manager.
In 2016, REI launched several longer-form videos, including the "Every Trail Connects" series that celebrates hiking. The six-minute videos received 2.7 million views, with an average 50% completion rate on YouTube. Seventy-three percent of the videos had a 100% completion rate on REI's site.
Later in the year, REI released a 30-minute film, "Paul's Boots," that tells the story of a hiker who dreamed of completing the Appalachian Trail but passed away before ever starting. A group of hikers carried his boots along the trail to realize Paul's dream. The film has garnered more than 1 million views on YouTube.
According to Hess, there are numerous benefits to creating long-form content: It tends to rank higher in SEO, for example. But it also gives brands more space to tell in-depth stories that capture users' complete attention and creates an emotional connection.
REI has found ways to incorporate content into its non-content-specific initiatives, as well. For its Black Friday #OptOutside campaign, REI closes its stores, gives employees a paid day off, and encourages them – and the rest of the world – to spend time enjoying nature. The #OptOutside microsite features blog posts about people who have joined the cause and a photo gallery with user-submitted images and the option for people to submit their own. In addition, a blog post about the initiative includes a free poster that users can print and use in their photos.
It's yet another great content marketing example for a brand with a mission.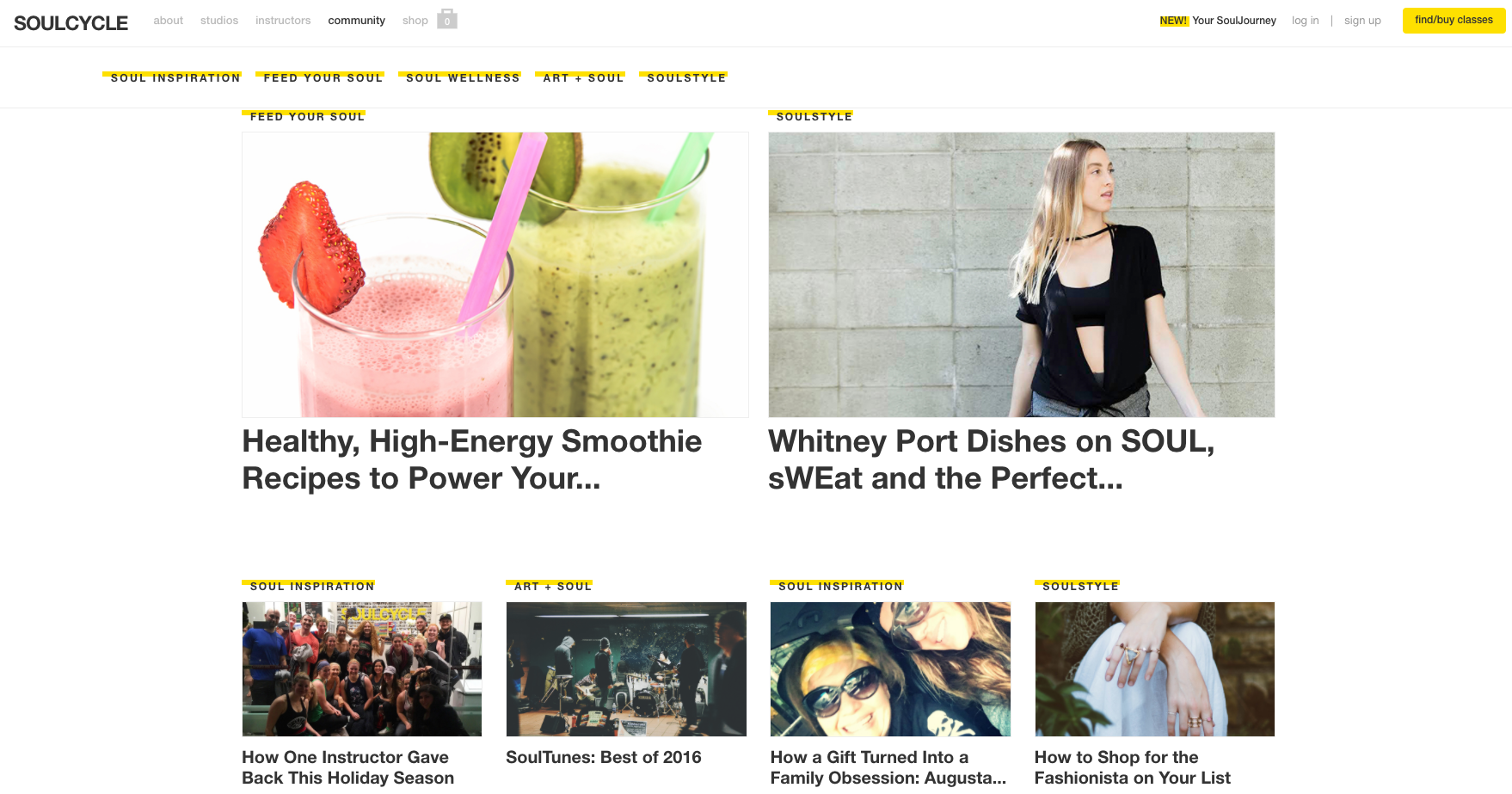 At SoulCycle, indoor cycling is more than just a spin class. The company strives to offer a full-body workout that's intense yet joyful. As they say: "We climb, we jog, we sprint, we dance, we set our intention, and we break through boundaries. The best part: We do it together, as a community."
It's fitting that they've titled their content hub "Community." SoulCycle instructors and members write or are featured in most posts – the tone is casual, as if the writer is an old friend. Topics range from recipes to health to fashion and style. Many posts feature inspirational stories of how SoulCyle transformed peoples' lives or how the company gives back to the communities where they're located. SoulCycle promotes the blog posts on Facebook (where they have 95.8K fans) and Twitter (235K followers).
For a workout experience that's deeply tied to music, it's also fitting that SoulCycle publishes many playlists on Spotify – where they have more than 49.3K followers who are excited to access the music they've been hearing in classes.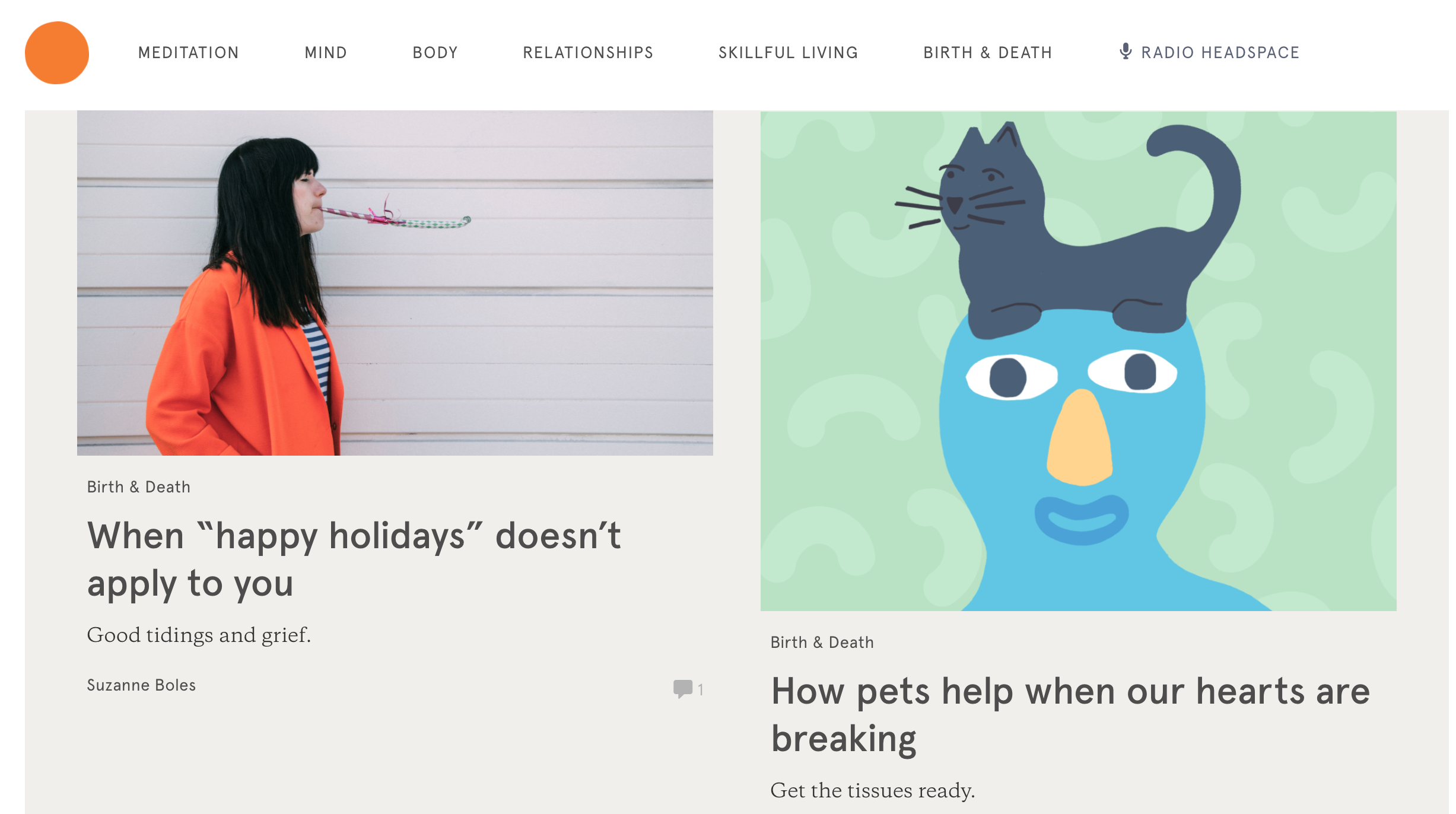 Meditation isn't the easiest thing to market. It's a lifestyle choice and one that people can find many excuses not to adopt. ("I don't believe that New Age-y stuff!" "Who has the time?" "I'll never be able to make it a habit.")
Headspace is an app that guides people through meditation. To build brand affinity and educate people about meditation, Headspace invested in creating The Orange Dot blog. The content covers meditation (of course!), as well as other topics that are more universal, such as managing relationship problems, anxiety, major life events, and stress – all issues that could be addressed, in part, by meditation. In addition, Headspace has a weekly podcast that further delves into those topics.
In a digital landscape where it's increasingly difficult to get people to download and use apps regularly, it's clear that content has helped Headspace gain a strong following. The app has more than 5 million users. In addition, Headspace has 207K Facebook fans and 94.4K Twitter followers – and they leverage those channels to promote blog content.
Fashion + Beauty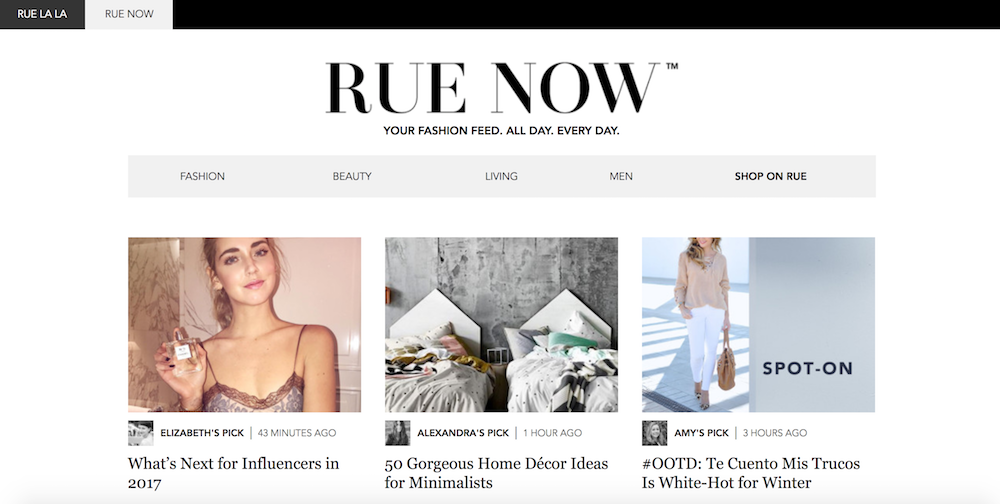 With shoppers increasingly looking to engage with brands in between purchases, companies must provide fans with inspiring and entertaining content at all times, on every platform.
Rue La La is one brand that's committed to doing so. In 2016, the ecommerce fashion company launched the content hub Rue Now. Rue La La's editorial team updates the site several times a day by curating and commenting on stories licensed from various publications, including The Cut, StyleCaster, PureWow, and Fashionista. This allows Rue La La to deliver of-the-moment content that covers various subjects its audience cares about, such as fashion, beauty, decor, recipes, and pop culture.
The Rue La La team then promotes this content across social channels (1 million Facebook fans, 41.2K Instagram fans, 46.3K Twitter followers), as well as newsletters. In using this content and distribution strategy, Rue La La consistently provides fans with non-promotional information of value – which helps consumers keep the brand top-of-mind for when they're ready to make purchases.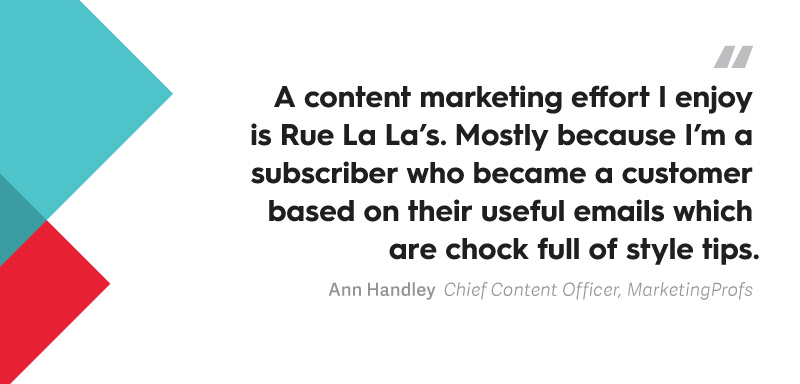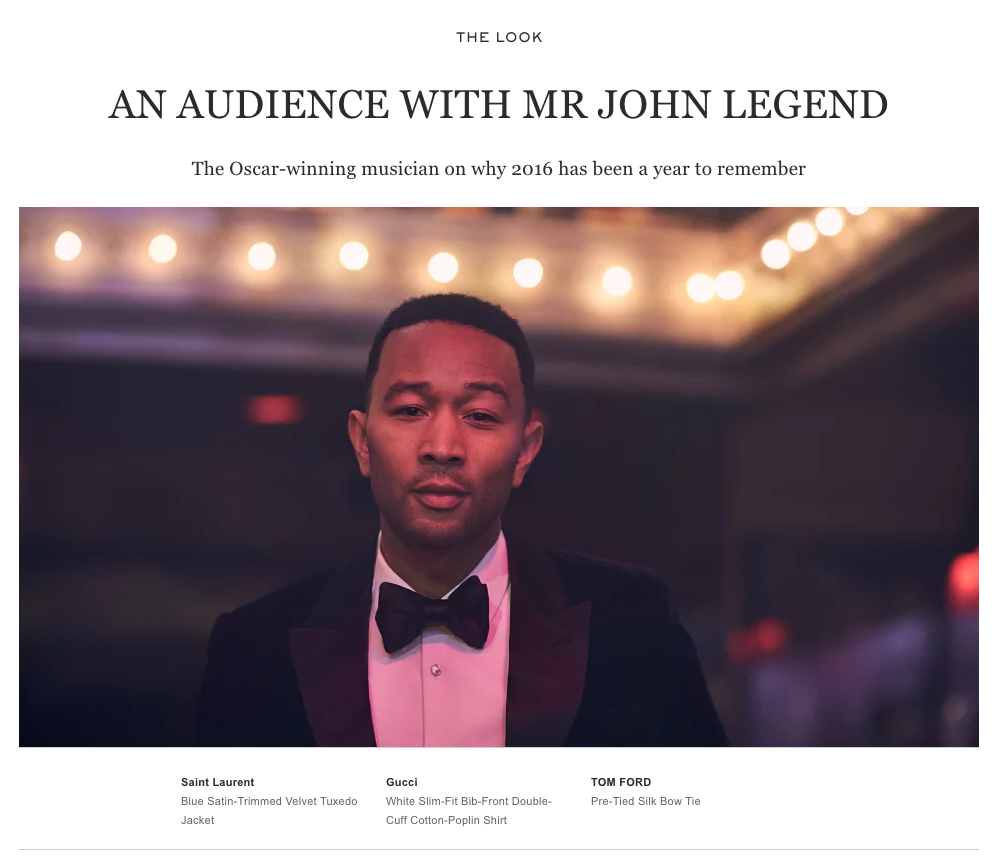 Mr Porter is a great example of a brand that's associated with best-in-class content marketing that continues to prove its leadership in the space.
At a time when brands are struggling to produce high-quality content that builds their brands and drives sales, Mr Porter has figured out a winning formula. With gorgeous photography and strong writing, Mr Porter's Journal has the style and substance of a high-end men's magazine. But within travel stories and interviews with A-list celebrities like John Legend, Mr Porter has subtly and seamlessly integrated a click-to-shop product experience – so those interested can learn about and purchase the clothing and products in the accompanying photography, and those who would rather just read can do so, uninterrupted.
Mr Porter uses that content to further build its brand across social channels. The Mr Porter Instagram has 796K followers and posts garner thousands of engagements. Mr Porter's YouTube channel features style and how-to videos that are extensions of its editorial content. The channel has more than 100K followers and some videos boast more than 1 million views.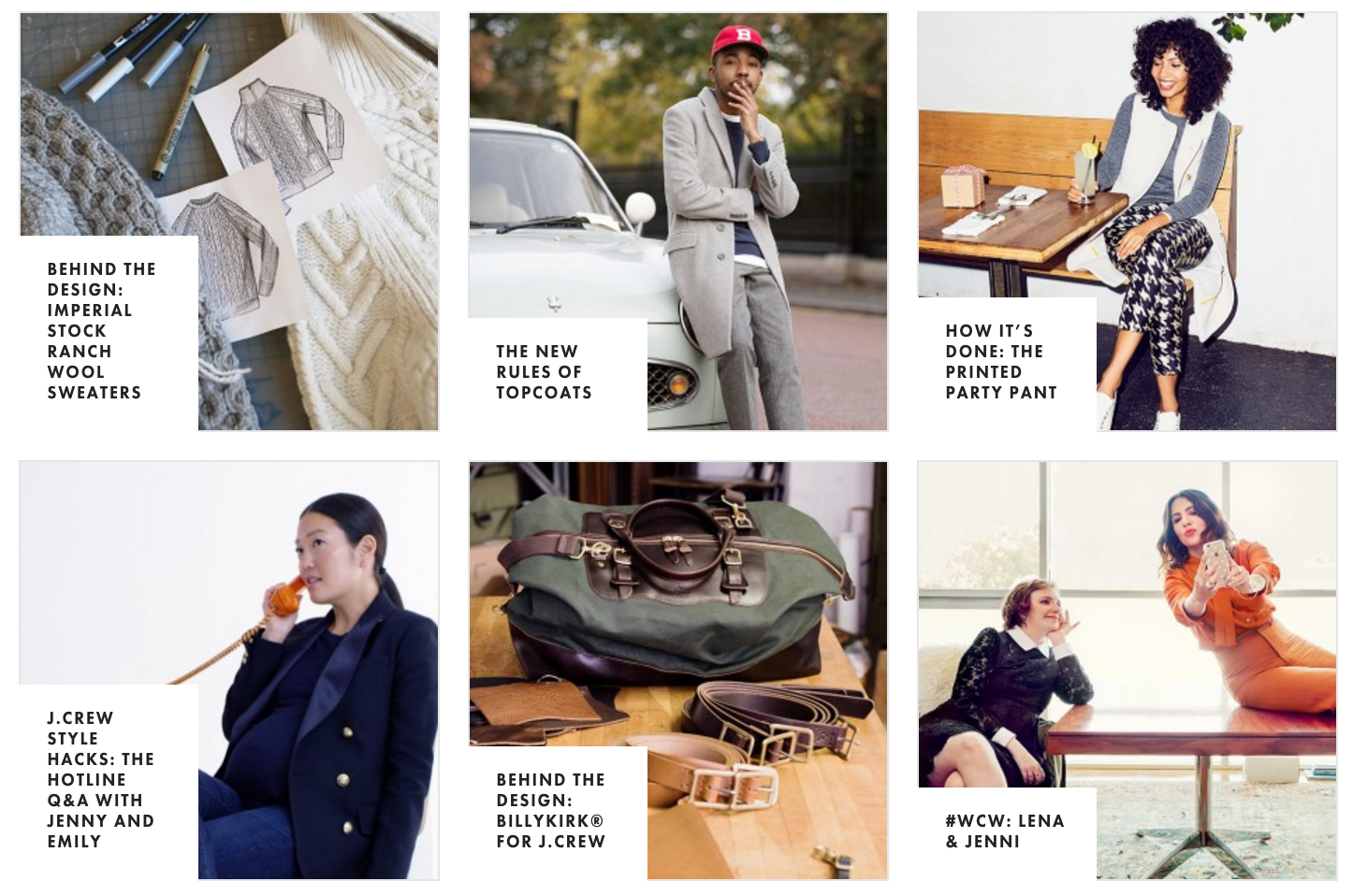 J.Crew is another brand that's mastered editorial content.
The apparel company is known for timeless clothing and clean silhouettes, and the J.Crew blog brings that aesthetic to life. Stories range from "Behind the Design" pieces that show how items were made, to travelogues from photo shoots, to recipes and how-tos. Like Mr Porter, they also seamlessly and subtly offer interested users the ability to shop the stories through links to featured products.
J.Crew has a strong social media following with more than 1 million followers on Facebook and Instagram, respectively. J.Crew also provides users a link via Instagram so those inspired to buy can shop their feed.
Anthropologie has a distinct aesthetic that marries romance, sophistication, and whimsy.
Anthropologie's a BLOG is pure inspiration, with decorating, travel, DIY, food, and music tips for living an Anthropologie-styled life. By perusing the content, fans can see Anthropologie products in context: what clothing to pack for a trip to Paris, or how plates look when they're set for a holiday dinner.
Anthropologie has a large and engaged social media following: more than 2.3 million on Instagram and 1.2 million on Facebook. The brand frequently runs Instagram photo contests to engage users and solicit user-generated content (UGC), and some contests are tied to Anthropologie's blog content. During the 2016 holiday season, for example, they ran a cookie recipe series on the blog, asked users to share their own cookie images on Instagram for a chance to win $250 Anthropologie gift cards, and regrammed one of the winning photos. Initiatives like this engage and reward Anthropologie fans in between purchases, incentivize them to shop more (by giving away gift cards, which get winners into stores on onto its website), and give Anthropologie free, high-quality UCG. It's a win for everyone involved.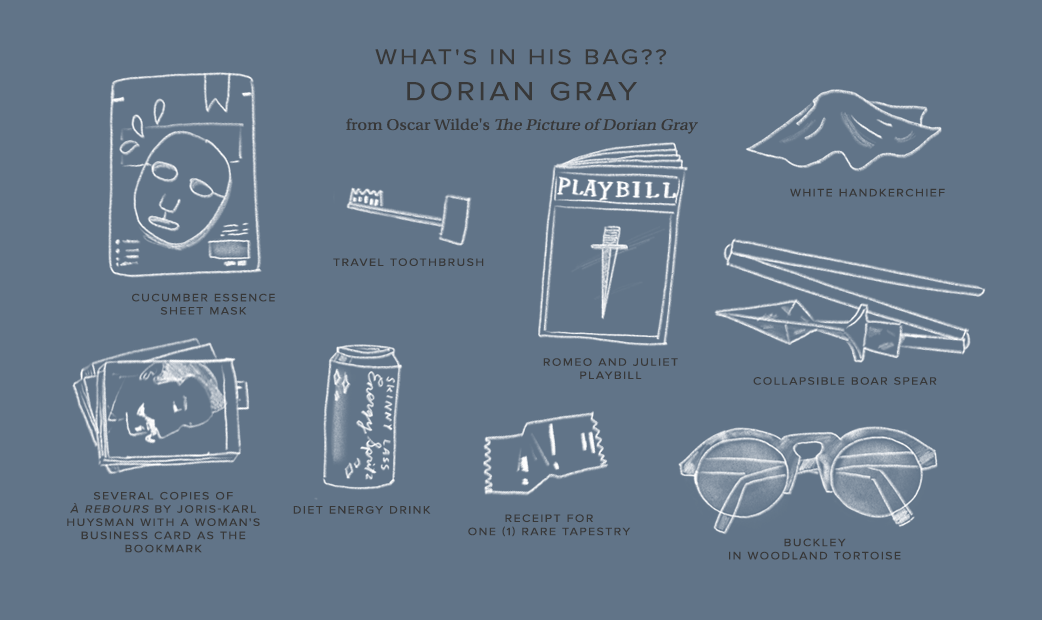 Though founded just seven years ago, Warby Parker's valuation is more than $1 billion. While the business premise is undoubtedly appealing – anyone can purchase eyeglasses at under $100 and donate a pair, for free – the company has used content as a big part of its brand building.
Warby Parker's quirky, interactive 2013 and 2014 annual reports went viral among consumers, the media, and brands. It led other companies to question how they, too, could revamp their reports to be more consumer-friendly and visually appealing (pun not intended).
Warby Parker's blog also uses strong visuals to build a community. Much of the content has a literary bent; this helps the brand appeal to a hip, artistic-minded set that will be apt to return to the blog again and again, even when they're not in the market for new frames. One popular illustrated series imagines what's in a famous literary icon's bag. (There's always a pair of Warby glasses in there.) Another series highlights hot new book releases.
In addition, Warby Parker fans are active on social media and the brand leverages the UGC. An on-going blog series highlights Instagram images from users who are wearing Warby Parker and have tagged the brand.
Food
There's no question that Blue Apron is one of the hottest startups of the past few years. Founded in 2012, the company, which sends meal kits (essentially, recipes with all the ingredients) to subscribers, is on track to reach $1 billion in revenue and preparing for an IPO.
Content has been a huge part of Blue Apron's growth strategy. According to Greg Fitzgerald, Blue Apron's Director of Acquisition Marketing, the company spent its first few years explaining how the service worked. Now that it has more brand recognition, it's turned to more in-depth storytelling.
Blue Apron's mission is to "make incredible home cooking accessible to everyone." And that's largely through creating a sustainable food ecosystem by sourcing products directly from responsible farmers and suppliers, reducing food waste, and educating users on every step of the process. Content has been key to communicating that message. Blue Apron often updates its blog with posts that introduce suppliers (such as this tomato farmer) and address sustainable seafood and food waste issues.
Blue Apron has a substantial social following with 1.5 million fans on Facebook, 252K on Instagram, and 51.1K on Twitter. Blue Apron promotes blog posts on social, but will also post tips about reducing food waste, or updates from sustainability events.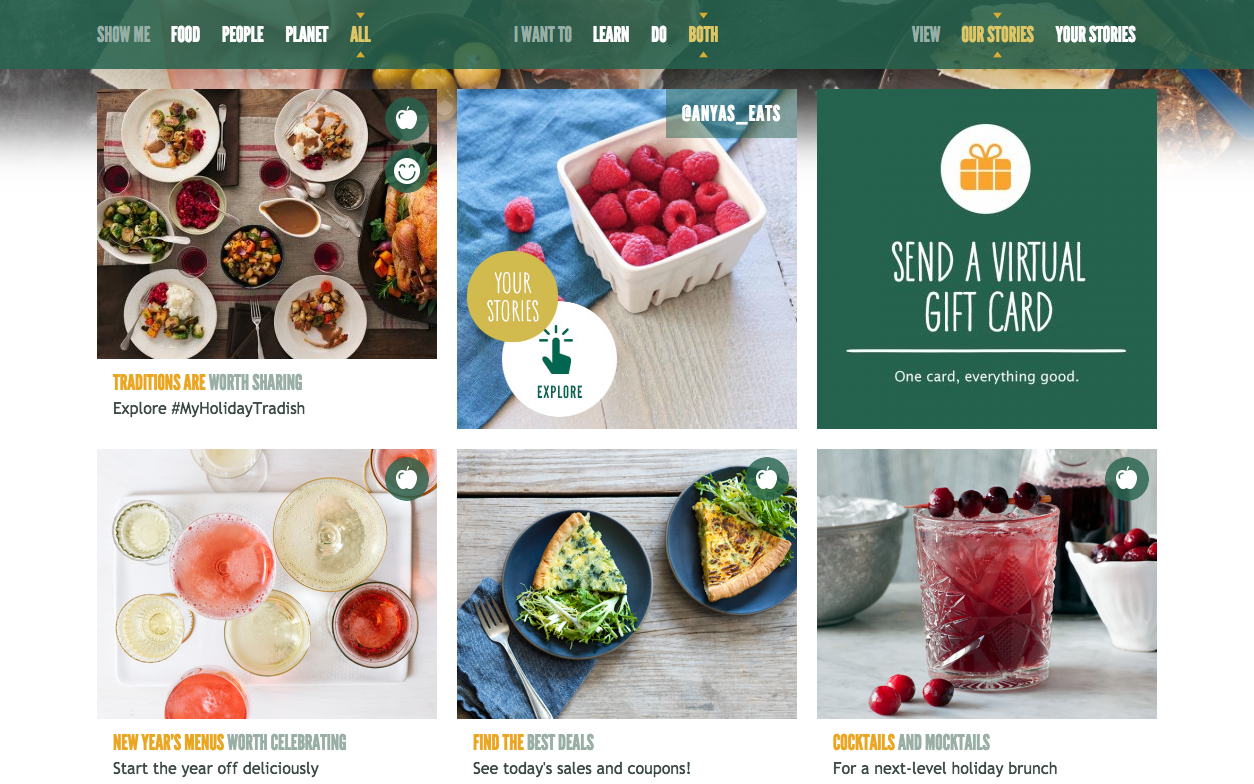 Content marketers are likely to notice one distinct and somewhat surprising aspect of Whole Foods' homepage: Rather than hitting users with deals or a large search bar to find the nearest store, the homepage – and much of the site – features content.
Beautiful food photos and recipes are at the core of Whole Foods' website. Users can browse seasonal recipes, Instagram food photos from other Whole Foods shoppers, and tips for healthy eating and smarter shopping. Whole Foods knows that by presenting users with useful, compelling content, they'll inspire visitors to shop – even if they don't explicitly tell them to do so.
Whole Foods takes the same approach with its social channels. On Instagram (1.8 million followers), they'll regram beautiful food photos from users, but rarely promote their own products or deals. Whole Foods is also a prolific video creator who updates its YouTube channel (53K followers) nearly every week. They have series on cooking how-tos, food trends, recipes, sourcing, and more. In addition to providing existing customers with inspiration, Whole Foods is creating content that will be surfaced in search when people look for recipes or cooking tips. This will inspire existing customers to shop for ingredients – and introduce the brand to other potential customers.
David Chang is arguably one of the most influential chefs of the last few decades. His first NYC restaurant, Momofuku Noodle Bar, launched the U.S. ramen explosion, educating people that the dish is much more than instant noodles for college students. Today, Chang's empire includes Momofuku restaurants in Toronto, Sydney, and Washington, D.C. – plus, a thriving print magazine and website.
Chang launched Lucky Peach as a print publication in 2011. It was a surprising move, considering the state of food magazines. Gourmet, perhaps the most storied culinary publication, had recently folded. Others were struggling. So many in the industry were shocked to hear that Lucky Peach would be a quarterly print publication, selling at $10 an issue, with a minimal digital presence.
Thanks to its distinct voice, quality writing, and in-depth features, Lucky Peach gained a loyal following. In 2015, the team finally launched a Lucky Peach website to meet reader demand.
In the past two years, the site has grown to include a number of unique features, including a robust video section that has how-tos, chef interviews, and behind-the-scenes looks at hot restaurants. There's also an Atlas that showcases insider recommendations of where to eat around the world.
Compared to global brands, Lucky Peach may not have a huge audience – the Lucky Peach magazine has a circulation of 100K and the website has 550K monthly uniques. But it's an example of a brand that reaches the right people. Lucky Peach readers spend 3 to 4 hours with each issue. More importantly, readers have an average household income of $127K, 96% regularly cook at home, and 98% eat at a restaurant at least once every two weeks. The average age of print readers is 39, and 41% of web readers are between the ages of 25 and 39.
With its ability to reach a young, affluent audience that's passionate about food, it's not surprising that Lucky Peach – itself a branded publication – also offers branded content for advertisers.
Starbucks
With ubiquitous stores, widely adopted mobile apps, and massive social audiences (36 million fans on Facebook, 12.6 million on Instagram) one would think that Starbucks would be serving fans content at every avenue. But the coffee giant didn't made great strides with content until 2016.
In September, Starbucks launched "Upstanders," its first content series that featured videos, written stories, and podcasts. Each of the 10 episodes highlights an uplifting story from around the country, such as a former inmate's work to break the cycle of incarceration, and a group of high school students who prevented an incinerator from being built nearby. Howard Schultz, Chairman and CEO of Starbucks, and Rajiv Chandrasekaran, a former Washington Post editor, wrote and produced the series.
In December, the company launched "1st and Main," an animated web series featuring talking animals who work and hang out at Starbucks. It was the brainchild of a trio of Simpsons writers who worked at Starbucks every morning and saw the Wifi log-in page as a missed opportunity to serve content to a captive audience.
Though Starbucks does have a blog, 1912 Pike, that offers recipes and information about brewing and sourcing coffee, the company rarely promotes the content on social. (Another missed opportunity!) Instead, the brand's social channels are focused on consumer engagement around popular Starbucks drinks (#PSL) and products (#RedCups) – undoubtedly in an effort to drive sales.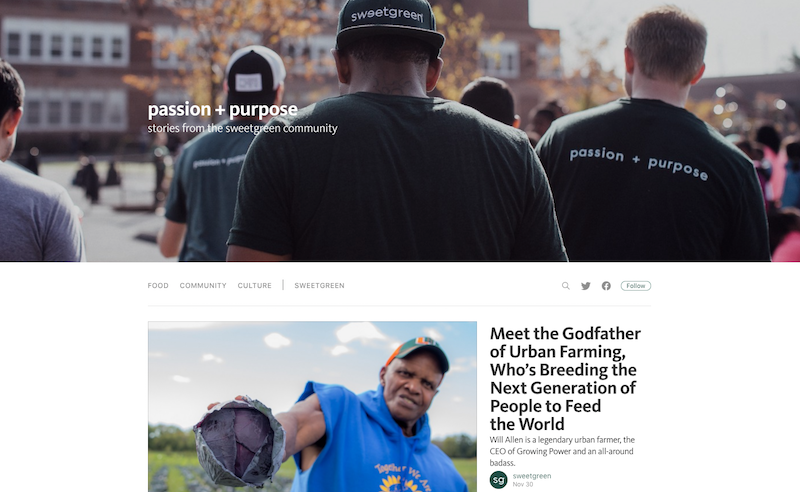 It's common to see lines stretching out the doors at sweetgreen locations during lunchtimes. While those customers are certainly looking for a quick and tasty lunch, there's an even better chance that a good deal of them want to eat there because of sweetgreen's commitment to ethically sourcing high-quality ingredients.
sweetgreen is a DC-based fast casual chain that offers fresh, healthy food that's local, organic, and sustainably sourced. They're committed to showing people where the ingredients came from, and have used content to spread that message.
sweetgreen's main content hub, Passion + Purpose is on Medium, and the stories speak to that title. Some articles profile farmers who produce sweetgreen ingredients. Others, like a piece about steelhead, share information about ingredients with which people may not be familiar. sweetgreen also highlights how they're educating people about food and bringing healthier options to underserved communities.
In addition, the company is finding new ways to tell stories. Lauren Drell, sweetgreen's Director of Content, says they're working on a VR film that will take users to a working farm. "Once you spend a day on the farm, you don't see food in the same way," she says.
Technology + Telecom (Fortune 500)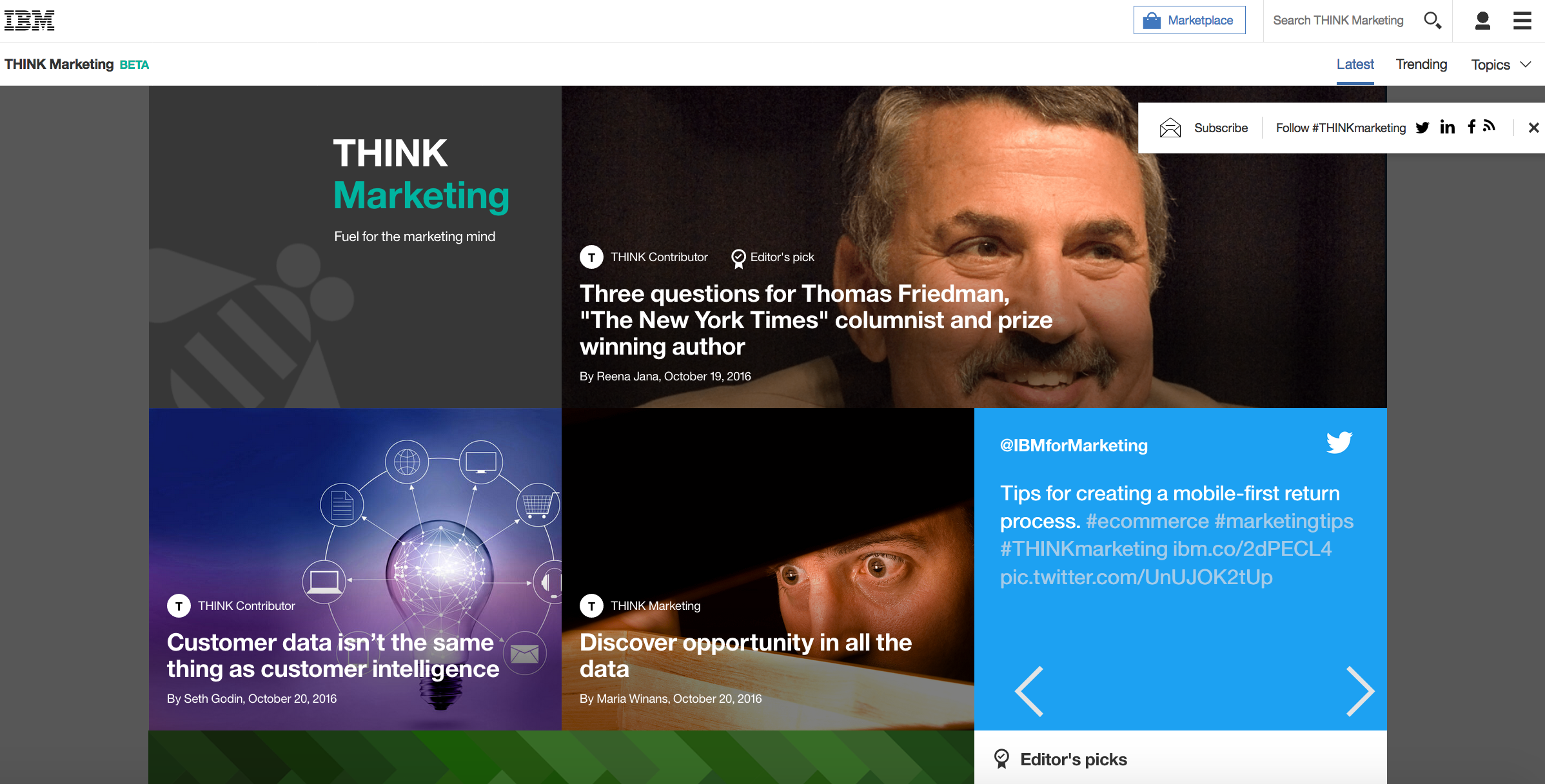 To ensure success for its THINK Marketing hub, IBM deployed what is arguably its most valuable resource: Watson.
The cognitive computing system is literally the brains behind the website. Watson analyzes what users are reading and how they engage with the site, then serves up personalized content.
"THINK Marketing looks a lot like a regular publishing site, but topics are rendered virtually," Bob Lord, IBM's Chief Digital Officer says. "It's almost limitless how the hub can configure around a particular buyer type."
There's another key reason IBM uses Watson to power THINK Marketing: The storied technology company is positioning itself (and Watson) as a marketing tech leader that can extract valuable customer insights from mountains of data. While IBM has great brand recognition, there is little to no association between IBM and marketing technology. THINK Marketing is part of IBM's long-term strategy to demonstrate marketing expertise. Thought-leadership articles along with videos and automatic demos – all Watson-served – will eventually lead to purchases.
That will be the true measure of success, according to Lord: "It's the whole journey, not the traffic. We're not happy until the whole journey is complete."
Google is one of the world's most recognizable brands and it's not just because of its unshakeable hold on the search market. (Google controls nearly 95% of the U.S. mobile search market and almost 86% of all U.S. mobile and desktops searches.)
Google is also a brand that has a great worldwide reputation. And that's largely due to its smart marketing practices.
The company's business goes way beyond search. Google has teams working on everything from work collaboration tools (G Suite) to a cultural institute (Google Arts + Culture) that strives to make the fine arts more accessible. Because it has so many lines of business that ladder up to the Google name, the brand appears to be everywhere. Dozens of Google teams produce and distribute various forms of content daily on multiple channels – including many of their own, including YouTube and the Google homepage.
More importantly, Google consistently delivers free content that people value. Their videos, apps, games, and written content speak to people at a human level. Most Google content is inspiring, entertaining, and informative, with subtle self-promotion. This is one reason people hold Google in such high esteem: Because the brand proves its value every time people interact with it.
For example, in August 2016, millions of people around the world were turned to Rio de Janiero for the Olympics. That month, Google released a video series, called "Beyond the Map," that took viewers into favelas – Rio's historically poor and crime-ridden shantytowns – and introduced them to locals. They included Luis, a teenage ballet student, who dreams of dancing at the Teatro Municipal, and Paloma, a young woman who hopes to study artificial intelligence. Some are 360-degree videos, and the whole series is meant to be watched on Google Cardboard for a VR experience. (At the very least, people who don't have Cardboard can navigate through the videos on mobile or desktop.) Either way, by giving people compelling content, Google introduced people to its latest technology and provided impetus for them to interact with it.
In 2016, Google also made a prominent change to its global communications content strategy. When you wanted to find information about the company, well, you Googled it instead of going to a specific blog. Last September, Google acknowledged that was a problem and launched The Keyword, the official new Google blog. This hub aggregates content that was previously posted across 19 blogs, so users will have a much easier time finding information.
Those are just two content marketing examples amid many. Others include the marketing insights blog Think with Google, the Google Primer marketing lessons app, and, of course, Google's "Year in Search" videos that go viral every year.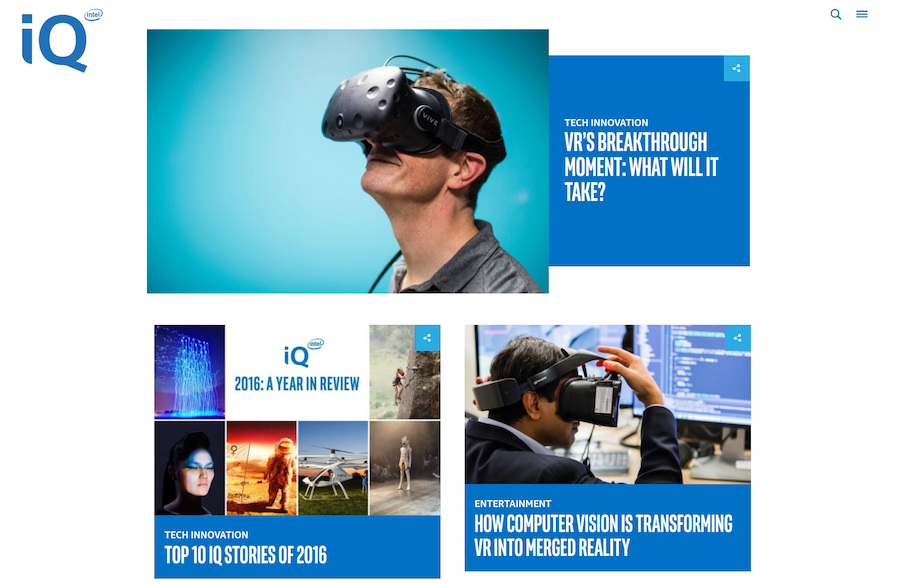 With nearly 3 million unique visitors a month, Intel iQ has traffic numbers that many content marketers would envy. But even more impressively, iQ has achieved those metrics through a global strategy. iQ is actually comprised of 18 distinct international sites, each highly tailored to each market by local editors. In telling stories that showcase how Intel produces groundbreaking technology, iQ helps to reshape the perception of Intel as an innovation powerhouse, rather than an aging tech company.
Luke Kintigh, Global Content and Media Strategist at Intel Corporation, has led the development of that strategy. He and his team created an iQ editorial bible that defines the site's mission, voice, tone, and standards that every person who works on each site follows. The central content team strives to create pieces that will appeal to all markets, and local editors customize content so it speaks to their audiences.
Beyond traffic, Kintigh and team are focused on conversions as the ultimate KPI to ensure they're engaging and retaining an audience of Intel loyalists.
GE is often heralded as a content marketing pioneer.
Back in 2008, the company launched GE Reports, a blog to showcase the innovation coming out of the company. Now, nine years later, GE Reports continues to be a content marketing leader. Under the helm of Tomas Kellner, a former Forbes journalist with an engineering background, GE Reports has evolved into a full-blown digital magazine whose top story earned more than 1 million views.
As the digital landscape evolves, GE continues to find new and creative ways to deliver content. In late 2015, GE released "The Message," a fictional sci-fi podcast about cryptographers investigating alien transmissions. They followed that up with "LifeAfter," launched in fall 2016, about an FBI employee who communicates with his dead wife.
GE has long created videos to showcase its technology, and the company continues to release series geared towards consumers – like the new "Labracadabra" YouTube channel, that shows people how to create science experiments at home.
But this being 2017, GE has brought its content into the connected device space. It's integrated the podcasts and "Labracadabra" experiments into Amazon's Alexa, so anyone with an Echo device can access them there. It's all in line with GE's strategy to meet audiences where they are and leverage technology and different content formats to engage users.
"The text alone may not be able to cut it, especially when you need to explain something complex," Kellner says. "You need multiple points of entry: the headline, the story, the picture, the GIF. Don't let the reader walk away."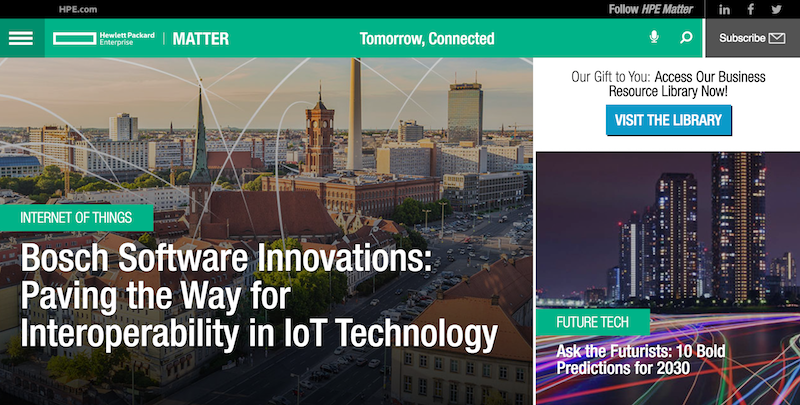 Hewlett Packard Enterprise provides technology solutions to help businesses innovate and drive value in today's rapidly evolving digital landscape.
That sounds great, in theory. But what does that actually mean?
HPE Matter, HPE's content hub, strives to answer that question. By providing in-depth thought leadership articles, HPE brings their ideas and technology to life. Often, they address complicated topics from consumer-friendly angles: The story "How Texas A&M Designed a Stadium for Millennials" deals with hybrid infrastructure. And HPE addresses cybersecurity through the lens of pop culture with the piece "All Those Cybersecurity Threats on 'Mr. Robot'? Totally Plausible."
HPE Matter's content also breaks out from the standard article format. "Ask the Futurists: 10 Bold Predictions for 2030" features vibrant images and a scrolling vertical format. In addition, they frequently post videos that show how their technology is used in many industries, such as film.
HPE Matter follows many content marketing best practices. There are clear calls-to-action throughout the site that urge people to sign up for HPE's newsletter and download whitepapers. Signing up for the newsletter only requires people to enter their name, email address, and company name. This gets them into HPE's system where they can be scored as a potential lead based on their company. When they are ready to engage more, after reading several newsletter articles, or returning to the site and seeing callouts to download a whitepaper, they may do so. At that point, HPE asks whether they can contact them by phone or email, if they are a strong lead.
In addition the the newsletter, HPE Matter has its own handle on Twitter (11.3K followers). This makes sense for a B2B company looking to reach a tech-savvy audience. HPE also has large social followings on LinkedIn (2.3 million) and Facebook (151K fans), and will occasionally share HPE Matter posts there.
Technology (Other)
As a leader in the design software space, InVision brings a unique perspective to everything they do – including their content marketing.
According to Clair Byrd, InVision's Head of Marketing, design and demand generation are one and the same at the company: "Design is not aesthetic for us, but a way to solve real business problems. 'How do I get someone to click on this Google ad?' is just as much a design problem as 'What typeface should I use for best readability on mobile?'" Byrd says.
InVision has also found great success in growing and tapping into an audience of loyal designers. Ninety-five percent of content on InVision's blog comes from users. According to Byrd, this is the reason the blog "represent[s] an accurate cross-section of what the design community cares about at any given point in time."
Even more ambitiously, InVision released a full-length documentary in summer 2016. DESIGN DISRUPTORS, 18 months in the making, features companies that have reinvented and redefined industries through design. The film was screened in more than 100 cities – and generated more than 100,000 leads for InVision.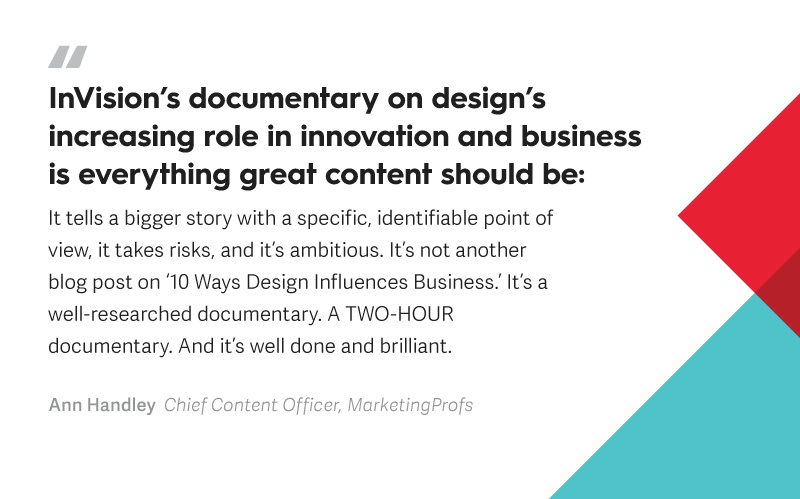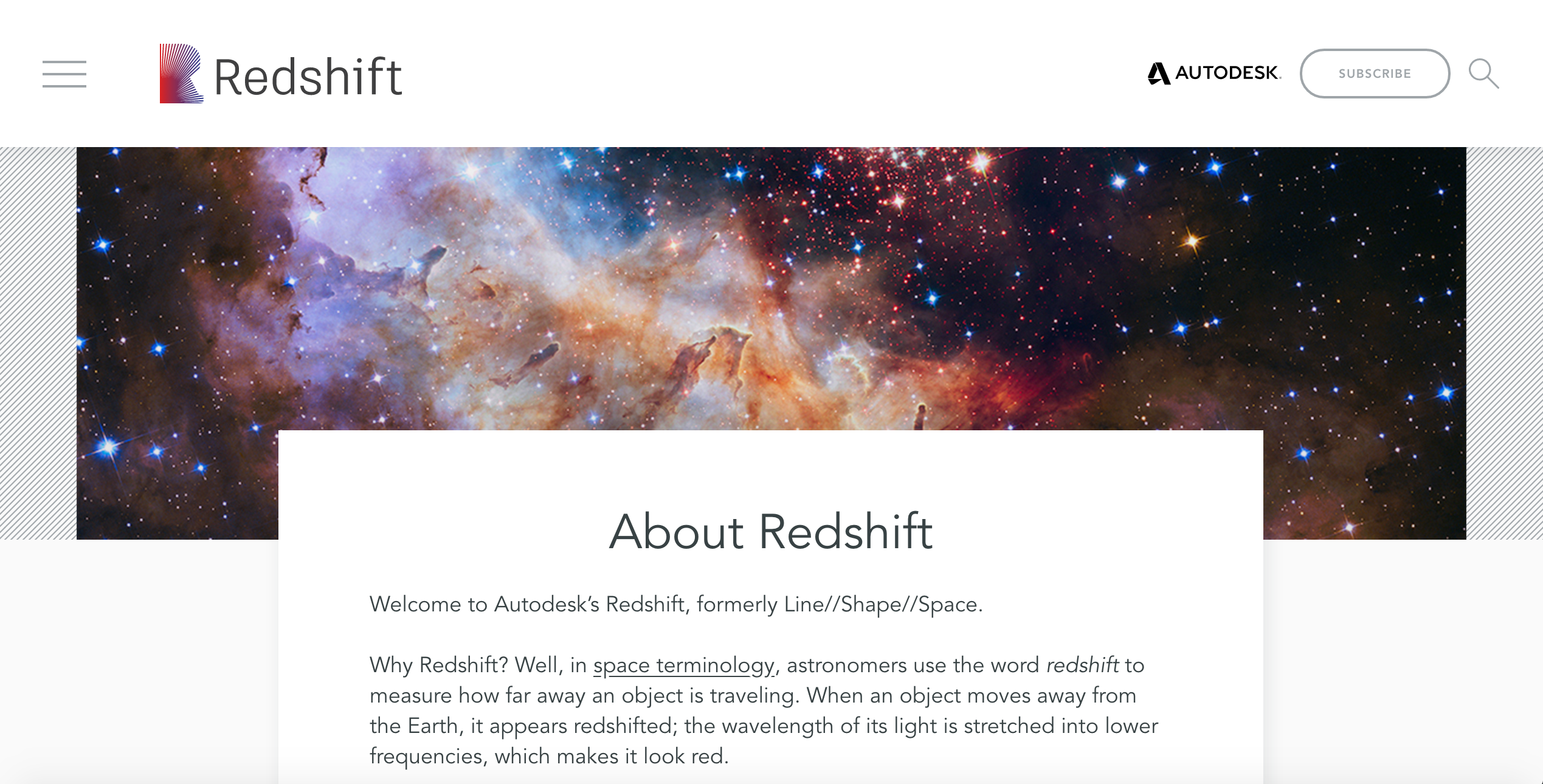 While Autodesk may not have the same brand recognition as larger tech companies, they've quickly made a name for themselves in the content marketing space.
The software company launched the blog Line//Shape//Space as a pilot project in 2013 to target "very small businesses," according to Dusty DiMercurio, Autodesk's Head of Content Marketing and Strategy. Within a few months, the blog exploded. Internally, teams saw the content's value, started promoting it, and asked the team to create more. Externally, Line//Shape//Space drew loyal readers from clients and prospects – and awards from the content marketing industry.
That's the kind of success that most marketers dream of. But it posed a problem for the Autodesk team – the blog wasn't designed to meet all those needs. This year, DiMercuiro made a radical decision: He shut down Line//Shape//Space and launched a brand new content hub called Redshift.
This time, Redshift is designed to scale. And since it targets multiple personas, Redshift has several personalization features, including technology that recommends articles based on reader habits and preferences. Those features are key as DiMercurio and his team are measuring success through KPIs like content-assisted sales.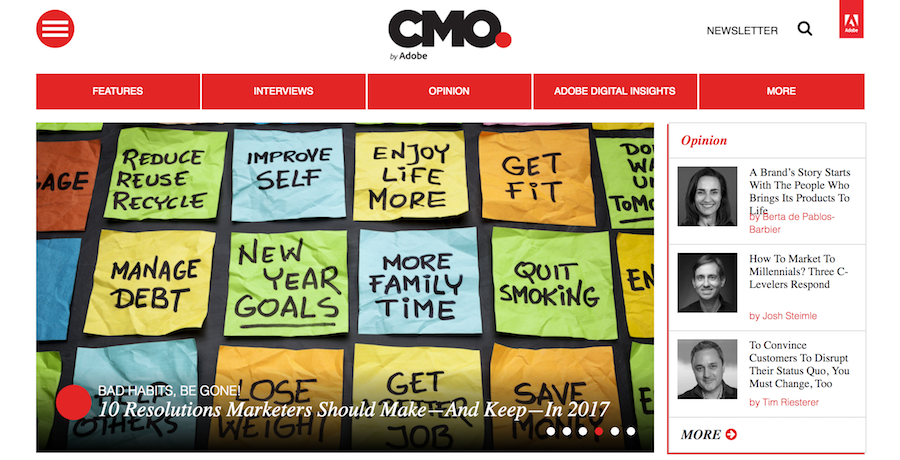 Adobe
Adobe has long been considered a content marketing leader, and for good reason. As a company that provides enterprise marketing software to major corporations, they have to prove their industry expertise.
In a brilliant marketing move several years ago, Adobe acquired the domain CMO.com and launched a digital publication with the same name. By producing content for senior marketing leaders, Adobe aligned itself with its target audience and built brand awareness. The site publishes content daily, both original content they commission, as well as guest posts from marketing leaders and senior executives from outside companies. One section of CMO.com is dedicated to Adobe Digital Insights, its proprietary research culled from anonymized data from more than 5,000 companies using Adobe Marketing Cloud. In addition, CMO.com promotes the annual Adobe Summit on the site, since its readers are the target for conference.
CMO.com isn't Adobe's only content hub that builds brand awareness around a product. Behance, the creative portfolio platform Adobe acquired in 2012, has more than 1 million users including designers, architects, and illustrators. To "provide the 'missing curriculum' for building an incredible creative career," Behance has 99U, a sister brand that provides Behance's community with inspiring and actionable content. 99U updates the site frequently, hosts an annual conference, and publishes a print magazine and books,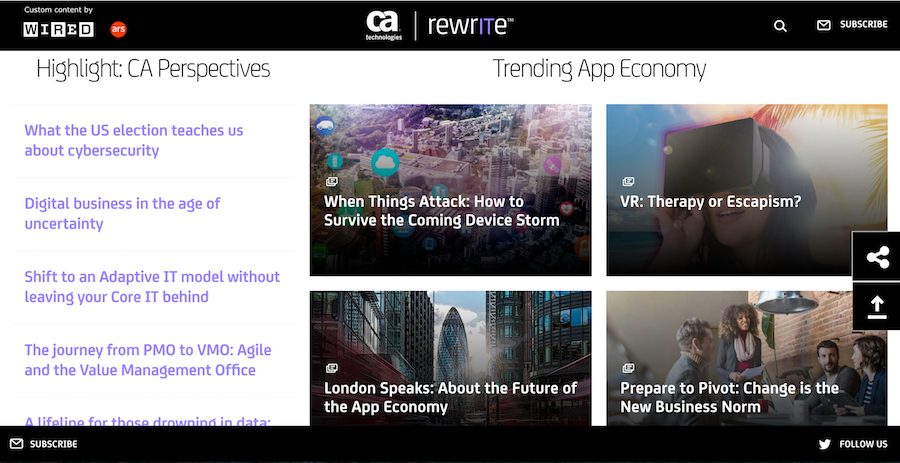 As an enterprise software company that helps other businesses with digital transformation, CA Technologies knows how quickly the world is changing – and those who don't have the foresight to adapt will be left behind.
However, they also know how easily people can get caught up in information overload.
As they say: "Everyday, people with great ideas and strong networks fail to connect to share what they've learned. Why? Too often they're focused on putting out the small fires of their day-to-day job while ignoring the big insights and strategic moves that separate the great firms from the good ones. They lose time and money on failed efforts, or miss key chances to make an impact."
CA Technologies strives to change that with its digital magazine, Rewrite. Former business and tech journalists staff the publication, and they partner with Wired to provide additional content. The publication covers tech topics ranging from the app economy to API management to security. CA Technologies also offers their own research as gated content – so they can capture valuable user information and eventually convert them to being buyers.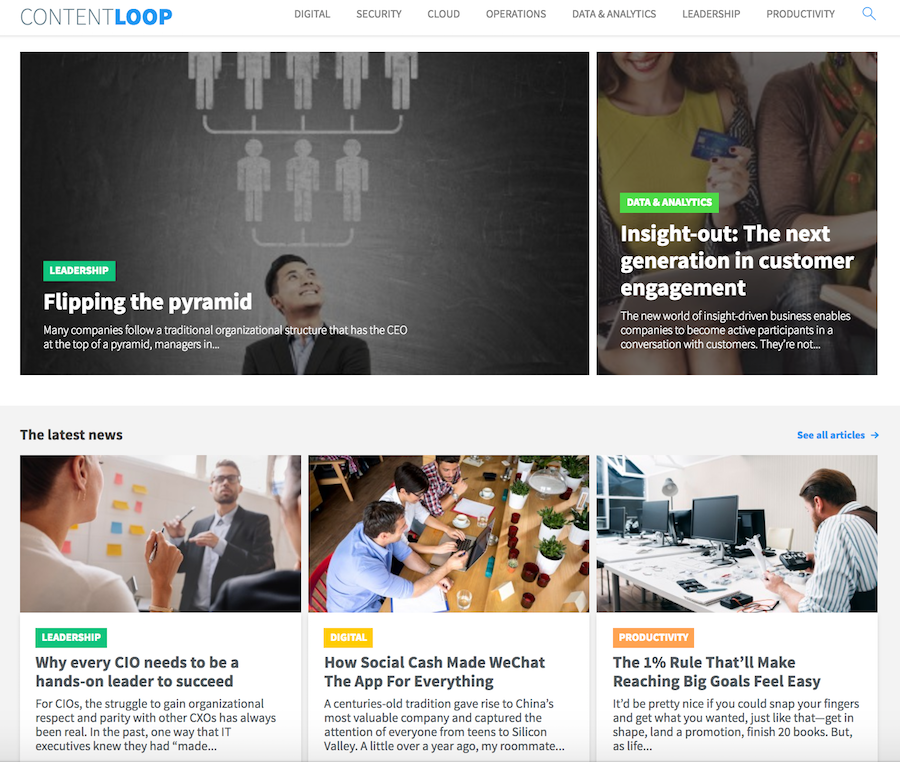 As a consulting, technology, and outsourcing firm with more than 180K employees in 40 countries, Capgemini works with major companies around the world. In an effort to build brand awareness and reach business and IT leaders who would contract their services, Capgemini has a robust content hub that keeps them up-to-date with the latest news they'd find useful.
Content Loop is a joint venture between Capgemini and LinkedIn. The Capgemini team updates the site frequently using curated, licensed content from publications like Fast Company, Mashable, Forbes, and Business Insider. The site covers topics ranging from data and analytics, to cybersecurity, to leadership.
Capgemini often promotes the content on Twitter (81.4K followers) and LinkedIn (927K followers), where posts will often get dozens of engagements. But more important than social engagements, the Capgemini team is looking for conversions. A pop-up appears on the content hub when users scroll down, asking them to sign up for the Content Loop's newsletter. This allows Capgemini to start building a relationship with readers and market to them, with the hope of eventually converting them to be clients.
Financial Services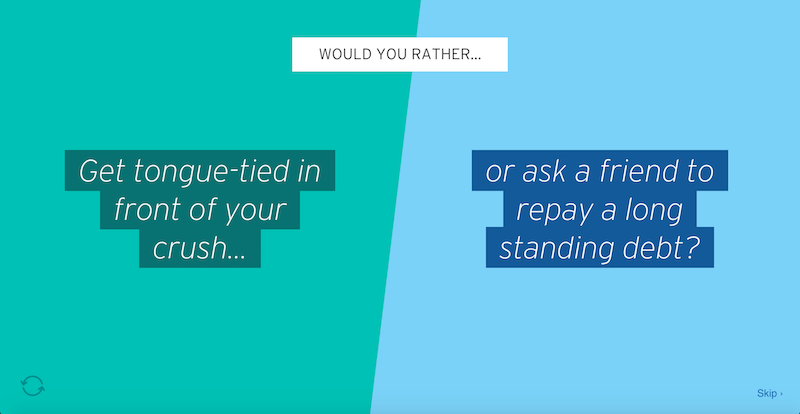 Most people don't feel comfortable talking about their finances.
Citi recently conducted a study and found that two-thirds of consumers believe that money is a taboo topic. And half of consumers are uncomfortable discussing money.
To address this, Citi launched a new campaign, called "Let's Face Money," to help people start having those important discussions about their finances.
When users land on the "Let's Face Money" microsite, they're asked a "Would you rather?" question that illustrates just how difficult it can be to talk about money. When they click into the site, they're served articles, infographics, quizzes, and videos that tackle tough money situations, like how engaged couples can merge their finances or how the sandwich generation can care for both their parents and children.
At the very bottom of each article are a few related links to more consumer-friendly, service content. However, they drive users off the "Let's Face Money" hub and onto Citi.com, the company's main domain. Citi is still providing useful content and financial advice. But they're also bringing users one step closer to potentially becoming customers. Unlike the "Let's Face Money" site, Citi.com has multiple large calls-to-action (CTAs) that drive people to learn more about their credit card offerings.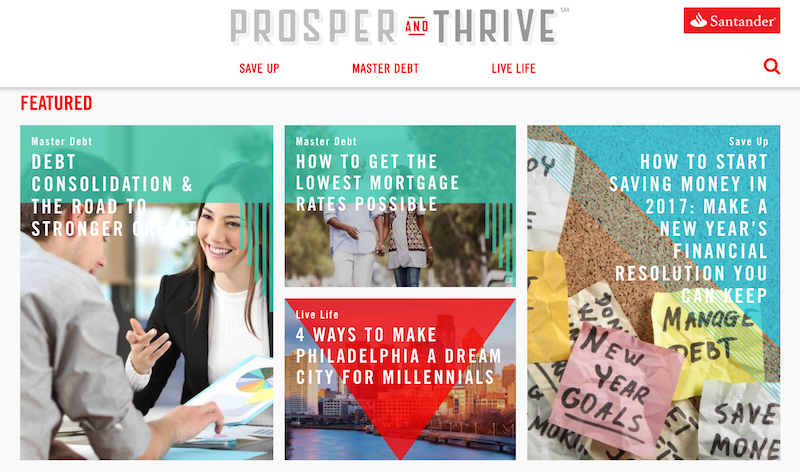 Santander Bank: Prosper and Thrive
It seems like every brand is trying to connect with millennials, and Santander Bank is no exception. However, they're proving their commitment to that goal by investing in a content strategy specifically geared towards that demographic.
Millennials best respond to brands that can connect with them in an authentic way and provide useful content tailored to their age and interests. Santander's content hub, Prosper and Thrive, has a clean, modern, and colorful aesthetic that feels optimistic yet sophisticated. The photos feature young, diverse subjects in urban settings.
More importantly, it's clear that the content is narrowly tailored to millennials who are working and ambitious but may not be able to save much money. Take this story as an example: "I'm Saving $3,180 Per Year and You'll Never Guess How."
Rather than highlighting articles about people who saved $50K a year – an unreachable goal for many millennials making less than that in entry-level jobs – Santander is looking to provide content that is relatable and useful for its target.
In addition, at the bottom of every article, Santander asks the reader to vote "yes" or "no" on whether the article was helpful. These insights can help Santander provide more content that users value.
Some articles include subtle Santander promotions; for example, the story "3 Tips to Help Save More on Groceries," mentions that users can apply for a savings account from Santander if they don't already have one. And on each story, there's a callout to receive emails from Santander, so the bank can send users content and promotions in the hopes of converting readers to customers.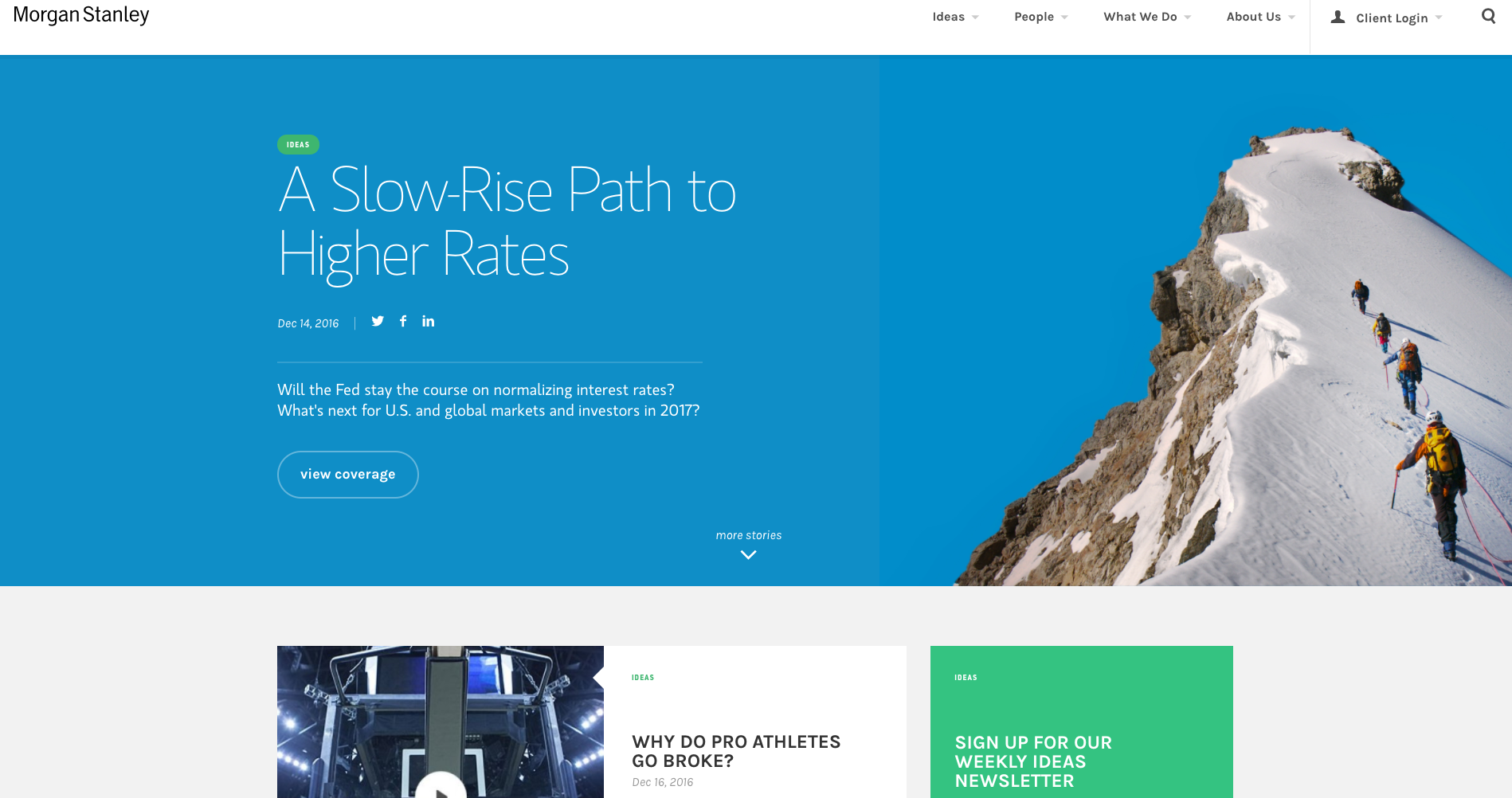 Morgan Stanley's website feels more like a digital magazine than your average financial services site. Rather than immediately telling people who they are, what they do, and how to contact them, Morgan Stanley seeks to engage people with content first.
Morgan Stanley publishes several times a week. In addition to stories about global markets, interest rates, and investing, they also offer feature stories about financial topics from a more consumer-friendly angle. For example, in December 2016, the company launched the "Morgan Stanley Ideas" podcast; the first episode was "Why Do Pro Athletes Go Broke?" and profiled former NBA star Antoine Walker, who shared his story about going from a basketball multimillionaire to bankrupt.
Morgan Stanley's homepage further indicates how they're using content to retain clients and court prospects. The "Ideas" section is the first navigation bar item, and the fist call to action on the homepage is to sign up to receive the Weekly Ideas newsletter.
Because Morgan Stanley's target audience is wealthy executives and leaders, they're most active on LinkedIn (533K followers), where posts average 100 engagements, and Twitter (403K fans). These are channels where their audience is more likely to be, rather than Facebook or Instagram.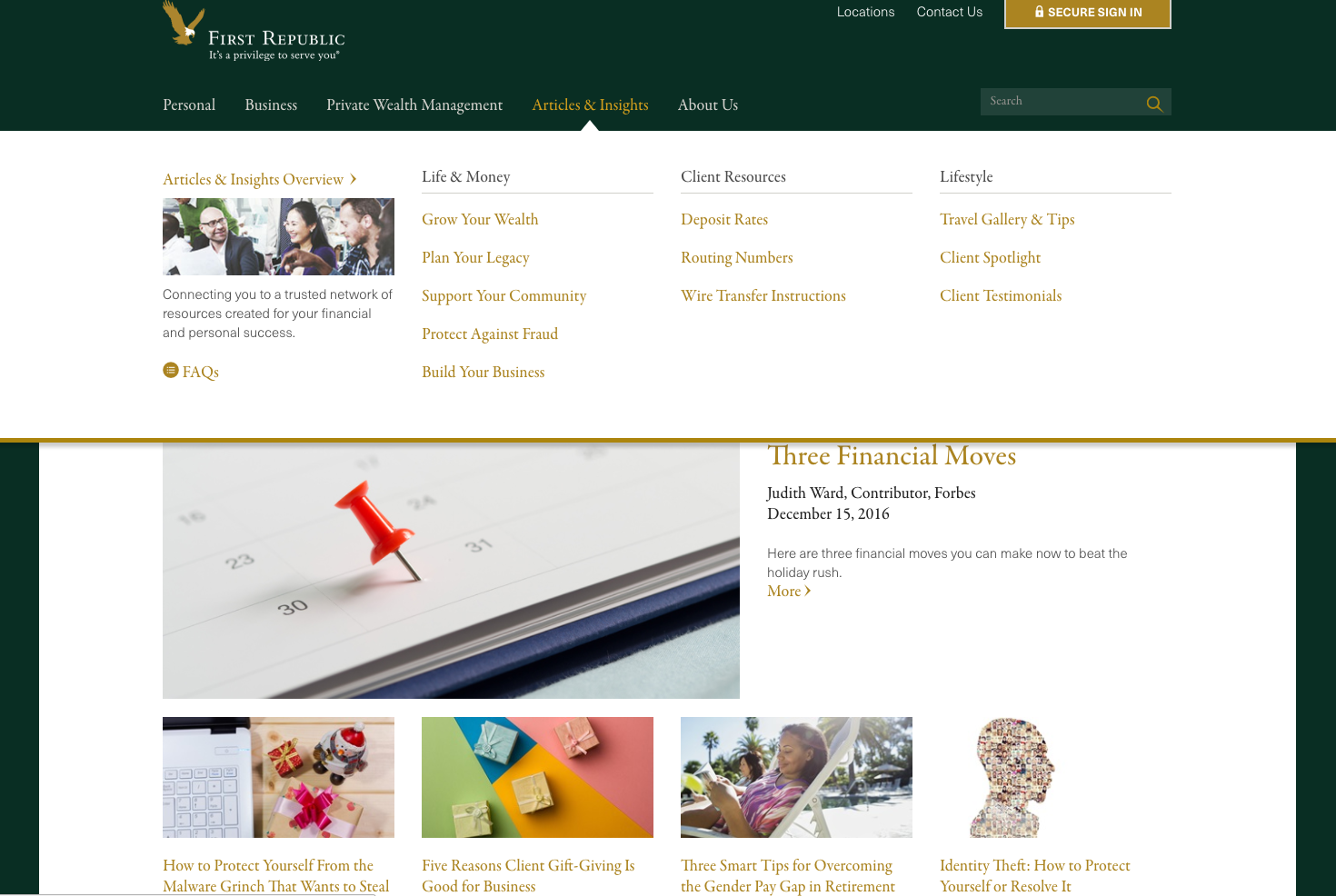 First Republic is a private bank that strives to put clients first. It caters to the well-heeled set and offers one-on-one, personalized service to meet their needs.
To that end, they're using content to educate and inform clients, even when they're not physically at a First Republic location. First Republic has a prominent Articles & Insights section on its website that's frequently updated with articles relevant to affluent clients. Topics include: Grow Your Wealth, Plan Your Legacy, Support Your Community, Build Your Business, Travel Gallery + Tips, and more.
First Republic has the most followers on Facebook (56K fans) and Twitter (27.4K followers), and that's where they put most of their social energy. They post articles from their content hub nearly every weekday.
On its content hub, First Republic gives users three different channels to get in touch, should they be interested. Users can call First Republic, have the bank contact them, or search for a nearby location to visit in person.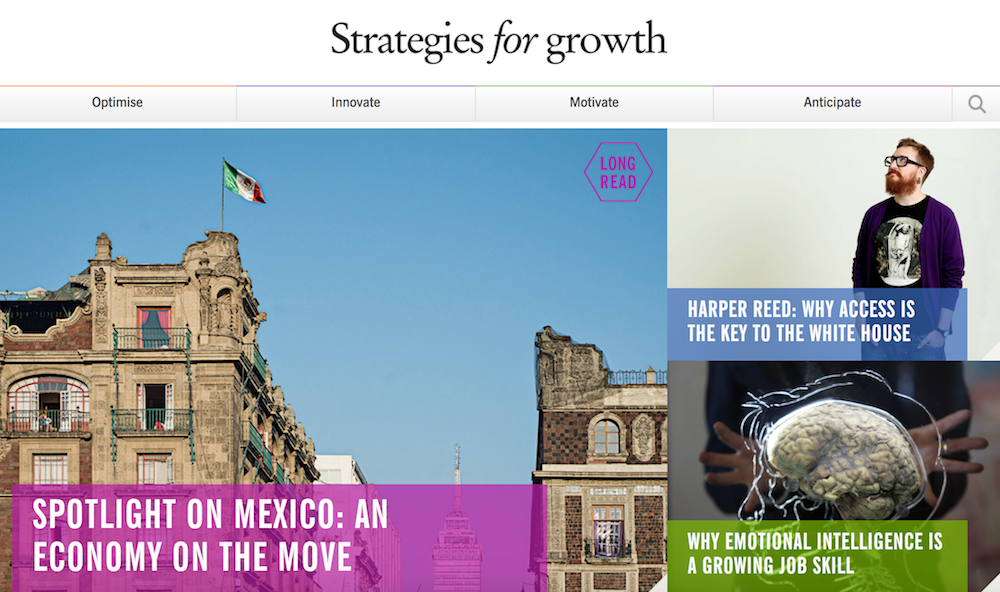 Grant Thornton UK: Strategies for Growth
All CEOs are looking to grow their businesses. And as a financial advisory firm that helps companies do exactly that, Grant Thornton UK has some valuable insights on the subject.
They're offering their thought leadership to CEOs and other senior executives via the aptly named magazine and website, Strategies for Growth. In doing so, they're looking to influence potential clients and retain existing ones by demonstrating their expertise and building brand equity in the growth space.
Articles on the site are mostly service-oriented and fall into four categories: Optimise, Innovate, Motivate, and Anticipate. On the homepage and every article page, there's a prominent newsletter sign-up module. This allows Grant Thornton to create an ongoing dialogue with users, and get valuable information (company and job title) that can score them as leads for remarketing.
Travel + Hospitality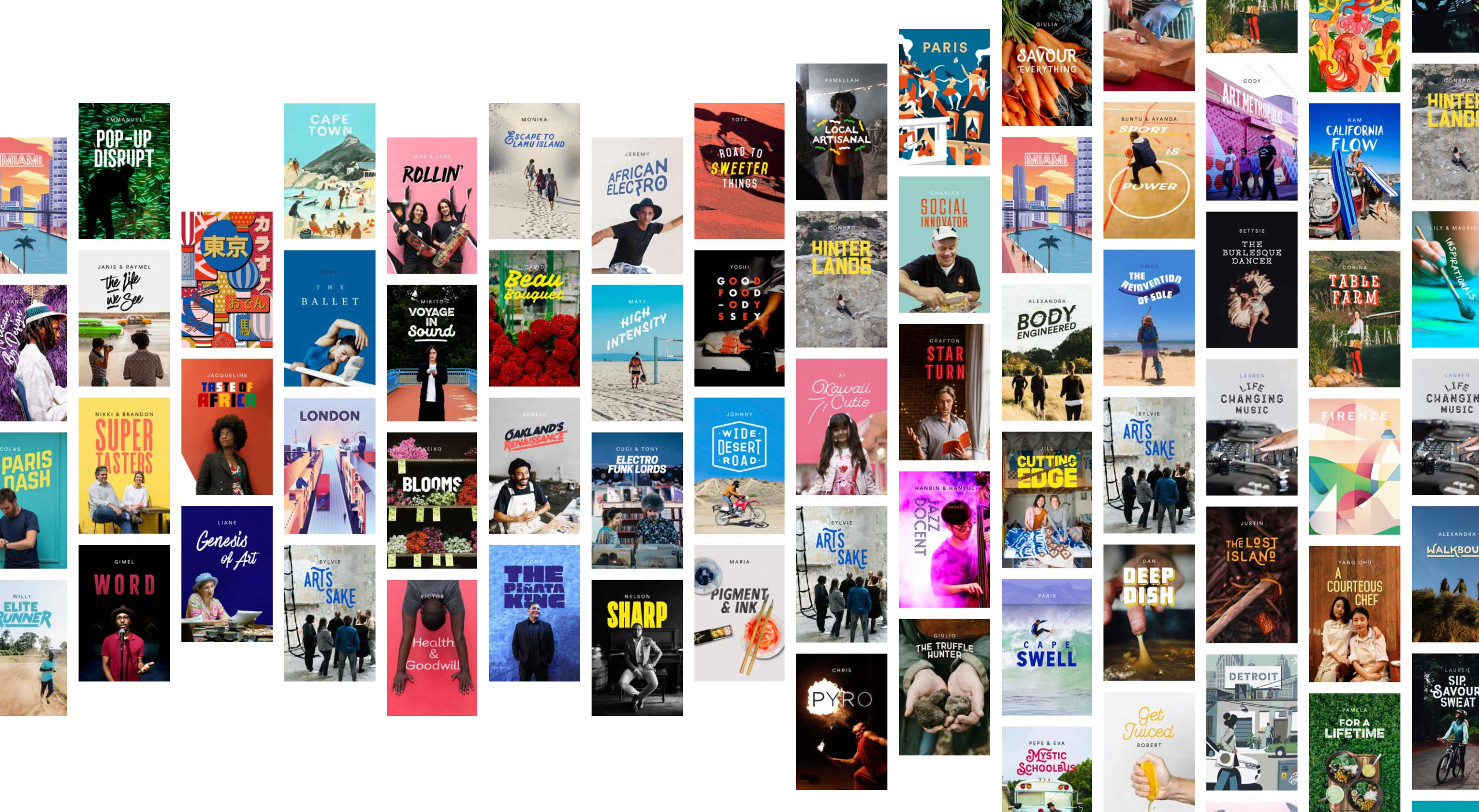 Airbnb
In late November, Airbnb announced that it was evolving from a home-rental company to a "holistic" travel company focused on experiences – and shared a preview of what its new content strategy would entail.
According to Airbnb CMO Jonathan Mildenhall, all content will come directly from the product: Each host will have a video trailer and a poster. Airbnb's marketing team can then leverage those assets to promote the brand in an authentic, user-centric way.
In partnership with Hearst, the company also launched Airbnb Magazine, a 32-page publication that features content from Airbnb hosts. Airbnb will release two more issues this year.
Leveraging users and UGC is hardly new to Airbnb – it's long been core to building the $30 billion brand. Airbnb has an engaged Instagram community of more than 1 million followers; most posts are user-sourced, and each racks up thousands of interactions. In addition, Airbnb's popular destination guidebooks, are comprised of thousands of recommendations from locals all over the world.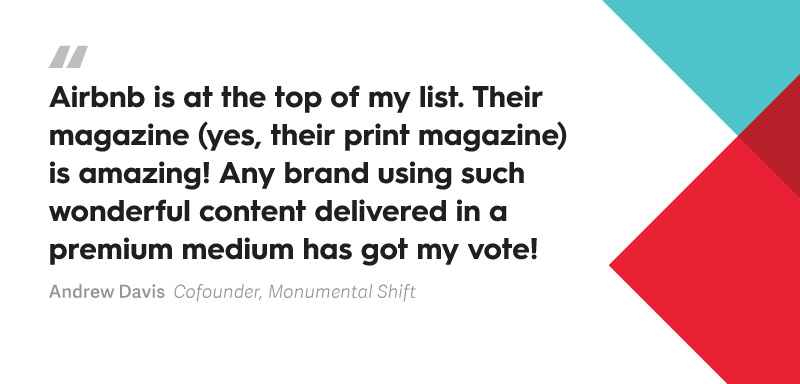 JetBlue
JetBlue's mission is to "bring humanity back to air travel," and their content marketing aligns with that philosophy.
From the JetBlue blog to their videos and social channels, the airline approaches content from a decidedly human standpoint, not shying away from uncomfortable topics. Take 2016's FlyBabies video, which garnered more than 1.6 million views on YouTube. JetBlue took a common, stressful experience – flying with babies – and presented a situation where users would be empathetic, or even excited, to hear a baby cry. In addition, they offered a corresponding blog post with tips for flying with little ones.
On social media, JetBlue offers users more than just aspirational photos of white sand beaches or gleaming skylines for the places they fly. In 2016, JetBlue formed a content partnership with Localeur, an Austin, Texas-based startup that curates restaurants, shops, and attractions that only locals would know in various cities. JetBlue features Localeur content on social media channels and its blog. This allows JetBlue to offer users more authentic, exciting, and unique information that's more likely to spark wanderlust.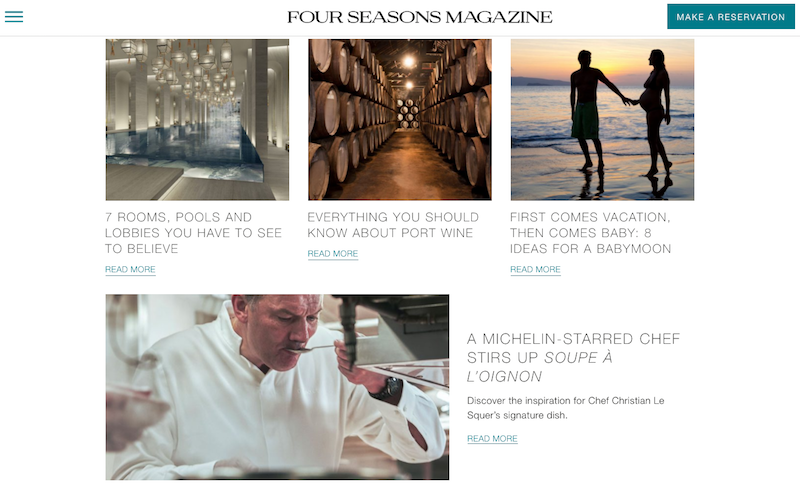 The Four Seasons Magazine was once an exclusive in-room perk for hotel guests. But as technology changed, so did the company's content marketing strategy. Now the brand is staying connected with luxury travelers who want to be in-the-know about the latest food, drink, and destination news.
Like the print version, the digital edition of the Four Seasons Magazine features beautiful photography and editorial about destinations. Stories also include discreet call-to-actions where interested users can click to learn more about, or even book, the related Four Seasons property. The magazine also has a newsletter to build an on-going relationship with fans and potential customers.
Four Seasons is active on social media, promoting its magazine content on Facebook. Plus, it engages fans by thanking and regramming their photos on Instagram.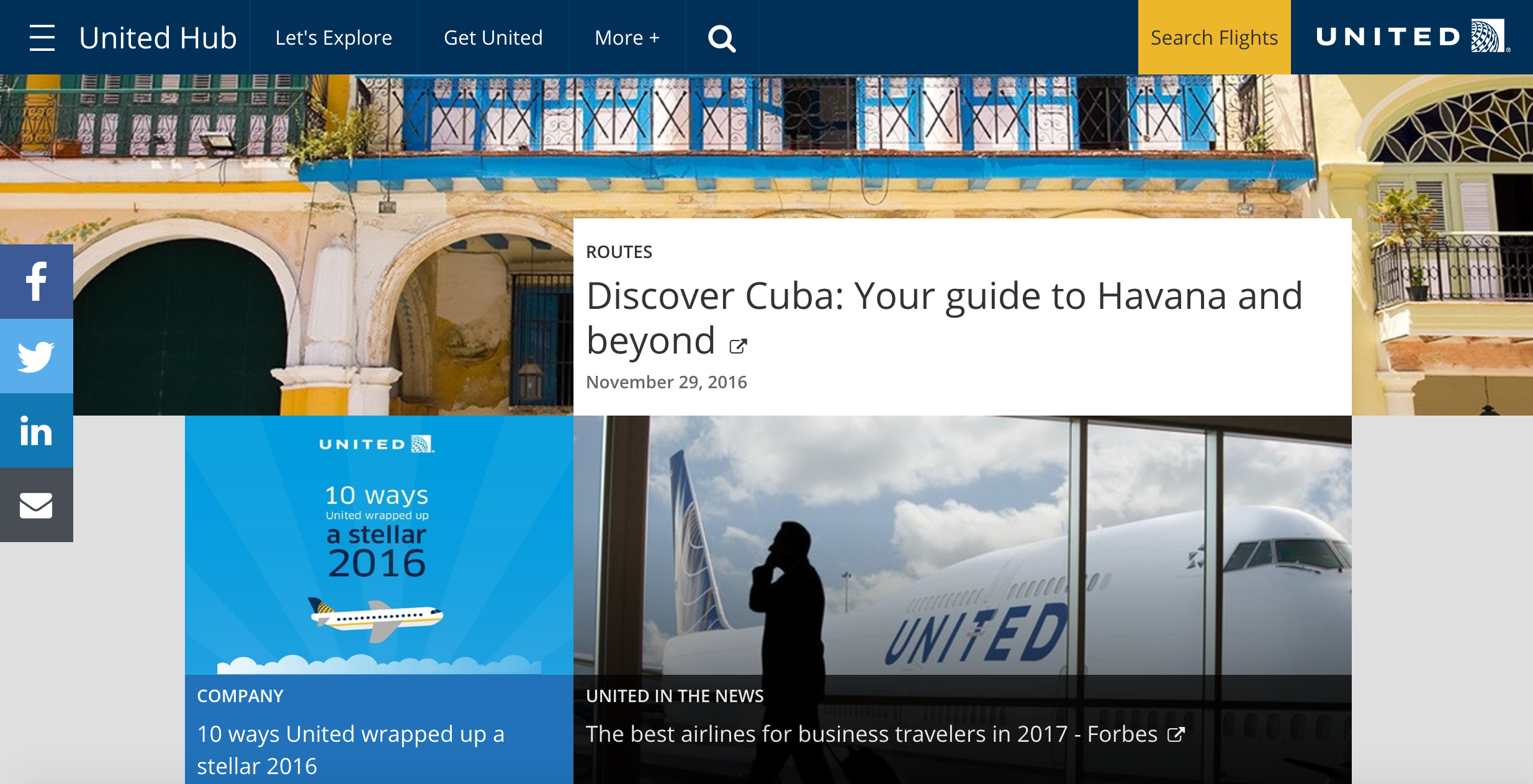 For most people, airline tickets are an investment – they're not something you purchase every day. So when people do hand their credit card information over to an airline, they want to feel like they'll get their money's worth. Plus, it's no secret that many airlines are struggling with their reputations. (The delays! The fees!) Both situations have made it imperative for airlines to continuously remind customers of the value they provide.
United Airlines is one airline that's striving to provide customers and prospects with travel inspiration, tips – and information about why people can trust the brand. The United Hub is the place where all this content lives. On the Hub, users can find destination-specific stories (e.g. "Just Say Oui: Your Guide to Paris"), inspiration-driven round-ups (e.g. "5 Overlooked European Gems"), and service tips (e.g. "7 Social Media Tips to Stay Connected"). The United team also writes stories about the interesting work they're doing behind the scenes, such as a time when they found an abandoned dog a home. In addition, United also links out to sites that have featured the airline in a positive light (e.g. "Top Six Airline Customer Service Moments of 2016" on TheStreet.com).
The airline has recently started experimenting with more immersive ways to share information. To get people excited about their new route to Cuba, they created a visually driven, interactive microsite. On "United to Cuba," users can navigate through the various options to learn about Cuba's food, culture, and history. They can also learn helpful, Cuba-specific travel tips.
United promotes much of this content on Facebook (1 million fans) and Twitter (864K followers). In doing so, they're providing their audience with useful, inspiring information, and not just self-promotional posts.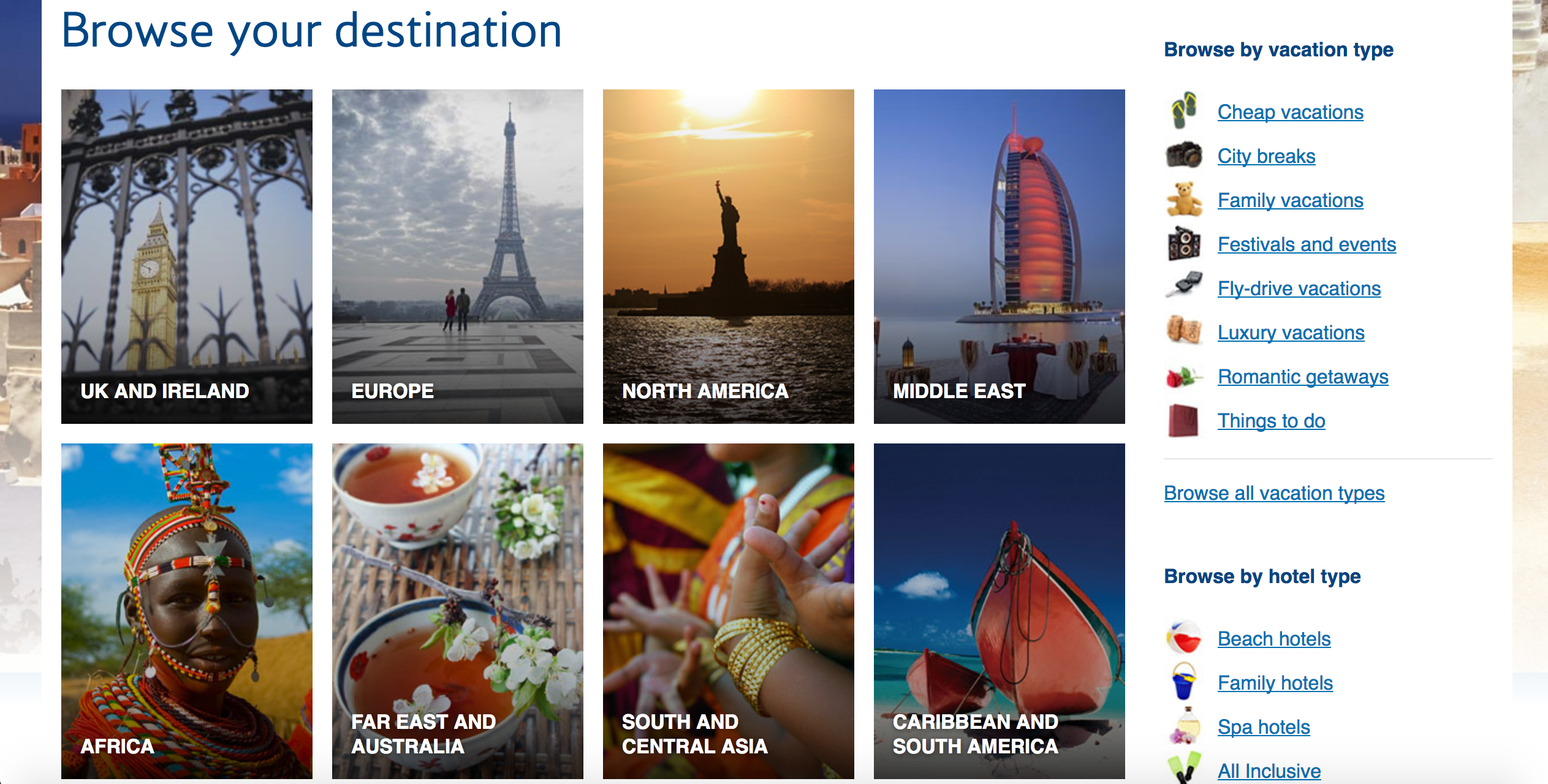 British Airways is another airline that's committed to giving customers more than just flight deals. On its website, the company has a robust content hub that has destination guides to places around the world where the airline flies. Users can browse not only by destination (which is ideal for people who have already booked flights), but also by theme, such as luxury vacations and family trips.
British Airways has a massive social media following: 2.6 million on Facebook, 988K on Twitter, and 517K on Instagram. It frequently promotes destination content on social, and creates social-specific content, as well. For example, during the holidays, British Airways released a "12 Gifs of Christmas" series that highlighted notable events from the year. The gifs collectively received nearly 100K views and gave British Airways a creative and subtle way to promote their feel-good stories from the year – and build goodwill for its brand.
Retail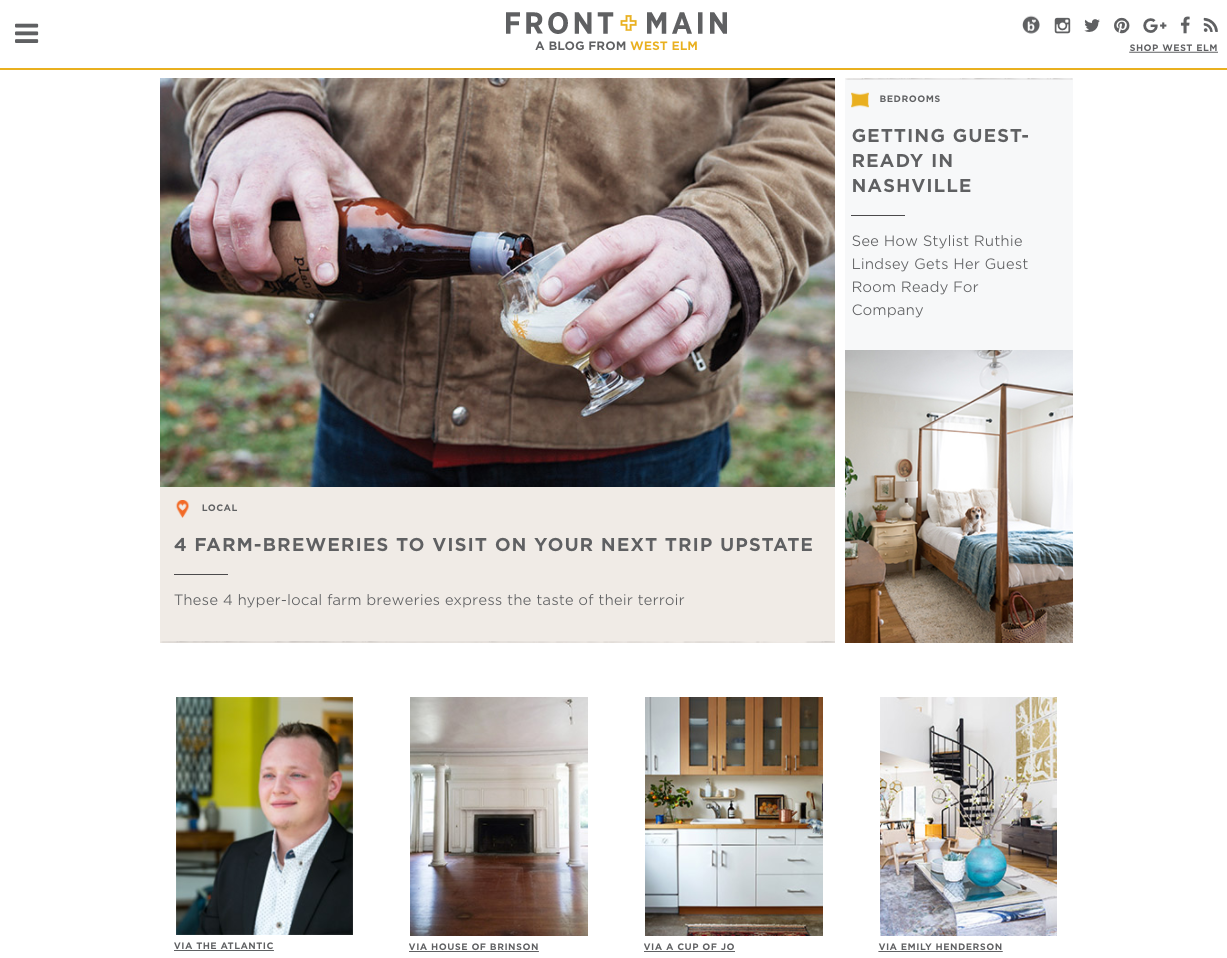 Popular furniture company West Elm has a pretty genius strategy for its Front + Main blog: Guest bloggers write the majority of posts.
This works for a number of reasons: It's clear that West Elm only partners with bloggers who have strong writing and design skills – and large social followings. This ensures that West Elm will get quality posts from unique voices. A look at the blog illustrates this point: Most posts feature beautifully styled images and engaging text. More importantly, these guest bloggers gives West Elm big new distribution channels – because the bloggers will surely promote the posts to their audiences.
West Elm offers a subtle shopping experience for those who want product information. A "Get the Look" section at the bottom of every post includes images and links out to featured products. And on Instagram (1.2 million followers), West Elm provides a link so interested users can shop the feed.
The company also has a shrewd solution for self-promotion: On the blog, there are modules that have nothing but a compelling image and a "via" link out to another publication. Those outbound links go to select publications that have tastefully featured West Elm products. Clicking on those links provide would-be shoppers with design inspiration – which may make them more likely to buy.
With more than 1.6 million sellers around the world, Etsy, has no lack of content. The online marketplace is built on offering artisans a place to sell their unique goods – which requires them to post quality photos and descriptions of their offerings, along with personal stories.
For Etsy, curation is key. To keep shoppers engaged in between purchases, they have to continuously surface creative and inspiring products in compelling ways. The company updates the Etsy Blog almost every day with posts that feature sellers and their wares. Some are in-depth "Featured Shops" profiles, while others are roundups that highlight a number of sellers and products. And since the Etsy community was founded on handmade goods, DIY posts offer ideas and inspiration for how readers can get creative on their own. Every post includes large, beautiful images.
Etsy promotes many posts on its social channels, which have substantial followers: 1.2 million on Instagram, 2.7 million on Twitter, and 2.6 million on Facebook. The brand also tailors posts to the social channel. For example, on Facebook and Twitter, Etsy will often link directly to sellers' stores so users can click through to see more of their wares. On Instagram, which doesn't allow outside links in posts, Etsy will drive fans to sellers' personal Instagram accounts. By doing so, Etsy promotes the seller, rather than itself, in hope that users will be inspired by what they see and then return to Etsy to buy.
LEGO is on a quest to become the world's largest toymaker, and it's well on its way, thanks to its best-in-class content marketing efforts.
The Danish company has seen double digit revenue growth since the 2014 release of The LEGO Movie, a critical and commercial hit that drove mass purchases of the little plastic bricks.
And they've kept the momentum going.
LEGO's core content strategy focuses on UGC – which makes sense, given the nature of the product. Users are proud of their LEGO creations, and they post photos and videos of them on social media. On YouTube, alone, LEGO fans have created 20 times more videos than LEGO, itself, according to Lars Silberbauer, LEGO's Global Director of Social Media and Search Marketing, at Content Marketing World 2016.
By leveraging UGC, Silberbauer and his team have created a 24/7 content machine. They look to meet audiences where they are (i.e. on social media and YouTube, and not the LEGO corporate site). And they'll ask their fans to participate in events like the Kronkiwongi Challenge, which are meant to inspire people to create.
For the LEGO team, success means business results. They have KPIs to measure how their content builds brand affinity, improves marketing efficiency, and increases sales. And with their well-oiled social media machine and multiple feature films on the horizon (including 2017's The LEGO Batman Movie), chances are, they'll see those numbers continue to climb.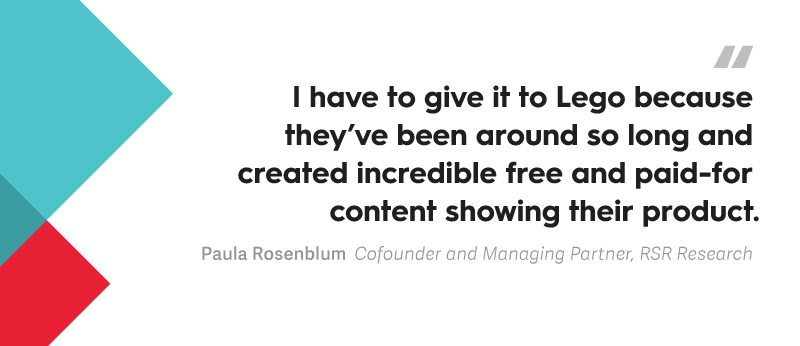 Unilever
In 2004, Dove launched the "Campaign for Real Beauty," with the inclusive message that all women are beautiful, no matter their shape, size, or how they seemingly measure up against the "normal" standard of beauty.
Rob Candelino, General Manager and Vice President of Marketing for Unilever, Dove's parent company, says they conceived this groundbreaking campaign when they learned that only two percent of women describe themselves as beautiful.
In the 13 years since, Unilever has become a leader in purpose-driven marketing. With the Dove brand, they've continued building upon that message of female beauty, delivering one winning campaign after another.
Unilever unveiled the My Beauty My Say campaign in mid-2016. It featured women who stood up for themselves when people put them down because of their looks. The campaign's main video has more than 12.8 million views on YouTube with the individual women's stories garnering millions more. And that's just one great example among many.
At a time when it's becoming harder for brands to cut through the noise and reach consumers, Unilever continues to prove the value of creating content that speaks to people on a deeply personal level.
"Brands can make a real difference in the world," Candelino says. "As the brand leaders, it's a monumental accomplishment for us to make you feel better or stand a little taller today."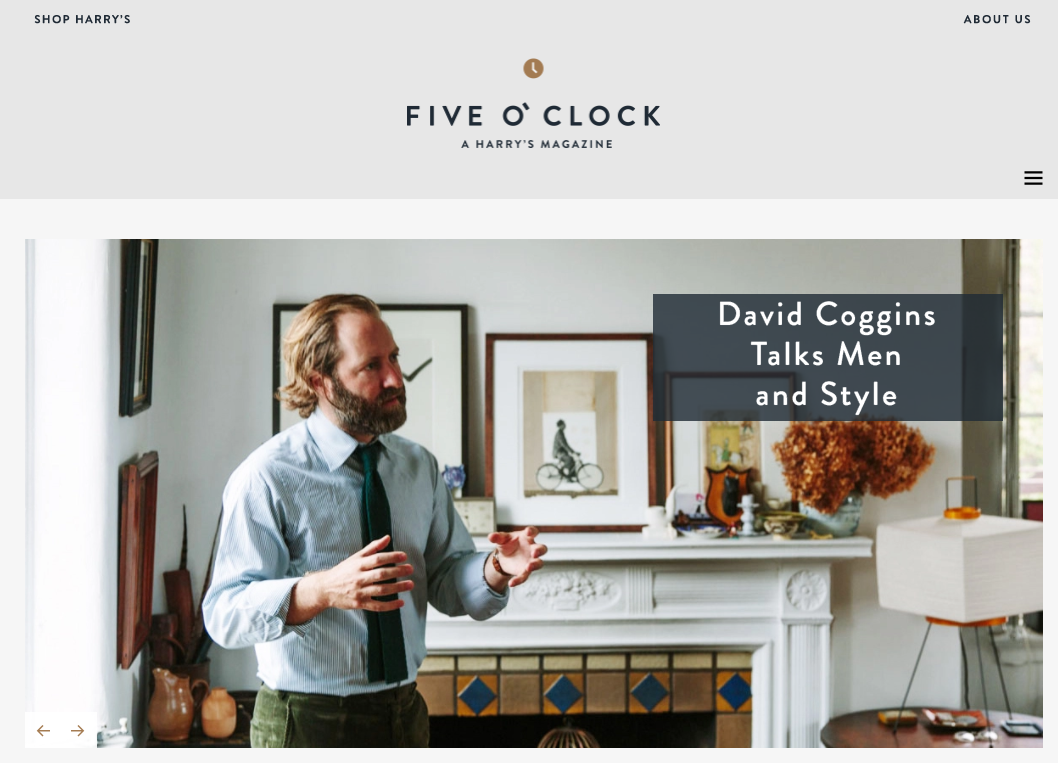 The simplest way to describe Harry's is as a startup that's bringing quality razors to men at low costs. The five-year-old company recently acquired a factory in Germany that has a nearly 100-year-old tradition of hand-crafting razors. This allows Harry's to keep costs low by cutting out the middleman.
But the company strives to be more than a razor brand. It's mission is "to help make it better for guys to get ready, every day." To further that ideal, Harry's produces Five O'Clock, a digital magazine about leading a "well-groomed life."
The site has a sophisticated aesthetic and features large images in every post. Topics range from grooming tips, to playlists for showers, to how to talk to barbers around the world. Each month, Harry's packages the posts into the Five O'Clock News, the email newsletter it uses to stay in touch with customers between purchases.
Harry's is now valued at $750 million, following its last fundraising round of $75 million. The company is looking to move further into the men's grooming space and expand its product offerings to include, soap, deodorant, and haircare. With the momentum Harry's already has, it will be interesting to see where 2017 takes them and how their content strategy will adjust accordingly.
Healthcare + Pharma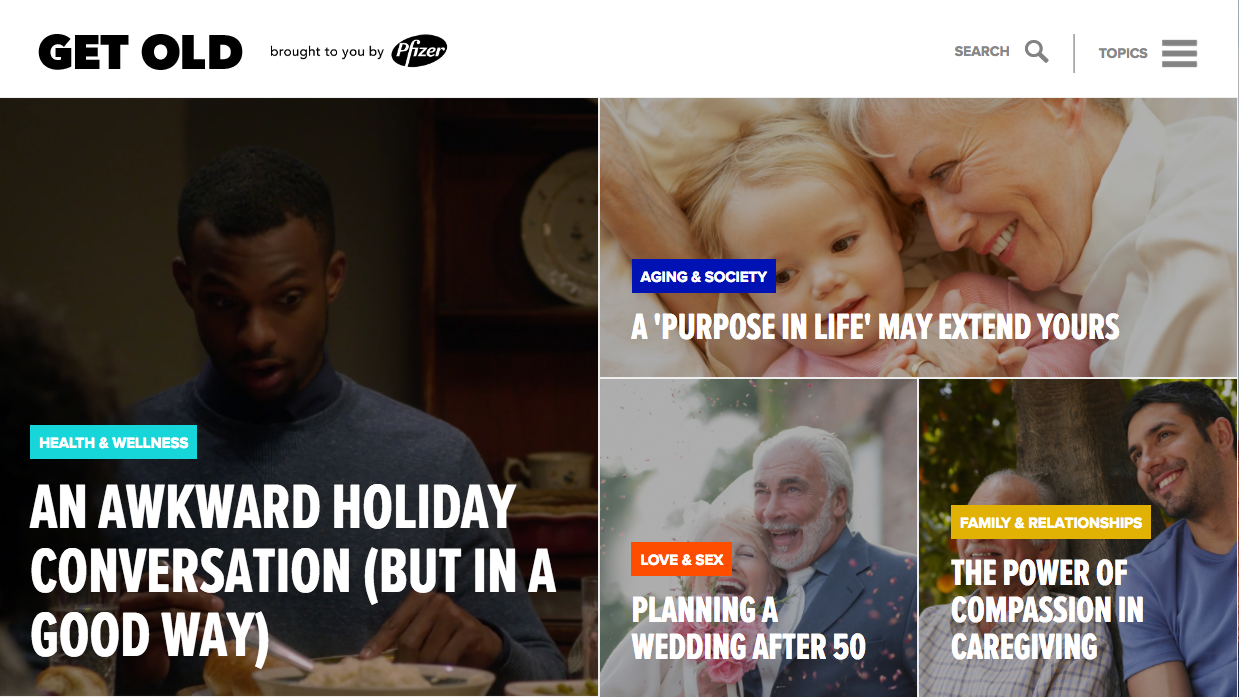 No one likes to think about getting old. People don't want to imagine or discuss the days when their energy, memory, activity level, and physical abilities will start to wane.
Yet, people are staying healthier and living longer. Approximately 10,000 people will turn 65 every day through 2030. Pfizer believes this is partially due to the medications and therapies they've developed over the years, and feels aging is a topic that needn't be taboo.
In 2012, they launched Get Old, a website that celebrates aging and shows that getting older doesn't mean that the end of life is near. On the contrary, it's just beginning. In addition to articles about health and wellness, the site also covers love and sex, money and career, and lifestyle and travel. Articles are posted almost daily.
Since Get Old operates as a standalone publication, it also has its own social networks, with the most active being Facebook (336K) and Twitter (41.2K).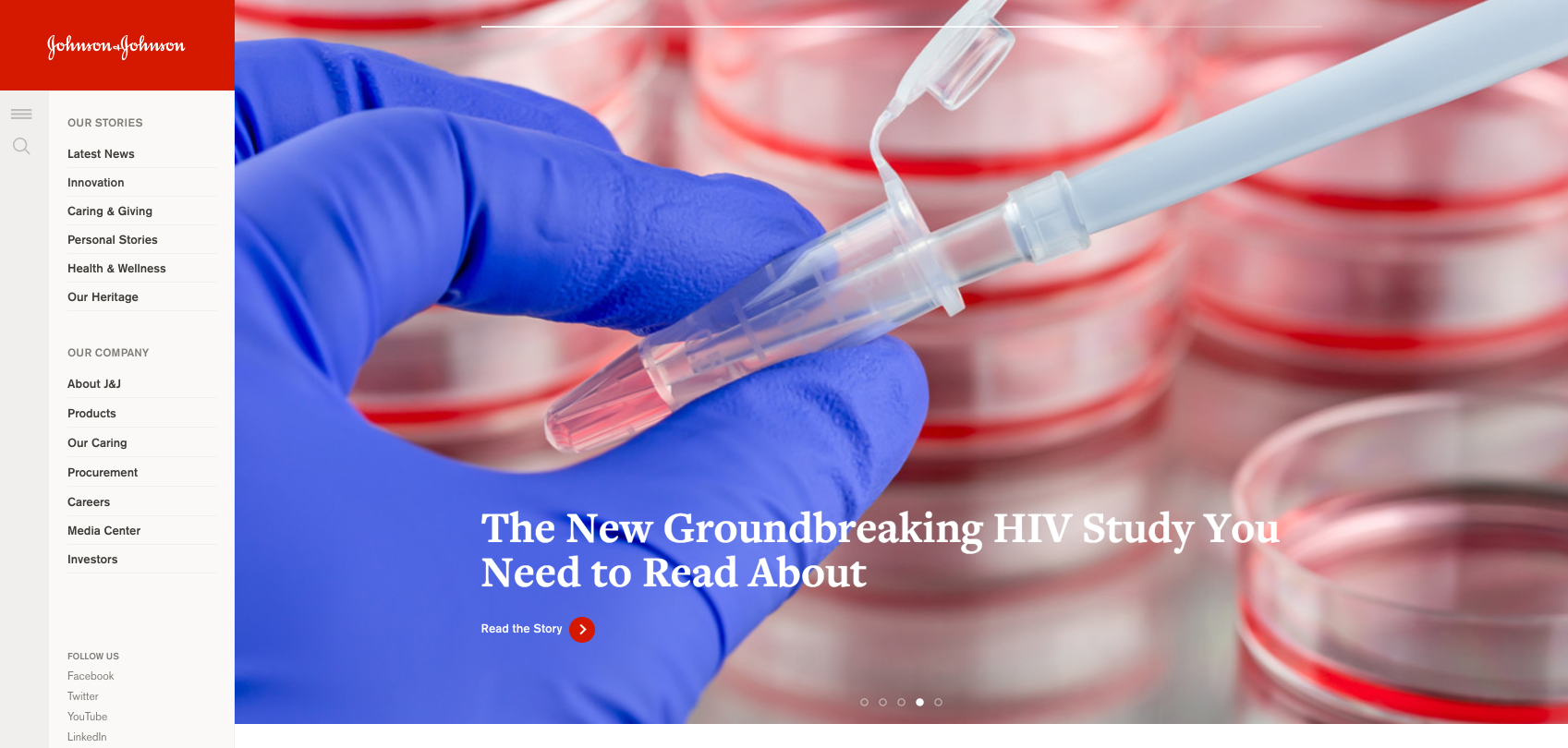 J&J is another brand whose website feels more like a magazine, and it's clear the 120-year-old company is investing in content.
Three years ago, J&J hired its first-ever global CMO: Alison Lewis, a CPG marketing veteran. J&J is also in the process of staffing up a new Global Content Lab to identify and produce stories on a daily basis.
It's a necessary move: J&J has more than 100 brands, ranging from consumer products like Listerine to medical devices used in heart surgery. It goes without saying that a parent company has quite a task in crafting an identity that encompasses all its disparate brands. But J&J is doing a fine job of meeting the challenge.
Its website content speaks to J&J's history, company culture, and the products it produces. Content categories include: "Innovation," "Caring & Giving," and "Health & Wellness." Through the content, readers get a better sense of who J&J is, and what it does as a company. With this context, two very seemingly different listicles make a lot of sense when read one after another: "7 Surprisingly Simple Winter Beauty Hacks You Can Do in 5 Minutes or Less" and "10 Ways Johnson & Johnson Blazed Innovation Trails in 2016."
J&J has an impressive social following: 1.2 million on LinkedIn, 740K on Facebook, and 144K on Twitter. Those are the main channels where it distributes content.
The company has another innovative way to use content: In 2013 J&J launched Donate a Photo. Through the app, users can share a photo and select a cause. J&J donates $1 for each photo shared. In February 2016, J&J reached 1 million photos shared and $1 million donated.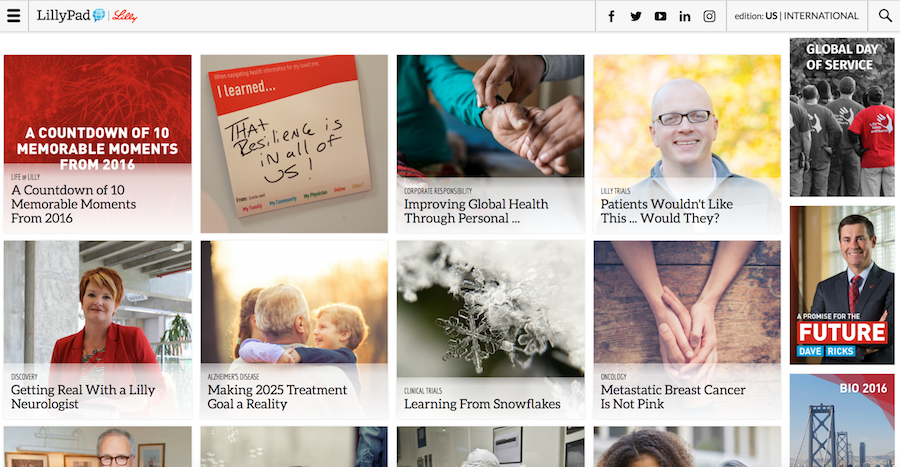 Eli Lilly launched its LillyPad blog nearly seven years ago, and it's still a best-in-class example of pharma content marketing.
LillyPad is Eli Lilly's place to share information about research, corporate social responsibility, public policy, and life at the company. New posts go live approximately once a week. What's most impressive is that Lilly employees, from all areas of the business, contribute guests posts. And since Eli Lilly is a global company, users can select which country they're in (e.g. U.S., Canada, Mexico, France, or Spain) to see content specific to their region and language.
Eli Lilly has a large social following, especially on Twitter, where they have 98.6K fans, and Facebook, with 25.8K fans. They often share content from LillyPad on those channels. In addition, Eli Lilly frequently creates video content for its YouTube channel.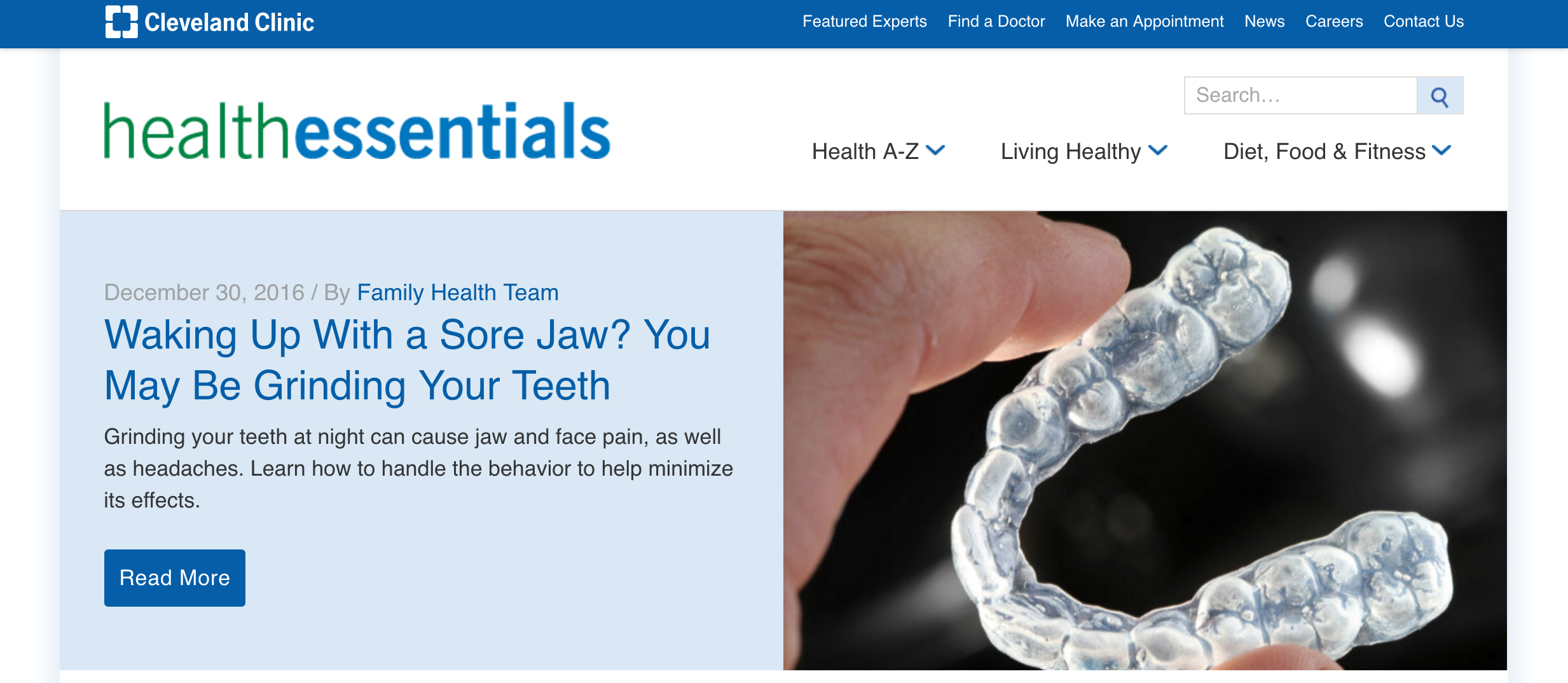 Cleveland Clinic: Health Essentials
Google estimates that approximately 1% of searches are symptom-related. That may not sound like a lot, but that amounts to millions of queries. It's clear that when people aren't feeling well, they're turning to the web for answers.
However, they don't just want answers from anyone – they're looking for information from reputable sources.
Cleveland Clinic, a nonprofit hospital that specializes in research and education, is one entity providing that information. Its content hub, "Health Essentials," covers dozens of health and medical topics, and is updated multiple times a day.
At first glance, users can see that they can trust the site. Authors are either doctors or a specialty team, such as the Heart and Vascular Team or the Cancer Care Team. The writers eschew medical jargon; instead, they use consumer-friendly language, from the headlines to the body text. In addition, many articles are written in a Q+A format: e.g. "Are You Facing a Heart Reoperation? What You Need to Know" or "Why Can't I See the Computer Clearly With My Bifocals?" These are the types of questions people would be typing into search engines. And since Cleveland Clinic is providing answers in an easy-to-read format, plus it's a reputable source with a depth of content, it's likely these articles will do well in search.
By providing people with helpful information, Cleveland Clinic is building brand awareness. People will repeatedly find it when Googling symptoms. Over time, this may make people in the region go the Clinic if they need treatment. The content may eventually spur others who are not nearby to support the clinic in other ways, either by sharing information about it, or making donations.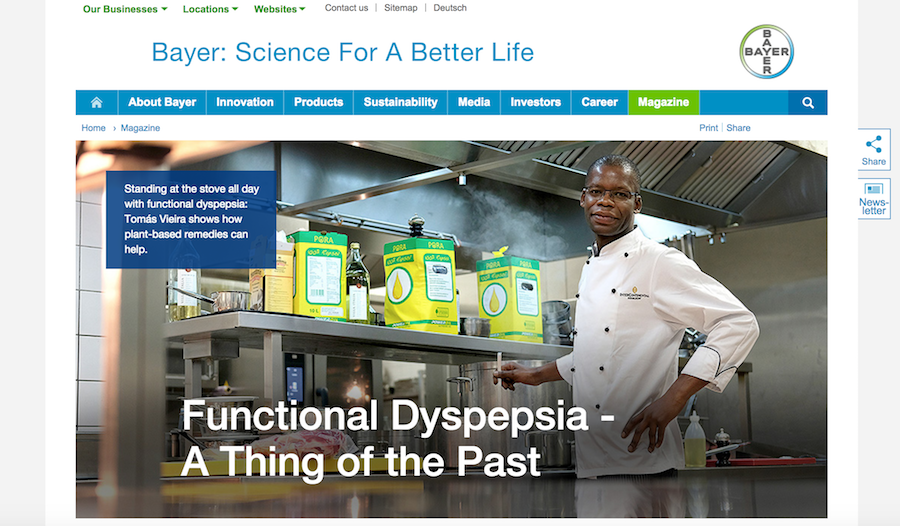 Bayer, the 150-year-old German life sciences company, earns nearly $50 billion in annual revenue. It has multiple lines of business in pharmaceuticals and agriculture. And it has a strong social media following.
Bayer has more than 2 million Facebook fans and 124K followers on Twitter. It's clear why. Bayer has a robust editorial operation that produces stories on the research and innovation coming out of the company. Its print and digital publications include The Bayer Magazine, Bee Care, Crop Science, and Research: The Bayer Scientific Magazine. In addition, Bayer has a presence on Medium, with nearly 1K followers.
While Bayer's business is rooted in scientific research, its publications speak to consumers – whether or not they're in the industry. For example, "The Networked Farm," an article published in the Research magazine, includes a summary of the article at the top, then brings the story to life through text, video, a 360-degree image from a drone, images, and an illustration.
Insurance
The Hartford: Extra Mile, Small Biz Ahead
The Hartford has been in business for more than 200 years. It started as a fire insurance company and evolved with the world. Now, the Hartford offers car, homeowner, and business insurance, as well as employee benefits.
In those 200 years, the Hartford has made sure it stayed relevant among customers and prospects. In the past few years, it's turned to content marketing as one way of doing so.
The Hartford currently has two content hubs: Small Biz Ahead and Extra Mile.
Small Biz Ahead targets small business owners. The site publishes frequently, using a mix of licensed and original content to cover topics including business management, finance, managing employees, managing risk, and marketing. In addition, in 2016, Small Biz Ahead launched a podcast to further delve into the issues that come up while running a small business. Small Biz Ahead has prominent newsletter sign-up callouts on its site, to keep people engaged with its content, and promotes it across social channels, including Facebook (more than 241K fans) and LinkedIn (63K followers).
Extra Mile, the Hartford's second content hub, aims to help adults through life's major milestones. Like Small Biz Ahead, Extra Mile uses a mix of licensed and original articles to publish frequently. Topics include tips and inspiration around cars, home owning, life transitions, technology, and wellness.
Since both sites have a depth of content that provides users with value and isn't very self-promotional, The Hartford is building goodwill among existing and would-be customers. They're also building SEO that will drive people to their sites when they search for information about the common topics covered there.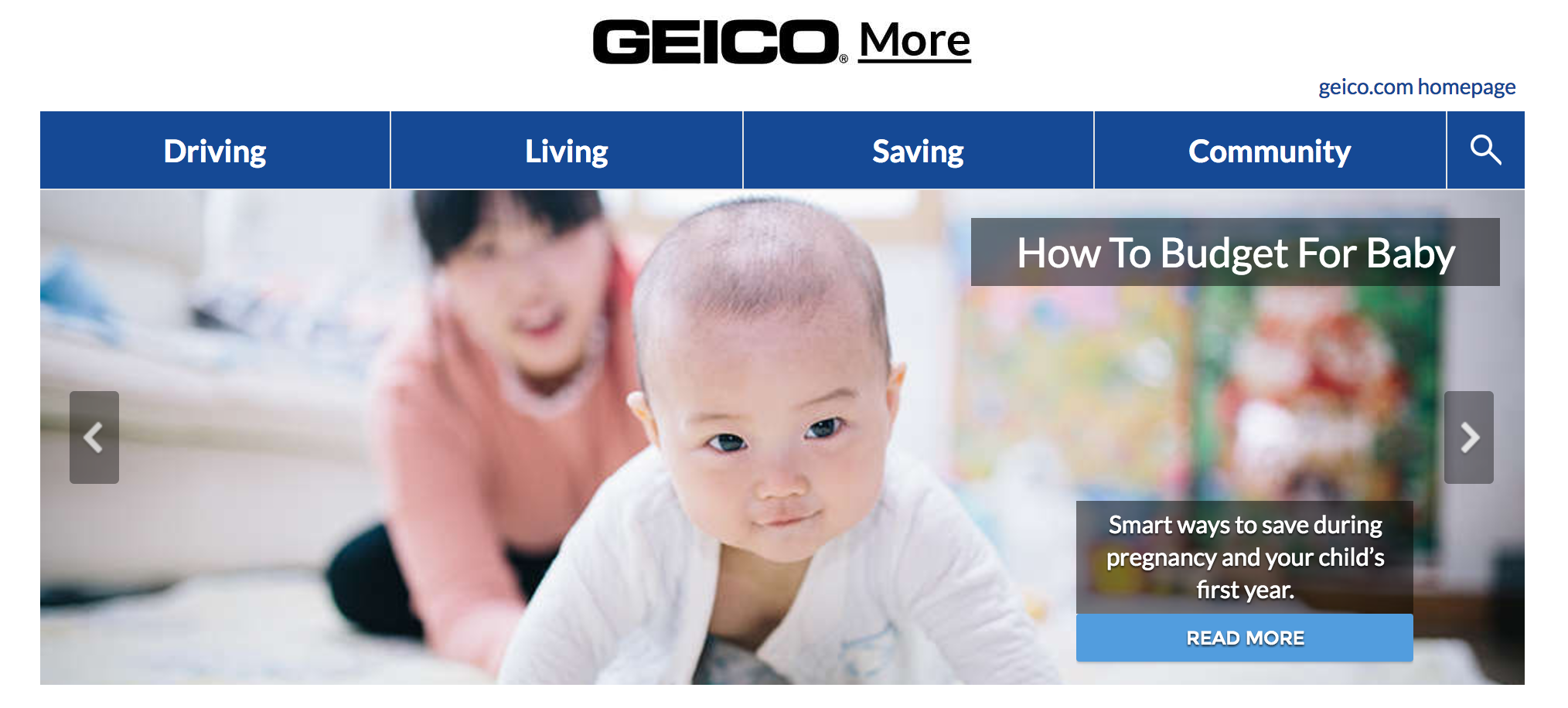 GEICO has long been known for its iconic advertising characters, like the Gecko and the cavemen. For proof, just check out GEICO's YouTube channel, where commercials gain millions of views.
But the insurance giant has only recently started to up its content game.
The company launched the GEICO More content hub in 2015 and spent much of 2016 creating a wealth of articles for it. The site is now updated almost daily and features hundreds of service-driven lifestyle articles around driving, home improvement, travel, saving money, insurance, and more. Most posts include subtle link-outs to GEICO products and services, as well as links to more information at the end. One section of the site also aggregates GEICO's commercials.
The site provides an opportunity for GEICO to provide existing customers with timely, useful content on Facebook (467K fans) and Twitter (55.6K followers). It also helps GEICO come up in search around its core topics – which will result in building brand awareness and conversions among prospects.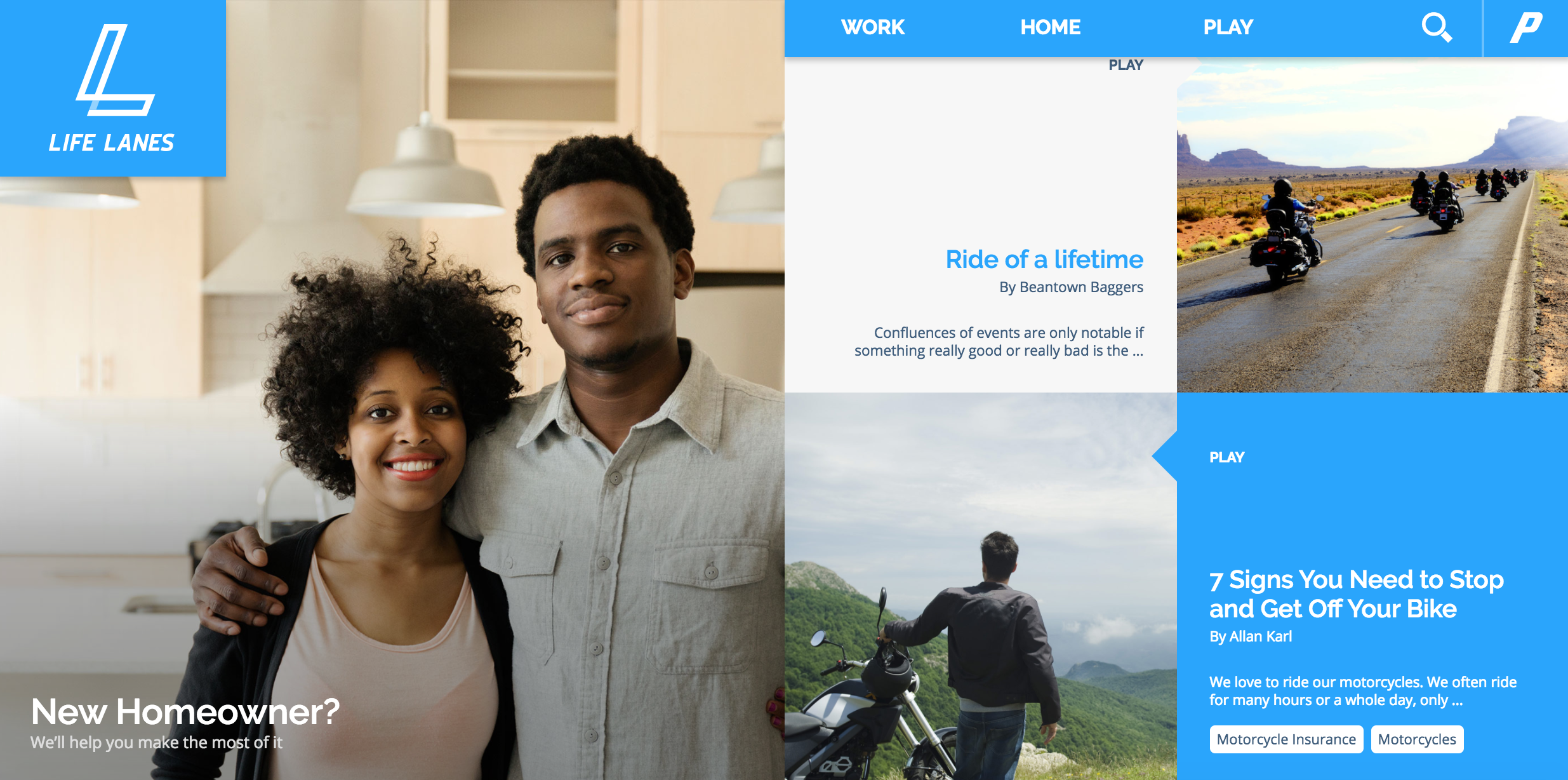 Progressive is another insurance company known for quirky advertisement characters. (Hello, Flo!) And like competitor GEICO, it's clear that Progressive is now investing in content, as well.
When users land on Life Lanes, Progressive's content hub, they can click on either a "Work," "Home," or "Play" icon. The site will then serve content corresponding to that topic. To give Life Lanes credibility and introduce unique perspectives, Progressive has a number of content partners: For example, the "Work" section features articles by Kathryn Minshew, founder of career site TheMuse.com. Popular remodeling and design site Houzz provides articles for the Home section.
Progressive sees their advertisements as a way to start conversations with consumers, and their content as a way to continue those conversations.
"For this reason, many of our social marketing redirects to our content hub where we've collected both fun and educational elements we think young homeowners will find entertaining or useful," says Cat Kolodij, Progressive's Business Leader, Marketing Strategy and Innovation. "If people only see our TV spots, they usually go to Progressive.com so we have a marketing tile on our home page that will drive people to Life Lanes."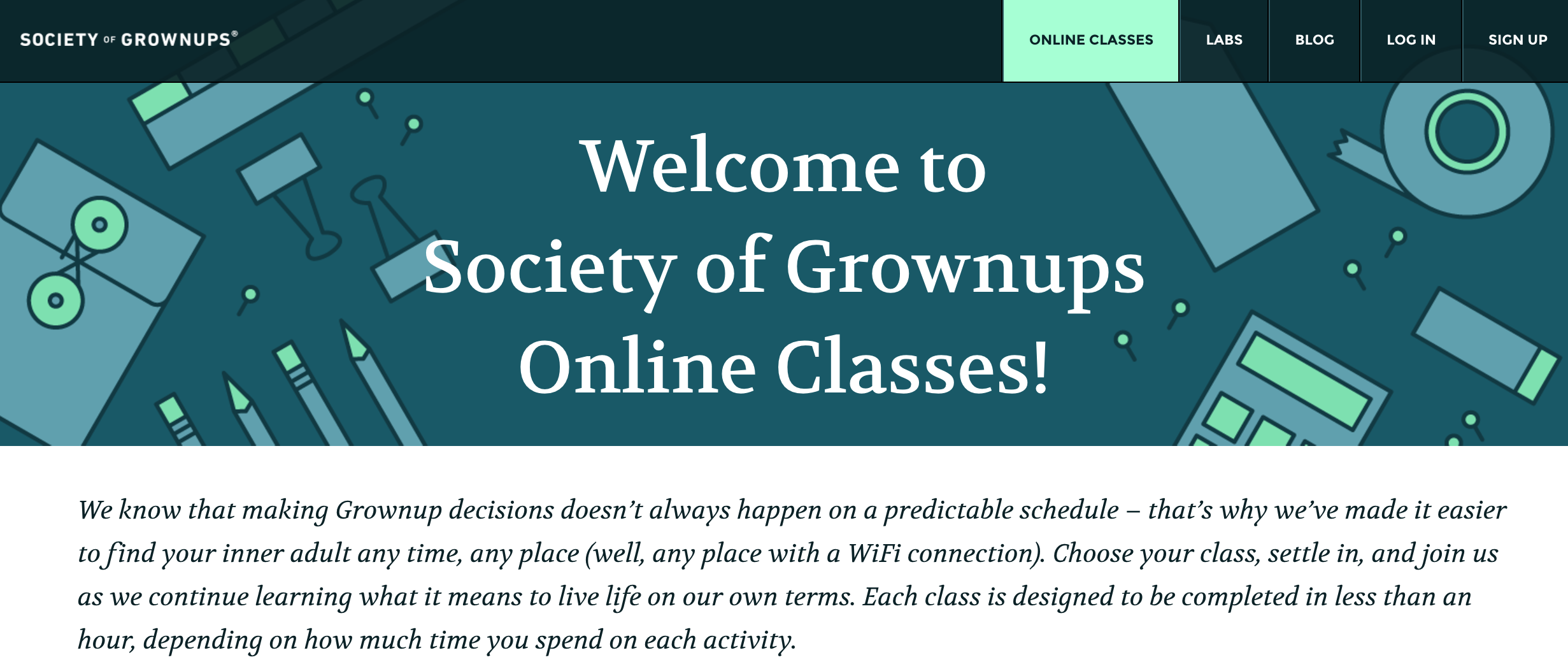 MassMutual: Society of Grownups
Becoming a grownup isn't easy. You have to do your own cooking, cleaning, and laundry. You have to find a job, rent an apartment, and somehow pay for all of that. And those skills aren't usually taught in school.
The Society of Grownups strives to address that.
Owned by MassMutual but operated independently, the Society of Grownups provides free online classes, tools, and blog posts about a wide range of topics related to becoming an adult: budgeting, understanding credit and debt, moving in with a partner, throwing dinner parties without breaking the bank.
Society of Grownups is a great example of content marketing in its purest form. The company doesn't charge for any services and only alludes that in the future, they "may earn revenue through product partner recommendations." But their financial planners are "under no obligation to recommend product partners exclusively, nor do they receive any commission."
In other words, they're looking to build goodwill for MassMutual among millennials who will hopefully turn to that brand when they're ready for its services.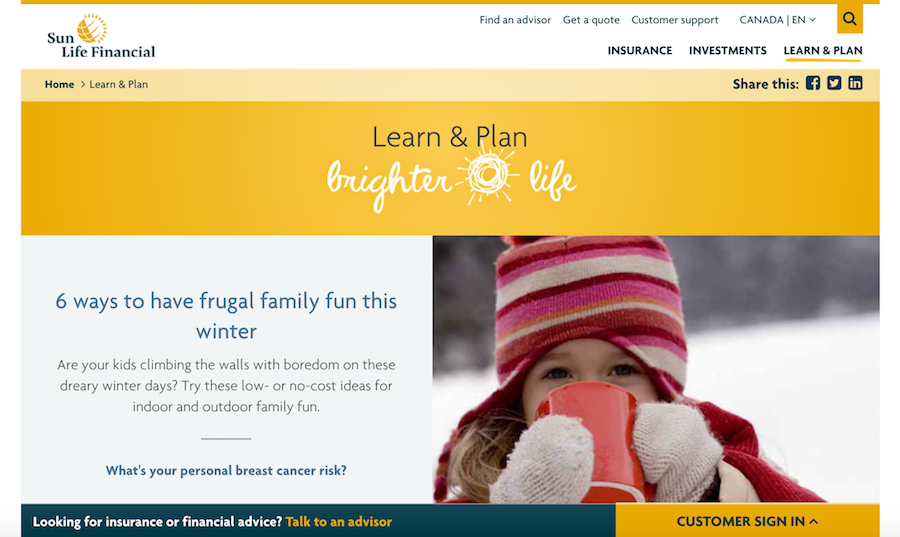 Sun Life is another insurance giant that's turned to content marketing to build customer loyalty and attract new ones.
The Canada-based company offers a Learn & Plan content hub on its Canadian site. The team updates Learn & Plan daily with articles about money and health. In addition, the hub offers a number of interactive financial tools to help people get a better sense of their finances and where they could use help.
The articles are service-driven and provide readers with useful information; they don't promote Sun Life. However, around the articles, there are calls-to-action for people to sign up for the "Money for Life" newsletter to receive articles on a regular basis (thus regularly engaging with Sun Life). And for people who want to engage even further, there's an option to find a financial advisor.
Sun Life Canada promotes much of their content on social, especially Facebook, where they have 96K followers. In addition, the company solicits feedback from readers on every article by having a star system where people can rate how good the article is. This data can help Sun Life make sure they're delivering content that users truly value.
You'll be seeing a lot more of NewsCred's #ThinkContent winners throughout 2017. By highlighting these amazing content marketing examples, we honor these brands who inspire us and push our field forward.
We'll be publishing in-depth profiles of these brands and spotlighting the masterminds and strategies behind them. We'll also provide information on their learnings, takeaways, and best practices, so you can incorporate them into your own strategies and programs.
Here's to our winners – and all the content marketers out there relentlessly working to deliver creative, valuable, meaningful, and results-driving content in our ever-evolving industry.
Methodology: We determined the NewsCred #ThinkContent winners through three rounds of voting. First, we asked 60 marketers to nominate the top content marketing brands in each of our 10 categories. Then, a committee of 10 content marketers narrowed down the list to the top content marketing examples in each category, based on a set criteria. After that, we asked 200 content marketers to vote on their top five brands in each categories. The brands with the most votes were determined to be the winners. A few work with NewsCred, but many more are the products of other talented content marketers.
You may also be wondering why we have two Technology categories: "Fortune 500" and "Other." In that category, more than any other, we had an incredible range of companies that spanned all areas of technology, from global giants like Google and Intel, to smaller, niche companies like Autodesk and InVision. We felt we needed a better way to evaluate the companies, as they operate on vastly different scales, which is why we divided that category into two.
Heather Eng is NewsCred's Managing Editor.
Thank you for subscribing!
Our best content will now come straight to your inbox.