The affection between a loyal pooch and his parent is not unlike the close-knit relationship between the BarkPost community and its always-engaging content. With unique visitors-per-month approaching the 10 million mark, a simple blog that began just a couple of years ago is now helping power the growth of BarkBox, a doggie treats and toys gifting company.
We spoke with Stacie Grissom, editor-in-chief of BarkPost, to find out how they've capitalized on canine cuteness to connect with the doggie-obsessed and become a content marketing top dog.
Grissom with an office co-barker.
What started as a lead generating blog project for BarkBox with Grissom as a one-woman content machine, has exploded into a team of 10 full-time staffers. "I consider myself incredibly lucky to be writing about dogs all the time. They are the lowest common denominator that unite people all over the world, and are an extremely emotional passion point," says Grissom. The blog currently boasts:
9 million uniques/month (up from 200k/month one year ago)
750k opt-in email subscribers
720k Facebook Fans
Average of 8 minutes spent on sponsored content
BarkPost's BarkCam app has over 5 million photos uploaded since launch
Beyond having a great topic to work with, here are some other factors that have helped BarkPost experience this immense growth:
Finding a unique brand voice
At the end of the day, BarkPost is trying to reach "crazy dog people" – the ones who love their pooches not as pet owners, but as parents. The ones who dress their dogs up in costumes and celebrate their birthdays, and the ones who would think nothing of plunking down a subscription fee to purchase goodies for their loyal friends. "Looking back, a huge part of our success is that we knew we couldn't get the same reach with boring stuff like 'how to trim your dog's toenails.' Or going a little bit too intense on animal welfare like those Sarah McLachlan commercials — we didn't want to do that. By looking at everybody else and finding a different niche, that's how we were able to get an audience."
Their take is to look at everything with "a dog's eye view," she says, and that starts with making no apologies for silly, lighthearted content.
Offer content, not a sales pitch
"From day one, we wanted to be trusted," says Grissom. "When we do decide to promote something, we want to make sure we have an audience that likes listening to us normally before we go and recommend a product." That gentle approach to selling, and not having a gate on the website, are two reasons that Grissom attributes to BarkPost bringing in way more email sign-ups than any other sales product for the company brings in. Even when there is some light selling going on, it doesn't feel intrusive. "We'll write something like 'Gifts for dog people who love dogs more than people.' It's a true piece of content, but we will include some of our products that we are selling," explains Grissom.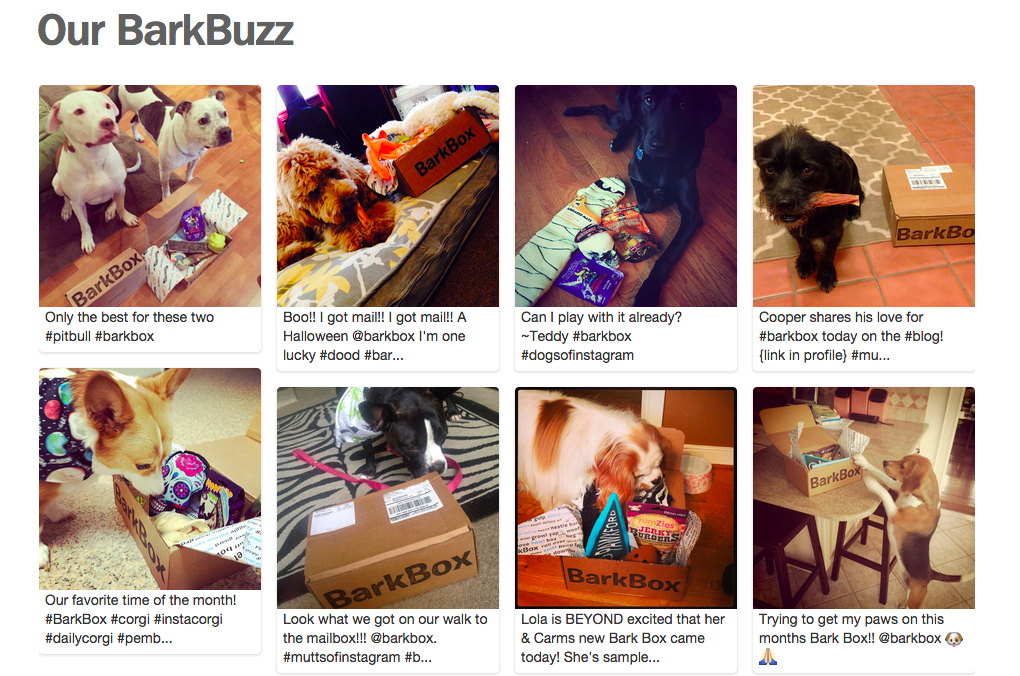 Stop winging it
Once BarkPost began to grow, Grissom knew that a more strategic approach would be needed to manage the daily content and social media distribution. "When we did decide to turn this into a business, we started using an editorial calendar. It's one big step that allowed us to grow up." There is always an element of going with the flow, and responding to the news of the day, she adds, but a large portion of BarkPost content and social media is planned in advance in a streamlined way. One example is that in addition to regular holiday and timely content, BarkPost has fun with things like "World Donut Day," for which they featured dogs in photos with donuts.
Be delightful
BarkPost content and social posts are all about making dog lovers smile. Fans of the brand would probably liken the community to hanging out at a dog park. One popular post, 17 Lessons You Learn When Dating a Girl Who Loves Her Dog, had 47K shares. "Our brand is really great for engagement and celebrating dogs and crazy dog people," says Grissom.
Build your social audience naturally 
With 709K followers on Facebook, and 622K on Instagram (which Grissom calls "our bread and butter for distribution"), there's hardly a day that goes by without some funny or adorable social sharing going on. What's more, is that a lot of the visual content is user-generated. "People love taking pics of their dogs and videos. It gives us access to new content and new stories before anyone else has them, and is incredibly valuable to us," says Grissom.
Stay relevant 
Grissom says the company has big plans for the future that includes venturing out into new platforms. "We plan to grow into a media company in 2015. The huge initiatives include building out a video department. It's expensive and hard, but as consumers are changing how they consume content, building out video is a huge priority," she says. In addition, the company plans to work on offline events and projects, too.
Grissom's final tip for content marketers who are looking for their niche: "Make sure there is some audience that cares about what you talk about, and talk about your product in a natural way." The content marketing journey can be "ruff," but if you can capture the heart of your audience, you'll have their tails wagging.

Originally published on Mar 23, 2015 11:15 AM