Launching a small business isn't easy, but sustaining and scaling it is, perhaps, even harder. During this time, small business owners must evaluate opportunities and partnerships that will shape their future – all while executing the myriad day-to-day tasks that come with running a company.
It's these folks that UK-based Barclaycard is seeking to reach – and help – with a new ethos and content marketing initiative.
"'Start Today' is our new brand positioning, launched in September," says Harri Evans, Strategy and Planning, Digital Publishing, Assistant Vice President, Barclaycard. "Our brand promise is to help businesses move forward every day."
Andrew McNamee, Head of Digital Publishing, and Harri Evans, Strategy and Planning, Digital Publishing, Assistant Vice President, Barclaycard
On Barclaycard's B2B side, that means reaching small businesses that are primed for growth and helping them understand potential opportunities. That may include accepting card payments (a service Barclaycard offers), overcoming a fear of risk-taking, or just understanding viable next steps for expansion.
Though Barclaycard has a News and Insights content hub with articles on such topics, it recently launched a new, interactive learning experience. The Fast Track is an online course designed to help small businesses grow. It will consist of five modules, each featuring a local business, plus video, audio, written content, and downloadable guides. The first module, "Getting in the Mindset for Growth," is currently live. It features the owners of Notes, a London-based mini-chain of coffee shops/wine bars that originated as a one-man coffee cart.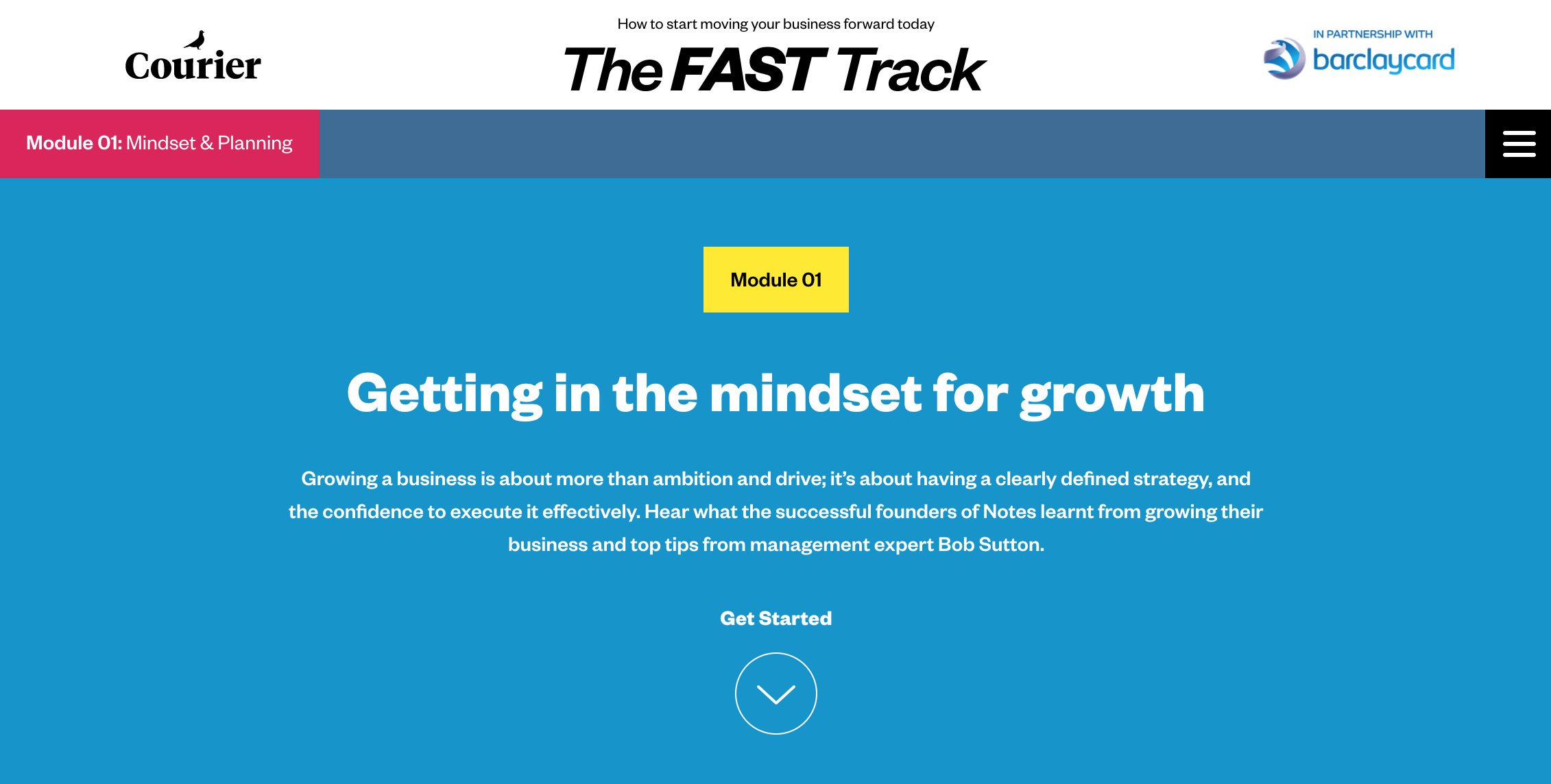 This kind of interactive initiative is a first for Barclaycard, and the team made several strategic decisions to ensure that it was creating a fresh, exciting product that would truly provide value to users.
Chief among them was partnering with Courier, a publisher and consulting company focused on small businesses.
"Courier gets deep into the issues small businesses face and barriers they've overcome," says Evans. "As a content marketing team, we want to produce content that's helpful and based on insights. Plus, Courier is quite new, itself. Its storytelling and fresh look and feel fit very nicely with our tone and voice."
"Partnering with a business like Courier has significantly helped Barclaycard to strengthen our relationship with other small businesses," says Andrew McNamee, Head of Digital Publishing, Barclaycard. "We had the opportunity to partner with much larger brands, but the authenticity and originality that Courier provided helped our content resonate even better with our audience."
This is the reason why content, and not branding, is front and center on The Fast Track.
"The emphasis is on peer-to-peer learning, so it comes from another small business, rather than Barclaycard," says Evans. "We also feature third-party experts, like Bob Sutton, a Professor of Management Science and Engineering at Stanford, to give the content more authority."
The Barclaycard team also sought to deliver actionable advice that people could act on immediately.
"Thought leadership is one important part of content marketing, but that's usually a future state. We didn't want the content to feel unattainable," says Evans. "We wanted to provide information people can use now."
Evans sees The Fast Track as a full-funnel content marketing initiative. It may build awareness and consideration among new and existing customers, but can also drive people to reach out for more information about Barclaycard's B2B solutions. The team is amplifying The Fast Track through Barclaycard's social media channels and distribution networks like Outbrain.
In addition to tracking KPIs like click-through rates, Evans and team will also be monitoring video views, audio listens, and worksheet downloads. They'll also use brand tracking to gauge sentiment after people interact with the site – yet another new milestone in Barclaycard's ongoing content marketing evolution.
"It'll be very interesting because we've never done this for our content before. It's very new for us to track the effects of content on a high-level brand perspective," Evans said.
Heather Eng is NewsCred's Executive Editor.
Thank you for subscribing!
Our best content will now come straight to your inbox.