As many of you already know, Instagram rolled out Instagram Stories last week. It is essentially Snapchat but integrated into Instagram's app, allowing users to post 24-hour disappearing photos and videos without disrupting their perfectly filtered photos in their feeds. Yesterday, NewsCred took a look at the landscape of brands already using Instagram Stories and included descriptions of what each brand features in their feed, especially B2B companies who are using it.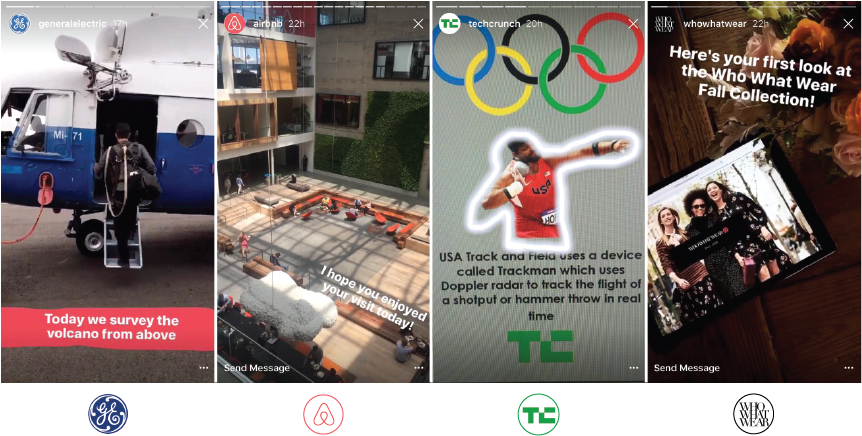 B2B Companies Using Instagram Stories
Other Brands Using Instagram Stories
Essentially, brands are communicating with their audience in the same manner as on Snapchat. So far, most brands are using it for behind-the-scenes content and company culture promotion, lending to Facebook's quest (which owns Instagram) for video domination in 2017. Snapchat is a direct competitor of both social networks, especially in capturing the younger Generation Z and Millennial demographic. But can Instagram successfully lure users away from Snapchat? Here's the breakdown of daily active users on each platform to date: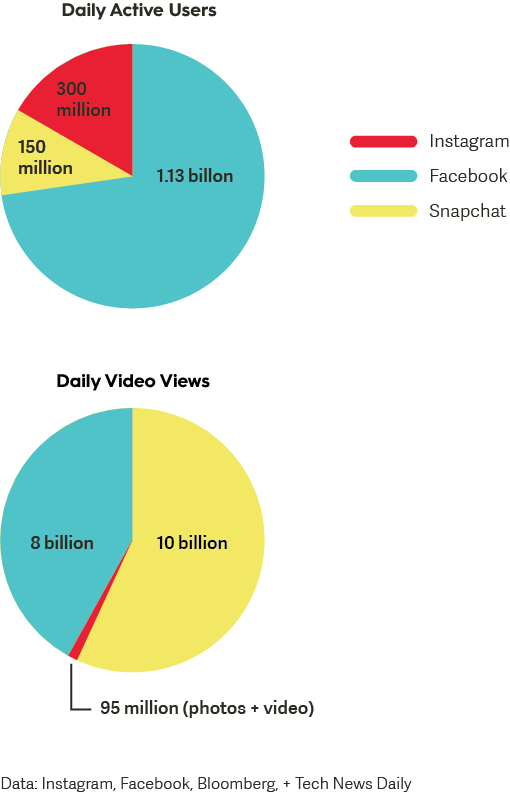 Currently, Instagram tops Snapchat in daily active users, however Snapchat far surpasses Instagram and Facebook for daily video views – not including photo snaps sent. Considering this information, it makes sense for Instagram to attempt to capture Snapchat's audience by emulating the user experience of the platform. Instagram has a competitive advantage over Snapchat by having more active users of all demographics, including older generations. Also, this saves users who have not yet converted to Snapchat from downloading another app for disappearing photos and video, cutting into Snapchat's new user count.
Ultimately, it is still very early in the game to see how users and brands will react and engage with Instagram's new Stories feature, and how Snapchat will respond. For brands wanting to measure Instagram Stories effectiveness over Snapchat, at the moment brands can only compare the number of views a post receives on Instagram Stories as there currently isn't any robust analytics software that goes along with it, like with Snapchat.
Snapchat has also beefed up its analytics game by partnering with companies such as Moat, adding ad measurement based on viewability and audibility, while their partnership with Doubleclick ensures an ad has been served and improves an ad's reach and frequency data over time.
For marketers, Snapchat is the smarter choice for running large marketing campaigns where robust analytics can be generated and ROI can be measured. With that being said, Instagram Stories is a fun way to experiment with engagement and sharing new, exclusive content with followers. Over the coming weeks it will be interesting to see how Snapchat will respond to Instagram's update, and ultimately see where users will prefer to share their stories on social media, and how marketers can reach them.
This article was written by NewsCred's Ashley Karhoff.
Originally published on Aug 8, 2016 10:00 AM, updated Nov 8, 2016