Why is effective content marketing so vital for today's automotive industry? People – millennials in particular – are buying cars less and less frequently, and the time between purchases by those who do buy has steadily decreased. The ways in which we're buying have changed dramatically as well: last year Frost & Sullivan predicted that by 2020, 60-70% of car sale leads will be digitally generated. It's been a hard transition to the soft sell for the field, but by moving to a focus on storytelling over sales and information over promotion, content has of course been key.

Audi's slogan, "Vorsprung durch Technik" – meaning progress through technology – is at the heart of every element of the brand's output, from product innovation to marketing. The company has shown again and again a deep understanding of how valuable content is in creating and maintaining lifelong relationships with its customer base.
Second only to BMW, Audi is set to surpass its competitor this year, in large part due to the broader and more diversified audience they've managed to engage and secure through content. Last year, worldwide sales increased by 10.5%. In January, Audi outsold BMW and Mercedes, and just last month, the brand sold its 2 millionth car in the United Kingdom, with even more growth expected in 2015 according to CEO Rupert Stadler.
It may sound ambitious, but with effective content marketing and constant digital and technical innovation on their side, if anyone can do it, it's Audi. Let's take a look at how:
Audi Content Marketing In Print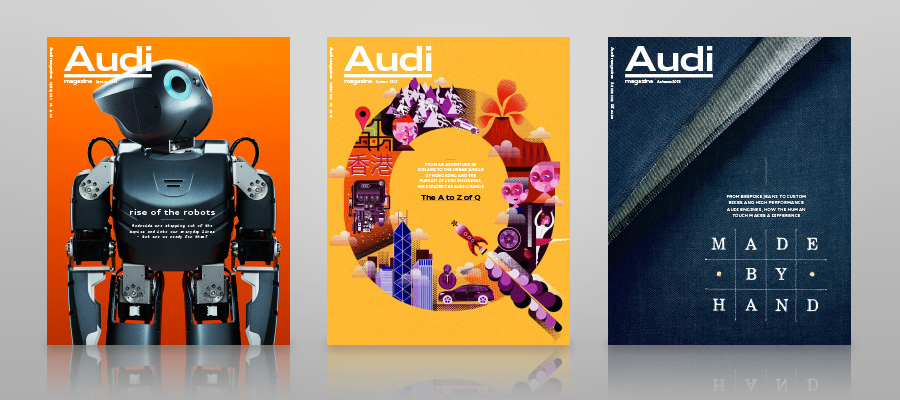 Audi Magazine, the brand's widely respected print component, has won multiple awards, most recently taking home the Grand Prix and Best Automotive honours from the Content Marketing Association (CMA) Awards in 2013. Customer insights agency Northstar has been in at the helm of the publication since 2007, building it up to the prized and lucrative content hub it is today.
Indeed, the CMA reported that in 2013, over 60,000 auto sales were "directly attributable to behaviour prompted by the magazine," not to mention that Audi's media agency – London's Bartle Bogle Hegarty – has calculated the publication's ROI at more than 10:1. If that's not impressive enough, audience engagement levels are remarkable as well, with a reported 95% of people reading for over 30 minutes and believing that the publication represents Audi's values to a T.
Naturally, not every story focuses on Audi itself. Features dedicated to new car launches are paired with audience-relevant articles regarding art, design, tech and innovation. Issues are printed quarterly and mailed directly to Audi owners to create and maintain customer loyalty and retention.
Content Marketing Online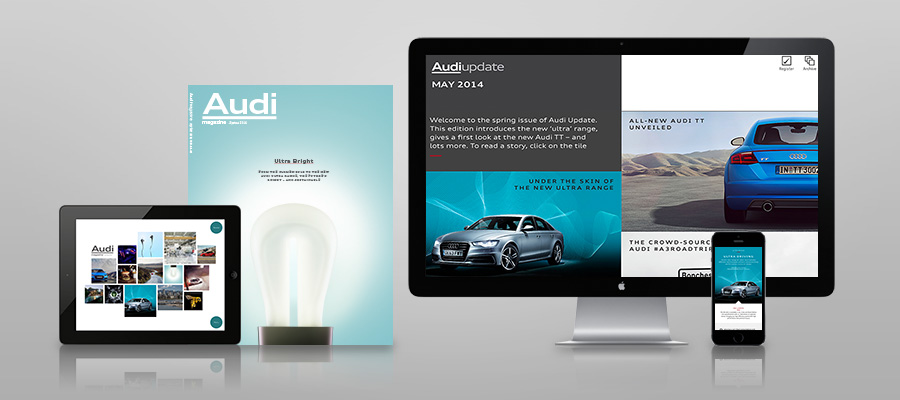 Enhanced versions of the publication are available online with many more images, video and interactive capabilities via iPhone and iPad, perfect for attracting a broader audience. Northstar reports that the app has 12,500 unique visitors per issue.
Expanding the brand's reach even more is Audi Update, with each edition broadcast to 250,000 prospects by email, attracting 21,000 unique visitors to the site. While the print magazine is delivered to the homes of each and every Audi owner, Audi Update is a separate, exclusively-online publication that's meant to attract prospective buyers – and it seems to be working. According to the CMA, just two issues "generated 1,761 test drives (0.5% of audience), 3,283 dealer visits (1.0%) and 1,256 car sales (0.4%)."
Like the mobile app, the digital edition is able to push Audi's content even further in terms of visuals and making stories as engaging as possible, and always accompanied by a link to next steps, whether that means more relevant content or requesting anything from a brochure to a test drive. To drive personalization home, as well as a sale ideally, online activities are supported by direct mail as well, making sure to be there every step of the way along the customer's journey.
Connecting Through Social Media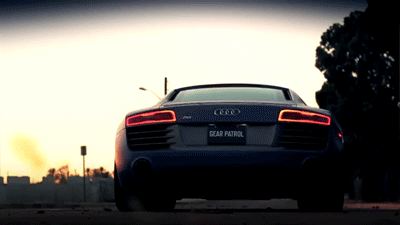 Audi UK's got the standard and successful Facebook, Twitter, Tumblr, YouTube, and Pinterest pages that put out a healthy mix of images, videos, and various prompts. With hundreds of thousands of followers across the major platforms, the brand has yet to break 1M on Facebook and, it's true, engagement could be better. However, considering what the brand managed to achieve with Snapchat last year, there's really nowhere to go but up.
The automaker got creative with the mobile app over 2014's Super Bowl Sunday festivities, whipping up a team of creatives just weeks before the event to put together a day's worth of engaging snaps. It's standard that content is supposed to be on-brand and relevant, but Audi decided to take a risk – and certainly reaped the rewards. In an effort to engage a younger, snap-hungry generation, the brand partnered with satirical news site The Onion to develop a series of hilarious headlines that had admittedly little to do with the sport itself.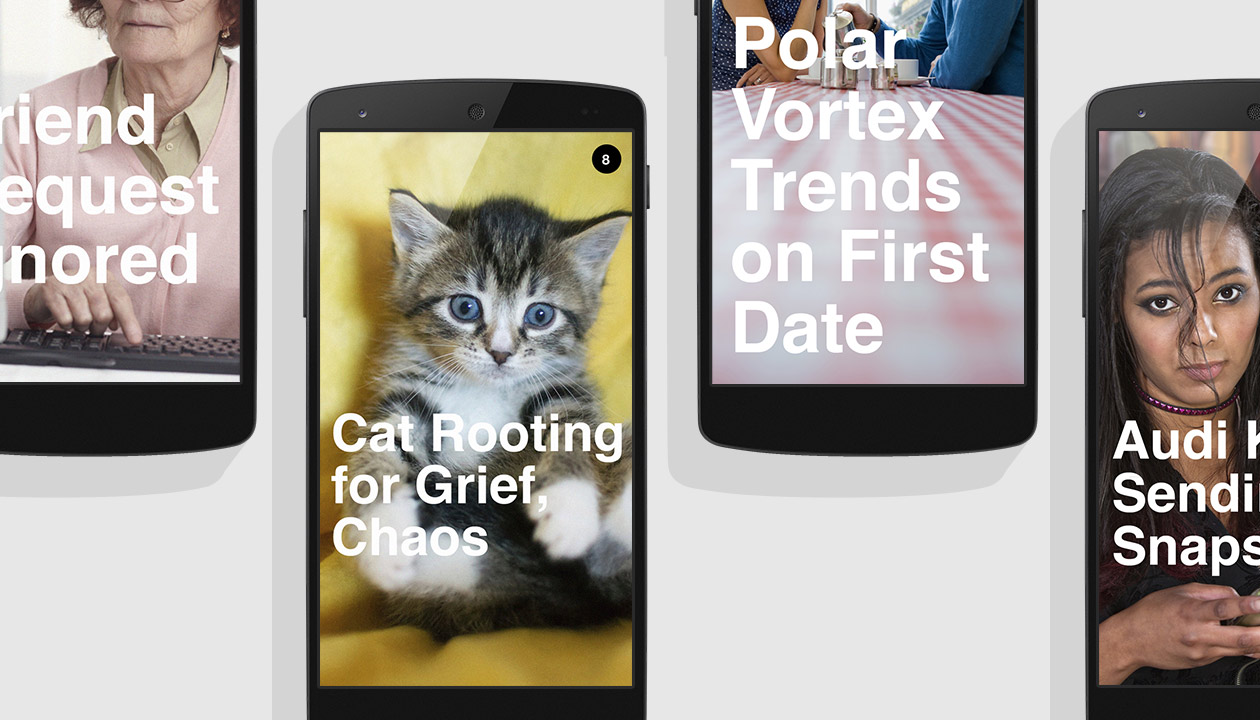 With something as simple as pairing stock images with clever captions, the brand became the first to achieve significant success on Snapchat, and the first to use the platform as a stage during the Super Bowl. According to Huge, "The campaign received 100,000 total views on Snapchat and generated 2,400 mentions on Twitter, reaching a total of 37 million social impressions."
Earned media leading up to the game led to 5,000 new followers before the event even took place, with the Audi teams manually adding 5,500 more on game day. That makes for 10,500 new followers over the course of just a few days, the highest spike in user numbers that Snapchat had yet to see – not to mention an increase of 9,000 Facebook Likes as an added bonus. We'd call that a win whether you're an American football fan or not.
In Person Engagement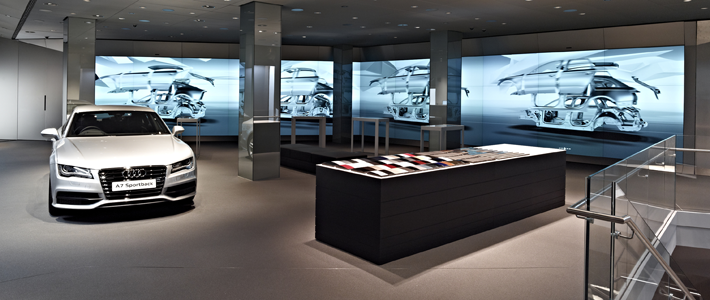 "Our memories are among our greatest treasures," reads the Events & Sponsorships section of Audi UK's website. The brand realizes how important it is to make sure they create positive and lasting remembrances for fans and future buyers – extraordinary moments that stay with their audience for the rest of their lives. Maintaining a powerful presence at relevant parties and festivals is surely smart marketing, but few things have managed to make quite the same impression as Audi City.
Opened in 2012, the world's first "showroom of the future" is located in London's central Mayfair district – not an obvious choice for car dealership, but who needs room for dozens of models when the very walls of this stunning space are able to conjure a life-size image of anything that Audi has on market, while letting you personalize it on the spot? Besides, Audi City isn't about selling – it's about informing and inspiring. Sound familiar? That's because it's smart content at work, and in the flesh.
 Moving forward, Audi is setting their sights on embarking upon a series of brand partnerships. Last month, Audi UK's national content manager Kristian Dean expressed some of what's fueling this interest to The Drum: "Like-minded brands do exist and there are huge opportunities there. Most people in the UK now have a car and you think, 'where do these people shop? Where do they go on holiday? Where do they stay? What do they eat, what do they drink?' There must be some really strong connections there in terms of overlaps and that's where I'd really like to explore."
As the auto industry continues to move toward the trend of highly personalized content and ever closer to the reality of self-driving cars – which may hit the road as soon as 2017, according to Stadler – it will certainly be interesting to see what kind of content Audi comes up with next. Whatever it is, they're already in the lead.
Anastasia Dyakovskaya is a writer, editor and creative consultant from New York City. When she's not writing for NewsCred, she's developing copy and editorial for brands and tech startups. When she's not working, she's likely behind the camera or planning her next adventure. Follow her @worldinquestion and at www.worldinquestion.com.
Originally published on Apr 13, 2015 11:15 AM, updated Aug 17, 2016