If you'll be riding the rails this summer, or if you're one of Amtrak's 31 million annual riders, there's a good chance you've come across The National in your seatback pocket.
The bi-monthly onboard magazine launched last October – and from a quick glance inside, you can see that it's not your average travel magazine.
Rather than publishing round-ups on hot boutiques and hip eateries in up-and-coming destinations, The National seeks to bring America to life through long-form features on cultural topics. Stories from its most recent issue include a piece on the legacy of black cowboys, a conversation with CNN anchor Jake Tapper on the state of American media, and a photo essay taken from Amtrak's Crescent route, between Atlanta and New Orleans.
The industry is starting to take note. Though it's been in existence for less than one year, The National has already won a 2017 Communicator Award for its writing.
We recently spoke to Jordan Heller, Editor-in-Chief of The National, and Michael Keating, Joint CEO of Ink, the travel media company that publishes the magazine and numerous in-flight titles, like United Airlines' Hemispheres and Rhapsody magazines. They shared their insights on how they're helping to reinvent the Amtrak brand through content, and why long-form, written journalism will always have an audience – even in today's digital world.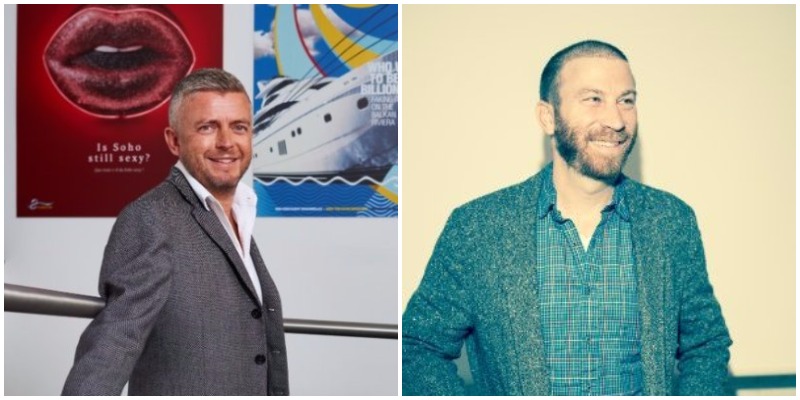 Michael Keating, Joint CEO of Ink, and Jordan Heller, Editor-in-Chief of The National
Building the Amtrak Brand through Content
Before The National existed, Amtrak's onboard magazine was Arrive, a more traditional travel magazine that focused on destination stories.
When the opportunity arose for Heller and his team to create a new magazine for Amtrak, they decided to go in a radically different direction.
"We pitched them on a whole new concept that leveraged their identity not as a transportation company from 1971, but as the 'American Railroad,' the one transportation system that unites the country and built the modern notion of America as an industrial power," says Heller.
The vision was to create a magazine that celebrated "the new Americana" arts, culture, and industry.
"There's a lot of poetry in the American Railroad. A lot of great American music was inspired by the train," Heller says. "Many companies celebrate their identities as being American, and consumers are into that, too. They want to buy local. It's a badge that they wear on their sleeves that they're consuming in a conscious way, buying things that are sustainably made, locally grown."
Plus, train travel, in and of itself, is unique from other modes of transportation.
"When you're on a plane, you go from point A to point B. You don't really commune with the country," Heller says. "When you take a train between Chicago and Seattle, as opposed to flying between Chicago and Seattle, you're really communing with that part of the country as it rolls by outside your window."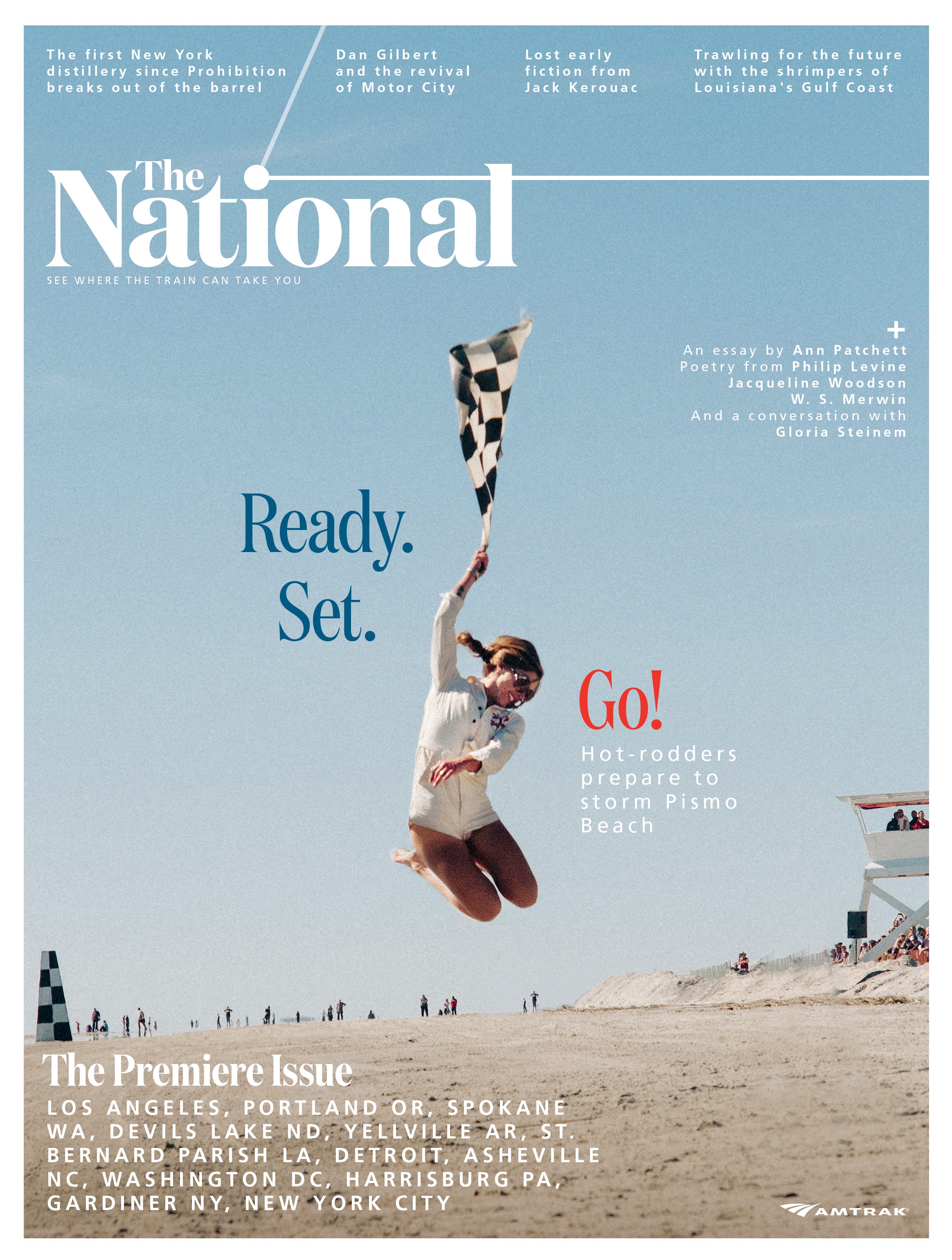 Bringing America to Life through Stories
So how does The National team bring that brand vision to life through content?
Take a look at "Next Stop: New Orleans," a piece from The National's February/March issue.
"Next Stop" columns are The National's versions of destination stories.
"The idea is that within whichever city, we pick a person, organization, or scene that's getting at the spirit of the city or reviving an important piece of culture," says Heller.
"Next Stop: New Orleans" tells the story of the Caribbean Room, a storied restaurant within the historic Pontchartrain Hotel. The Caribbean Room once attracted a glamorous clientele, like Richard Burton, Helen Hayes, and Tennessee Williams. And every meal at the Caribbean Room ended with a slice of Mile High Pie, a towering, three-tier slice of ice cream cake topped with chocolate sauce. In the 1970s, the Pontchartrain Hotel started to fall into decline, then never recovered after Hurricane Katrina. But recently, a Chicago-based hotel group poured $10 million into renovating the hotel. Now, renowned chefs John Besh and Chris Lusk are bringing the restaurant back to life – and reinventing the iconic Mile High Pie.
"The idea is that you're not reading a story that gives you an itinerary about what to do in New Orleans – it's just talking about one restaurant," says Heller. "But through this story, you get a rich, detailed story about 20th century New Orleans cuisine."
The Value of a Strong Editorial Framework
"Next Stop" is just one example of the editorial framework that Heller built for the magazine. The magazine's columns ensure that every piece of content illustrates Amtrak as the American Railroad by highlighting a facet of American art, culture, and identity through the lens of train travel.
Each issue features a photo portfolio from a photographer who rides an Amtrak route and documents the journey.
Another recurring column, "Between the Lines," features poets. They'll contribute a poem about their personal experience as an American, or their take on a piece of American history. Then, they'll share the story behind it. Jacqueline Woodson, the Young Peoples' Poet Laureate, for example, wrote a poem called the "Great Migration,'" about her mother's experience moving from Greenville, South Carolina, to Brooklyn, New York. She was one of 6 million African Americans to do so.
The National also has an essay at the end of each magazine, called "Train of Thought." Each essay is from a renowned writer, like Ann Patchett, on the romance and beauty of train travel.
"This approach really differentiates the magazine from a lot of titles that we do in the in-flight space, which are meant to excite readers to actually jump on a plane, fly to a different part of the country or the world, and have a unique, life-enhancing experience," says Keating. "With The National, you don't have to go to that location to be interested in the story. It takes a much more cultural approach."
From Engagement to Action
That said, Keating also believes that much of The National's content will inspire people to take a trip. A piece profiling a Pulitzer Prize-winning playwright may inspire people to buy train and theater tickets to see the play.
"Well have a box that says that the theater the play is performed at is within walking distance from Penn Station, which is Amtrak's station in New York City," says Heller.
"Next Stop: New Orleans," for example, included a call to action (CTA) at the very end that prompted people to learn more about Amtrak's Crescent line.
While Amtrak grants The National team great editorial freedom, they often suggest opportunities to feature specific lines. The Amtrak team is also heavily involved in the CTAs.
Heller recalls an instance when Amtrak saw an opportunity to put a CTA box on an unlikely feature.
"We did a story, 'Fear and Roving at the Philadelphia Kennel Club's National Dog Show' – what I like to call our Hunter S. Thompson meets Christopher Guest on dog show culture. It's a wonderful, sweeping panoramic look at the quirky, obsessive characters in the dog show world. On it's own it's a delight to read," says Heller. "But it's also an opportunity at the end for a CTA box for Amtrak to give a little info about its pet-friendly policy."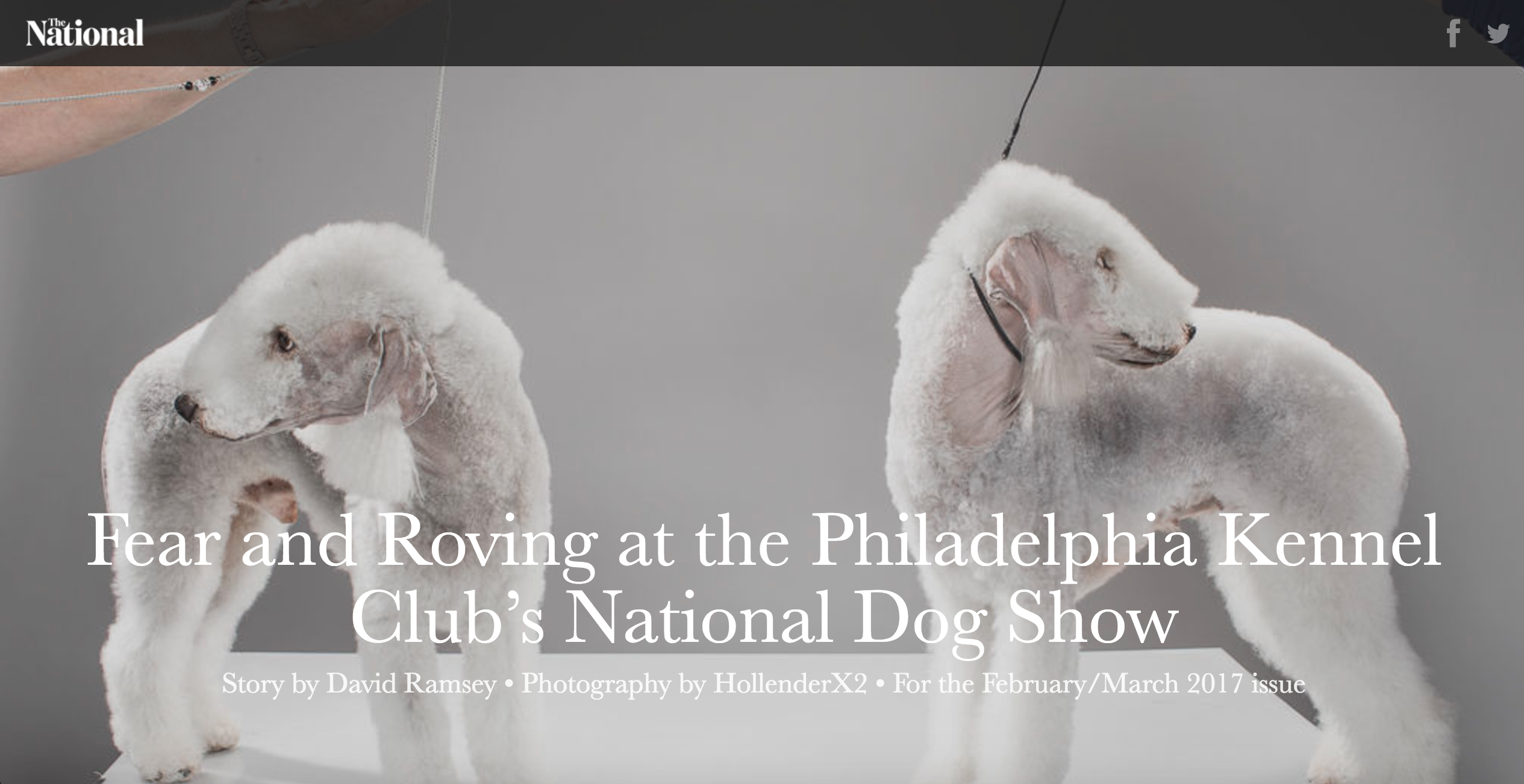 A Commitment to Quality
The National and Ink are committed to quality content.
Keating has a long track record of recruiting journalists from the established media world. Before heading up The National, for example, Heller's journalism career included writing for Gawker, Salon, Men's Journal, The Wall Street Journal, VanityFair.com, and many other publications.
"We also make decent budgets available to the teams. That's really important for when they're trying to create a quality product," says Keating. "At a time when budgets are being slashed, we have maintained the budgets for the teams so they can create that beautiful product."
The National has seen early success through reader engagement with the print magazine. It's now working to create a holistic print and digital experience.
As Amtrak trains increase their Wi-Fi capacities, The National content is being cached into each train so it's always available for people to read onboard on their devices – in addition to the print product. They're also working more closely with the Amtrak social media team to provide digital assets.
"For all our teams, it's about commissioning content in a very holistic way for all the different channels," says Keating, "For example, we'll have an editorial team creating the print magazine, plus dedicated digital editors. We've also produced a lot of video in the last year, as well as video assets for the print story. It's communicated in a very different way and may reach different customers at different parts of their journeys."
The Enduring Power of Print in a Digital World
Yet, despite the ever-growing power of video and social, Keating and Heller believe there will always be a place for print in today's digital world.
"When people get onto a plane or train, there's still this muscle memory where they're used to unplugging and cracking open a physical book or newspaper," says Heller. "I'm addicted to my phone, but I'll get on a plane and that muscle memory kicks in. I'll put my phone away and open a magazine that's ink on paper."
"It's almost a treat to allow yourself to disconnect," agrees Keating. "We've actually done a scientific test with a well-known university where we wired up people on a long flight. It found that people are in a different state of mind 32,000 feet in the air: a happier, more receptive state of mind. That's exactly the time to recline the seat, have a glass of wine, open up that magazine, and want to engage in that longer story – rather than consuming shorter, snackable information on your phone."
Heather Eng is NewsCred's Executive Editor.
Thank you for subscribing!
Our best content will now come straight to your inbox.