This week, an Advertising Week event titled: "Here Are All The Black People: A Multicultural Creative Career Fair" went viral – and not in the good way.
Thinking back to my days as an eager college junior exploring a marketing career path, a mulitcultural marketing-focused career fair would've caught my attention. I would've envisioned an event that surfaces the amazing work of African Americans in the marketing space. I would've been front and center, ready to be inspired by the people who blazed the trail in front of me.
However, I would've been met with a world of disappointment as the "Advertising For Good" panel members took the stage. The panel was introduced as "the best of the best" in creative advertising; however, not a single one of them was Black. While advice can come from anywhere, it seems like a huge oversight, or worse a disregard, that there was no one on the stage that represented the audience the advice was targeted to. What message does this send to the students in attendance? Is it a rude-awakening to the career field they are looking to enter? Does it say that there are not African Americans who have been deemed "the best of the best"?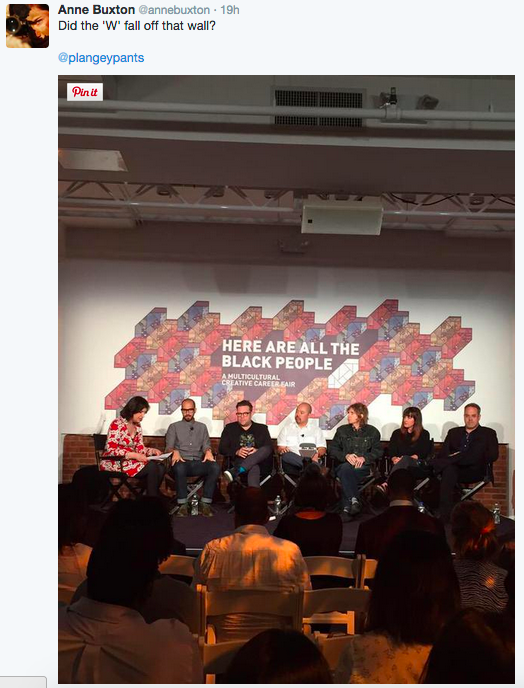 To the credit of the event, there were 10 non-white people featured as speakers…out of 25. If you made an effort to have diverse speakers in the first place, why not diversify each panel? After a quick look at The One Club's board of directors, it seems diversity is not their strong suit. But we can't hold The One Club responsible for an industry-wide problem. By our count, of the 888 speakers featured on the Advertising Week website, only 130 are diverse, a little less than 15%.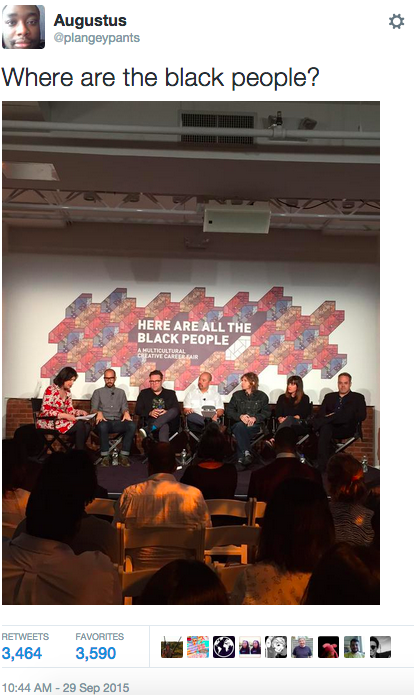 Naturally, everyone will react to this panel differently so I can only speak to the messages it sent me.
Message one, a painful reminder of the limited African Americans in the marketing space (even more limiting if you narrow the focus to technology marketing) and message two, a showcase of the multicultural disconnect between advertisers and the audience they are trying to reach.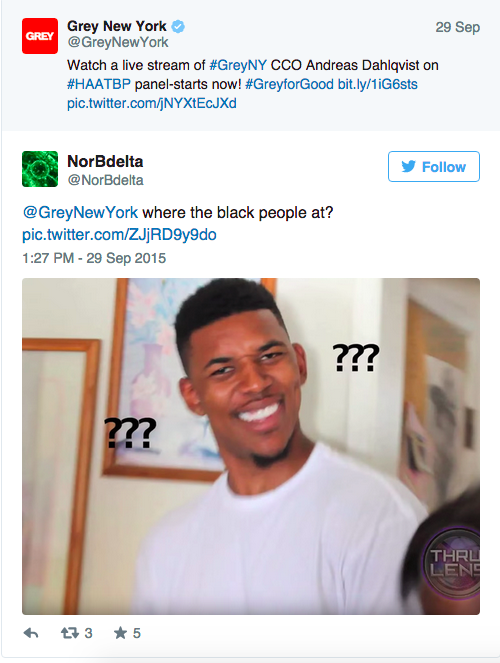 For my own sanity, I spent less than five minutes searching for who this panel could have featured. I found some incredible people!
Jeffrey Bowman, former Senior Partner and Managing Director at Ogilvy & Mather
Kendra Hatcher King, Chair of the Advisory Committee at American Advertising Federation
JD Michaels, Senior Vice President at BBDO. This man worked on the HBO promotion of Games of Thrones, for crying out loud!
One Marketer's advice (who also happens to be Black) to future Advertising Week panels and for panels in general:
Choose a title that is representative of the content you are going to share. 'Here Are All The Black People' could not have been a more misleading title for presentations and panels on the lack of diversity. Great idea in theory, poorly executed.
Find people who represent the audience and provide a diverse mix of backgrounds, experiences, and opinions. While I did not attend the event, the recording shows a broad range of people of different ethnic backgrounds and ages. Not sure why this one panel missed the boat.
Do not lose sight of the larger objective. Panels should serve as another way to deliver the overarching message. Somehow along the way of creating and delivering this panel, they strayed from the larger goal of showcasing diversity and inclusion in the advertising space.
There were a number of accomplished African Americans in the ad industry who could've been featured on this panel. Perhaps these people weren't asked or maybe they declined to participate. But had even one of them been featured, I think that would've taken the event from an eye-catching title to a useful sharing of ideas and advice from influential advertisers. After all, inspiration and career guidance was the goal of the event in the first place, right? So unless you want to end up here, event planners PLEASE, think wide and diverse when you cast your programming net, especially if you're going to call attention to it in the first place.
Amara Nwaigwe is a Product Marketer at NewsCred
Originally published on Sep 30, 2015 7:31 PM