Content marketing is all about creating and nurturing relationships with your customers at scale. This is true across verticals and certainly is true for the travel industry. Recently I had the opportunity to speak at the Luxury Travel Advisor's Ultra Summit in Orlando about best practices in content marketing for the travel industry, as well as hear from top luxury travel experts like Larry Pimentel, President and CEO Azamara Club Cruises, and Peter Yesawich, Vice Chairman, MMGY Global. David Beebe, Marriott's VP of Creative, Content Marketing and Global Marketing, summed up the opportunity for travel brands and Marriott's own philosophy: "Rather than talk at consumers, we're shifting to speaking with them using attention-grabbing content that adds value to consumers' lives by providing them with information and entertainment at the right time and in the right context."
Here are seven key takeaways for travel brands to achieve content marketing success:
1) Truly understand your audience
During college, I worked for the Greater Boston Convention & Visitors Bureau, allowing me the chance to witness the tremendous amount of effort that goes into fostering a world-class travel experience. But it also allowed me the chance to hear firsthand what questions travelers were asking. What's the best way to tour the city? What are must-see attractions? Where is the best place for a burger?
Content marketers should listen, too. Understanding your travelers' habits, concerns, and interests is key for content marketing success. What questions are they asking? What are they struggling with? What information are they looking for? Use this information to drive the content you create.
2) Don't talk about yourself too much
It's easy to get caught up in your own story — Our airline is the best! Our hotel is second-to-none! Check out this awesome new feature on our cruise ship! — but consumers are quick to tune out this noise and self-promotion. As David Beebe said, "Content marketing is like a first date. If all you do is talk about yourself, there won't be a second date."
3) Map content to the traveler's buyer journey
The traveler's buyer journey is complicated. According to Google, travelers visit 22 different sites over an average of 9.5 sessions before booking. But as a means of simplifying, think about the buyer journey as answering your customers' questions at every stage of their online research.
Here's a guide to types of content at each stage: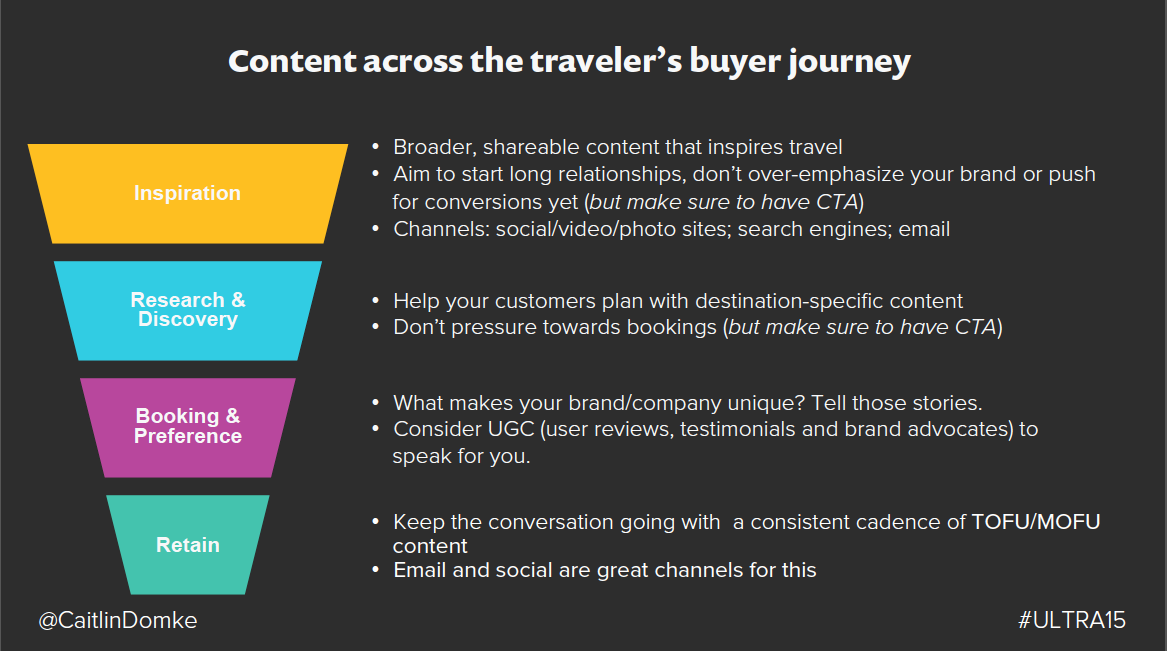 So what are some questions travelers are asking Google? According to Google Insights:
51% of travelers are searching destination-related terms when first starting to plan
49% are searching activity-related terms when they're considering multiple possibilities
49% are searching price-related terms when they're considering multiple possibilities

4) Be where your customer is
It's important to not only answer your customers' questions, but also to pay attention to the sources they're consulting during their search. With that in mind, let's look at where travelers are seeking out information while planning or booking their most recent trip: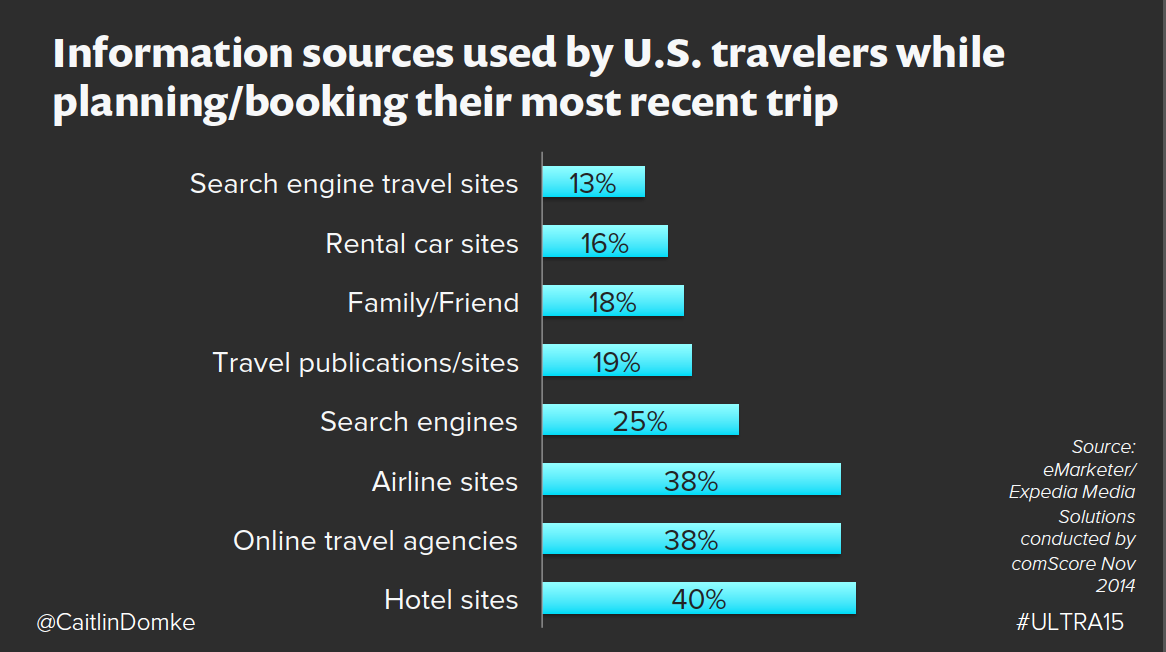 (Source: eMarketer/Expedia Media Solutions conducted by comScore, November 2014)
5) Consider user-generated content
There's a huge opportunity for travel companies to utilize UGC. Not only does it scale your content production, it's a great way to brag about your property/airline/service without doing it yourself. Moreover, 95% of travelers read travel reviews prior to booking according to Chase Card Services, and, according to Nielsen, the second most trusted form of advertising is consumer opinions posted online.  
Millennials especially respond to user-generated content, and are creating a ton of it. 97% of millennials post on social networks and share experiences with friends while traveling.
6) Keep the conversation going
Content marketing isn't a one-time, short-term campaign. It's about continuously engaging and providing value for your customers. Some of the best travel content marketers out there – the Four Seasons, Mr. and Mrs. Smith, Marriott – know the importance of this, and utilize inspirational content as a means of continuing the relationship. Whether it be through a newsletter or your social channels, it's important for travel brands to utilize content with existing customers – not just as a means of getting new ones.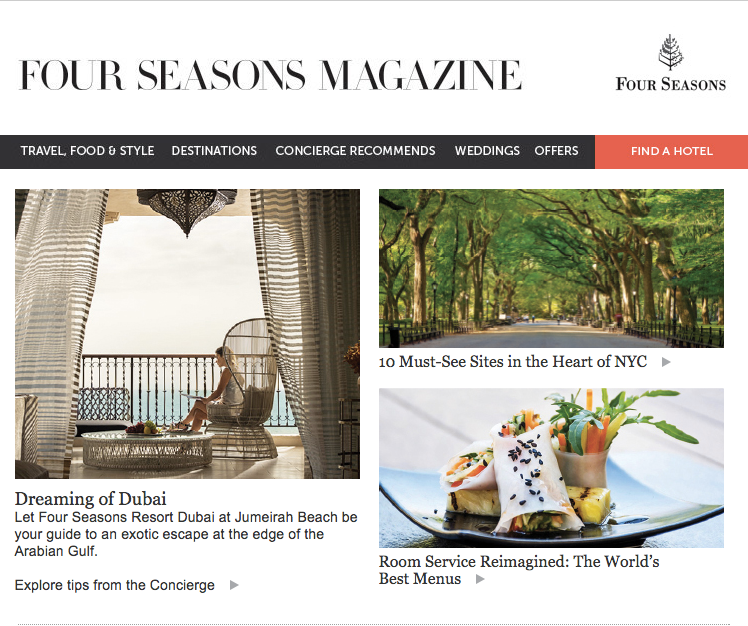 7) Just get in the game
One of my favorite pieces of advice from Larry Pimentel's presentation was to stop making excuses and just get in the game. Start creating content. Post on your social media channels. Make a couple of mistakes. Just get going and talk to your customers.
Hope you're excited to create great content for travelers!
Here's the full presentation:
Caitlin Domke is a Brand Strategist at NewsCred.
Originally published on Jun 30, 2015 10:01 AM