The New York Times.
A name with legacy, cache, and brand recognition that transcends borders, conflict, and time.
But even the Times has to keep up with the nonstop changes in our current digital age. The company continuously analyzes its strengths and weaknesses to ensure it's setting up itself (and shareholders) for long-term growth.
In the recent report, "Journalism That Stands Apart: The Report of the 2020 Group," the Times provides data and an in-depth look at how it will continue to differentiate itself and engage its audience.
As someone who works with leading companies on their content marketing every day, I believe that brands can absolutely borrow the Times' insights to ensure their marketing programs and digital websites are prepared for success.
Here are six key takeaways I recommend brands consider and pursue at any stage of their content marketing journeys.
1. Create a mission statement
"Most Times journalists can not describe the vision or mission of their desks…most departments have not made clear decisions about who their primary audience is and and which journalistic forms are a priority (and which are not)."
At NewsCred, we frequently see this, as well: Many brands do not have a clearly defined mission statement or target audience.
Before a client embarks on a content program, we'll work with them to gather various stakeholders and collaborate on a mission statement. That mission statement will serve as the guiding light under which the entire organization can align and understand the purpose of its content marketing.
Including a tag line or longer mission statement on your website is a way to explicitly tell readers what type of content they will expect to find on the site and what value it will provide. It also serves as an ongoing reminder for marketers to keep in mind exactly what their mission is.
We love the Four Season Magazine's external mission statement. Its website says: "The digital edition expands the experience of Four Seasons online, providing interesting and evocative content about some of the world's most fascinating travel destinations."
2. Write for your audience
"Who is the target audience for each aspect of the team's report? How will these audiences find and experience the coverage, and what role will it play in making The Times a habit? What does success look like, and how will departments know when they have achieved it?"
The Content Marketing Institute agrees, saying: "As defined by Ardath Albee, a buyer persona is a composite sketch of a key segment of your audience. For content marketing purposes, you need personas to help you deliver content that will be most relevant and useful to your audience."
Even the most mature and successful content marketers must continually evaluate their audiences and needs. (Here's a good piece about crafting and re-crafting personas.) We suggest brands answer the following questions:
What content does your audience use?

What topics are they are interested in?

What types or formats of content do they prefer?

Which channels do they use at each stage of the buyer journey?

Define the keywords they use to search.

Define the actual questions they ask.
This information will ensure that marketers are creating content that consistently provides customers with answers and value.
3. Set goals beyond pageviews
"Much of the newsroom does not set tangible goals, much less feel accountable for reaching goals"…"The newsroom needs a clearer understanding that pageviews, while a meaningful yardstick, do not equal success."
We know that any content program runs the risk of being shut down if it doesn't tie back to business objectives and prove ROI.
Similar to working with customers on mission statements, we gather feedback from our clients to align on their objectives. If the goals are wishy-washy, we work to drive harder metrics – that don't have to do with pageviews.
Actions are often more important than pageviews, and we work to understand our customers' unique, high-value actions. For most, this means conversion-focused actions such as:
Capturing an email address in a sign-up form
Increasing repeat visitors
Simply clicking to a "booking" or "purchasing" page.
My colleague Shreya Kumar spells this out in a helpful blog post.
4. Package and deliver content in ways that meet readers' needs
"The daily briefings [round-ups containing the day's top stories] are among the most successful products that The Times has launched in recent years. They have a big, loyal audience, among both Times subscribers and nonsubscribers."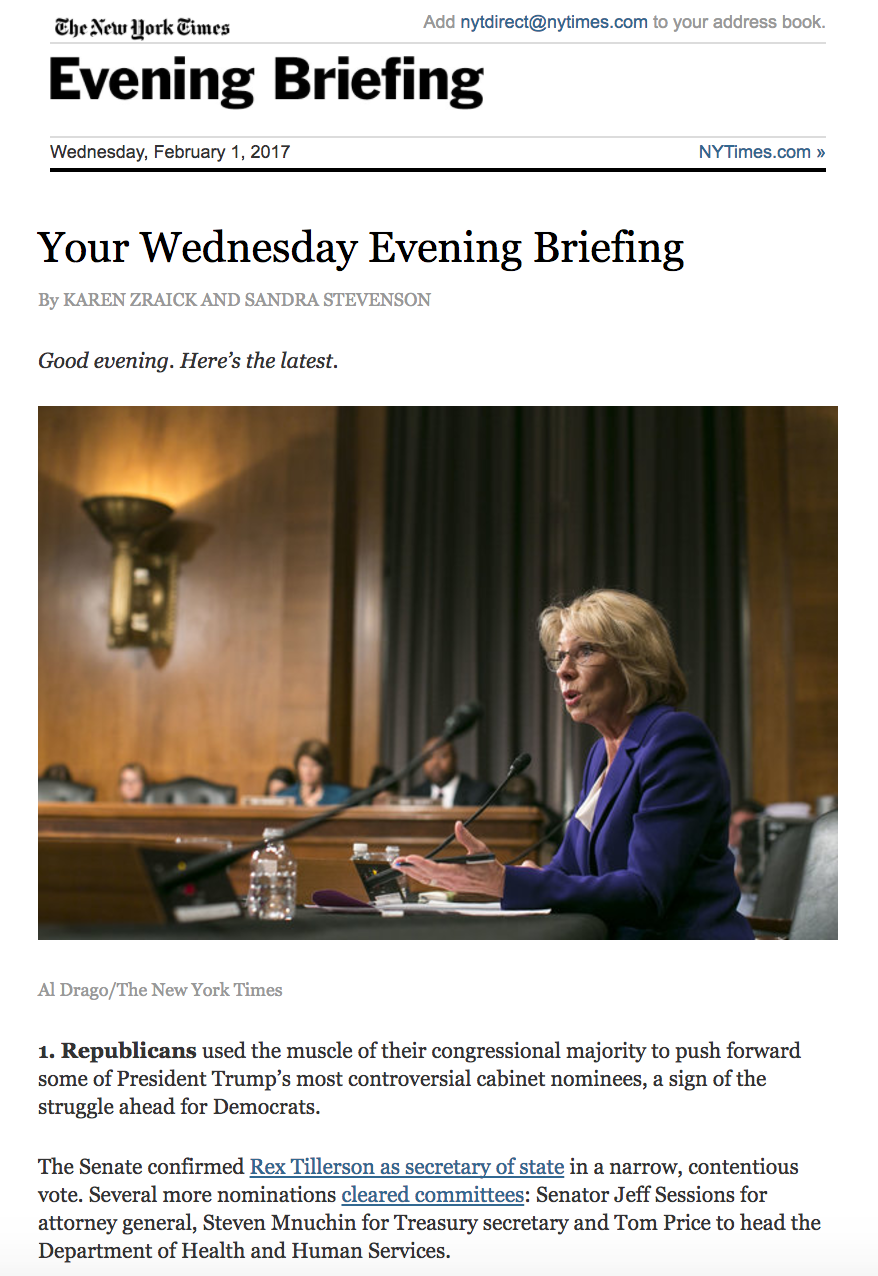 Content marketers must consider readers' habits and package and deliver content that meets them where they are. I think there are two important takeaways here:
First, the key reason daily briefings are so successful is because of the delivery method: email. Take Fortune's Term Sheet or The Skimm, Both newsletters have grown significantly (TechCrunch reported that The Skimm has 3.5 million subscribers worldwide, surpassing the number of New York Times digital subscribers). We at NewsCred are adamant that email should be a key distribution focus for brands – it drives our most qualified traffic.
Second, consumers rely on consistent formats, and daily briefings are one example of this. Series are another example. Whether it's United's "Three Perfect Days", J.Crew's "Behind the Design" or Starbucks' "Upstanders" more brands are finding success with content series. The concept is mutually beneficial: editors can rely on a foolproof format, while consumers gravitate towards the familiar.
5. Build strong relationships with the digital website team
"Our editors still aren't involved closely enough in thinking about how the Times experience across different platforms should evolve, and our product managers often aren't aware of coverage priorities. The results can be problematic. For example, the design and functionality of our homepage have remained effectively static for the past decade…A closer working relationship would cause both the newsroom and the product teams to function more effectively."
In our experience, the best content programs have strong relationships with their digital counterparts. And when a client lacks an internal digital team, NewsCred can stand up a site for clients and work together to optimize.
One example is NewsCred's work with ConAgra. The brand's editorial team, led by Rob Manker, envisioned a recipe site but had less than a month to create it. The team used NewsCred's CMS solution and worked quickly with NewsCred's designer and developer to make that happen. The result: Forkful.com, which was a finalist for the "Launch of the Year" Content Marketing Award in 2015. Manker continues to have ownership over both the editorial and development aspects of Forkful's program, which allows for agility and harmony.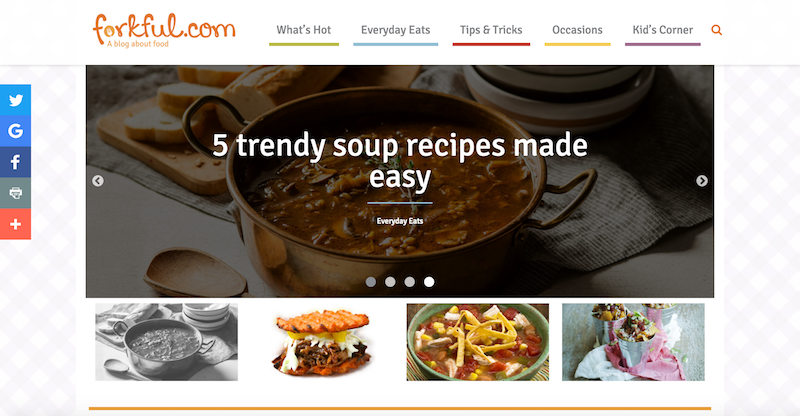 6. Ongoing training is key
"The 2020 group's survey of the newsroom uncovered a deep desire among many reporters and editors to acquire new skills."
I was delighted to see that even the New York Times needs to improve its training and ongoing education. The Economist recently reported that lifelong learning is becoming an economic imperative and that technological change demands stronger and more continuous connections between education and employment.
This is even more important for content marketers – we're constantly revising our strategies based on ever-changing technology, consumer habits, and our own learnings and insights.
The good news is that NewsCred Insights is an incredible free resource for in-depth content marketing tactics, trends, and information. And for those who want to become subject matter experts, our #ThinkContent University training program is a worthwhile endeavor.
Deirdre Moran Barnes is a Senior Manager, Client Development, at NewsCred.
Originally published on Feb 3, 2017 11:00 AM, updated Feb 7, 2017