2014 was another exciting year for sponsored content. More publishers started embracing it, and big brands continued investing in it.
But the question remains: How do readers feel about all of this? Most research suggests that audiences prefer sponsored posts to banner ads, but they also appreciate it less than regular content. If you've come across sponsored content before, you'll probably understand how it can be both confusing and frustrating.
In 2015, as brands continue to pour dollars into these projects, publishers will keep growing their resources and improving their output. Consequently, audiences will begin to realize that content underwritten by brands can be meaningful too.
Let's look at some publishers that are currently leading the pack in terms of content quality, formatting and design, and reader experience: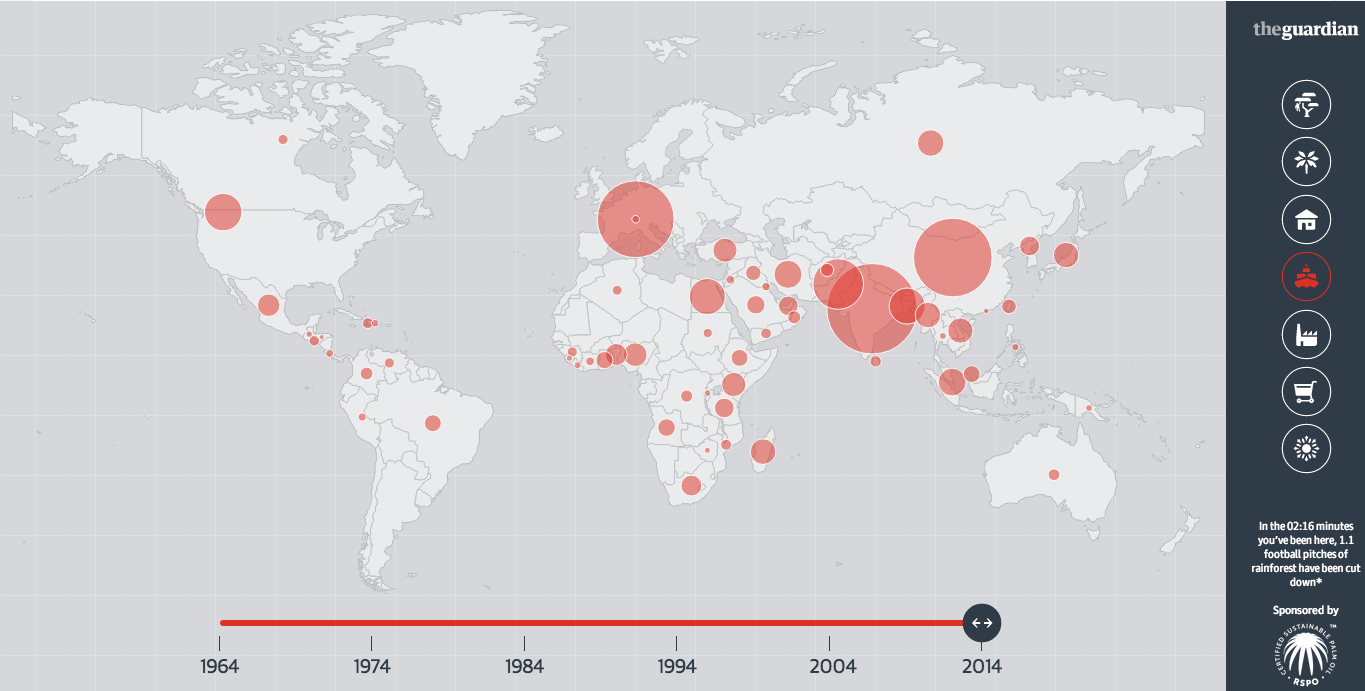 The Guardian
Guardian Labs, a team of 130+ that reportedly operates as a kind-of agency within The Guardian, was officially launched in February 2014. But even before then, The Guardian had a history of building benevolent partnerships, exemplified by the Schools We'd Like competition and Witness, its citizen journalism platform and mobile app. More recently, they brought in the Roundtable on Sustainable Palm Oil for an interactive exploration and live debate.
The Guardian also does a great job of disclosing its partnerships. Each piece of sponsored content comes with a clear disclosure, linking to this page that explains the difference between "Sponsored by," "Brought to you by," and "Supported by." More publishers should adapt this transparent approach, to prevent the feeling of deception readers often report when encountering sponsored posts.
The New York Times
The Times' T Brand Studio launched its first paid post in January 2014– and has since been raising the bar with valuable journalism and cutting-edge presentation. They've managed to keep their sponsored content at the same quality one would expect from The Times, while also maintaining their editorial voice (rather than adapting it to each sponsor).
They also interestingly choose to have all sponsored permalink URLs start with paidpost.nytimes.com– so it's hard for the reader to miss that the content is sponsored. Though, it's worth noting, this is something that probably only a handful of other reputable publishers could pull off without it hurting performance too badly.
A great example to check out: "The Surprising Cost of Not Taking a Vacation" (Sponsored by MasterCard). You can also follow the T Brand Studio Twitter account where they promote their campaigns.
The Economist
Back in 2007, The Economist partnered with Chevron to create "Energyville," an online educational game testing the player's ability to supply power to both a modern and future city. Since then, they've continued to create forums for industry-leading sponsors to weigh in on major issues of globalization.
The most notable format from The Economist is their sponsored Oxford Style online debate. Sponsors provide financial support and offer their perspective, but they also must announce any conflicts of interest and are forbidden from moderating or influencing the debate in any way. Readers can send comments to the moderator for consideration (whom they must address with "Dear Sir"), and may change their vote as long as the debate is still open. Some great examples include "Is Technological Progress Accelerating?" sponsored by GE, "Are Smart Cities Empty Hype" sponsored by Harvard Business School, and "Do Most Businesses Adapt Slowly to Change?" by Microsoft.
Slate
A visit to the Slate homepage can be pretty overwhelming – it usually has close to 100 different stories you can click on. The article pages are similar, with endless amounts of recommended reading lining the side and bottom of each piece.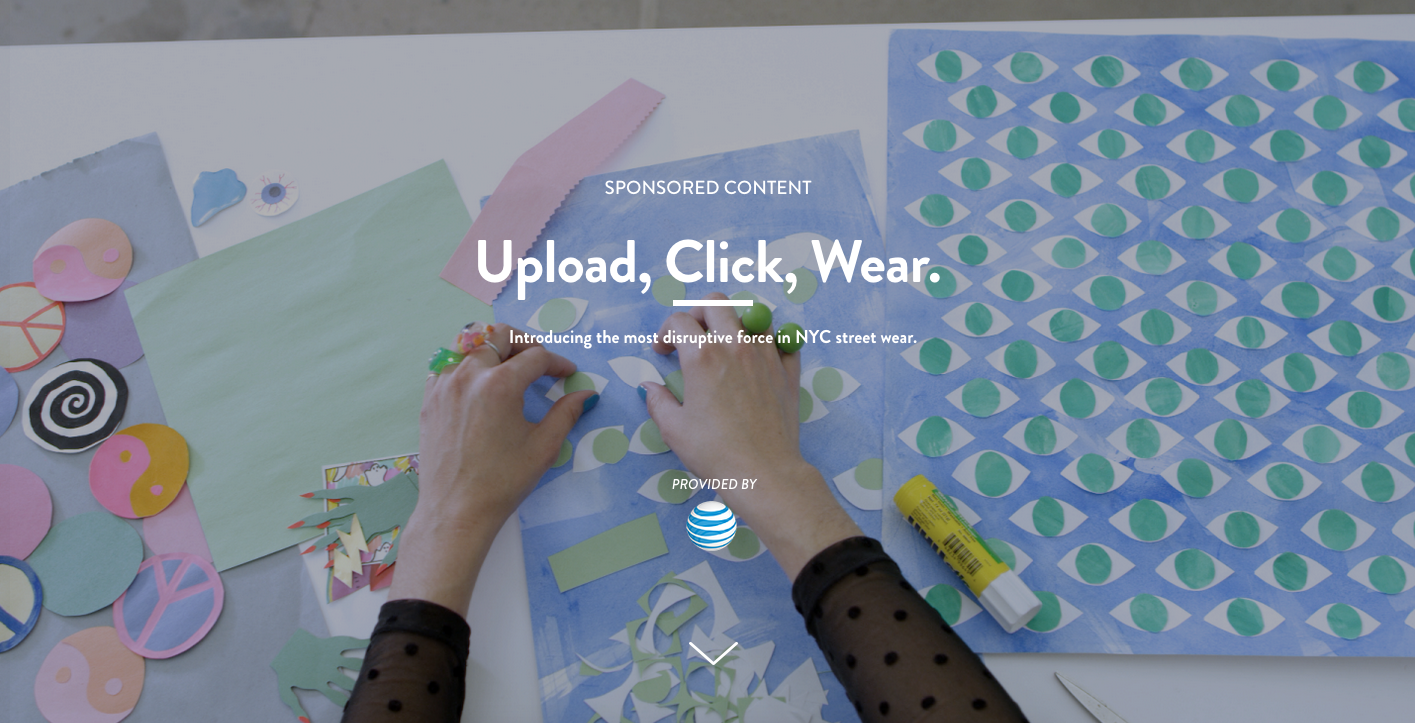 Slate's internal agency, Slate Custom Group, takes a very different approach with their sponsored content programs, which are often full-width and sleekly designed. In certain formats, continuous scroll takes the user right into the next piece in the series.
A few examples of Slate's beautifully presented deep-dives include: the Big Ideas series sponsored by the philanthropic John Templeton Foundation, this feature on the online fashion and design platform Print All Over Me (sponsored by AT&T), and this piece on the benefits of using beatboxing to educate blind and visually impaired students (presented by Wells Fargo).
Medium
Medium is a blogging platform created in 2012 by Twitter co-founders Evan Williams and Biz Stone. But it's also one of the most interesting publishers to watch in 2015. In late July 2014, Medium launched re:form with BMW, their first kind of any advertising on the platform, which was reportedly billed on a time-spent model. They hired former Smithsonian blog editor Sarah Rich to oversee the project.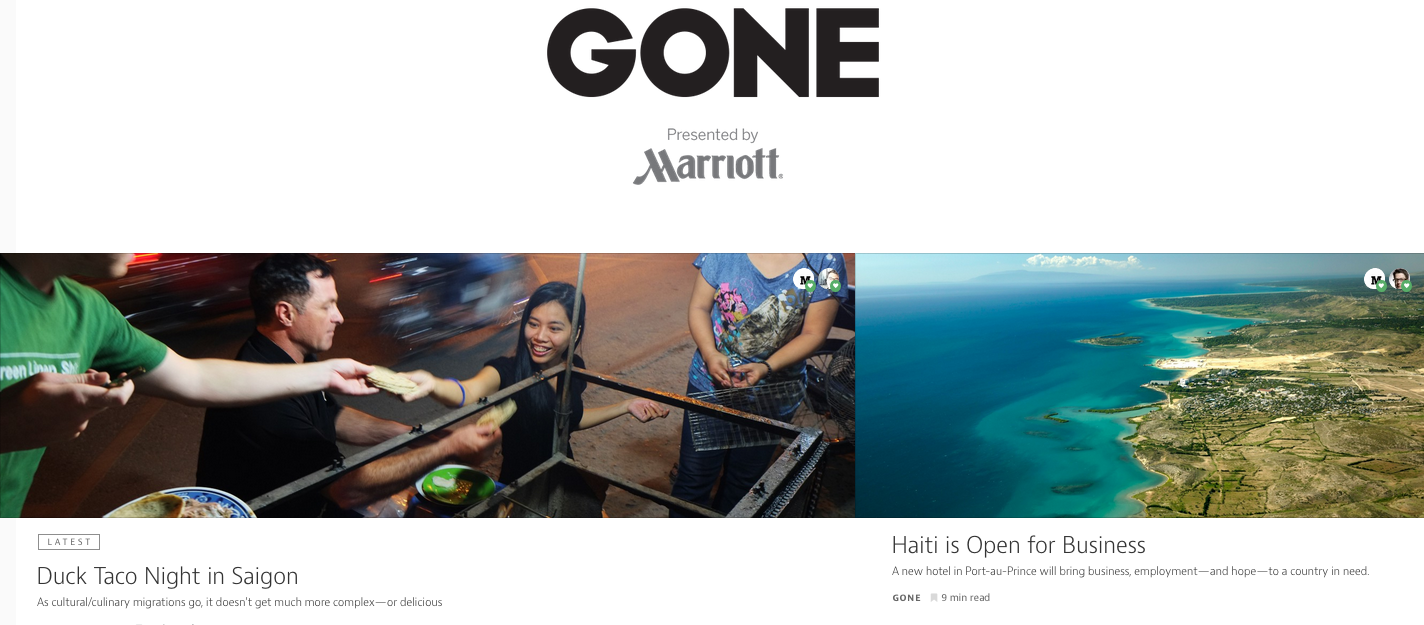 Medium partnered with Marriot in December to launch their second branded journalism project, a travel-themed collection called Gone. The first few stories feature in-depth reporting and stunning original photography, and editor Jamie Pallot has noted that future pieces will utilize interactive graphics and video as well.
What publishers do you think are doing great sponsored content? Tweet @NewsCred and let us know which ones you think we missed!
Jeff Weisberger is a NewsRoom Project Manager at NewsCred
Thank you for subscribing!
Our best content will now come straight to your inbox.