Our friends at Priceonomics are on a mission to turn your data into great stories that spread – and they provided some keys to doing exactly that at the conference they hosted this November in San Francisco. Hundreds of marketers gathered to learn about how Priceonomics uses journalists, data scientists, engineers, and analysts to create data-driven content with the goal of spreading quality information across the web.
As a content marketing strategist who works with leading brands everyday, I found that these takeaways most resonated with me – and can be helpful to any content marketer:
Define "Awareness" for Your Brand
Viral content used to be the ultimate expression of successful digital marketing. Every brand wanted to have its own "ice bucket challenge" or land on the homepage of Reddit or BuzzFeed. In marketer-speak, we tend to associate those wins with "awareness."
But does a homepage spot on Reddit or BuzzFeed really translate to an increase in your bottom line?
Priceonomics seeks to create content that "spreads" in an effort to build "awareness" for its brand, but they acknowledge that what equals success for themselves may not equal success for another company.
They define "awareness" goals differently for B2C and B2B companies:
For B2C brands, the awareness goal is often to be the "first choice" in a consumer's mind. SEO is a pretty telling way to measure how well your brand is associated with certain words or terms – without shelling out money for market research. SEO takes into consideration multiple complex factors, including mentions of your brand across the web and social. High SEO rankings on key search terms drive free traffic to your site, which can boost e-commerce sales, social interactions, or positive consumer behaviors like downloading coupons to use in-store. Each of these actions correlates to actual business results that have an effect on your bottom line.
For B2B brands, awareness is less about mass appeal, than it is appealing to the right people. And the easiest way to measure this is through leads generated for your company. B2B brands spend time and money on outbound marketing to potential prospects. A greater "awareness" of your brand translates to increased inbound interest. Increased inbound interest allows brands to scale back on their paid marketing and mine quality leads who come to them. Leads translate to MQLs and SQLs that have actual dollar values tied to them. This is the business result against which B2B teams can justify their "awareness" goal.
Optimize Your Content Marketing "Stack"
In order to be successful at content marketing, there are three key components on which you need to focus. According to Priceonomics, your essential content marketing "stack" consists of: Make, Measure, and Distribute – and it's in every marketer's best interest to make sure each piece is optimized.
Make
The first component, "Make," is about the content – as in, "What are we actually creating" And, "Who's creating it?"
For the "Make" stage, your requirements depend entirely on the scope of your content marketing program and the size of your company. The simplest set-up requires internal employees to create a documented content strategy and manage the program, freelancers to help develop content, and potentially vendors or agencies with specific content marketing expertise.
As companies grow and scale their content initiatives, we recommend partnering with a content marketing company, like NewsCred, that provides expertise and services that will help increase your marketing team's efficiency and scalability.
Measure
With "Measure," you define: "What do we want to happen?" And, "How are we going to ensure this actually does happen?"
This second part of the stack is the unique tools required to actually gauge the success of each goal at every stage. See the chart below for our recommendations for the minimum tools required to measure success for various content marketing goals.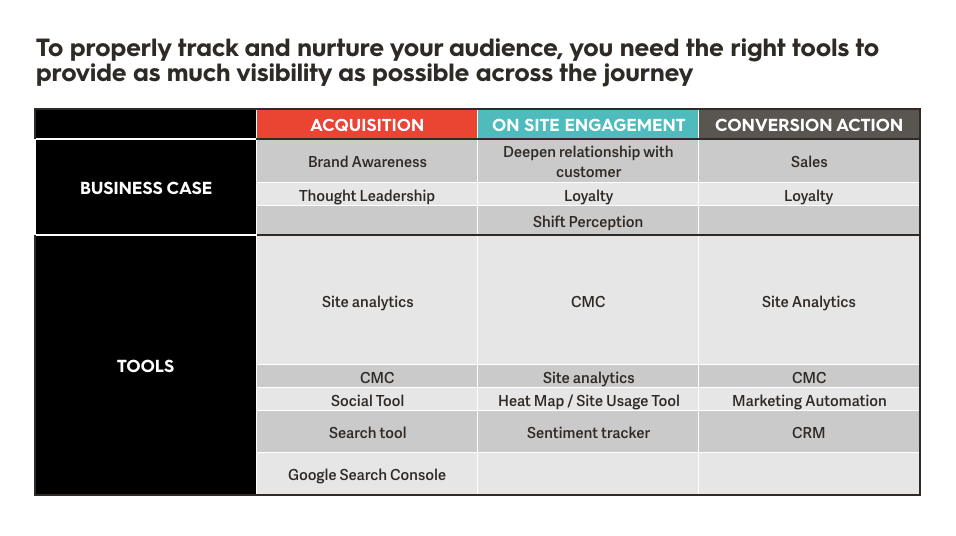 Distribute
The third part of the stack is "Distribute," as in "How can we make our content spread?" (And because you've already defined it, you know what "spread" really means for your business.)
In today's world, distribution requires more than just getting good press and diligently publishing to social feeds. It actually means having a distribution plan that leverages paid, owned, and earned channels.
These days, it's usually necessary to pay for traffic to your site if you want to drive significant lift. At Priceonomics, they encourage customers to leverage paid social ads to get content out.
They also recommend establishing a few key ways to earn media. Priceonomics suggests taking the guesswork out of media pick-up by getting your content directly to interested journalists with smartly crafted pitches. They also leverage supernodes like Reddit to get their content in front of trendsetters and tastemakers who scan the Internet for great pieces.
Another great way to distribute is by using owned lists to send content to clients and known prospects.
Template as Much as Humanly Possible
Content marketing can be challenging because for any given input, you get an unpredictable set of outputs. You can't always know how well certain pieces will perform.
Priceonomics aims to reduce the guesswork in creating great content by classifying each potential input into a template for repeatable success. Templates are key for repeatable success because you can start to codify what needs to happen, how long it takes, and what results you can expect.
The first step to templatizing your work is understanding what you have. Take inventory and review each of your assets and look at what goes into creating them. When do they perform best? How can you take a specific scenario and translate it to a generic format that can be easily repeated over time? For Priceonomics, they classified each article they produced into one of six story types:
Trend pieces related to news
Who does that? (Pieces where data unveils a specific segment of the population who might not be known for a specific activity.)
Secret data that answers questions people care about
Valuable data that sheds insights into business questions
What is the most popular? (e.g. "Was Uber or Lyft More Popular in San Francisco in 2016?")
Cost/money rankings (e.g. "The Most Expensive Vacation Rentals Globally in 2016")
Now, when a client comes to them with a specific data set and content goals, Priceonomics knows exactly what story format to recommend and what it takes to make, measure, and distribute it properly.
Test Before You Start, Then A/B Test Again
Priceonomics preaches you can never test enough, and that is exactly what they practice. They have set up a system to ensure they won't publish any bad headlines or story themes – even before they write a piece.
When a client is working with Priceonomics on a story, Priceonomics will sit down with them to create two headlines. Then they'll go to Facebook, where they'll boost the two headlines with minimal spends. These are just images and headlines that link to minimal article pages on a fake version of the Priceonomics blog, which exists just to capture the click-throughs from Facebook. This blog isn't associated with the Priceonomics name, so it doesn't incur any damage to brand perception.
In a fairly short period of time, the Priceonomics team can do an immediate click-through comparison of the article titles. By operating this test, there is no excuse for creating articles without exceptional headlines – Priceonomics can provide a data-driven recommendation for what the headline should be.
Once the real article is live on the actual Priceonomics blog, the team does a second set of A/B tests. They'll vary the images and social copy to measure clicks-to-site and shares on key channels. Time and again, they see that headlines tested in the pre-creation period garner an overall higher click-through rate than ones they didn't test.
Think of this practice as "Snapchat for content marketing." You can put parts of your work out there and see what performs well before actually finalizing it. You can see how people will react, and gauge whether your approach is spot-on before spending time and resources on content that might not spread.
(Priceonomics actually has a software product that can help you do this – check out the Priceonomics Idea Tester.)
Celebrate Your Results!
While this isn't the most novel idea in the world, it is so important for your team to rally around the positive results your content achieves.
As marketers, we are constantly trying to understand how to make our marketing more efficient or creative, or figure out how to do more with less. We often let our wins fall by the wayside.
However, all wins are worth celebrating for your marketing team, as well as for any of your writers, data analysts, and designers who contributed to the piece. When people are held to the quality of what they create, they produce better work. So knowing the results across the board – not just the account management or marketing folks – makes it really tangible that the work you are doing is making an impact.
The Priceonomics team celebrates their wins with a direct plug-in on Slack that alerts their company when a notable person or publication mentions or shares their articles. The process allows for automated tracking towards goals, and gets the team to react and share themselves. The competitive spirit in some people will also draw out creative optimizations for articles that might not be getting the love they hoped for.
Shreya Kumar is a Content Marketing Strategist at NewsCred.
Originally published on Dec 13, 2016 11:00 AM, updated Dec 15, 2016